Your Weekly Top Ten Feels Like Trump Has Been President For 100 FUCKING YEARS
News
April 29, 2017 10:30 AM
vroom vroom
---
OH HI WONKERS. Two things. Do you see Wonkette Toddler Baby Person up there? She has her drivers license now we guess, and she is driving a Prius like a common hippie liberal!
Secondly, it is officially the 100th day of Donald Trump's presidency. Isn't he the biggest sucky loser president ever? He probably should resign before he fails more, because you just know he will. Anyway, it is your top ten post, where we count down the top ten stories of the week, yadda yadda, you know how this works. We'll get to that in a minute.
First, though, it is time for US ASKING YOU FOR MONEY, with all the love our hearts can muster! See, we are 100% funded by you readers, and we have no ads, and we love it, and you love it, but we have to keep asking you to give us dollars and subscription moneys and things in order to make this system work. We explained all this in your monthly reminder post about how we need moneys, on a regular basis, to keep this place running without ads. Will you throw $5, $10, or $25 at our faces? Or we even take thousand dollar and million dollar donations, like if you are a secret famous celebrity fan of Wonkette! Seriously, if you are able -- DO NOT MONEY US IF YOU CAN'T AFFORD IT -- then pull out your wallet and sign up to throw money on our face every month! You can also pull out an envelope and stamp and send money to Wonkette, PO Box 8765, Missoula MT 59807. Or do a subscription! Whatever, just please support us any way you can.
Look, it's the traditional Wonkette Baby Donation Pressure Lion Of Cuteness, who is now a GROWN LION PRIUS DRIVER: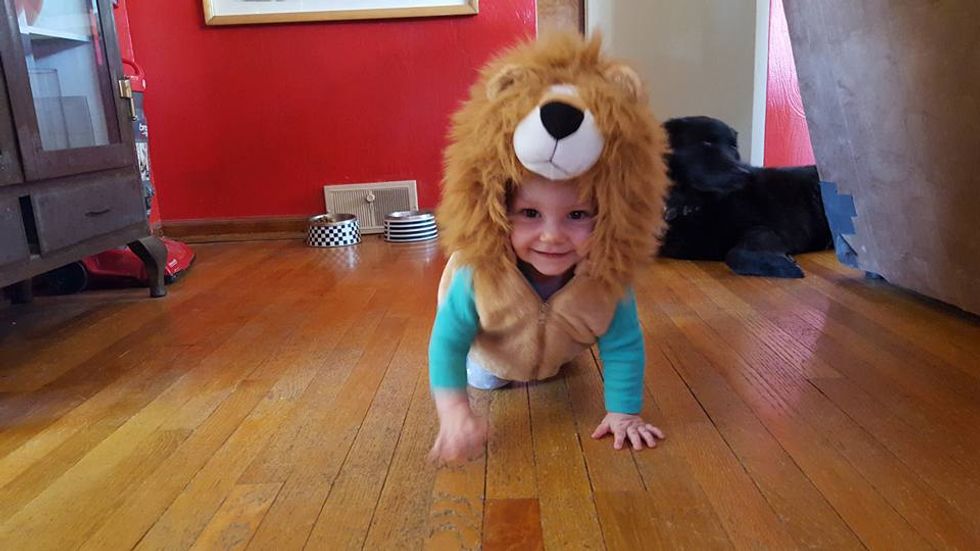 YOU CANNOT EVEN RIGHT NOW
We shall now count down the top 10 stories of the week, chosen as usual by Beyoncé:
1. Nazis? Sovereign citizens? Furries? ALL THOSE THINGS AT THE SAME TIME? They are in this post, for you to read! This story was on the list last week too! It must be a very important post!
2. Badass Sally Yates gettin' ready to fuck Trump up in front of the House Intelligence Committee, ALLEGEDLY.
3. Jimmy Johns is evil. This post from a million years ago ends up on this list all the damn time, because we guess it is the definitive account of how Jimmy John's is evil.
4. Alex Jones REALLY hates it when you call his new wife a massage hooker.
5. Here are the 83 most embarrassing parts of Donald Trump's interview with the Associated Press!
6. Look, it is last week's Deleted Comments! It is about Nazis and furries!
7. Jason Chaffetz knows there are no dirty scandals in his butt, because everybody gives him enemas all the time, whenever they want.
8. This genius Republican knows low-wage workers don't deserve doctors or medicine. PFFFFFFT.
9. OMG WORMHOLE MOMENT. Last week's Weekly Top Ten post is #9 for THIS WEEK!
10. And finally, because you have to encourage bad people when they do good things, Marco Rubio's speech condemning the Chechnyan campaign against gay men was actually fucking impressive. So stop reminding us Marco Rubio has done bad things too, because don't you think we know that already? Jesus.
So there you go. Those are your top ten most clicked upon stories, according to Beyoncé. They are very good stories!
Oh, hey, sign up for our newsletter RIGHT NOW DO IT DO IT DO IT:
Evan Hurst
Evan Hurst is the managing editor of Wonkette, which means he is the boss of you, unless you are Rebecca, who is boss of him. His dog Lula is judging you right now.
Follow him on Twitter RIGHT HERE.