Mike Pence Embarasses Himself (Again). Wonkagenda For Mon., Feb. 18, 2019
News
February 18, 2019 09:02 AM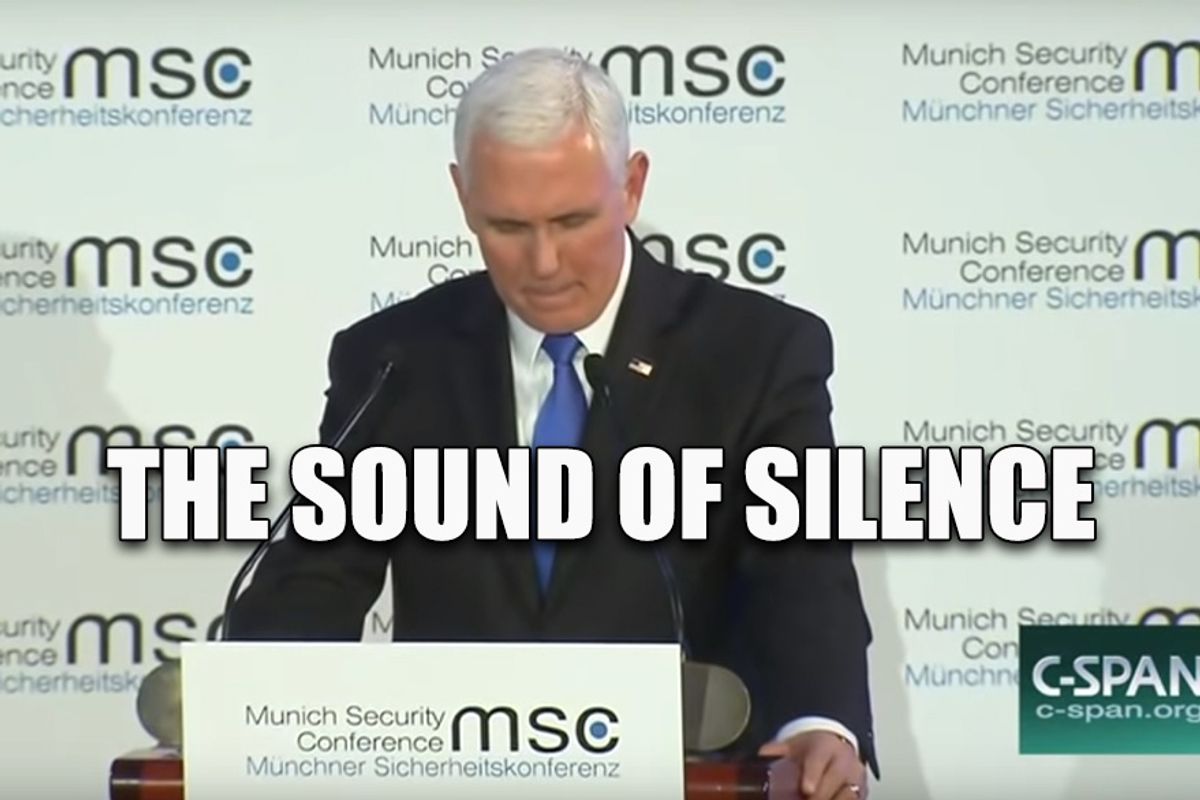 Morning Wonketariat! Here's some of the things we may be talking about today.
---
Former FBI Deputy Director Andy McCabe went on 60 Minutes to say a bunch of true things about his "You're Fired"-ing by Donald Trump Jeff Sessions. McCabe also dished about Rod Rosenstein feeling out how much support there was within the Cabinet to slap Trump's ass with the 25th Amendment after Trump "You're Fired" James Comey and told Rosenstein to nix any talk about Russia in his memo. McCabe also stated he freaked out that Trump didn't believe North Korea had nuclear weapons because Putin told him so. In related news, Trump has spent the weekend going batshit on Twitter, screaming about McCabe, and Russia, and blah blah blah. [Video/Transcript]

Acting Defense Secretary Pat Shanahan says he's going to start shifting around money for Trump's goddamn wall (that Trump bragged Mexico would pay for). Shanahan is expected to be briefed by staff who've been conducting a damage assessment on what happens after the administration diverts badly needed money from military narcotics funding and construction projects, adding that he has final say on what happens to DOD funds.
Illinois Democratic Sen. Tammy Duckworth went on ABC's This Week to trash WALL, adding, "There's enough people in the Senate who are concerned that what he's doing is robbing from the military and the [Department of Defense] to go and build this wall." [Transcript]
Once again South Carolina Republican Senator Lindsey Graham went on teevee to carry water for Trump's wall and say that Trump's Tortilla Curtain would save all the white people from their hillbilly heroin addictions. Graham also threatened to investigate Andy McCabe for all the mean things he said on 60 minutes. [Transcript]
Trump's resident White House white supremacist Stephen Miller went on Fox News Sunday to defend WALL by claiming there wouldn't be a "national emergency" if Congress just gave president tickle shits money for his wall (or "peaches," or steel slats, etc.). When host Chris Wallace asked about the lack of stats on the Mexican Muslim anchor babies leading a taco truck invasion, Miller fired up a gaslight torch and blamed everything on Bush 43.
SCOTUS has agreed to fast-track a decision about citizenship questions on the 2020 Census. Lower courts have found that greedy old man and Commerce Secretary Wilbur Ross had introduced the question with a "rationale that was pretextual," likely to stifle the flow of federal money to left leaning states, and in order to stifle growing Democratic representation in the House of Representatives.
State Department spox Heather Nauert has nuked her nomination to replace Nikki Haley at the United Nations, and been (ALLEGEDLY?) quit-fired after an investigation revealed she'd (ALLEGEDLY) hired a hired an ILLEGAL nanny and never paid taxes for the nanny's services while she was employed. Maggie Haberman gossips that the administration is considering Trump's ambassador to Germany, Richard Grenell, to fill the spot, and Crom help us all if that alt-reich SOB gets anywhere close to a position of power.
A federal judge has temporarily blocked the discharge of two HIV-positive US airmen who claim the Pentagon is discriminating against them with a longstanding DOD policy that bars deployment of HIV-positive people outside the US without a waiver. Their discharge stems from a Trump administration policy that service members should be discharged if they can't be deployed outside the US for more than a continuous year. The two airmen argue that they've received glowing recommendations by commanding officers and doctors, and the Trump administration is just butthurt that gaymosexuals can be hardasses.
A judge is reviewing a lawsuit brought by a Native American tribe who argue former Interior Secretary and grifty bastard Ryan Zinke discriminated against their attempt to open a new casino. The tribe alleges Zinke faced "political pressure" to scuttle the casino from MGM and lawmakers in Nevada, as well as the Trump administration.
Kamala Harris is quietly playing bare knuckle politics to secure delegates ahead of next year's Super Tuesday primaries. Politico reports that Harris has been securing nods from prolific fundraisers and influential House reps in order to shut out any potential challengers, be it Biden, Bernie, Booker, or Beto.
The North Carolina State Board of Elections is set to meet today to consider evidence in the shady election in the 9th Congressional District. NPR notes Congressional Democrats are unlikely to seat the apparent winner, Republican Mark Harris, after multiple people came forward to attest they engaged in electoral fuckery on his behalf.
The Portland Press Herald and Maine Sunday Telegram got their hands on some papers Maine's batshit Republican ex-Gov. Paul LePage had been trying to hide showing LePage and his staff traveling to DC and spending oodles of taxpayer money at Trump's DC trash palace over the past two years. Receipts show LePage and his staff spent $22,000 on more than 40 rooms as well as hundreds on burnt ketchup steaks. The spending was so lavish the state comptroller's office had to ask how the hell they're supposed to justify the reimbursement. #ClassyMoFo
Two women are suing the CBP after they were detained for speaking Spanish in a Montana convenience store last year. Video footage shows a CBP agent rationalized their detention by saying, "I saw that you guys are speaking Spanish, which is very unheard of up here."
On the anniversary of the mass shooting in Parkland, Florida, the Kentucky Senate approved an NRA-backed bill allowing people to conceal carry guns without a permit or training. During a committee hearing NRA state Director Art Thomm said the state already allows open carry, "This bill decriminalizes wearing a coat in the state of Kentucky," and that the bill would be great for single working moms who don't have time to get permits.
An 11-year-old in Florida refused to stand for the Pledge of Allegiance, declaring it "racist," and prompting a substitute teacher to tell the kid to go back to where they came from. The middle-school student is now being charged with a misdemeanor for disruption after being suspended for three days despite it being totally legal to take a knee during The Pledge.
Health officials in Los Angeles aren't hip to a City Hall plan to use an "army of cats" to fight a rat infestation. The LA Times reports health officials saying fleas carried by the rats will simply jump to the cats, and inevitably make the problem worse. In speaking with local reporters, LA Mayor Eric Garcetti said the problem was being blown out of proportion adding, "The larger problem is making sure that we end homelessness in Los Angeles and not to get distracted by a report of a flea or this or that. There are people who can get that from their pets. They can get it from all sorts of places."
The 2019 Munich Security Conference was an embarrassing failure for Mike Pence, who tried to claim Trump's schizoid "America First" policy was making the world a better place even though this year's theme was "Picking Up The Pieces." At one point Pence was greeted with a five seconds of deafening silence when he said he brought "greetings" from Trump -- seemingly unaware that everyone at the meeting, from German Chancellor Angela Merkel to Iranian Foreign Minister Javad Zarif, was there to discuss multilateral diplomacy not blow Donald Trump while wearing MAGA hats. [Video]
Japanese Prime Minister Shinzo Abe nominated Trump for a Nobel Peace Prize last year, BUT only after the Trump administration asked Abe to submit the nomination (ALLEGEDLY). The nominating committee doesn't snitch on people, but the Abe administration is going out of its way not to deny the rumor. ¯\_(ツ)_/¯
Private cyber security firms and the NSA have uncovered a series of cyber attacks by Chinese and Iranian hackers who are targeting military contractors, banks, and tech companies in attempts to steal trade secrets and create chaos. The New York Times notes the ceasefires and peace agreements brokered by the Obama administration have gone up in flames as the Trump administration runs around screaming like a headless chicken waving a dull knife.
Facebook has suspended pages run by a viral video company for failing to disclose their direct ties to Russia's state-owned media operation following a blistering report by CNN. The company, Maffrick Media, operates pages like In the Now, Waste-Ed, Soapbox, and Backthen, collectively boasting over 30 million views, and routinely pushes the same pro-Kremlin propaganda being farted out by RT.
The British Parliament is accusing Facebook of "intentionally and knowingly" breaking privacy and anti-competition laws in order to make pantloads of money. Remember: Facebook spying on users isn't a bug, it's a feature they sold to advertisers.
British Prime Minister Theresa May is acting like she's making one last push to avoid a "no deal" Brexit scenario. With the left-leaning Labour party imploding over claims of anti-semitism and the party leader's general incompetence, Britons are now stockpiling Euros in fear the UK goes spiraling out of the EU, there's a global call to pause or stop Brexit. Don't worry if you're confused, so is everyone else. Luckily John Oliver just 'splainered what the bloody hell is going on with Brexit, and why it's become the UK's big, orange elephant in the room.

Brexit III: Last Week Tonight with John Oliver (HBO)www.youtube.com
Here's this weekend's SNL cold open!

Trump Press Conference Cold Open - SNLwww.youtube.com
And here's your morning Nice Time! It's JUGG!

MEET JUGG - The Neediest Kitten Ever!www.youtube.com
Follow Dominic on Twitter and Instagram!
We're 100% ad-free and reader-supported, so consider buying us coffee, or get a subscription!
Dominic Gwinn
Dominic is a broke journalist in Chicago. You can find him in a dirty bar talking to weirdos, or in a gutter taking photos.