OH NOES! SOCIALISTS! Wonkagenda For Tues., Feb. 19, 2019
News
February 19, 2019 08:58 AM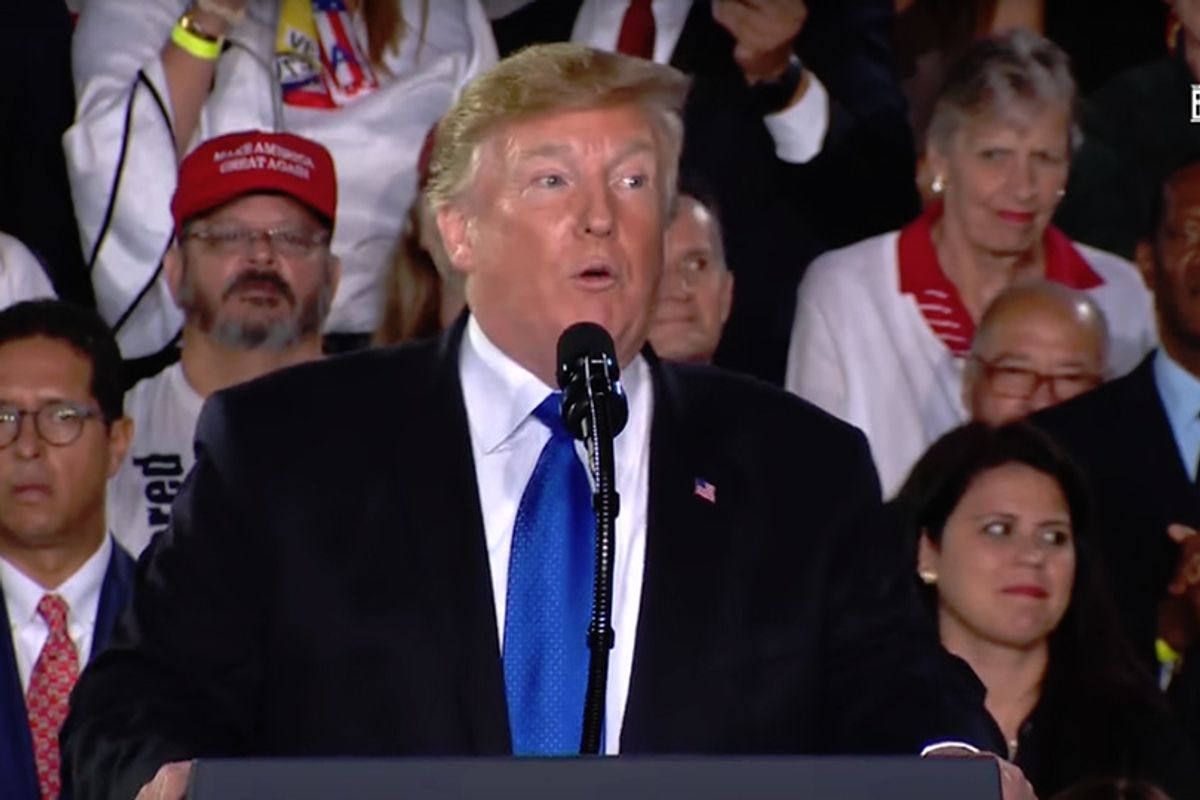 Morning Wonketariat! Here's some of the things we may be talking about today.
---
Led by California, 16 states have filed suit against Trump's declaration of a national emergency to build his Tortilla Curtain along the southern border. The suit accuses Trump of concocting "an unconstitutional and unlawful scheme," and says the states are fighting to "protect their residents, natural resources, and economic interests." Among his many shitposts this morning, Trump criticized the suit in tweet by comparing it to California's "Fast Train."

Now that Trump has his new attorney general, Deputy AG Rod Rosenstein is rumored to be leaving the DOJ sometime next month. WaPo gossips that Trump will nominate Deputy Secretary of Transportation Jeffrey Rosen to replace Rosenstein since there isn't anyone left in DC who actually wants to ruin their career by working for Donald Trump.
Vanity Fair's Bess Levin gossips that newly minted Trump AG William Barr has a son-in-law who just landed a gig advising Trump on legal issues. Meanwhile, Barr's oldest daughter is leaving her gig at the deputy attorney general's office for a gig at the Financial Crimes Enforcement Network, which is already under intense scrutiny for secretly using Gmail accounts to talk to the Russian government. TOTALLY NORMAL!!!!!
Politico has a doozy of a report alleging some hinky stuff between Trump's Transportation secretary and Kentucky Republican Sen. Mitch McConnell. The report suggests Elaine Chao, McConnell's wife, "built a political operation in her office to favor Kentucky," and that Chao's staff went out of its way to make Kentucky "feel special."
Before Trump lumbered back aboard #AssholeOne, he screamed about Venezuela and socialism in Miami, threatening the Venezuelan dictator, Nicolás Maduro, if he tried to defend his failed state from ambulances and food trucks. Maduro later responded by saying Trump gave a "Nazi" speech. Yr Wonkette thinks they're both tremendous assholes.
Vermont independent Sen. Bernie Sanders has announced #HesRunning for the 2020 Democratic ticket (again) during an appearance on Vermont Public Radio. Sanders said he would run a "very different campaign" compared to 2016, but declined to offer specifics, instead touting his "energy level," reiterating his previous campaign platform, and then calling Trump a racist. I guess he's switching from Indica to Sativa.
During a CNN town hall last night, Minnesota Democratic Sen. Amy Klobuchar ran to the center, coming out against free four-year college, calling Medicare-for-All "something we can look to in the future," and shying away from the Green New Deal. Klobuchar instead opted for a more pragmatic approach, suggesting easing restrictions on refinancing student loans, stating we can "get close" to abolishing nonrenewable energy, and building on the ACA.

Early this morning Democratic Senator and 2020 candidate Elizabeth Warren released a proposal for universal child care that would partner local providers together to create a network of free childcare centers, and hold them to a national standard in order to receive federal funding. According to the plan, families below the poverty line would pay nothing. NICE!
Donald Trump's 2020 campaign will no longer be run by fake nerd with a pubic beard Brad Parscale; he's expanded his 2020 campaign staff to include the same shady assholes who've been lingering in Trump world since the last election, like Tim Murtaugh, Marc Lotter, and Kayleigh McEnany.
Michael Bloomberg has NOT announced #HesRunning (yet), but he's certainly acting like it. Bloomberg's been quietly reaching out to other super rich philanthropists and calling in favors, and his lackeys tell Politico they've got people in every state willing to take a leave of absence IF he decides to run. One of the closest henchmen to the Republican ...err independent, DINO actually says, "There's never been a Bloomberg campaign that didn't start with a very good lawyer and a very good accountant."
State election officials in North Carolina found that Republican candidate Mark Harris participated in election fuckery, then actively tried to hide evidence during the investigation. Yesterday was only day one of hearings; witnesses testified on how not to "raise red flags" with elections officials, but the star witness, Leslie McCrae Dowless, declined to testify and demanded immunity under state law. Hearings are expected to last throughout the week, and we're already getting the popcorn ready. [Report]
FEC reports show former California Republican Rep. Dana Rohrabacher was skimming campaign cash for himself and his family. Once Vladimir Putin's "favorite congressman," Rohrabacher also spent $11,000 at Trump's DC hotel while gunning for a White House gig, and another $130,000 for a boozy post-inauguration party.
The editor of a small Alabama newspaper called for the KKK to "night ride again" in a Feb. 14 editorial where he suggested wars -- WWI, WWII, and Vietnam -- were started by Democrats in the "industrial north east" who "wanted more money." In subsequent interviews, the editor, Goodloe Sutton, suggested "cleaning up DC" with lynchings, saying, "We'll get the hemp ropes out, loop them over a tall limb and hand all of them," though he did add, "... It's not calling for the lynchings of Americans. These are socialist-communists we're talking about. Do you know what socialism and communism is?"
The Vatican is confirming that it has a secret set of rules for child predator priests ahead of a meeting with the world's bishops to confront the church's history of covering up sexual assault. The rules aren't widely agreed upon and are spurring conversations about celibacy, but for some odd reason they all keep avoiding the most basic questions about the sexual abuse of children and nuns.
With Theresa May facing a revolt from her own Tory party's anti-Brexiteers, members of her cabinet are in the EU trying to work out a last minute deal to avoid a "no-deal" Brexit. With Brexit weeks away and Parliament threatening to take over negotiations, EU Commissioner Jean-Claude Juncker again stated the EU was open to a delay as even more big name businesses announce they're getting the hell out of the UK ASAP.

Roger Stone thought it would be cute to make a social media post begging for money with a photo of the judge in his case, District Judge Amy Berman Jackson, with crosshairs and calling her an "Obama judge who dismissed the Benghazi charges again [sic] Hillary Clinton." Stone quickly deleted the photo, presumably after every lawyer on Twitter called him A Idiot, and later wrote a letter apologizing to the Court (a first) saying the photo was "misinterpreted," adding it was "improper and should not have been posted."

A new study from the Woodrow Wilson National Fellowship Foundation has found a majority of Americans in almost every state would fail a citizenship test. According to the study, only four out of 10 Americans would actually pass, and only 27 percent of those are under 45.
And here's your morning Nice Time! A DIK DIK!

Tiny Antelope Born on Valentine's Day!www.youtube.com
Follow Dominic on Twitter and Instagram!

We're 100% ad-free and reader-supported, so consider buying us coffee, or get a subscription!
Dominic Gwinn
Dominic is a broke journalist in Chicago. You can find him in a dirty bar talking to weirdos, or in a gutter taking photos.