TO INFINITY! Wonkagenda For Wed., Feb. 20, 2019
News
February 20, 2019 08:57 AM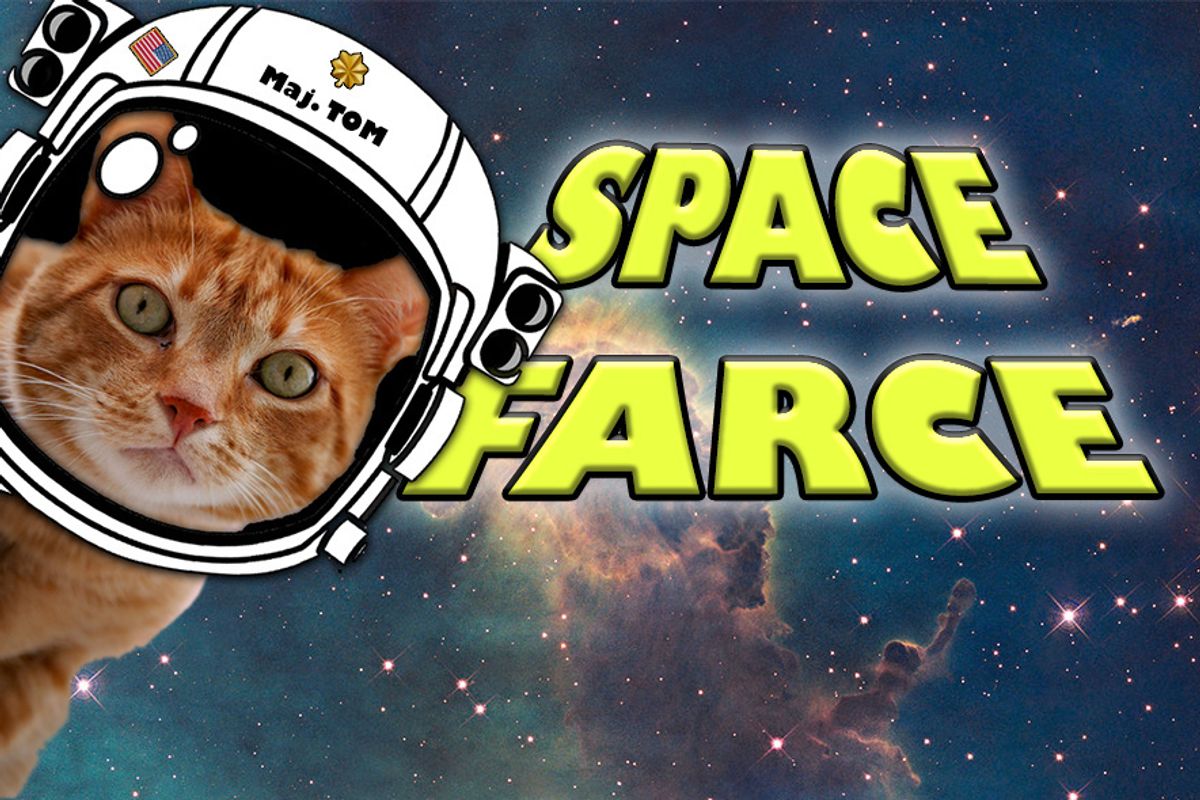 Morning Wonketariat! Here's some of the things we may be talking about today.
---
Shortly after the inauguration, a bunch of Trump's NSC people, including Mike Flynn, were trying to sell nuclear reactors to Saudi Arabia, according to a new report from the the House Oversight and Reform Committee. Without getting too deep into the weeds, whistleblowers say they warned about Flynn's personal involvement with the sale of the reactors, as well as that of Tom Barrack and Jared Kushner. The report says the Saudis didn't feel like playing by the same nuclear enrichment rules as everyone else, and that scared the hell out of everyone trying keep a tight lid on the spread of nuclear weapons.
Trump's SPACE FORCE became an official ... thing yesterday after he signed a directive to centralize all military space functions. The SPACE FORCE will fall under the purview of the Air Force, similar to the relationship between the Marines and the Navy, with a new military chief of staff to join the Joint Chiefs, and a civilian Undersecretary of the Air Force for Space, with a four-star combatant commander heading up space operations at US Space Command. Intelligence and scientific agencies like NOAA, NASA, and the National Reconnaissance Office will continue to operate outside the bounds of the SPACE FORCE, and the whole whole thing still requires the approval of Congress even as cost estimates range from a laughably conservative $5 billion from acting defense secretary Pat Shanahan, to Air Force Secretary Heather Wilson's start-up estimate of $13 billion.
A new Politico/Morning Consult poll shows a majority of people oppose Trump declaring a national emergency to force the military to build his goddamn wall. Meanwhile, legal nerds tell Roll Call they're concerned about what this means for the Authorization of the Use of Military Force, fearing that this tilts the AUMF out of the hands of Congress and further into the grip of a lunatic man-baby with sausage fingers.

Director of National Intelligence Dan Coats's days may be numbered because Coats keeps saying mean things about North Korea, and Russia, and ISIS/ISIL/whatever. According to the loose lips inside Trump's sinking ship, Trump is throwing another "loyalty" tantrum.
In criticizing the SCOTUS decision not to take up a case involving Bill Cosby's decades of grab-ass, SCOTUS Justice Clarence Thomas thinks we should nuke libel laws. Thomas writes that the landmark First Amendment case, New York Times v. Sullivan, was a "policy-driven" decision, adding, "If the Constitution does not require public figures to satisfy an actual-malice standard in state-law defamation suits, then neither should we." You see, Thomas thinks the woman bringing the suit shouldn't have sued Cosby -- whose lawyer leaked a confidential letter to damage her credibility -- after she accused Cosby of rape during the #MeToo era.
The Office of Government Ethics is declining to certify Commerce Secretary Wilbur Ross's 2018 financial disclosure forms because he lied about selling stock in a bank. Ross responded to the OGE by telling it to suck wrinkled asshole, arguing that he didn't do anything wrong, and even if he did, he didn't know what he was doing.
WaPo is getting sued for $250 million by that 16-year-old Jesus freak from flyover country who harassed Native American people on the steps of the Lincoln Memorial last month. The kid says he was "targeted" as part of "modern day McCarthyism" after he acted like an asshole on the National Mall only to find his face plastered all over the internet and newspapers, and "bullied ... because he was the white, Catholic student wearing a red 'Make America Great Again' souvenir cap." His parents have secured the same lawyer as Richard Jewell, and John and Patsy Ramsey.
SCOTUS declined to hear a case from disgraced former Illinois Republican Rep. Aaron Schock relating to his indictment over wire and mail fraud, theft of government money, lying, and cheating on his taxes. Schock had argued lower courts had no authority to prosecute him for ripping off Uncle Sam so he could redecorate his office to look like Downton Abbey, but SCOTUS decided to ignore him.
An aide to Louisiana MAGA Rep. Clay Higgins, Jared Prunty, was arrested over the weekend along with another guy and seven women as part of a human trafficking and prostitution sting. Police records show Prunty, a former sheriff's deputy, was sharing an address with a 36-year-old woman charged with "pandering" earlier this month.
Ohio Republican Rep. David Joyce sent a letter to the FEC accusing his campaign manager and current mayor of Highland Heights, Ohio, Scott Coleman of embezzling $80,000 in campaign funds. According to the letter, Joyce's people became suspicious when Coleman didn't turn over bank statements to the new treasurer, and was then caught on camera hitting up ATMs.
North Carolina election workers in the 9th Congressional District began counting early, in-person votes days before Election Day, according to the testimony from two poll workers, HOWEVER, this is being disputed by a different poll worker who says she never saw anyone looking at the readouts of early vote totals.
Arizona Senate Republicans want to force people to surrender their DNA to a database that could be accessed and used by cops, government agencies, and "legitimate research" institutions. BUT WAIT, THERE'S MORE! Under the proposal, the state could charge people $250 to submit their DNA.
Houston police will stop serving "no knock" warrants after a raid on a house left a married couple dead and five police officers injured. The Houston Chronicle reports police were acting on a tip that the almost 60 year old couple was dealing heroin, but after an intense shootout, found only a little coke and small bag of weed.
The Jussie Smollett assault case spiraled further into crazy town this morning after Cook County State's Attorney Kim Foxx recused herself from the investigation citing proximity to witness. On top of that, the US Postal Service is taking a magnifying glass to the suspicious death threat letter Smollett claims to have received. Citing sources close to the investigation, local network news outlets in Chicago are reporting Smollett was behind the letter, and later faked his reported assault (ALLEGEDLY) after the letter failed to attract any attention. As a result of the ongoing investigation, Deadline reports Smollett's role in the show Empire has been reduced.
Trump is waffling on his trade war with China because of course he is.
The neo-nationalist fascism sweeping Europe has spread to Spain after the right-wing Vox party was able to muscle its way into a coalition with two other parties and scuttle the socialist government's 2019 budget. The resulting stumble has caused Prime Minister Pedro Sánchez to call for early general elections -- a move that has many worried as Vox is now running around with slogans that read, "Make Spain Great Again."
Early this morning 11 members of the UK parliament have formed an anti-Brexit party known as the "Independent Group." Comprising centerists from the liberal Labour party and conservative Tories, the group says they're fed up with extremist Brexiteers and anti-semitism.

Russian President Vladimir Putin is claiming he'll aim his pocket rocket at the US if Uncle Sam decides to deploy missiles in Europe. Fortunately Putin seems to be talking out of his ass (again) as the rockets he claims he has -- the ones violating the former 1987 INF treaty -- don't technically exist. TLDR: he's a big, fat phoney.
Microsoft says it's caught Russian hackers attempting to hack into transatlantic foreign policy think tanks through spear phishing attacks ahead of this year's EU parliamentary elections. WaPo notes that is the second time Microsoft has caught Russian hackers in less than a year; adding that one of the targets was the German Marshall Fund -- which I JUST WROTE ABOUT YESTERDAY.

Politico reports that 2020 Democratic candidates Sen. Kamala Harris, Sen. Elizabeth Warren, and Beto O'Rourke are already on the receiving end of a seemingly organic racially-charged meme war designed to sow discord among Democrats. Apparently Kamala will never be black enough, Warren is a racist, and Beto is leading the Mexican Muslim taco truck invasion of the southern border with Miley Cyrus's wrecking ball.
Tech companies have declared war on anti-vaxxers, and it's about goddamn time! The WSJ reports that Facebook, Pinterest, Youtube, and Google have all started yanking anti-vaxxer bullshit following Rep. Adam Schiff's nastygram last week.
Former Trump spox Marc Short is dragging his balls back to Trump's White House to serve as Mike Pence's chief of staff. You may be familiar with Short as he frequently appears on cable news as a talking penis defending Trump administration.
Inside the halls of CNN's DC bureau, Brian Stelter says, staffers and actual journalists are pissed about the hiring of MAGA-loving Sarah Isgur Flores. Stelter cites one anonymous staffer who is freaking out about the former Trump administration official helping 'guide' [their] coverage of his re-election" in 2020. Stelter adds that the rank-and-file at CNN isn't sure what the hell she's supposed to be doing, though they do know she'll be a regular talking head.
Lightsaber dueling is now an official sport recognized by France's fencing federation. TRES BIEN! Que la force soit avec toi!
Get your groove on with Randy Rainbow's "Border Lies!"

BORDER LIES - Randy Rainbow Song Parodywww.youtube.com
And here's your morning Nice Time! BABY SEAHORSES!

Baby Seahorses at Melbourne Zoowww.youtube.com
Follow Dominic on Twitter and Instagram!

We're 100% ad-free and reader-supported, so consider buying us coffee, or get a subscription!
Dominic Gwinn
Dominic is a broke journalist in Chicago. You can find him in a dirty bar talking to weirdos, or in a gutter taking photos.