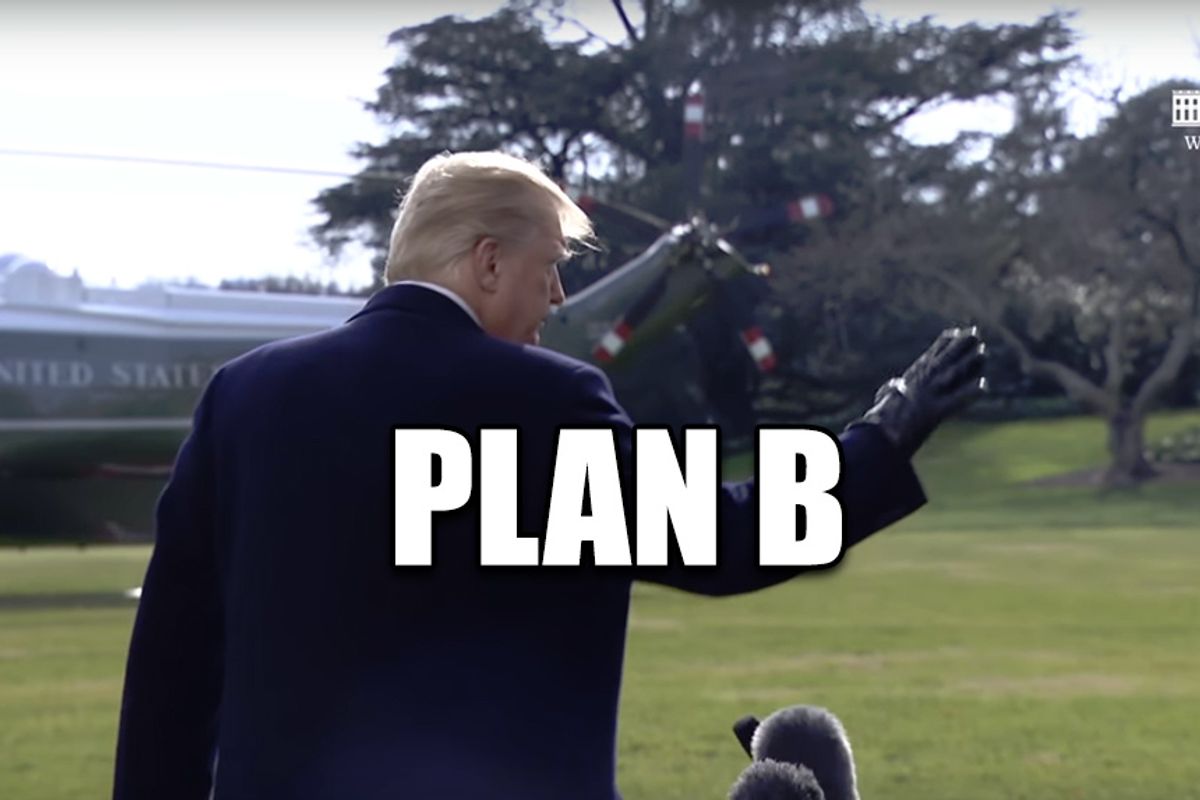 Morning Wonketariat! Here's some of the things we may be talking about today.
---
THERE'S MORE investigations into Trump's sleazy business and shady White House! Yesterday New York financial regulators subpoenaed Trump's insurance broker after Michael Cohen snitched to Congress that Trump lied about how poor he was in order to get cheaper rates. The administration is responding to the litany of document requests by stonewalling, shitposting, and screaming about witch-hunts and hoaxes in the hopes that it'll sway public opinion polls that show confessed and convicted liar Michael Cohen is more believable than Donald Trump. [Morning Maddow]

CNN reports Trump personally told former chief of staff John Kelly and former White House counsel Don McGahn to give Ivanka a security clearance despite their warnings. CNN cites several sources saying it's entirely possible Ivanka wasn't lying when she said her dad didn't ignore advice from national security officials (natch), though it notes Trump "badgered" officials repeatedly -- apparently not seeing the "big deal" about giving his sketchy spawn access to "top secret/sensitive compartmentalized information" as they were probably going to move back to New York anyway. In related news, Politico reports White House Counsel Pat Cipollone is telling the House Oversight Committee to eat a bowl of executive dicks after it demanded to know how Jared Kushner got a security clearance.
The New York Times has MORE hush money checks signed by Trump. If True, the checks were cut on the same day Trump gave a half-assed condolence call to the grieving mother of a fallen US special forces soldier.
After getting chewed out at the White House, some Senate Republicans aren't sure if they want to buck Trump on his border wall emergency now that they're up for reelection in 2020. The administration is hoping it can scare enough people into believing the Mexican-Muslim taco truck invasion of the southern border will fill the country with tamale toddlers and anchor babies after CBP released data that said immigration had surged in February. After doing its homework, the Times noticed that the numbers aren't as high as they were under the Clinton administration, but the number of people locked in baby jails certainly is. Later today, DHS Secretary Kirstjen Nielsen is expected to reiterate this talking point to the House Homeland Security Committee, and claim the hype on Trump's baby jails is overblown.
Late this morning the US posted an insane $891.2 billion merchandise trade deficit for 2018, suggesting that Trump's "America First" doctrine has been just another big, fat lie, like his trade war, his tax cuts (for the super rich), his border wall, etc.
Jessie Liu, the US attorney for DC, is expected to be tapped for the long vacant No. 3 position at Trump's DOJ. This could be a smart move to fill the DOJ with competent people -- it took them a year to find a person who'd agree to take the job -- but it's doubtful considering Liu's proximity to the Trump-Russia investigation. [Morning Maddow]
The Senate voted to confirm 37-year-old Allison Rushing, another gay-hatin' judge, for the federal appeals court. Sigh...
The 18-year-old Ohio kid who rebeled against his parents and got vaccinated testified before Congress that his mom was brainwashed by anti-vaxx Facebook cults who preached 19th century bullshit like "vaccines were a conspiracy by the government to kill children." The hearing before the Senate Health Committee was partially titled "Vaccines Save Lives," so it was only natural for Kentucky's glass jaw Republican Sen. Rand Paul to thump his #Murican Bible and peddle the very conspiracy theories the committee was debunking by declaring, "I still don't favor giving up on liberty for a false sense of security," adding, "Even the government admits that children are sometimes injured by vaccines."
Yesterday the House passed the the John D. Dingell Jr. Conservation, Management, and Recreation Act which will help protect millions of acres of public land from corporations that want to drill, baby drill, and permanently fund the Land Water Conservation Fund. [Bill]
Republican Sen. Chuck Grassley wants to know why the hell the Treasury Department initially withheld Russian bank records during a 2017 investigation into the financing of Russian fuckery in the 2016 election. Grassley is apparently miffed that BuzzFeed figured out what Treasury was doing before he did, making him look like A Model Idiot.
House Democrats delayed a vote to condemn anti-Semitism in response to comments made by freshman Democratic Rep. Ilhan Omar so that they can work in language that condemns all forms of religious bigotry. House Speaker Nancy Pelosi won't say when the bill will hit the House floor, though she did tell reporters she intends to put it to a vote later this week.
New York Democratic Rep. Alexandria Ocasio-Cortez tells a local news station that she's waiting to endorse a 2020 candidate, stating, "I think we need to have a conversation as a party, and I think that's endorsing very early in this race prevents us from having that kind of conversation." AOC also said that the Bernie camp didn't ask her to speak at either of his two rallies this weekend, so she took a day to take care of herself.
The Daily Mail tried to "Gotcha" AOC's mom, and instead all they got was adorable stories about her child. There's even one about Star Trek: Voyager!
Speaking of Bernie, he signed a DNC loyalty pledge and officially become a member of the Democratic Party. Following his failed 2016 run for the Democratic nomination as an independent, the party changed its nominating process to bar independent candidates from seeking the Democratic nomination.
HEY EVERYONE! Let's all come together to point and laugh at former Republican Gov. Bill Weld miserably failing at his primary challenge already.
Trump officially backtracked on his withdrawal of US forces in Syria yesterday after members of Congress sent him a nastygram. WaPo states some military officials have described murky plans to keep as many as 400 service members in country, primarily to serve as a peacekeeping force to keep Syrian, Russian, Iranian, and Turkish forces from going completely shithouse on one another, and murdering Syria's ethnic Kurds. [Letter]
Almost immediately after Trump's huge embarrassing failure to get North Korea to "denuke," the DPRK began rebuilding missile facilities critical to its nuclear program, according to both the New York Times and NBC News. What's more, South Korean media reports the DPRK had actually begun rebuilding at least one site before the meeting in Hanoi, possibly in an attempt to spruce things up in the event US wanted to supervise their destruction.
Foreign policy nerds are biting their nails and begging the Trump administration to squash the beef between India and Pakistan before the two countries nuke us all into World War III. Where previous administrations immediately put themselves between the potential bar brawl, the Trump administration has struggled with making a few lazy phone calls, and opted to pick sides in a complicated fight that spans generations.
In speaking at a cybersecurity conference yesterday, FBI Director Christopher Wray said Not American cyber fuckery on social media has continued "virtually unabated," even if it hasn't had a "material impact on election infrastructure." Wray stated the biggest threats continue to come from state actors like Russia, China, Iran, and North Korea, adding that nation-states are beginning to contract out for more "blended" attacks and specifically fingering China as one of the biggest assholes in cyberspace. The comments come amid a report from the WSJ about Chinese hackers targeting universities in the US and around the world in an effort to steal military secrets. Citing a soon to be published report from a a cybersecurity intel firm, the WSJ details how Chinese hackers have been digging for stuff related to maritime research and undersea technology.
WaPo has an interesting piece on how a bunch of "millionaires and multimillionaires" suddenly started pressuring school and college officials to hide Trump's academic transcripts. Most of the people involved with hiding Trump's transcripts declined to comment, and those who did claim they have no idea where they are now. Trump continues to refuse to release his tax returns and birth certificate.
Milwaukee's former gun humping and Trump loving sheriff, David Clarke, seems to have been "You're Fired" from his gig as a Fox News TV talking head. The Daily Beast reports Clarke hasn't been on TV since he was "You're Fired" from the super Trump America First PAC -- where he was initially hired after being denied a gig in Trump's White House. And nothing of value was lost.
Sean Hannity's obsession with AOC surpassed absurdity last night after he devoted almost the entirety of his show to her. First Hannity had a segment about whether or not she uses plastic bags, then Hannity, Geraldo, and Dan Bongino spent a disturbing amount of time wrapped in American flags jerking off with flaming $100 bills and incoherently grunting about how socialism smothers defenseless babies. This comes just after Tucker Carlson and Brit Hume called AOC a callow and shallow, and "kind of adorable in sort of the way that a five-year-old child can be adorable."
Unless you needed more proof that Fox News has become the de facto press office for the Trump administration, Laura Ingraham is crying about Republican Sen. Mitch McConnell not whipping his party into supporting Trump's wall. Ingraham then let Rep. Jim Jordan (R, Fantasy Island) scream about how it was actually HER EMAILS that were colluding with Russia to put together THE DOSSIER and the pee hooker tape.
Former Fox News talking head Janice Dean has a new book where she says it was "the best job of her life," except for all the times Jabba the Hutt impersonator and DEAD Fox News "king" Roger Ailes sexually harassed her, and propositioned her for phone sex. Dean goes on to say how she eventually got over his creepy wrinkled dick jokes, then helped lead a #MeToo moment inside Fox post-Gretchen Carlson.
Singer R. Kelly gave a BATSHIT interview to CBS's Gayle King denying he ALLEGEDLY kidnaps and imprisons young women and underage girls, and imprisons them in sex dungeons. According to Kelly, the women locked themselves in his sex closets! Kelly adds that he was already acquitted of raping one underage girl, therefore we have no "common sense" when we call Kelly a "monster," who will "hold girls against their will, chain them up in [his] basement, and don't let them eat, don't let them out, unless they need some shoes down the street from their uncle." [Video]
Vic Berger has a supercut of all the crazy white people crying about their free-dumbs at this year's CPAC.

Vic Berger Presents The Best Of CPAC 2019youtu.be
And here's your morning Nice Time! IT'S BINGO the otter!

カワウソ ビンゴが家族になってからを振り返る【誕生日記念】Look back at the last 9months since Otter Bingo joined our familywww.youtube.com
Follow Dominic on Twitter and Instagram!
We're 100% ad-free and reader-supported, so consider buying us coffee, or get a subscription!
Dominic Gwinn
Dominic is a broke journalist in Chicago. You can find him in a dirty bar talking to weirdos, or in a gutter taking photos.