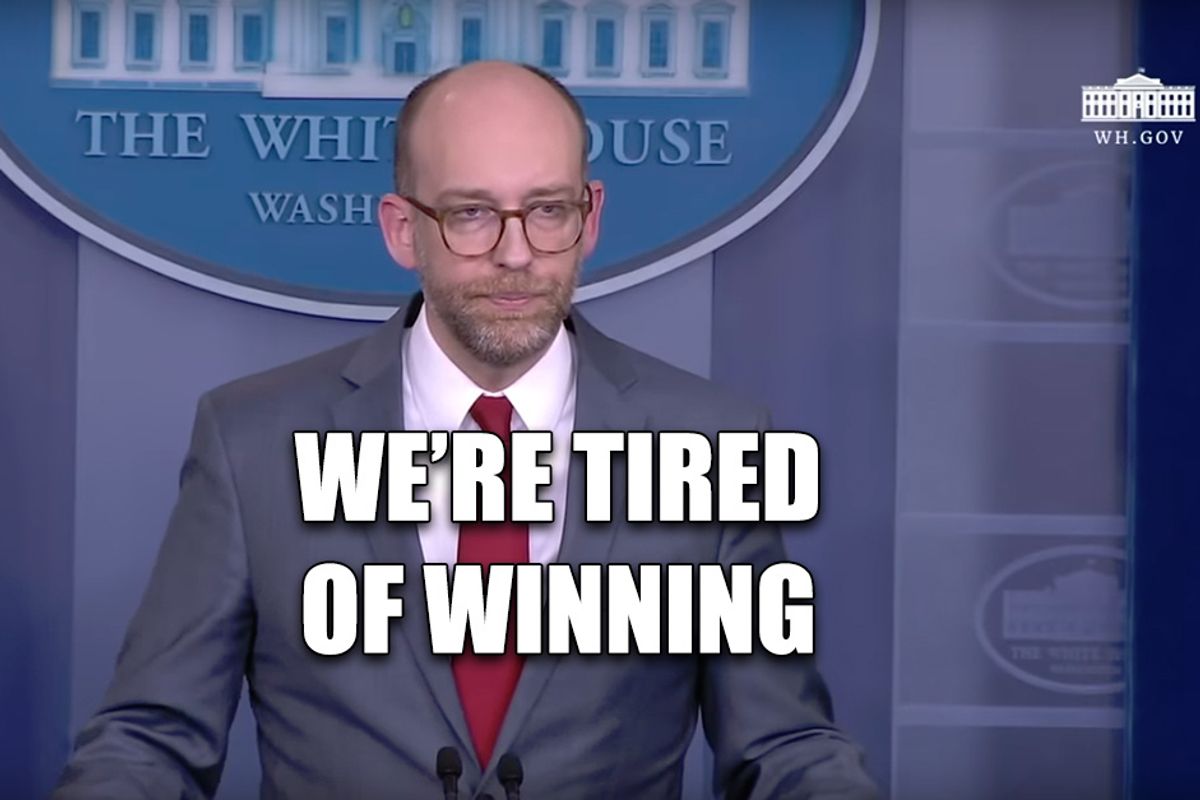 Morning Wonketariat! Here's some of the things we may be talking about today.
---
There's so much fuckery in Trump's $4.75 trillion budget, we don't have nearly enough time to go through everything. Politico has a list of some of the winners and losers, the former being his golf buddies and Betsy DeVos, and the latter being poor people, the sick, and the elderly (thanks to massive cuts in Medicare and Medicaid previously sold as TrumpCare). WaPo notes that the administration is living in a complete fantasy believing that the economy is doing fine, counter to the analysis from every math geek who's ever used an abacus. Yesterday, OMB Director Russ Vought told reporters that it wasn't actually the Trump tax cuts (for the super rich) that ballooned the national debt, it was Obama. Earlier in the day, Vought appeared on CNBC to bitch and moan about the Mexican-Muslim taco truck invasion of the southern border, arguing that WALL was more important than sick, old, and/or poor people, and stated, "We're tired of being right." US TOO, BUDDY. Meanwhile, the GOP revolt over Trump's border wall has flipped Congress on its head as members consider measures ranging from overriding Trump's national emergency declaration, to limiting the presidential power to declare national emergencies.

In a bigass profile in WaPo, Nancy Pelosi finally said what's been hinted at for two years -- that she doesn't want to impeach Trump "unless there's something so compelling and overwhelming and bipartisan ... because it divides the country. And he's just not worth it." Some Democrats pushed back strongly on Pelosi's remarks, with Rep. Alexandria Ocasio-Cortez noting Trump met "the Lindsey Graham standard" for impeachment "multiple times." In speaking with Politico, House Oversight Chair Elijah Cummings called impeachment a "political process," and added, "You've got to have bipartisanship. Right now you've got 40 something percent of the country pleased, I guess, with what the president's doing. I think Pelosi realizes this."

Dick Cheney ripped Mike Pence a new asshole at a private meeting in Georgia over the weekend at a forum for a conservative think tank, according to a leaked transcript of the event. The war hawk criticized the Trump administration's foreign policy as being more limpwristed than Obama, complaining that Trump's idea to demand protection money from allies "sounded like a new York state real estate deal." Pence responded by reportedly asking, "Who wrote these softball questions?"
In a rare showing of bipartisan rebuke of the Trump administration, House Speaker Nancy Pelosi and Senate Majority Leader Mitch McConnell have invited the NATO Secretary General Jens Stoltenberg to Washington to address a joint session of Congress later this spring. The invite comes as Trump moves to charge US allies protection money to the tune of "cost plus 50."
Massachusetts Democratic Senator and 2020 candidate Elizabeth Warren suddenly found her ads calling for Facebook to be broken up taken down by Facebook. Facebook issued a statement saying the ads violated their policy of using its logos in advertising. Though the ads were later restored, they kind of proved Warren's point that Facebook is too goddamn big. Politico is stirring the pot this morning with a story about Warren taking money from Silicon Valley employees and selling her books on Amazon ... over the last decade.
Senators Ed Markey and Josh Hawley say they plan introduce a bill to amend the Children's Online Privacy Protection Act (COPPA). The bill would reportedly extend protections of children up to 15-years-old, and bar platforms from targeting ads at kids under 13. Roll Call notes it's unlikely to become a law even though multiple states and the EU have already moved forward with strict data privacy regulations aimed at keeping companies from fiddling with kids' heads. Here's an example of COPPA laws in action.
Democrats have chosen Milwaukee, Wisconsin, for their 2020 nominating convention. In a tweet, the party stated Milwaukee was "more than equipped."

Wayne's World (8/10) Movie CLIP - Alice's History Lesson (1992) HDwww.youtube.com
Sen. Kirsten Gillibrand says her office was "thorough and professional" when it "thoroughly and appropriately" investigated sexual harassment allegations from a female staffer against Gillibrand's longtime driver and military adviser. In a brief scrum with reporters, Gillibrand said she has full confidence about the "professional and thorough" investigation that was now "thorough and complete." He must be a good man, and thorough.

Former Democratic Rep. Beto O'Rourke is headed to Iowa to help state Senate candidate Eric Giddens in a special election while simultaneously reaching out to former Obama people and courting activists. Beto hasn't announced #HesRunning (yet), but political wizards think it's just a matter of time.
Former Georgia Democratic gubernatorial candidate Stacey Abrams clarified remarks she made at SXSW stating she hadn't decided if #ShesRunning in 2020, and said the possibility was "on the table." Abrams's initial remarks were that she kept a spreadsheet with gigs she wanted, and 2028 would have been the earliest she would run for president.
According to court records, a Roy Moore supporter pleaded the Fifth 65 TIMES when asked if he had tried to bribe the lawyer representing one of Moore's accusers to drop the client and issue a damning statement to Breitbart. What initially started as a defamation suit has grown to engulf Steve Bannon's rightwing shit rag. SCANDAL!
Those rascally radicals in antifa have dug up racist and anti-Semitic chat logs from from Bennet Bressman, the statewide field director for Nebraska's uber rich Republican Gov. Pete Ricketts. The 22-year-old Bressman says the logs, which date back to last year, were from a long time ago and no longer reflect who he is as a person, though screenshots of Bressman's social media accounts show him teaching people about "chad nationalism," joking about running down Black Lives Matter activists with his white car, dropping n-bombs and racial stereotypes, as well as old fashioned gay-hatin'. [Logs]
Current Florida man and former Maine Republican Gov. Paul LePage started cold calling radio shows (again) to say those damn dirty Democrats get all their money from the JEEWWZZ, and that Rep. Ilhan Omar "completely vindicated" his long history of hate mongering. [Audio]
As British Prime Minister Theresa May faces the rapidly approaching zero for a "no-deal" Brexit scenario, the EU and UK agreed to a changes over the Irish backstop and permanent customs union. HOWEVER, the EU signaled the changes are by no means an end to negotiations just as a number of British MPs sounded off about their reluctance to support May's deal. If you're confused, don't worry, so is everyone else.
A new UN report says North Korea is cleverly avoiding oil, coal, and weapons sanctions, and hacking foreign banks to make some quick cash -- and that's on top of all the shady weapons testing programs they've quietly started back up. The report even includes photos of North Korean ships disguised as trading vessels illegally transferring energy and materials on the high seas, as well as the regime's smuggling of weapons to Iranian-backed Houthi rebels in Yemen, possible gold-mining in the Republic of Congo, and supplying Uganda with military training and weapons.
Lawyers for Roger Stone say they "clumsily" tried to tell the court about Roger Stone's book, and that they'd like to "move ahead without further ado," HOWEVER emails from Stone to his publisher show Stone bitching about a gag order interfering with his book sales, arguing for more money, and demanding fewer copies of the book be printed.
The Senate Intel Committee met with Simona Mangiante, the wife of George Papadopoulos, to ask about her old boss, ALLEGED Russian spy Joseph Mifsud. Mangiante told WaPo that she was "happy to provide information," emphatically adding, "Definitely not because I am a Russian spy." [No, she said that!]
Tucker Carlson refused to apologize for sexist and misogynist comments made to a shock jock's radio show unearthed by Media Matters. Tucker likened the campaign to have him and Jeanine Pirro "You're Fired" to a "mob" in a defiant monologue, and stated he planned to "fight it" while crying on the shoulder of Sean Hannity. Media Matters later released MORE damning audio of Tucker where he claims "white men" were responsible for "creating civilization," waxes philosophical about THE BLACKNESS of the Obamas, and whines that Iraqi people aren't "human beings" because they "don't use toilet paper or forks," and that they're actually, "semiliterate primitive monkeys," Shortly after Tucker's monologue, Fox News host Brit Hume tweeted, "Doing well is the best revenge," and linked to Tucker's TV ratings. Meanwhile, Variety's Brian Steinberg noted Tucker didn't have many ads during his show, and that's not a good sign (for him).
Two of the most prominent NRA board members tell the New York Times that NRATV's hard-right turn into fear mongering of apocalyptic race riots, ALLEGED grift, and shady Russian fuckery has forced them to reconsider what the hell they're all doing. Apparently Dana Loesch putting Thomas the Tank in a KKK hood was a little too much, even for gun fetishists chumming red meat.

After the Westboro Baptist Church decided to take a field trip to the Virginia state capitol and protest the state's first and only openly transgender lawmaker, Del. Danica Roem, the lead singer of heavy metal band Lamb of God organized a counter-protest with free kazoos. Several hundred people turned out in support of Roem, who herself fronts a local heavy metal band, and chased out the hate group out within 30 minutes.
And here's your morning Nice Time! A KIWI CHICK!

Second Kiwi Chick of 2019 Hatches at Smithsonian Conservation Biology Institutewww.youtube.com
Follow Dominic on Twitter and Instagram!

We're 100% ad-free and reader-supported, so consider buying us coffee, or get a subscription!
Dominic Gwinn
Dominic is a broke journalist in Chicago. You can find him in a dirty bar talking to weirdos, or in a gutter taking photos.