Congress Wants Its Wallet Back. Wonkagenda For Thurs., March 14, 2019
News
March 14, 2019 08:59 AM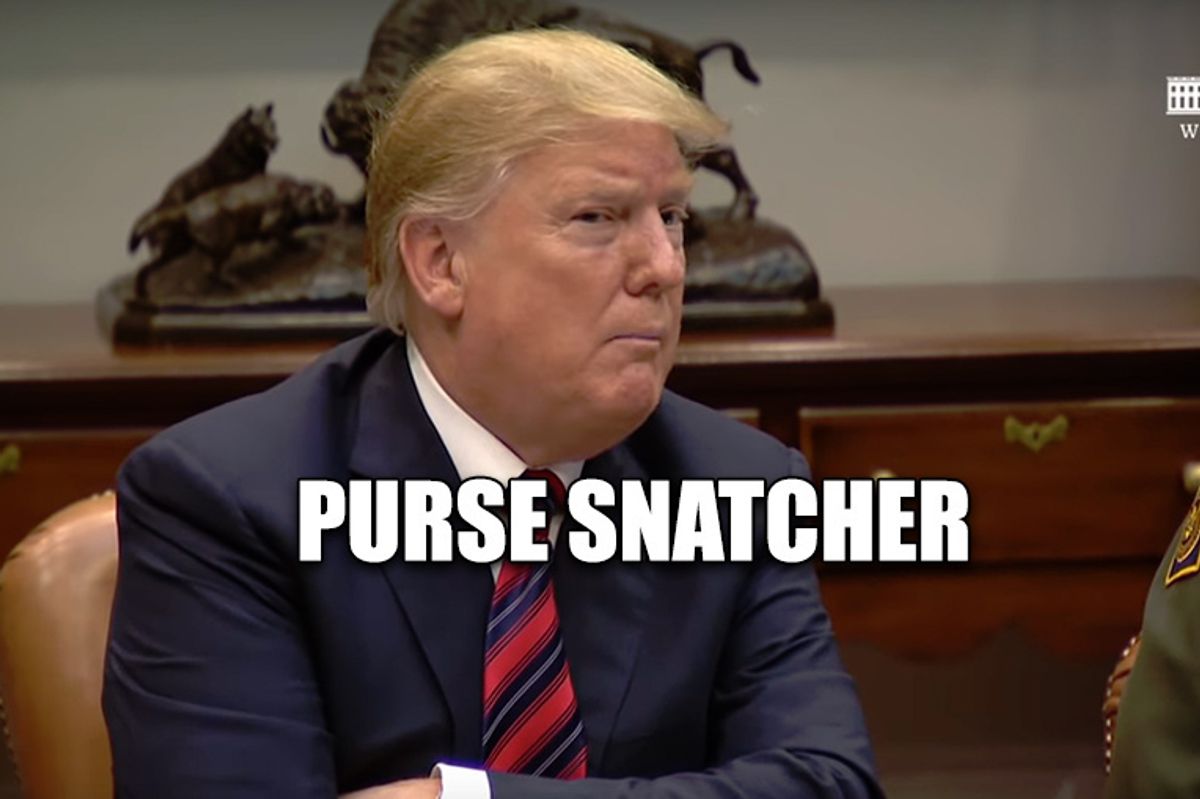 Morning Wonketariat, and Happy Pi Day! Here's some of the things we may be talking about today.
---
Senate Republicans are just beside themselves with grief this morning! In less than 24 hours they'll send Trump two bills that are expected to prompt the God Emperor's first vetoes. Terrified of creating a constitutional crisis, the Senate is widely expected to pass a resolution rescinding Trump's national emergency declaration after Trump personally nuked a "compromise" effort to save face by Utah Republican Sen. Mike Lee. Politico notes a number of Republicans are keeping mum about their vote today, believing Trump's wall is less politically damaging than any position that leaves #Murica vulnerable to the Mexican-Muslim taco truck invasion hurling newborn anchor babies across the southern border. In several shitposts this morning, Trump called Democrats "Border Deniers" (whatever that means), and some other random and unintelligible crap.

The other vote Trump is likely to veto is a Senate resolution to end US support for the Saudi-led war in Yemen. Authored by Senators Mike Lee, Chris Murphy, and Bernie Sanders, it's effectively the same bill that was passed last December and died in the Republican-controlled House, and serves to rebuke the administration's defense of Mohammed Bonesaw and his murder of journalist Jamal Khashoggi. Yesterday Trump's State Department (finally!) acknowledged the death of Khashoggi was a human rights abuse, but stopped short of saying anything mean about Jared Kushner's best friend.
Former Texas Rep. Beto O'Rourke has (finally) announced #HesRunning. In a video announcing his candidacy, Beto states he'll run a positive campaign with a platform on immigration, helping rural communities, jobs, and defining climate change as "the most pressing, the most urgent, the most existential challenge" facing the country. In related news, Vanity Fair has an interesting profile of Beto from Joe Hagan where he addresses some of his perceived shortcomings, and a photo spread from the great Annie Leibovitz.

Beto O'Rourke announces he's running for presidentwww.youtube.com
NPR reports Andrew Weissman is stepping down from the Mueller investigation, a potential sign Mueller's Trump-Russia investigation may be wrapping up. It could also mean that the investigation is moving into Phase 2: The Impeachening!

The House Judiciary Committee dragged Meatball's ass back to the Hill for another grilling yesterday, forcing Trump's former acting AG to answer questions whether Trump tried to obstruct justice. Meatball "did not deny" that Trump asked him about Michael Cohen, but he refused to answer the committee when asked if they talked about Cohen. Republicans on the committee are claiming he simply had a brain fart.
Outgoing Air Force Secretary Heather Wilson is trashing the Space Development Agency, an unnecessarily vague pet project of Trump's ACTING Defense Secretary Pat Shanahan. Wilson calls the SDA an additional bureaucratic shitshow with no "uniquely identifiable mission that cannot be accomplished by current organizations." That's the DC equivalent of kick-punching a baby (in the dick).
Ohio Tea Party Republican Rep. Jim Jordan is FLUMMOXED that the chair of the House Oversight Committee, Rep. Elijah Cummings, has asked for MORE money to fund the growing list of investigations. Jordan tells Roll Call that there's just not enough money to investigate the Trump administration's ALLEGED graft, scandals and fuckery because we need to build a goddamn wall.
New York Democratic Rep. Alexandria Ocasio-Cortez trashed a Wells Fargo executive for offering financial support for Trump's baby jails. When AOC asked, "Why was the bank involved in the caging of children and financing the caging of children to begin with," the banking exec tried to dodge the accusation, to which AOC doubled-down and called Trump's baby jails "cages." After the exec took issue with the definition of "cages," Rep. Bonnie Watson Coleman held up pictures of chain link fencing and asked, "Is that a cage?"
In a speech at Florida's Miami Dade College, Howard Schultz said #IfHesRunning he would commit to only signing bipartisan legislation, and not put forward a SCOTUS nominee who couldn't pass two-thirds of the Senate (LOL, good luck!). Schultz also rambled about assembling a team of "the most qualified people" from across the political spectrum, and pledged not to shitpost about them on Twitter. WaPo notes Schultz, the gift that keeps on giving himself foot-in-mouth disease, likes to tell people he was a poor kid from Brooklyn, but a new WaPo investigation has Schultz's former neighbors claiming he grew up in a "heavily Jewish, solidly middle-income place" that was so "brand spanking new" his neighbors had a cleaning lady.
The House Judiciary Committee approved reauthorization of the Violence Against Women Act along A PARTY LINE VOTE, 22-11. The protections and benefits authorized by the law lapsed during Trump's shutdown, and an extension was absent from the spending deal that reopened the government. The new bill would fund VAWA through 2024. A number of Republicans tried to introduce smarmy amendments aimed at watering down VAWA with dubious language about trans people, giving guns to sexual assault survivors, and allowing religious groups to ignore battered women, but they were all rejected.
A website spotlights women who've accused former Nevada Democratic Rep. Ruben Kihuen of sexual harassment. Buzzfeed reports Kihuen, now running for a Las Vegas City Council seat, has "distanced himself" from the website, but local reporters have found themselves on the receiving end of nastygrams from Kihuen lawyers after asking about the sexual harassment allegations that a House Ethics Committee investigation found credible.
In a largely symbolic vote, the UK Parliament shut down a "no deal" Brexit scenario. With the deadline for Brexit just over two weeks away, British Prime Minister Theresa May reminded/threatened MPs (amid calls for her to resign) that there's still no deal to keep the UK from crashing out of the EU, suggesting her shitty Brexit deal was better than nothing. The EU is now waiting for Parliament to come begging for an extension on Brexit as soon as today, but the EU's warning not to let Brexit negotiations interfere with their own parliamentary elections makes things even MORE complicated
Facebook is being investigated by prosecutors in the Eastern District of New York for secretly selling personal user data to companies, even if the users specifically requested the data remain private, potentially violating a 2011 consent agreement to keep user data private. Facebook is already being investigated by the FTC for breaking the country by letting Cambridge Analytica suck up and sell user data to the Trump campaign in 2016. In a potentially related story, Facebook was b0rked and offline for a while yesterday.
Someone needs to tell Twitter CEO @Jack Dorsey that it's not fucking cool to embrace anti-vaxxer bullshit. @Jack went on a prominent anti-vaxxer podcast and tweeted an endorsement of the armchair scientist, praising the crackpot's "mountain of research focused on increasing one's healthspan."
President Twitter tantrums took time out of his busy schedule to send some shitposts about the #FakeMelania thing. Real Talk: It's entirely possible Melon commissioned a second-rate garbage clone to stand next to Orange Julius Caesar and get molested by his baby hands, but there's 10,000 other things more important than FLOTUS's frumpish understudy.
Take some time to read this profile of Ramsey Orta, the guy who filmed the death of Eric Garner at the hands of the NYPD. It is very long and very sad, and you will read the whole damn thing.
Madeline Peltz is the 24-year-old Media Matters researcher sifting through Tucker Carlson rants to make the argument that Tucker Carlson is the "mouthpiece for white supremacy."
Samantha Bee dug up a whole mess of videos of ALLEGED white supremacist Tucker Carlson saying racist and xenophobic things (and staring vacantly, jaw agape, into the abyss). Bee also ladysplained Rep. Ilhan Omar's lobbying comments in their proper context, and how the right wing Islamophobia crowd have made up a bunch of shit.

Is Tucker Carlson a White Supremacist? | March 13, 2019 Act 1 | Full Frontal on TBSwww.youtube.com
And here's your morning Nice Time! RED-SHANKED DOUC LANGURS! They're very pretty and fuzzy monkeys!

This Endangered Monkey is One of the World's Most Colorful Primates | Short Film Showcasewww.youtube.com
Follow Dominic on Twitter and Instagram!

We're 100% ad-free and reader-supported, so consider buying us coffee, or get a subscription!
Dominic Gwinn
Dominic is a broke journalist in Chicago. You can find him in a dirty bar talking to weirdos, or in a gutter taking photos.