Little April Showers. Wonkagenda For Mon., April 1, 2019
popular
April 01, 2019 08:56 AM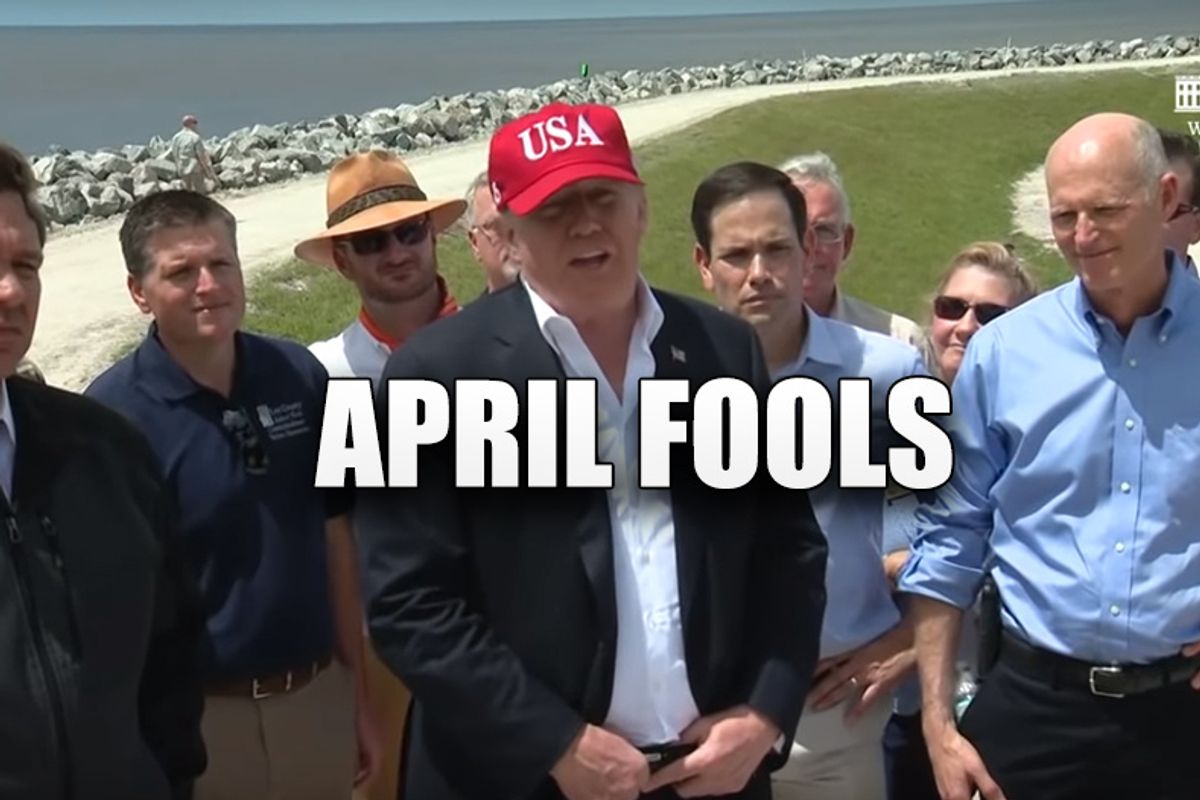 Morning Wonketariat! Here's some of the things we may be talking about today.
---
Trump's White House is doubling down on threats to close the US-Mexican border despite the potentially catastrophic effects on global trade, markets and US jobs. Yesterday the talking heads of Trump World blithered on TV that Trump wasn't bluffing even despite his team making zero effort to prepare for a shutdown, according to anonymous officials in the CBP and Pentagon. In related news, Nancy Pelosi threw out a DHS request to deport children in Trump's baby jails, causing Sec. Kirstjen Nielsen to say silly words about the humanitarian crisis caused by Trump's immigration policies. Yesterday Trump shitposted, "Homeland Security is being sooo very nice, but not for long!"

Jonathan Swan must've staked out the Mar-a-Lago men's room because he's dishing a ton of gossip for Axios this morning! Hopefully Swan remembered to wash his hands before writing about how Trump secretly thinks GOP lawsuits to kill Obamacare will fail, wants to replace the notorious RBG with arch conservative Amy Coney Barrett under the belief that "the women" in the Senate would come around, wants to park a billion dollars in Pentagon money in a slush fund in order to avoid mandatory sequestration cuts, and is flooding the White House policy shop with conservative swamp creatures who will kill healthcare, labor, and energy/environmental regulations while making sure everyone bows down to Jesus.
GOOD NEWS, EVERYONE! A federal judge in Alaska has blocked the Trump administration from drilling for gas and oil in the Arctic and Atlantic Oceans, AND blocked an Interior Department order land swap that would have let roads be built in a National Wildlife Refuge. This marks yet another legal setback for an administration that thinks it can do anything when you're a celebrity, even drill, baby drill.
Mitch McConnell is throwing all the legislation passed by House Democrats into the congressional trash compactor in order to protect Trump and vulnerable Republicans in 2020. Politico notes the strategy may ultimately help Democrats in 2020, giving them the ability to argue Republicans are only interested in helping their super rich donors.
In a laughable op-ed, McConnell bitches about Democrats keeping the Trump administration from filling the government and courts with conservative ideologies, lobbyists, and swamp monsters. McConnell concludes his several hundred word tantrum by saying he's going to change the Senate rules (AGAIN), further solidifying his legacy as a hypocritical mutant turtle monster.
Early last week the DCCC announced that it would blacklist any consulting firms that worked with any candidate trying to primary incumbent Democrats. Incensed freshman Democrats and other members of the whippersnappers caucus are saying the DCCC's move is unfair, with Rep. Alexandria Ocasio-Cortez -- who has called for more candidates to be primaried -- saying constituents should boycott the DCCC, and instead donate directly to candidates themselves.
Early this morning South Bend, Indiana, mayor Pete Buttigieg announced he raised $7 million in his first quarter. Politico reports that Buttigieg is now racing to build a solid political operation with his all his new cash and media attention while simultaneously teaching every TV talking head how to pronounce his last name. (IT'S "BOOT EDGE EDGE!")
Former Texas rep Beto O'Rourke officially launched his 2020 campaign in El Paso this weekend. In a fancy and uplifting speech quoting Dr. Martin Luther King Jr., Beto spoke about the bonds between the US and Mexico, and embraced the idea that we should build bridges in order to get more taco trucks on every corner.

In a lengthy op-ed, Lucy Flores recounts how Joe Biden touched her and kissed the back of her head on stage during a in 2014 while she campaigned for lieutenant governor. During one of several TV appearances yesterday, Flores said she didn't consider what Biden did as "sexual harassment," instead characterizing it as "an invasion" of her personal space and a "clear violation of her bodily autonomy." Flores, a Bernie Sanders surrogate and board member of "Our Revolution," has spent the weekend tweeting and retweeting about Biden creeping up on people over the years. On Saturday, Biden released a statement saying he didn't believe he acted inappropriately, adding he's offered "countless handshakes, hugs, expressions of affection, support and comfort" over his decades in politics, "and not once - never - did I believe I acted inappropriately." Over the weekend numerous staffers, colleagues and politicos rushed to his defense.

A comedian who plays the president in a sitcom may become the next Ukranian president after the first round of voting vaulted him (much like his fictional character) onto the national stage. The 41-year-old Volodymyr Zelensky has cast himself as a progressive who fights corruption (again, like his fictional character), and has said he'd be willing to negotiate with Russia over seized territory in Crimea. Incumbent President Petro Poroshenko has framed his own candidacy as a rebuke against Russian fuckery, and criticized Zelensky as not a serious candidate. The election comes just weeks before Ukraine confirms its ambition to join the EU and NATO, so this is kind of a big deal!
ICYMI: An anonymous FEMA official whispered to WaPo that it "overshared" the personal information of 2.5 million disaster survivors. Victims of the 2017 California wildfires, along with hurricanes Harvey, Irma, and Maria, may now have their personal banking information and home addresses leaked, leaving them exposed to fraud and identity theft as well as the whims of mother nature (and climate change). Thanks, Trump.
Facebook CEO Mark Zuckerberg is calling on "governments and regulators" to rein in the internet shitposting culture he's helped create. In a WaPo op-ed, Zuck says we need to update "the rules of the internet" to protect the entrepreneurs he's been buying over the last decade, and save the basic freedoms white supremacists use to broadcast mass murders. Zuck says regulations need to cover "harmful content, election integrity, privacy and data portability," which is a convenient way for Facebook to avoid its responsibility for breaking the world. Again. #DeleteFacebook
An Algerian-American filmmaker has found the FBI was secretly watching the Illinois Arab community for decades before 9/11 by feeding a mountain of redacted documents into artificial intelligence.
A former sports writer talked to a bunch of famous people and professional athletes who've played golf with Donald Trump and came to a startling conclusion: Donald Trump regularly cheats at golf. And when Trump himself isn't obviously cheating, his sketchy caddy is hiding in the bushes and playing with his balls.
Elon Musk released an overly produced song about Harambe, the 17-year-old gorilla shot by the Cincinnati Zoo after grabbing a 3-year-old who fell into his enclosure in 2016. Lawyers for Musk are expected to rationalize his childish bullshit in federal court this week in the face of contempt charges stemming from Musk's potential violations of an SEC settlement that was triggered due to his constant shitposting.
A freelancer for a conservative website was shitcanned after saying homophobic crap on Twitter to Yashar Ali, a gay journalist. Earlier in the week she sent a barrage of mean tweets about "The View," earning her a terse response from Meghan McCain who reminded her, "You were at my wedding, Denise."
John Oliver 'splainered how despite being one of the most valuable sports franchises in the world, the WWF has a history of dumping the battered bodies of wrestling entertainers in the trash after they've made the family-owned company billions, gotten them jobs in Trump's White House.

WWE: Last Week Tonight with John Oliver (HBO)www.youtube.com
And here's your morning Nice Time! IT'S MAYA! She's soooo pretty!

My Dog Loves Getting Her Hair Cut ❤www.youtube.com
Follow Dominic on Twitter and Instagram!

We're 100% ad-free and reader-supported, so consider buying us coffee, or get a subscription!
Dominic Gwinn
Dominic is a broke journalist in Chicago. You can find him in a dirty bar talking to weirdos, or in a gutter taking photos.