Whistling Past The Graveyard. Wonkagenda For Mon., April 29, 2019
popular
April 29, 2019 09:05 AM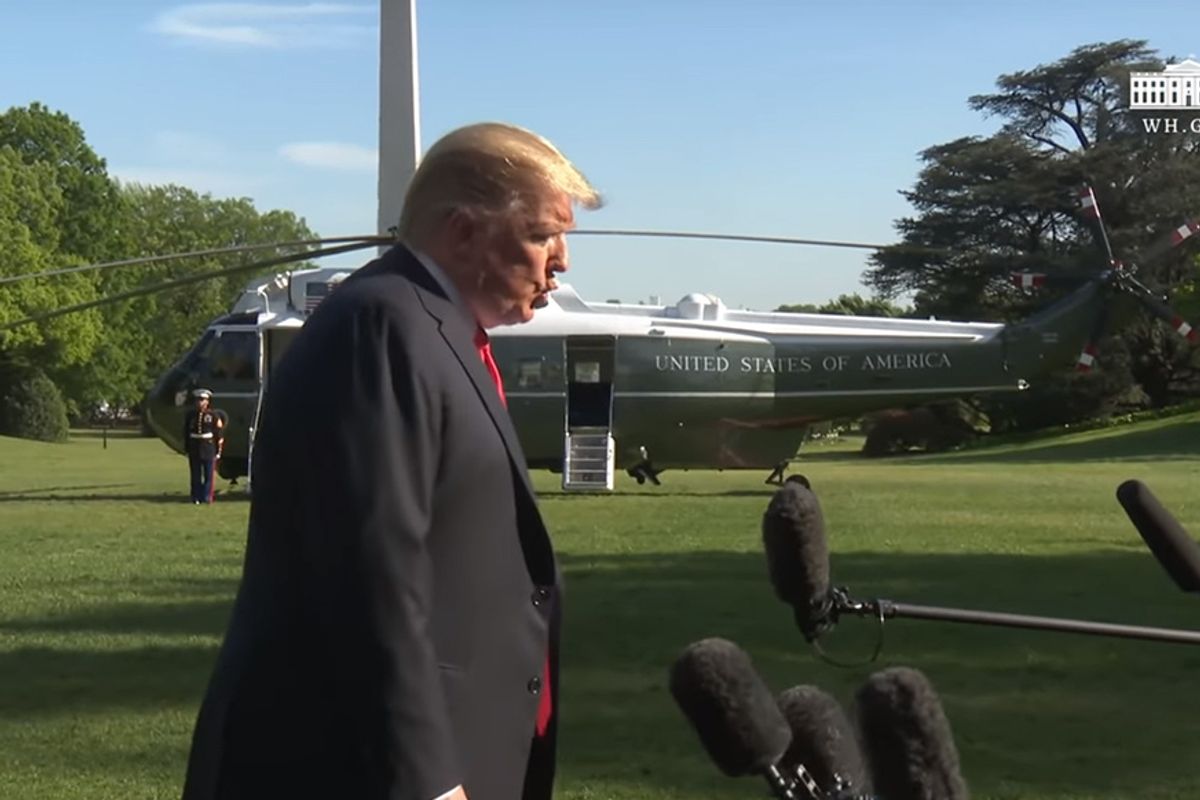 Morning Wonketariat! Here's some of the things we may be talking about today.
---
Attorney General Bill Barr is expected to appear before the Senate and House Judiciary committees this week, but Barr is bitching about Democrats requesting extra time for questioning. Barr is reportedly pissed that Democrats want to make him answer questions and is signaling he may skip the hearings, so Democrats are threatening to subpoena him.

Trump held one of his white supremacy rallies in in Green Bay, Wisconsin, on Saturday. There Trump claimed that mothers and doctors conspire to "execute" babby moments after birth -- an absurd lie the New York Times called an "inaccurate refrain." Esquire has a terrifying write-up of the sycophants who showed up in Wisconsin, from the die-hard capitalists hawking bootleg MAGA crap to the crotchety old racists who think Fox news is becoming "too left."

WaPo's Fact Checker has found that Trump has made 10,000 "false or misleading statements" as of April 27. Yes, that includes all the horrible untruths he shouted in Green Bay on Saturday evening. SAD FACT: The frequency and substance of Trump's lies has been steadily increasing over the course of his 828 days in office.

The Mueller Report is teeming with little nuggets that we're still finding, like this little bit about Russia being "in a position" to change Florida's voter rolls back in the 2016 elections. Now Florida Republican Sen. Marco Rubio has confirmed the FBI told him Russia was mucking about, and Florida's racist Republican Gov. Ron DeSantis is freaking out over the lack of details and not being told sooner. FUN FACT: Florida's former Democratic Sen. Bill Nelson DID warn people, but super rich Republicans called him a delusional old fool. For his part, Nelson says you can all kiss his tanned and wrinkled ass.
Education Secretary Betsy DeVos isn't leaving the island anytime soon. Her ability to kiss ass and keep her head down has kept her from drawing the ire of The Boss; plus Trump World sees her as a crucial ally to rally Evangelicals and the super rich in 2020 (even if she's a potatoe away from being Dan Quayle).
The lady-hating TV economist Trump tapped for an open seat on the Fed board, Stephen Moore, says he's sorry for being a misogynist asshole. Moore told George Stephanopoulos that he was just trying to make #jokes, "but some of them weren't funny, so I'm apologetic." Moore has been hitting the AM radio and conservative cable news circuit and calling attacks against him "character assassination," and likening himself to Justice Rapey McPrivlege. In another interview, Moore said he's not an "angel" and his prejudices have nothing to do with whether he's qualified to sit on the Fed and control interest rates.
Axios gossips that it's Infrastructure Week today as Trump is expected to hold another TV meeting with Chuck Schumer and Nancy Pelosi. According to the gossip, Chuck and Nancy have been prepping for the likely televised meeting by studying Trumpisms and talking points. Behind the scenes, Trump's hates the public-private plan, and wants to spend $2 trillion dollars to build a bunch of crap so he can erect signs that say, "built by the Trump administration." HOWEVER, White House TV economist Larry Kudlow has been spotted skulking around with a stapler and bottles of White-Out in the hopes of inserting language about deregulation and energy development.
Until we can get some kind of universal healthcare system, Illinois registered nurse and Democratic Rep. Lauren Underwood has a plan to fix Obamacare. Underwood's plan would let more people qualify for tax credits and lower premium prices so people can actually afford decent healthcare coverage. It's very possible a bill to fix the conservative-created gaps in the healthcare law makes it through the Senate; after all, Republicans are the "party of healthcare," or whatever.
Iowa Republican Sen. Chuck Grassley scribbled a bitchy op-ed in the WSJ this morning arguing Trump needs to kill his steel and aluminum tariffs. Grassley says Trump's NAFTA 2.0 "is dead" and that "there is no appetite in Congress to debate" as long as Trump continues to be a tariff man. There's little appetite among Democrats to pass the thing (even with modest changes), and opposition among legislators is growing the longer Trump continues his stupid trade war.
On Friday another tepid jobs report dropped, and that has a few Democratic strategists concerned about messaging in 2020. It's no secret Trump will take credit for frantically mashing the financial gas pedal of the US economic engine in order to claim he's flooded the country with shitty, low-wage jobs. With bean counters remaining nervous about a looming recession, political geeks are hoping to cut through the Trumpian bullshit with a message on the economy that isn't stupid.
Unlike many other 2020 contenders, ALLIES of former Vice President Joe Biden have launched a Super PAC to help him close ranks in the 2020 money primary. The Hill reports that the For The People PAC aims to create a ground game in every state, and bombard potential donors on social media with money begs. While Biden's team say they won't accept money from corporate PACs or lobbyists, the head of the PAC tells the Hill, "You won't win in 2020 by unilaterally disarming." In a related story, Biden recieved the backing of the International Association of Fire Fighters, the first endorsement of a 2020 candidate from a major labor union.
The knife fight among 2020 Democratic candidates hasn't even begun, but Massachusetts Sen. Elizabeth Warren has come out swinging by aggressively courting the progressive voters. By dropping wonky and detailed policies this early, Warren has put Bernie Sanders's campaign on the defensive with her nerdy ideas about student loan debt relief, child care tax credits, slavery reparations, abolishing the filibuster and the electoral college.
A number of vulnerable GOP senators on the ballot in 2020 are starting to freak out about their inability to raise quick cash. Recent FEC reports show Republicans getting absolutely crushed by Democrats in the money primaries, and fortune tellers predict the GOP's inability to net small dollar donations will screw their them just as the campaigns are trying to lay the groundwork for brutal slobberknocker fights that could ultimately decide control of the Senate.
Badass Marine fighter pilot lady Amy McGrath isn't ruling out a challenge to Republican Sen. Mitch McConnell in 2020. In the meantime, McGrath has been raising awareness for veterans issues, like PTSD and the lack of resources and support at Veterans Affairs.
DCCC Chair Cheri Bustos says she plans to meet with progressives about potentially revising the "blacklist" policy. policy protecting incumbents from primary challenges. The move by Bustos follows a Politico story featuring Illinois activist Marie Newman's attempt to oust DINO Rep. Dan Lipinski.
Consider Fox Business Channel bombastic cryptkeeper Lou Dobbs to be Trump's shadow secretary on immigration. WaPo reports Trump regularly speed-dials Dobbs to bitch about the Mexican taco-truck invasion. FUN FACT: Records indicate Dobbs didn't vote in 2016 :(
The 2019 White House Correspondents Dinner didn't have any of the glitz or glam of previous nerd proms, but it also didn't have Sarah Huckabee Sanders smokey side-eye. WaPo notes that even though Trump ordered his staffers not to attend, Trump World supporting cast members showed up at the boozy pre-and-after parties to schmooze and bullshit. The keynote speaker, Pulitzer Prize-winning historian Ron Chernow, delivered a "20-minute sedative" that went over the two centuries of battles between journalists and the White House. [Video]
At Samantha Bee's second Not the White House Correspondents' Dinner journalists were celebrated for being hungover and over-caffeinated emotional wrecks just trying to do their damn jobs (as Donald Trump's political enemies). Since the actual WHCD opted for the snooty high-brow humor commonly found in a New Yorker cartoon, Bee roasted Trump, calling him a "fucking coward" who had balls smaller than Justin Bieber.

Not The White House Correspondents' Dinner: The Roast of Donald Trump | TBSwww.youtube.com
Comedian Jordan Klepper sat down with the Clintons and got Hillary Clinton to read the Mueller report as an audiobook.

Hillary Clinton Reads the Mueller Report - Klepperwww.youtube.com
And here's your morning Nice Time: 360° of FISHIES

360 Underwater Video from inside Georgia Aquarium's Ocean Voyager Habitatwww.youtube.com
Follow Dominic on Twitter and Instagram!

We're 100% ad-free and reader-supported, so consider buying us coffee, or get a subscription!
Dominic Gwinn
Dominic is a broke journalist in Chicago. You can find him in a dirty bar talking to weirdos, or in a gutter taking photos.