Mad Dad. Wonkagenda For Fri., May 3, 2019
News
May 03, 2019 09:17 AM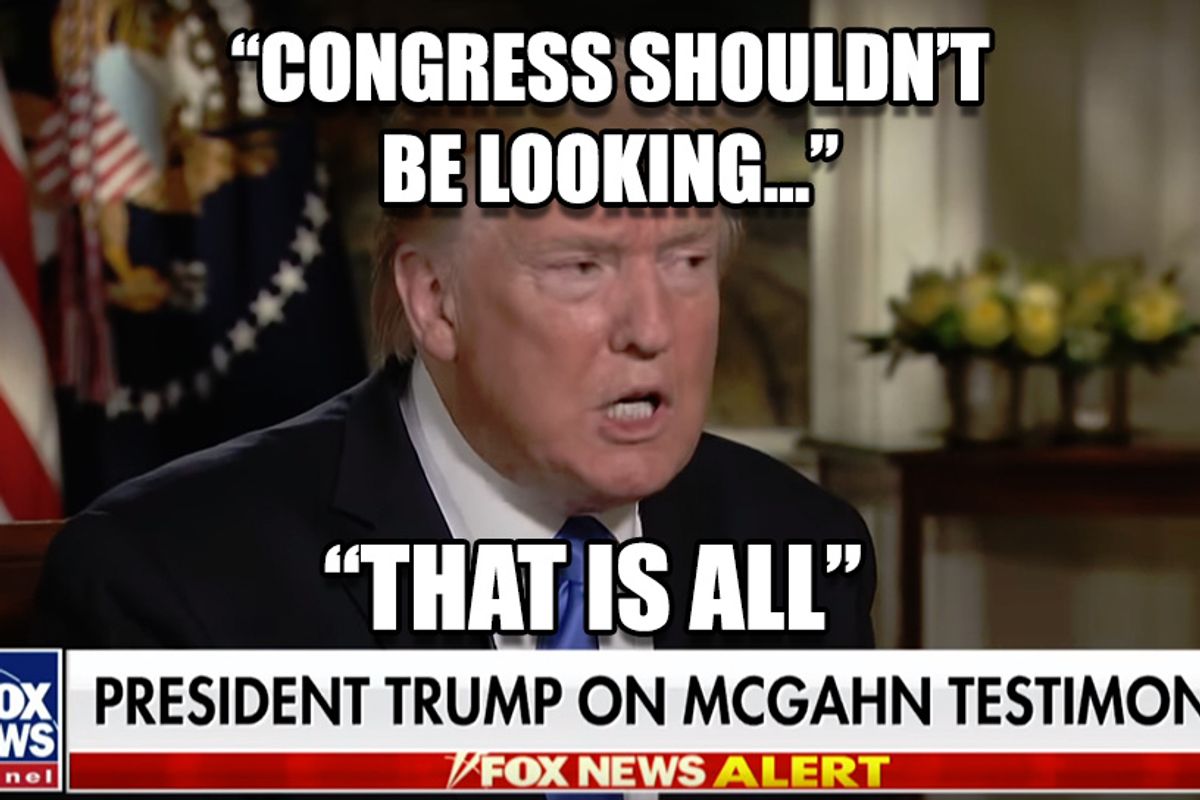 Morning Wonketariat! Here's some of the things we may be talking about today.
---
In his umpteenth Fox News interview this week, Trump says he doesn't want former White House counsel Don McGahn to testify before Congress. Trump says he's given "total transparency" and that nobody should be looking at all the dirt piling up under the White House rugs. Meanwhile, NBC reports that Democrats on the House Judiciary Committee have been in direct talks with Robert Mueller's team about testifying within the next few weeks, but nothing has been set in stone (yet). During a service for the National Day of Prayer, Trump started rambling to a bunch of Jesus freaks that he "thanked God" for helping him get through Mueller's investigation.

BREAKING: The House Judiciary Committee is now directly in talks with Mueller's team about potential testimony https://t.co/MDHJSs8YvV

— TheBeat w/Ari Melber (@TheBeat w/Ari Melber) 1556835717.0
WaPo reports Trump is super happy with his new defense attorney general stonewalling Congress, though people close to AG Bill Barr say his motives are less about propping up Trump and more about believing that the president, any president, is above the law. As long as it's a Republican president. Barr's performance (or lack of) this week has left a number of Blue Dog Democrats who voted for Barr absolutely beside themselves. Alabama Sen. Doug Jones tells Politico that he's "greatly, greatly disappointed" in Barr, while Joe Manchin cries about "buyer's remorse" and admits he made "a big mistake." We're sure they'll never fall for "but he's an institutionalist!" again.

The New York Times reports that in September of 2016 the FBI sent a woman to London with an informant to ask George Papadopoulos about Russian fuckery, but she maybe screwed up by asking, "HEY, ARE YOU GUYS IN ON THAT RUSSIAN FUCKERY?" Papadumbass got spooked, and promptly ran out of the bar peeing his pants, or spilling his drink(s), or both.
According to documents obtained by The Intercept, since 2017 DHS has been using Peter Thiel's evil spy machine, Palantir, to secretly track, kidnap, and deport family members of migrant children, despite previous denials from DHS and ICE officials, as well as Palantir. When speaking about the program in the past, the company spewed a bunch of jargon about its role in the Trump administration's family separation policy that boils down to trying to make the world a better place.
Trump's attempts to strong-arm the economy haven't been going over with anyone. Economists have no time or patience to deal with Trump's mob mentality, and the rest of the world no longer cares when Trump calls them up and whines, "King, we're losing our ass defending you, king, and you have a lot of money."
After TV economist Stephen Moore was quit-fired from consideration for the Fed board, he found out CNN had also "You're Fired" his ass for being a misogynist and a bigot. Moore then cried to a fellow TV economist Neil Cavuto about a "sleaze campaign" where people dug through over two decades of crap Moore actually said. How is quoting him even fair? Cavuto was surprisingly apathetic (for a Fox host), saying, "Maybe you should've given them a heads-up." Moore then had a pity party with Tucker Carlson where he complained about CNN and the New York Times digging through his trash instead of just roasting him for his Randian economic dog shit.
National Rifle Association CEO Wayne LaPierre has been billing the company's advertising contractor, Ackerman McQueen, for fancy suits and vacations. The NRA has been freaking out over the last few weeks after New York's new attorney general threatened to investigate the organization, triggering an internal meltdown between NRA board members and AMc. To make matters even worse, last night Senate Democrats on the Finance Committee sent a letter to the NRA board asking them to turn over financial documents after Oliver North threatened to blackmail LaPierre before the group's annual convention in Indiana last week. That would be "former NRA president" Ollie North, who resigned amidst the ongoing fucktangle.
Republican mega donor Kelly Craft has been formally nominated to replace Nikki Haley as the US Ambassador to the UN. Craft currently serves as the US Ambassador to Canada, but she's expected to face brutal questions on geopolitical issues, her denial of climate science, and her coal executive husband's ties to Mitch McConnell and the Trump White House. The swamp runneth over.
The Senate failed to override Trump's veto of a war powers resolution that would have ended US support for the Saudi-led war in Yemen. Apathetic Republicans maintain the US isn't technically bombing school buses and fruit stands, we're just refueling the jets we sold to the Saudis so that they can drop the bombs (that we also we sold them).
A new poll by Quinnipiac University shows numbers rising for former VEEP Joe Biden, South Bend Mayor Pete Buttigieg, and Sen. Elizabeth Warren. But what's most shocking here is that 46 percent of Republicans surveyed said they were open to electing a gay man for president -- HOWEVER, only 36 percent of the people surveyed said #Murica was ready for a hot gay man in the White House. It also shows Trump's approval among women voters at a pathetic 34 percent. In related news, Trump is bragging about a conservative Rasmussen poll that shows him with a 51 percent approval rating, the only poll showing an uptick in his astonishingly LOW RATINGS. [Polls]
Fox News will host a town hall with Sen. Kirsten Gillibrand next month. Maybe her team thinks that will give her campaign some much needed juice. Senator Amy Klobuchar and South Bend Mayor Pete Buttigieg have also scheduled town halls on Fox, and there are now reports that Rep. Eric Swalwell is mulling one over too. Here's hoping their vaccinations are up to date.
Politico dug up a time capsule full of Bernie Sanders's old public access talk show from the late 1980s. It's mostly just bad clips of Bernie doing his usual schtick: railing against mainstream whateverism, and asking eye rolling questions like why "punk rockers" wear black -- though it's cute to see a kid ask, "Did you know you look like somebody on Back to the Future?" [We know, but the studio's lawyers were real jerks about it.]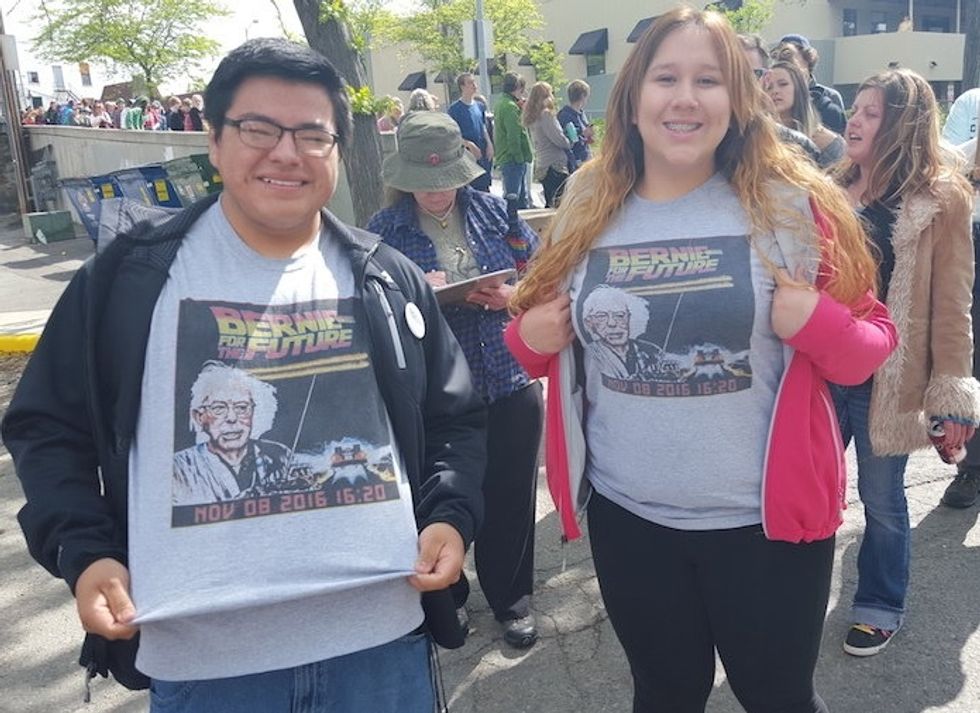 These were kids we saw in the wild in a KNOCKOFF of our illegal design!
GOOD NEWS: New York has now become the first city to give people in city jails free phone calls. Under a new law recently passed by the City Council, inmates will be able to make free 21 minute phone calls every three hours. NOTE: A majority of people held in the city's jails have not been convicted of crimes, and are awaiting trial.

Baltimore Mayor Catherine Pugh became the city's latest mayor to resign amid a corruption scandal. Pugh is currently under state and federal investigation over shady contracts to push her self-published kids books with the University of Maryland Medical System, as revealed by the Baltimore Sun. Pugh initially called the Sun's reporting a "witch hunt," only to apologize a few weeks later and then reveal a line of baby clothes based on her books.
Will Witt, a talking head for conservative digital rag PragerU, can be seen in a video saying "rape is hilarious" while holding a woman in a headlock. Witt and the site have regularly claimed that an epidemic of rape on college campuses isn't real, and cited bogus statistics. The right-wing troll site was recently profiled in Vanity Fair as a breeding ground for young conservatives.
Facebook has perma-banned Alex Jones, Infowars, Louis Farrakhan, Laura Loomer, Paul Nehlen, Milo Yiano-whatever, and Gavin McInnes for being "dangerous." It only took them four years, a couple school shootings, some Russian fuckery, and a dozen apologies, but Facebook finally got off its ass and (begrudgingly) did the thing civil rights groups and politicos had begged them to do.
Morning Joe hosts Mika Brzezinski and Joe Scarborough have been trying to rehab Mark Halperin's career. Multiple women came forward to accuse Halperin of sexual assault (like shoving his cock in his colleagues' faces), causing him to lose lucrative media contracts and get booted off the air. In a less than ironic twist, the Daily Beast reports the MoJoe duo have been using their show and status to shove Halperin's half-assed apologies into eyeballs and ear holes.
Gossip mongers are whispering that CBS is about to replace Jeff Glor with Norah O'Donnell as anchor of the CBS Evening News. There's also some nonsense about Gayle King not being able to work with O'Donnell, but we really don't care about that.
Trevor Noah took a deep dive into that story about Russia potentially training whales and other marine animals as part of a plot to take over the Arctic.

Putin's Plot to Take Over the Arctic | The Daily Showwww.youtube.com
And here's your morning Nice Time:BABY GOATS!

Yippeee! A sunny day!www.youtube.com
Follow Dominic on Twitter and Instagram!

We're 100% ad-free and reader-supported, so consider buying us coffee, or get a subscription!
Dominic Gwinn
Dominic is a broke journalist in Chicago. You can find him in a dirty bar talking to weirdos, or in a gutter taking photos.