Unsportsmanlike Conduct. Wonkagenda For Wed., May 8, 2019
popular
May 08, 2019 09:08 AM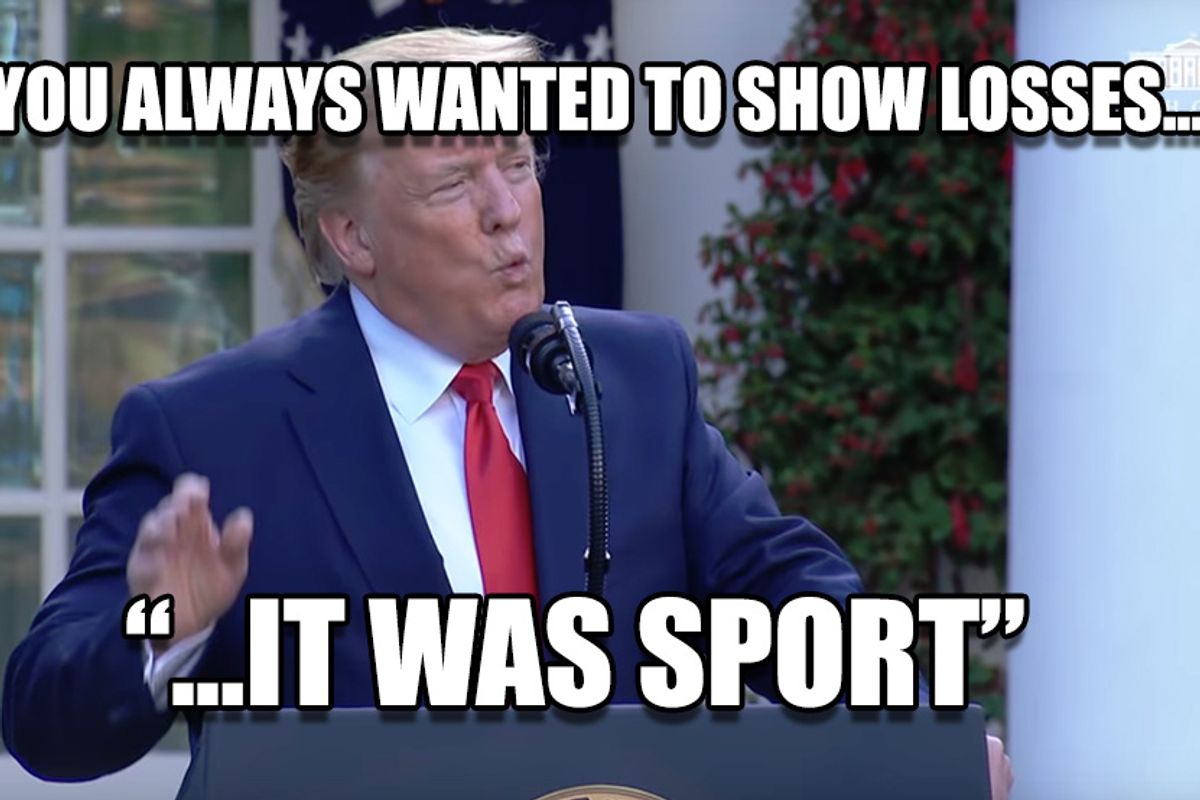 Morning Wonketariat! Here's some of the things we may be talking about today.
---
There was another school shooting, this time at a charter STEM school in Colorado. An 18-year-old is dead, and eight other students are injured. The shooting comes less than a month after the 20 year anniversary of the Columbine massacre.

The New York Times got its hands on a decade of Trump's tax documents and found that from 1985 through 1994 Trump was the worst businessman in the country, consistently losing more money every year than almost any other American. The investigation finds Trump's losses were so regular that he was constantly in debt to borrowers, and grifted Uncle Sam so he never paid any taxes. Curiously, just after Trump's first trip to Moscow in the late 1980s, Trump began reporting double-digit millions in mystery interest payments despite previous years' worth of interest payments in the hundreds of thousands. On top of that, the magical money came roughly around the same time Trump's casinos, hotels, and businesses began failing. This morning, as the gang at Fox and Friends called Trump's history of grift "impressive," Trump shitposted that grifting the government with massive debt and losses was something "all real estate developers did" in the 1980s.
For Trump, buying New York's most famous hotel, The Plaza, was literally a no-brainer, especially when you see what… https://t.co/ccr4bUmfv4

— The Daily Show (@The Daily Show) 1557287503.0
In a related story, the New York Senate is about to pass a bill that would let the state share Trump's tax returns with Congress. RUH-ROH!

Global markets jumped off a cliff (again) yesterday over renewed fears that Trump would continue doing crazy bullshit in his trade war(s), and that has Trump World nervous about their chances in 2020. The "tariff man" says he's intent on screaming about China heading into the election, but Republicans in Rust Belt states are starting to sweat about their own reelection chances as farmers across the Midwest say "fuck it" amid mounting losses stemming from Trump's trade war.
Bill Bar gave House Democrats double middle fingers yesterday, obstructing former White House counsel Don McGahn from testifying, and threatening to withhold the entire Mueller Report by declaring every white paper and shit-ticket in Trump's White House protected by Executive Privilege, including the Mueller Report. This morning Democrats are expected to hold a vote finding Barr in contempt of Congress.
A federal appeals court says the administration can continue forcing "really bad dudes" seeking asylum on the southern border to stay in Mexico while awaiting court hearings. The whole thing is likely to end up before SCOTUS.
John Kelly gave an interview to Bloomberg where he talked about being chief of staff and kicking people out of Trump's White House. In one obvious reference to Javanka, Kelly said the Trump spawn "must be dealt with." Kelly also tried to whitewash the administration's "zero tolerance" immigration policy and Trump's support of white supremacists in Charlottesville by blaming the media for taking sides.
The NRA's accountants wrote a memo outlining some of the more serious issues facing their audit committee, and they highlight a hell of a lot of ALLEGED grifting from executives. The memo says vendors submitted invoices that were "vague and deceptive," an executive billed unexplained "payments" to a "significant other." It's got a lot more detail ... and it's kind of boring actually, nothing like the New Yorker's previous barnburners.
A new CDC study shows moms keep dying during and up to a year after childbirth from pregnancy-related complications because of crappy medical care. The report notes that three in five deaths could be prevented, and that there remain "persistent racial disparities." These findings add to the growing consensus among medical professionals that there's no damn reason for the high rates of maternal mortality in the US.
Georgia Republican Gov. Brian Kemp signed a fetal "heartbeat bill" into law yesterday, effectively banning abortions after doctors can detect a heartbeat (roughly six weeks). Meanwhile, multiple states are rushing to rewrite their own constitutions to include abortion rights.
The CFPB is proposing new rules to limit the number of times debt collectors can spam your phones with call after call to collect old debt. However, the proposed rules also include provisions that would allow debt collectors to endlessly spam you with email and text messages. #MAGA.
Steve Mnuchin stopped guarding Trump's tax returns for a moment in order to schmooze super rich Trump bundlers and the corporate greaseballs he's supposed to be regulating at Trump's DC trash palace. WaPo notes that this puts Mnuchin in a precarious legal position as it potentially violates the Hatch Act. In a related story, some dumb bastard from Pennsylvania was arrested after showing up to the security checkpoint and telling cops he had an unregistered handgun and unregistered ammo in his car.

After David Bossie was caught grifting geriatric Trump supporters, the Trump campaign had a righteous fit and issued a statement encouraging "appropriate authorities to investigate all alleged scam groups for potential illegal activities." Trump haaaaate when anyone make off of him. Womp womp!
Democratic 2020 candidate Sen. Kamala Harris is sponsoring legislation to make the lives of public defenders easier. Harris's bill would create workload limits for full time public defenders, and collect data on their workloads. It would introduce pay parity between prosecutors and public defenders, and give big chunks of cash government orgs and NGOs to train public defenders.
The Sacramento Bee reports California officials rushed to roll out an automatic voter registration initiative through the DMV, but the whole thing was kind of screwy. After people started complaining, officials began deleting text messages and emails, and now everyone is pointing fingers and blaming each other for rolling out the half-baked "Motor Voter" system.
Some douchebag flashed the white power hand gesture behind a black sports analyst on live TV during a Chicago Cubs game. The team is reportedly investigating how/why racists might be in the ultra wealthy, white Wrigleyville -- an area full of violent drunks and owned by the Trump-loving Ricketts family.
Drivers for Uber and Lyft are striking in major cities across the country today in protest of shit wages while the companies haul in billions from investors. NPR notes demands vary from city to city, with LA drivers arguing for minimum hourly pay, commission caps, and receipt breakdowns showing the companies' take, while New Yorkers demand an end to sudden account deactivations and the right to appeal in the courts. The strike comes just ahead of Uber's expected public-trading debut this Friday.

Lordy, Tom Arnold's got more tapes with Michael Cohen. In phone calls Arnold says he secretly recorded, Cohen can be heard talking about sexxy-time photos of Jerry Falwell Jr. just before he endorsed Trump in 2016.
A Florida Man was arrested for violating local obscenity laws when he was pulled over and started talking shit to cops who didn't think he needed to advertise "I Eat Ass" on the back of his truck. According to a police report, the 23-year-old man told police, "They're just words." In a statement, an ACLU spox wondered why cops were pulling people over for speech already covered by the First Amendment, adding, "Using the excuse that a child would see and ask questions about this particular bumper sticker is absurd."
NICE TIME: The mother of Philando Castile, the 32-year-old school cafeteria supervisor fatally shot by trigger happy cops in Minnesota during a 2016 traffic stop, has donated $8,000 to a high school to settle student lunch debts. Valerie Castile tells NPR, "The kids shouldn't have a debt hanging over their heads, and the parents shouldn't either," adding, "Most people are living paycheck to paycheck ... I think they should let these children eat a free meal because that may be the only meal they have for the day."
And here's your morning Nice Time: IT'S TOPI!

HOUSE PARTY! - Topi the Corgiwww.youtube.com
Follow Dominic on Twitter and Instagram!

We're 100% ad-free and reader-supported, so consider buying us coffee, or get a subscription!
Dominic Gwinn
Dominic is a broke journalist in Chicago. You can find him in a dirty bar talking to weirdos, or in a gutter taking photos.