Trumpty Dumpty. Wonkagenda For Thurs., June 6, 2019
popular
June 06, 2019 08:56 AM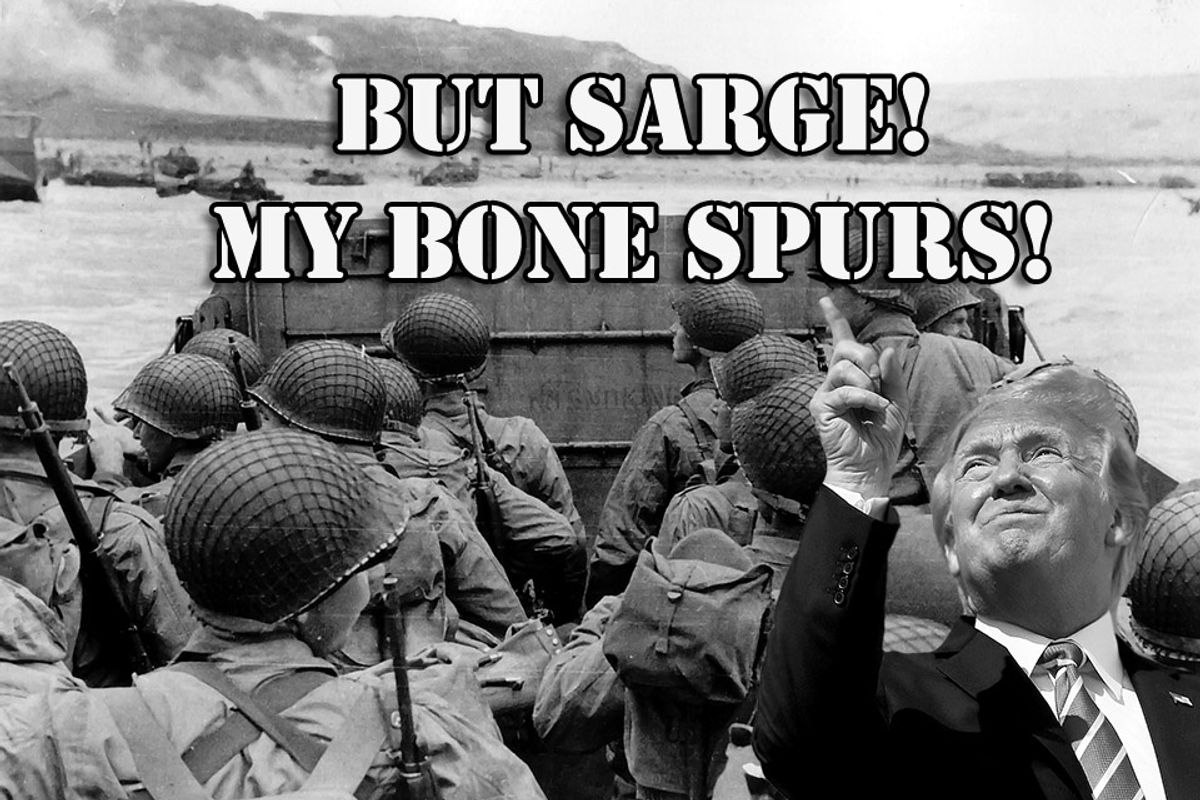 Morning Wonketariat! Here's some of the things we may be talking about today.
---
Today is the 75th anniversary of D-Day, when American soldiers rolled up their sleeves and stormed the beaches of Normandy to start punching Nazis. Despite grand ceremonies honoring service members, and the unveiling of a new monument that symbolizes decades of multilateralism, Trump started a pissing contest with French President Emanuel Macron by constantly trying to one-up him. Naturally, Trump made his speech as much about himself as he could, taking several occasions to accept praise for slowly reading stuff that acknowledged the sacrifices of soldiers who died (on many sides) of Omaha Beach on June 6, 1944.

Trump is doubling-down on his sudden trade war with Mexico. Mexican officials are being warned by members of the administration and Senate Republicans that they can't predict what Trump will do now that he's discovered he can threaten tariffs to get whatever he wants without worrying about Congress. For their part, Senate Republicans are bitterly divided on whether or not to publicly rebuke Trump in fear that he'll start shitposting, and hurt their chance at reelection in 2020.
DHS announced that 133,000 people had been arrested at the southwest border by Customs and Border Protection in May.
Members of the military have been ordered to spend a month painting a mile-long barrier along the Calexico border, according to a DHS email sent to Congress yesterday. Illinois Democratic Sen. Dick Durbin calls it a "disgraceful misuse" of taxpayer money, adding the "military has more important work to do."
During a meeting with Leo Varadkar, the Prime Minister of Ireland, President Pampers said he didn't think there would be a problem at the Irish border if Brexit actually happens, adding "Ireland's going to be in good shape." The prospect of a hard border between Ireland and Northern Ireland has been a main source of contention during the Brexit negotiations considering the decades of conflict between Irish and British people.
David Fahrenthold has a nice reminder about how Trump's golf course in Doonbeg, Ireland, is hemorrhaging money as it awaits a decision from the Irish government to build a big, beautiful wall to keep out the rising sea. In a related story, the White House is billing taxpayers almost a million dollars so it can rent four limousines from a local funeral home. The White House declined to explain why it needs limos (and a dozen different vehicles for the presidential motorcade) as bean counters note the man has his own goddamn helicopters.
Even Tucker Carlson likes Elizabeth Warren's "economic patriotism" program. Tucker griped that it "makes obvious sense," and bitched about how Republicans are too cowardly to propose anything similar before calling Warren a "gun-grabbing abortion extremist."
New Jersey Senator and 2020 Democratic candidate Cory Booker has a plan to deal with affordable housing. Under Booker's proposal, renters would get a refundable tax credit to 30 percent of their income and rent that's ultimately capped by local fair-markets. The plan would also expand tenants legal rights, do nice things for the homeless, and build houses for low-income renters.
House Speaker Nancy Pelosi and Chairman of the House Judiciary Committee Jerry Nadler got into a fight the other night after Nadler again pressed Pelosi on impeachment. Politico reports Pelosi fired back that she doesn't want to see Trump impeached, she wants "to see him in prison."
A district attorney in Tennessee's bumblefuck Coffee County is facing calls to resign after video surfaced of him referring to SCOTUS as "people in black dresses," and saying that he wouldn't prosecute domestic violence cases involving gay people as "there's no marriage to protect," ergo, "I don't prosecute them as domestics."
City officials in Washington DC aren't very enthused about Trump mutating the annual Fourth of July celebration into some MAGA rally. DC Delegate Eleanor Holmes Norton tells WaPo, "It's about the worst holiday he could have chosen. You never want to make events like this around a single person. [...] Cults of personality are not how we operate in this country."
While US allies spend the week attempting to educate Trump on the importance of D-Day and the necessity of international cooperation, Russia and China are having their own bilateral summit. As the two begin forging an economic relationship, a spox for the Russian Foreign Ministry tweeted that D-Day wasn't a big deal.
The WSJ details all the saber rattling between the US and Iran last month. In the end, both sides backed off after realizing they were being conned by warmongering assholes.
More audio has surfaced from Secretary of State Mike Pompeo's meeting with Conference of Presidents of Major American Jewish Organizations. In the latest clip, Pompeo is heard talking about how opposition forces to Venezuela's dictator Nicolas Maduro are very fractured, and the US has been attempting to co-opt religious groups into forming a unifying body. Pompeo can be heard griping that the moment Maduro leaves power, "It would be forty-plus people who believe they're the rightful heir to Maduro."
As Trump shuffles, snuffles, and shitposts his way around the UK, he's also lying his ass off to the international press about climate change, his LOW RATINGS, his bone spurs, transgender service members, the JCPOA, and John McCain. WaPo notes that a number of news outlets in the US have just started calling Trump's lies "lies," because that's what they are.
If you like Schadenfreude and/or gawking at car accidents, Gabe Sherman has some awful gossip on Trump's marriage to Marla Maples after someone passed Sherman their prenup. It's got all the hallmarks of Trump's decades of grift and misogyny, including sad details like Maples traveling with a wedding dress in the event Trump decided he wanted to get married, and Trump bragging about "fucking every model in the world" shortly after the birth of Tiffany.
Yesterday Youtube announced in a blog post it was smacking a bunch of jerkoffs and trolls with banhammers, but it kind of dropped the ball by failing to explain why it wasn't just banning alt-right idiot Steven Crowder. Initially, Youtube said it was demonetizing him because he sells a t-shirt that says "Socialism is for Fags," and it faced extreme backlash from the Twitterati and a Vox journalist whom Crowder had repeatedly harassed with homophobic and racist comments. Youtube now says it's reviewing its policies.
The FBI released its files on a 1977 investigation into Bigfoot. TLDR: It was a deer, not aliens. Suck it, skunk ape.
Stephen Colbert heard about that alt-right "Straight Pride" parade in Boston, then noticed it was missing something...

What The 'Straight Pride' Parade Won't Havewww.youtube.com
And here's your morning Nice Time:BABY BABOONS!

Baboon Baby Boom- the cuteness continueswww.youtube.com
Follow Dominic on Twitter and Instagram!

We're 100% ad-free and reader-supported, so consider buying us coffee, or get a subscription!
Dominic Gwinn
Dominic is a broke journalist in Chicago. You can find him in a dirty bar talking to weirdos, or in a gutter taking photos.