John Dean Gets Old School! Wonkagenda For Tues., June 11, 2019
popular
June 11, 2019 09:04 AM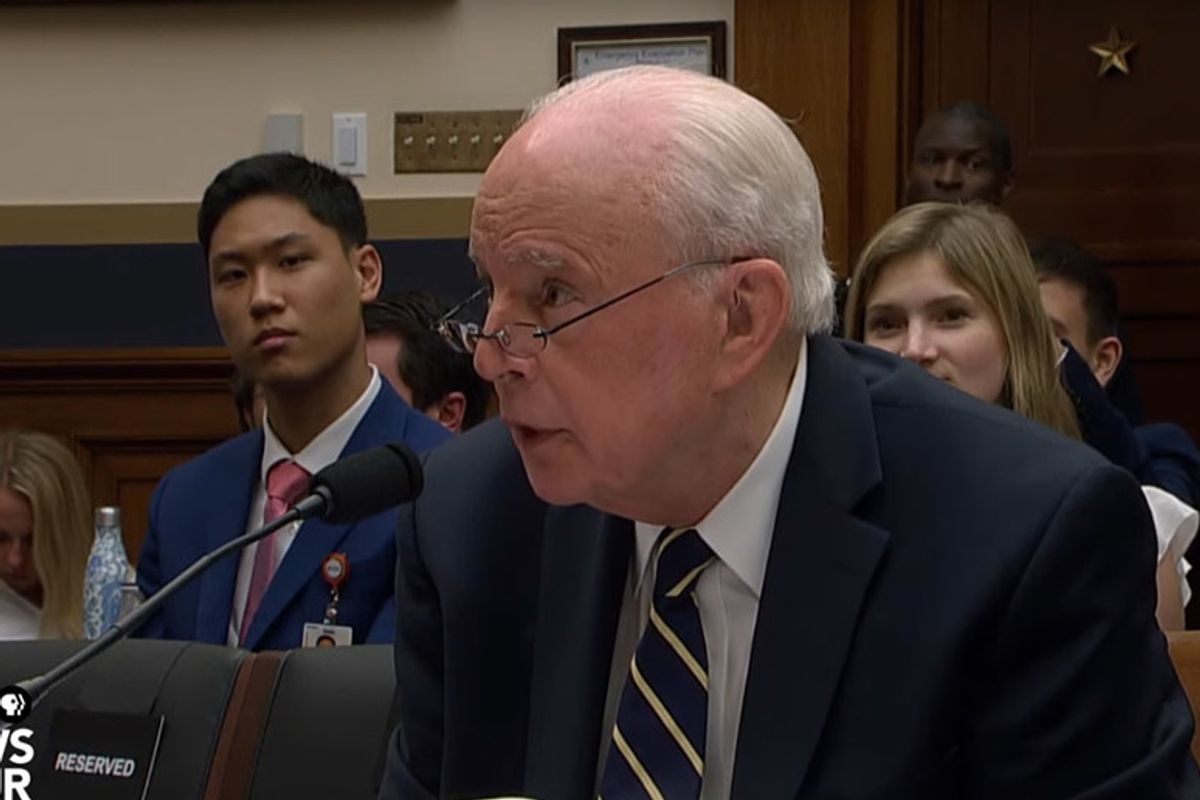 Morning Wonketariat! Here's some of the things we may be talking about today.
---
Trump's DOJ has caved to the House Judiciary Committee and will turn over evidence from Robert Mueller. The committee was set to hold Attorney General Bill Barr in contempt for stonewalling subpoenas. House Oversight Chair Elijah Cummings is still expected to hold a vote holding Barr and Commerce Secretary Wilbur Ross in contempt for stonewalling subpoenas on Census citizenship questions. [Morning Maddow]

The contempt votes, or a lack thereof, come as Democrats begin trying to make the Mueller Report come to life. Yesterday, Nixon White House counsel John Dean testified to the House Judiciary Committee that "history is repeating itself and with a vengeance," and argued that Trump was obstructing justice. Republicans used the hearing to call Dean a criminal, but Dean was having none of their childish crap and repeatedly put them in their place.

WATCH: John Dean draws laughs answering GOP lawmaker about Trump's accomplishmentswww.youtube.com
Maggie Haberman gossips that as Trump World frets about godawful internal polling numbers, Trump has told his team to deny everything and start calling Joe Biden "too old" and unpopular. Further, Trump is constantly distracted by his LOW RATINGS, and is bitching about holding more rallies. Politico reports Trump's "strategy" is to constantly scream about how Democrats want to #IMPEACH him for obstructing justice in the hope that his poll numbers will rise. In related news, Trump has spent the morning shitposting about John Dean, European tourism, and whatever else the gang at Fox and Friends is using to distract him ahead of his campaign rally in Iowa today.

House Speaker Nancy Pelosi and House Judiciary Chair Jerry Nadler are at odds over whether or not to start formal impeachment proceedings. Nadler argues that it would help House Democrats' growing number of investigations, but Pelosi points to the lack of support within the party and fears that Senate Majority Leader Mitch McConnell would only wash the blood off Trump's hands.

Trump called into CNBC yesterday morning to lie, ramble, and scream about all the people being mean to him. For about 30 minutes, President Tantrums whined about the EU, threatened to drop even more tariffs on China, talked shit about the rightwing US Chamber of Commerce, and bitched about breaking up big tech because people say mean things about him on social media. Stephen Colbert noted that Trump's phone call interbiews seem to be cries for attention ... [Full Interview]

The President Needed To Ventwww.youtube.com
WaPo has a long thingy about Trump's magic "deal" with Mexico. Mexican officials essentially rolled their eyes and told Trump they'd crack down on Central American immigrants seeking asylum in the US in exchange for Trump shutting the hell up about taxes tariffs. Additionally, Mexico has agreed to hold asylum seekers while US claims are processed, but has not accepted the administration's "safe third country" scheme. Trump World is still threatening tariffs on Mexico (because of course they are), but Trump himself gone back to screaming about China.

US Customs and Border Patrol officials are sheepishly admitting photos of US travelers and license plates have been stolen in a cyber attack. CBP says a contractor storing facial recognition data for about 100,000 people was attacked, but that the data hasn't been leaked to the "Dark Web or internet." HOWEVER, just last month The Register reported a large cache of data reportedly stolen from Perceptics was already uploaded to the dark web (for the lulz). WaPo notes that CBP has not ID'd Perceptics as the breached contractor, but CBP's public statement sent to reporters is titled "CBP Perceptics Public Statement." And if that wasn't bad enough, unnamed CBP officials tell WaPo that Perceptics may have been trying to match license plates with the faces of drivers crossing the Canadian border, which is kinda, sorta, of illegal(ish) for CBP. Naturally, Congress, civil rights, and privacy advocates are pissed and calling for heads to roll at CBP.

Mike Pence sat down with NBC's Kristen Welker to defend State Department orders barring big gay flags at US embassies. Pence argued he was very passionate about what gets run up Uncle Sam's flag pole, adding that he only stands at attention for Old Glory. Pence also claimed that he hadn't read the Mueller Report, and that Trump's wall was being built (though he declined to say if Mexico was paying for it).

There's so many white people at Trump's Treasury Department that one former administration official tells Politico it's "fucking frightening."
Nancy Pelosi won't return Mark Zuckerberg's phone calls 'cause she's too busy trying to make the world a better place.
One of the only Republicans to grow a spine, Michigan Rep. Justin Amash, has left the House Freedom Caucus. Apparently his colleagues weren't very happy with him after Twitter rants calling to #IMPEACH, spurring primary challenges and a Trump tantrum. Amash's departure from the Freedom crazies furthers rumors that #HesRunning on the Libertarian ticket in 2020.
The New York Times has a really long thingy about how Elizabeth Warren's plans would shuffle around the US economy, and that's really chapped the asses of the super rich and corporations.
Joe Biden will head to Iowa today and deliver a decidedly anti-Trump speech. This comes as a new poll shows a number of Pennsylvania voters are less enthusiastic about Biden than previously thought.

Politico is reporting that five NBC and MSNBC talking heads will moderate the first Democratic debate later this month. Those five are Lester Holt, Rachel Maddow, Savannah Guthrie, Chuck Todd, and José Díaz-Balart
A circuit court judge has kept Missouri's only Planned Parenthood clinic open for a few more weeks after issuing a preliminary injunction on Missouri's Department of Health and Senior Services. The judge ordered the DHSS to issue a decision on PP's license to operate the clinic "no later than June 21," but declined to opine on whether or not PP should keep its license.
Following the rash of red state restrictions on abortions, CEOs from 180 companies have signed onto a letter saying anti-abortion policies are "bad for business." Titled "Don't Ban Equality," the letter includes the big cheeses from across the spectrum, including tech, fashion, banking, finance, and energy. The letter comes as new polling shows likely Trump voters in swing states supporting abortion bans, while an overwhelming majority of Americans find so-called "heartbeat bills" batshit insane. [Full Letter]
A Pepperdine University professor visiting New England was trying to take a silly photo for social media when a seagull showed her why you shouldn't play with your food.
This is why we can't have nice things. I was trying to take a picture of the lobster roll I ordered in Maine and we… https://t.co/SGL0FH0mmb

— Alicia Jessop (@Alicia Jessop) 1559941123.0
A SCRANTON area TV station received a voice message from a man who's clearly never taken a basic history or weather class. The nut called in and told the station, "We didn't have tornadoes here until we started putting in the traffic circles. Cause, on account of — you want to know why? When people go round and round in circles, it causes disturbance in the atmosphere, and causes tornadoes."
A woman who shot a man during during an argument over a cult that proselytizes about an alien lizard apocalypse was found guilty of third-degree murder. The woman, 44 year-old Barbara Rogers, claimed the man, 32-year-old Steven Mineo, had placed a loaded gun in her hand, put it to his head, and pulled the trigger. If you enjoy fuckbonkers rabbit holes and true crime, you'll get a kick out of this one.

Deutsche Bank says its anti-money laundering department might have dropped the ball. No shit?
Without explanation, Iran suddenly yanked press creds for a New York Times correspondent based in Tehran. The Times says Thomas Erdbrink's credentials were pulled back in February, but they're just now going public "after recent speculation and comments on social media." Erdbrink is most notable for bit parts in Farsi movies and his role in the 2018 documentary "Our Man in Tehran," which focuses on his time as a Western journalist in Iran. In a related story, early this morning Iran released Nizar Zakka, a US permanent resident imprisoned since 2015 on charges of spying. Meanwhile, Iran's foreign minister is rattling his saber at the Trump administration over its renewal of crippling economic pressures.
The AP has a great expose on how Muslim extremist groups have grown in popularity throughout Indonesia thanks to their rapid response to victims of natural disasters. The ultra-religious groups behave similarly to other groups, like Hamas and Hezbollah, by providing social services to the poor in order to win hearts and minds to their religious/nationalist cause.
Israeli waitresses are fed up with ultra-orthodox men marching through their restaurants on Shabbos and ruining their business, so they've started flashing the religious conservatives in order to scare them off.
Kim Jong Un's half-brother Kim Jong Nam was a CIA source, according to the WSJ. Multiple officials believe Kim Jong Nam's 2017 assassination in a Malaysian airport was carried out at the request of Un. ¯\_(ツ)_/¯
Don't believe all the billboards and PR hooey, Apple is still sucking up tons of your data just like every other tech company.
Ahead of Polish President Andrzej Duda's official state visit to DC this week, an aide has confirmed that the US will increase its troop presence in Poland following mounting concerns over Russian military fuckery. Poland has dubbed the negotiations "Fort Trump."
A Navy judge has declined to dismiss war crimes charges against Special Warfare Operator Chief Edward "Eddie" Gallagher.
The head of the US Naval War College has been reassigned following allegations he was under investigation for being an inappropriate asshole. Rear Adm. Jeffrey Harley reportedly billed taxpayers for a margarita machine in his office where he held games of Twister and offered "free hugs," all while the college was struggling to make payroll.
Former White House punching bag and RNC waterboy Reince Priebus is now a Navy Ensign. Priebus was boosted into the service by a letter from former Defense Secretary Jim Mattis saying he was a good boy who knew how to kiss ass and follow orders. Priebus's oath was administered by Vice President of Jesus Mike Pence, and the photos are kind of funny.
Trevor Noah talked about how the decline of Trump's Twitter engagement could mean people are bored with his bullshit, and announced they're bringing their Trump Twitter Library to DC next week.

Trump's Twitter Engagement Is Down, and Trevor Is Here to Help | The Daily Showwww.youtube.com
And here's your morning Nice Time:IT'S MEI MEI, THE RED PANDA!

Red Panda Mei Mei Finds Treatswww.youtube.com
Follow Dominic on Twitter and Instagram!
We're 100% ad-free and reader-supported, so consider buying us coffee, or get a subscription!
Dominic Gwinn
Dominic is a broke journalist in Chicago. You can find him in a dirty bar talking to weirdos, or in a gutter taking photos.