'Why Can't I Just Do It?' Wonkagenda For Fri., June 15, 2018
Russia
June 15, 2018 09:02 AM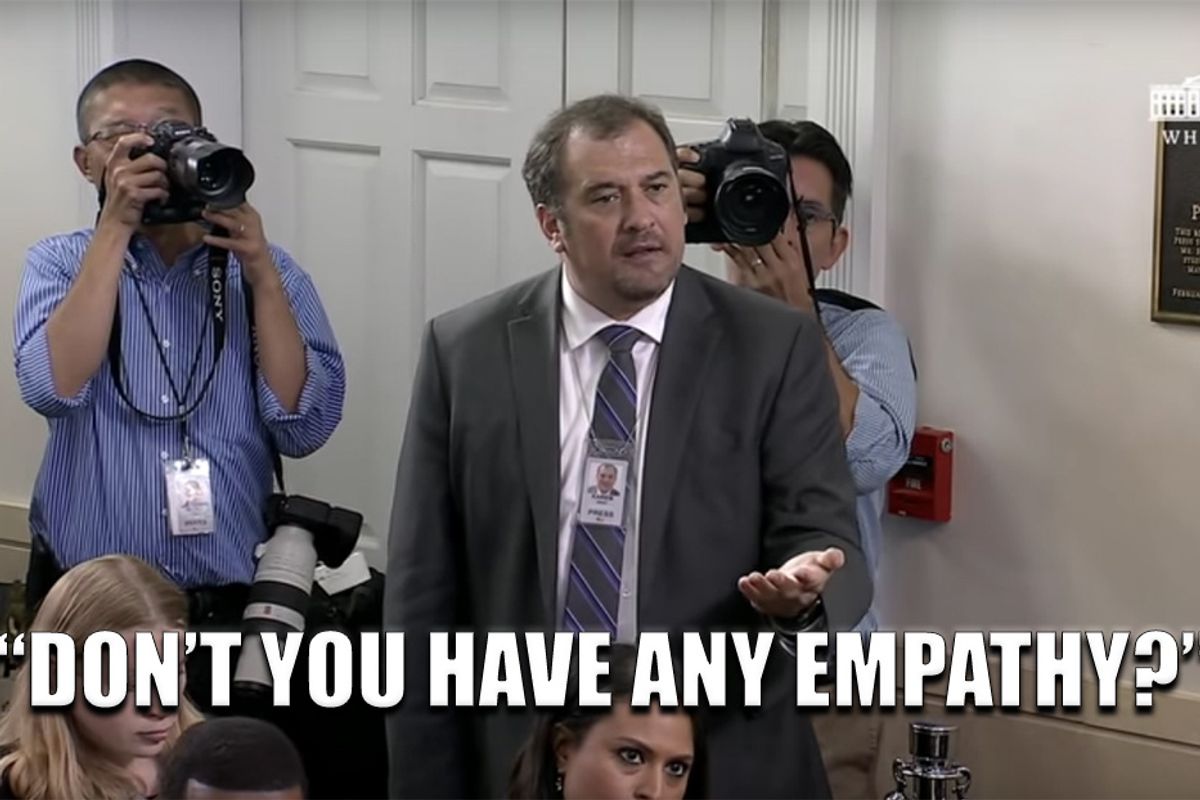 Morning Wonketariat! Here's some of the things we may be talking about today!
---
A new behind-the-scenes video produced by North Korean state media shows Trump saluting a top DPRK general who has executed (at least) 340 people, and the US military community is seething.

Sarah Huckabee Sanders and Mike Pompeo had to plead with Trump not to screw with the North Korean summit after he became bored in Singapore. A day before the summit, Trump asked, "Why can't we just do it [now]?" and aides had to tell him him that nobody would be watching on TV.
Rudy Giuliani went on Hannity to demand that Jeff Sessions and Rod Rosenstein "redeem themselves" by suspending Robert Mueller, and jailing FBI agents for sexting and having opinions.
Shortly after the OIG report was released, an op-ed by James Comey appeared in the Times where he accepts the OIG findings, but disagrees about being called attention whore.
After being largely silent following the release of the OIG report, Trump tweeted the report was a "total disaster" this morning, then railed against Comey and the FBI.
Later this morning a federal judge will probably LOCK UP Paul Manafort for witness tampering.
Michael Cohen is trying to sell off of a bunch of crap in order to pay his legal bills, and you should call his dad if you know anyone that wants an overpriced apartment in Manhattan.
Later today Trump is expected to crank up his trade war with a $50 billion bomb on China. in response to their repeated cyber fuckery. [Archive]
The Trump administration will start erecting its first tent city to house all the children it's kidnapping at the border.
Sarah Huckabee Sanders had a horrible, no good, very bad day after CNN's Jim Acosta asked her how Jeff Sessions could use the Bible to rationalize kidnapping and imprisoning children. Sanders then started trying to lie her way out with Bible talk, only to get fact-checked by CBS's Paula Reid, and cornered by the Maryland Sentinel's Brian Karem, who lashed out at Sanders, saying, "Answer the question. It's a serious question. These people have nothing. They come to the border with nothing, and you throw children in cages. You're a parent. You're a parent of young children. Don't you have any empathy for what they go through?"
A scandal plagued military contractor is salivating at the chance to help build Trump's Mexican tent cities for kids.

House Republicans are considering a policy that will let children sit in tent cities with their parents instead of being kidnapped at the border. How noble of them.
With Scott Pruitt facing more than a dozen federal investigations, the EPA press office has been downright hostile to reporters under Pruitt's leadership, accusing national reporters of writing "elitist clickbait," calling writers "trash," and manhandling environmental reporters.
Scott Pruitt is getting ready to make America filthy again by rolling back Obama-era environmental regulations on water pollution and auto emissions standards. It's a huge win for the the poor golf course owners and real estate developers.
Aides to Scott Pruitt claim he has a "clear sense of entitlement," and often tried to get special favors, like getting his daughter into the University of Virginia School of Law, and an internship at the White House.
Mike Pence has become the gatekeeper for corporations and lobbyists looking to peddle their wares and pay tribute to Trump. Behind every great villain there's a quiet little lackey.

A historically shifty state-owned Chinese construction company was given a $19.6 million contract to work on the new Trump trash palace in Dubai, and everyone is going out of their way to avoid mentioning the Trump name.
The exodus of White House staffers continues with legislative affairs director Marc Short expected to leave by this summer. [Archive]
Steve Mnuchin's former colleague and top bank regulator, Joseph Otting, had the balls to tell the Senate Banking Committee that there was no "old boys club" in the bank industry a day after he refused to respond to questions from the House Financial Services Committee on whether or not discrimination exists in the banking industry because he'd never "personally experienced it." [Archive]
Bloomberg reports that super rich California Republican Rep. Darrell Issa is being considered to head the CFPB as Mick Mulvaney just isn't competent enough to scuttle all the consumer protections. [Archive]
In a 7-2 ruling, SCOTUS struck down a Minnesota ban on "political" clothing at polling places for being too broad. Now all you red state residents can wear your Limberbutt/Pigasus t-shirts while passing out flyers for Vermin Supreme in November.
Twenty-one House Republicans are joining with Democrats in criticizing attacks by the Trump administration on federal employee unions.
After Rudy Giuliani bragged about sexing up a rich lady to a British tabloid, Trump's White House declined to comment on Giuliani's love life.
It's still early, but even Mitch McConnell thinks the Senate is in play in 2018 as the Republicans narrow their focus to several key races in an effort to fend off a potential Blue Wave.
Raul Labrador, the Tea Party wingnut from Idaho, is boo-hooing to Politico about the process of consensus building in Congress.
Ex-con Michael Grimm claims that Rep. Dan Donovan offered him the possibility of a presidential pardon if he held off challenging Donovan in the 2018 Republican primary. LOLOL.
Rob Rogers, a former cartoonist for the Pittsburgh Post-Gazette was "You're Fired" for drawing political cartoons critical of the Trump administration.
DC's non-voting shadow Senator Michael Brown is facing a tough primary opponent in Andria Thomas, but it really doesn't matter since territories like DC and Puerto Rico have no voting rights. #TaxationWithoutRepresentation.
A child in Idaho is being treated for Bubonic Plague.
Two former employees of Utah-based Vivint Solar claim that the company created a hostile workplace at their Sacramento, California, facility when management failed to address multiple allegations of racism, including a cardboard fort with the words "Whites Only" painted on the front.

While inhaling food at last week's G-7, Trump commented that Crimea is actually part of Russia because they speak Russian, stated, "Ukraine is one of the most corrupt countries in the world," and added Putin had a right to protect Russian citizens and Russian-speaking Ukrainians in Crimea when he illegally invaded the country in 2014.
Susan Glasser reports that Trump is obsessed with having an official state visit with Russian President Vladimir Putin later this summer, but Putin doesn't want to meet Trump in Washington or Russia.
Upon meeting the head of the European Commission, Jean-Claude Juncker, Trump reportedly called Juncker a "brutal killer," but nobody is sure if that was a compliment or an insult. ¯\_(ツ)_/¯ [Archive]
Russian lawmakers are telling women not to have sexy times with any non-white Russians during the World Cup because the children will suffer. One told a a radio host, "It is one thing if the parents are of the same race; quite another if they are of different races. We should give birth to our own children."
While Russian President Vladimir Putin awkwardly shrugged at Saudi Prince Mohammed Bin Salman al-Saud during their World Cup match yesterday, the Saudis were engaging in a massive assault in Yemen. With the UN, human rights, and aid groups pulling out, the UN is now warning that the famine and disease in the war ravaged country will get worse, especially now that the US has turned away a request from the UAE to provide intelligence help.
China is building a massive media machine in order to export movies into international markets, and intertwine itself in the US film industry.
Benjamin Brafman, Harvey Weinstein's lawyer, went on the BBC and said #MeToo is "so over the top" that he's afraid to tell "an attractive associate that they're wearing a nice outfit." In defending the host of sexual assault allegations against Weinstein, Brafman added that he's "a complex man who has already suffered a great deal of public humiliation...by some people who I think are fundamentally dishonest."
Facebook's policy and communications executive, Elliot Schrage, has been quit-fired as the social media giant flails around amidst a sea of scandals.
A new study out of UC Berkeley and Boise State has found mammals are becoming nocturnal in order to avoid humans. Can't say I blame them.
And here's your morning Nice Time!

We're 100% ad-free and reader supported, so consider buying us coffee, or get a subscription!
Follow Dominic on Twitter! and Instagram!
Dominic Gwinn
Dominic is a broke journalist in Chicago. You can find him in a dirty bar talking to weirdos, or in a gutter taking photos.