Florida Man Plays Greatest Hits. Wonkagenda For Wed., June 19, 2019
popular
June 19, 2019 09:03 AM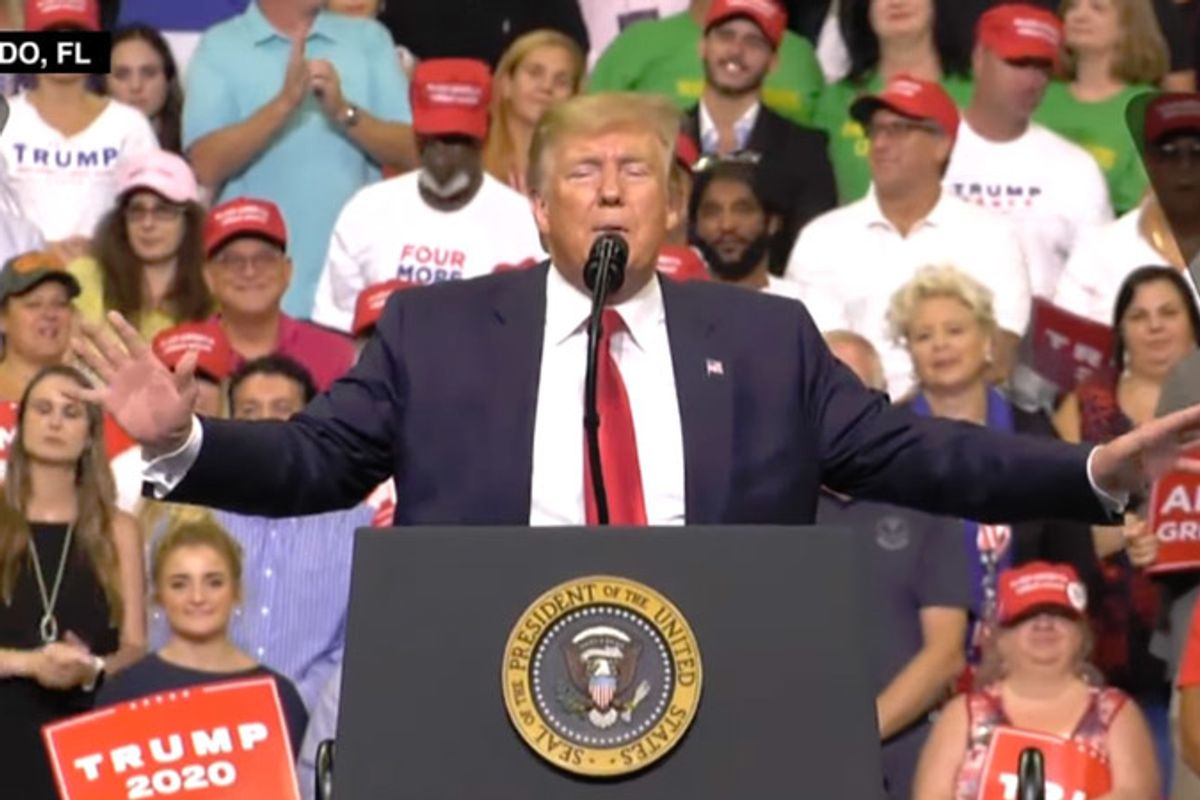 Morning Wonketariat! Here's some of the things we may be talking about today.
---
National security mustache John Bolton and Secretary of State Mike Pompeo continue to wiggle their sabers at Iran as the DOD, (what's left of) the State Department, and Not America caution both war hawks to calm down. In a forgettable interview with Time, Trump says the attacks on two oil tankers in the Gulf of Oman last week were "very minor" since the US gets "very little" oil from the region. Oddly enough, The Daily Beast reports that Tucker Carlson has been squashing war boners in private conversations, even devoting segments on his show to bashing Bolton over his role in Iraq.

Trump "officially" launched his reelection bid last night in Orlando amid a new Quinnipiac poll that shows Joe Biden and other Democrats blowing him out of the water throughout the state. Just like his 2016 rallies, the whole shitshow was full of rotten red meat about HER EMAILS and the taco truck invasion, with the crowd calling out classic hits. Trump spiced things up with vague nonsense on healthcare, the (lack of) work on the opioid crisis, some giant TVs, and a band called "Guzzlers." Ew.
Despite horrific polling numbers, Wall Street is betting on Trump winning bigly in 2020 because you can buy just about anything in America. Patchy pubic beard aficionado and Trump campaign manager Brad Parscale rambles to CBS News that their low polling numbers mean nothing and, "There are so many ways and different people who show up and vote now. The way turnout works now. The abilities we have now to turn out voters. The polling can't understand that." Parscale ultimately concludes, "The reason why -- it's not 1962 anymore." What they're saying is they're going to cheat. Again.
Katharine Gorka is expected to be tapped to be the Customs and Border Protection press secretary. The wife of Hungarian white nationalist Sebastian Gorka, she has previously written Islamaphobic articles for Breitbart and worked as a politically appointed counter-terrorism advisor for DHS.
The acting head of the Consumer Product Safety Commission, Anne Marie Buerkle, is expected to step down now that people have been hurt and babies have died as a result of her decisions to avoid product recalls. Buerkle was scheduled for a Senate confirmation hearing on Thursday, but she'll probably just get grilled over 32 infant deaths.
Later today the House Subcommittee on the Constitution, Civil Rights and Civil Liberties will hold hearings on slavery reparations as part of a debate about HR 40, which calls to "study and develop reparation proposals for African-Americans," as well as a formal apology for the US government's perpetration of slavery. In a related story, Senate Majority Leader Mitch McConnell says that slavery reparations aren't a "good idea" as "none of us currently living are responsible" for what he has called America's "original sin."
Joe Biden was speaking to a bunch of rich people at a New York fundraiser and said he's not racist because he once worked with a segregationist who called him "son" instead of "boy" which is ... not how that works.
California electric utility PG&E has agreed to pay $1 billion to local governments for its role in last year's Northern California Camp Fire. The money will also cover damage from the 2015 Butte Fire, and damage caused by several other wildfires in 2017.
The war crimes trial of Navy Special Warfare Operator Chief Edward "Eddie" Gallagher has begun. Gallagher faces life in prison following a Navy judge's refusal to dismiss his case amid a string of leaks and political pressure.
The administration has fast-tracked a potentially dangerous anti-depressant for use in treating veterans, despite pushback from VA officials and the medical community. According to The Guardian, Trump has leaned on the VA to buy "truckloads" of the drug, Spravato -- whose makers are Mar-a-Lago members -- after hearing it MIGHT help lower the high rates of depression and suicide among veterans. Medical professionals are worried the drug could be useless (at best) due to the FDA ignoring several trials before its approval. Compounding fears among doctors and veterans advocacy groups is the fact that the drug is chemically similar to Ketamine. [H/T]
One of the kids from the Sackler family has a long thing with Vanity Fair where he tries to whitewash the big pharma family's long history of peddling hillbilly heroin for the sake of profitpain management. Like an oil company apologizing for a massive spill, he says he just wants give his side of the story so his family isn't excommunicated from high snobriety.
The WSJ hired a white nationalist to fill its op-ed pages, but he was afraid his association with multiple neo-Nazi groups might pose a problem. Marcus Epstein then "changed" his name (to Mark) in order to get his op-eds picked up by The Hill, National Review, US News and World Report, Forbes, and the WSJ -- just in case anyone decided to Google him -- that way he could write about internet "censorship" without people finding pieces like "White Refugees and Culture."
Congress is asking Facebook to pump the brakes on its new magical internet funny money, Libra. Over in Europe, financial regulators are scoffing at Facebook's scheme to create its own rival currency and become a "shadow bank" and nation state. Meanwhile, nerds are laughing at Facebook's hubris as they remember what happened the last time Facebook gave the world unchecked access to billions of people. TLDR: Cash is king.
And here's your morning Nice Time:PEAFOWL CHICKS!

Peafowl Chicks Hatch at Brookfield Zoowww.youtube.com
Follow Dominic on Twitter and Instagram!

We're 100% ad-free and reader-supported, so consider buying us coffee, or get a subscription!
Dominic Gwinn
Dominic is a broke journalist in Chicago. You can find him in a dirty bar talking to weirdos, or in a gutter taking photos.