Here We Go Again! Wonkagenda For Fri., June 28, 2019
popular
June 28, 2019 08:55 AM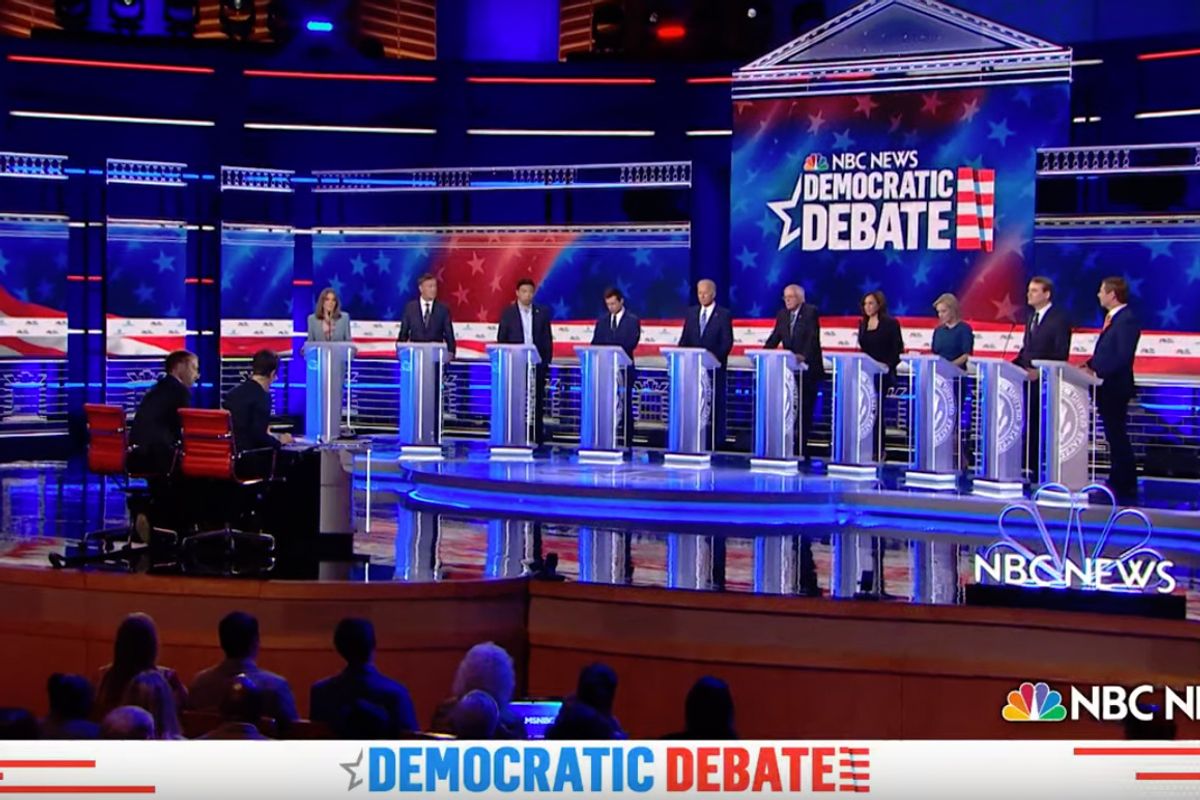 Morning Wonketariat! Here's some of the things we may be talking about today.
---
Last night's Democratic debate was a real slobber knocker that was so brutal that Joe Biden eventually told himself to shut up. While Marianne Williamson stood around fucking with chakra crystals and Chuck Todd said weird shit, the adults in the room were arguing about climate change, race, taxes, healthcare, immigration, and Donald Trump. Most of the candidates targeted Joe Biden in an effort to knock him off the top and create their own viral moments. If you just need a giggle, Trevor Noah has the funny stuff. (Editrix:Or, you know, WE DO DOM.)

Votegasm 2020: Democratic Debates, Night Two | The Daily Showwww.youtube.com
If you don't have enough time to read all the play-by-plays, The Washington Post and the New York Times have pretty solid "Winners and Losers" pieces. TLDR: Kamala beat everyone up 'cause she's a cop, Pete Buttiegieg fell on his own sword, and Bernie Sanders spent the night shouting at everyone.
Awkward moments from night two of the first Democratic debatewww.youtube.com
On the sidelines of the G20, Trump sat down with Russian dictator President Vladimir Putin and appeared to jokingly tell Putin not to "meddle" in US elections. Later, the two shared a giggle about murdering journalists, and talked shit about fellow G20 nations. The comments come after Putin told the Financial Times that liberalism had "become obsolete" as people are now being squeezed by big strongmen, then repeated some Trumpian bullshit about immigrants and LGBT+ people putting gay taco trucks on every corner. [Video]

Trump wags his finger and jokes to Putin: "Don't meddle in the election" [Tap to expand] https://t.co/wIrHpMzMvn https://t.co/7yjZmCeFQk

— BBC News (World) (@BBC News (World)) 1561720988.0
House Speaker Nancy Pelosi caved to Senate Majority Leader Mitch McConnell and passed the Senate's version of the border bill. Roll Call reports that Pelosi was able to get a "promise" from Mike Pence that the administration would notify Congress when a kid dies in a baby jail within 24 hours, and that kids couldn't spend more than 90 days in concentration camps "influx facilities." If you want to get into the swampy stuff, The New York Times has a decent takeaway of how and why Democrats in the House and Senate were divided over the respective bills.

INDICTED California Republican Rep. Duncan Hunter used to run around DC trying to screw every Hill staffer with a vagina, according to motion filed in a San Diego federal court Monday. Hunter calls the allegations "baloney," but now some on the Hill are wondering whether or not Hunter's "intimate relationships" qualify as sexual harassment.
The House Foreign Affairs Committee just released transcripts of Rex Tillerson's testimony back in May, and it doesn't look good for Jared Kushner. According to REXXON, Kushner's constant side stepping of the State Department was really pissing off rank-and-file civil servants who swore an oath not to wipe their ass with the Constitution. In one notable anecdote, Tillerson happened to walk into a restaurant as Kushner was meeting with the foreign secretary of Mexico. Rexxon testified that he "could see the color go out of the face of the foreign secretary," so he leaned in and said, "I don't want to interrupt what y'all are doing. Give me a call next time you're coming to town."
Gabe Sherman gossips that Trump World spazzed out after those interviews with George Stephanopoulos and Chuck Todd, and rumor has it that that's why Sarah Huckabee Sanders quit-fired herself. According to Sherman, the interviews were part of a strategy by Trump's pubic beard aficionado and 2020 campaign manager, Brad Parscale, and were an attempt to get Trump in front of an audience other than the brainwashed slobs watching Fox News.
Facebook is starting to lay the groundwork for its super supreme court of the internet. The Verge's Casey Newton reports Zuckerberg has been busy getting his own private crash course on law while simultaneously holding a sort of constitutional convention. The overall goal is to make the internet less of a wretched hive of scum and villainy by setting precedents, or rules ... except nobody can agree on whether or not we should have precedents, or rules. If you hate yourself, Facebook wrote a thing, but the thing reads like a first year law student got really stoned watching reruns of The People's Court.
Twitter says it will start downranking and posting warnings to tweets from public figures who violate its terms of service. The new rules will apply to people with over 100,000 followers, and would be used sparingly as every flagged violation would be sent to a team of nerds tasked with deciding whether or not someone is a bullshit artist. Effectively, this means Trump's tweets should fade further into the darkness.
NICE TIME: Spencer Cliche, a high school senior studying journalism, found his school had been using prison labor to reupholster the school's auditorium seating. A week after the story was published, a red-faced school superintendent apologized and and promised never to engage in modern slavery again.
Seth Meyers took a closer look at both debates and realized that there's still another year of this shit to go...

Democratic Presidential Primary Debate, Night Two: A Closer Lookwww.youtube.com
And here's your morning Nice Time:MEERKATS!

These Meerkats make work impossibleyoutu.be
Follow Dominic on Twitter and Instagram!

We're 100% ad-free and reader-supported, so consider buying us coffee, or get a subscription!
Dominic Gwinn
Dominic is a broke journalist in Chicago. You can find him in a dirty bar talking to weirdos, or in a gutter taking photos.