This Is What Democracy Looks Like? Wonkagenda For Wed., July 3, 2019
popular
July 03, 2019 08:58 AM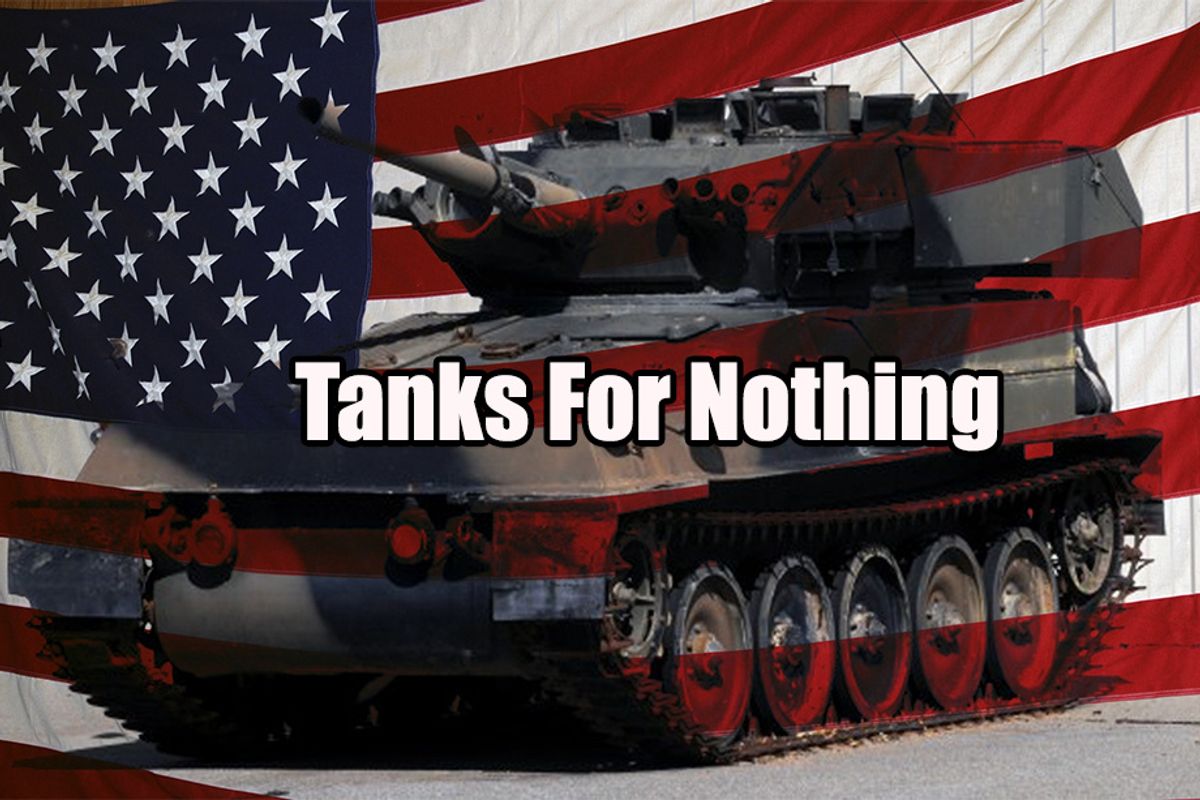 Morning Wonketariat! It's the last wonkagenda of the week for us here, because the editrix decided we're taking Friday off. Here's some of the things we may be talking about today.
---
The administration is mugging the National Park Service for $2.5 million so Trump can have his shitty fascism parade. There's still no idea what the final dollar amount will be, but yesterday the Pentagon moved two old Bradley Fighting Vehicles and an M88 recovery vehicle from a DC railyard onto two large flatbed trucks, and transported them through the city with a large police escort following a direct order from Trump. The Washington Post reports the White House wants to project images of the 1969 Apollo 11 moon landing onto the Washington Monument, despite longstanding policies of "not throwing shit on the sides of national monuments." On Monday HuffPo reported VIP tickets for the event were being doled out by the RNC to wealthy donors, though White House Skeletor impersonator Kellyanne Conway disputed this with a star spangled cackle. Politico quotes retired senior military members who are pissed Trump is again "using the armed forces in a political ploy for his reelection campaign," and that it's "absolutely obscene." After a report broke about the Proud Boys holding a impromptu rally on Saturday, DC police say they were going to "prepare for the worst and hope for the best."

Just left the Nats game, and we were greeted by Trump's tanks rolling through just outside the ballpark @fox5dc… https://t.co/2XV1XlDRjn

— Cole (@Cole) 1562119499.0
In June the DHS inspector general decided to drop by a concentration camp border facility to take a gander at just how bad things are. In a report released yesterday, officials say they found kids in filthy clothes without access to laundry facilities, and people given wet wipes to bathe and bologna sandwiches to eat. According to the report, when detained migrants saw the inspection was taking place, people in overcrowded, standing room only, cells began pressing notes against the windows pleading for help. The report notes that 826 of the 2,669 children held in baby jails are being held longer than the legally mandated 72 hour time period, and senior managers have raised security concerns about the dire conditions, phrasing it as "a ticking time bomb."
Just to add insult to injury, NPR reports the administration wants to fine immigrants almost $500,000 for "failing to depart the US as previously agreed." This comes at the same time Trump again threatened mass deportations would begin after the July 4 holiday.
In less shitty immigration news, a federal judge in Seattle denied a move by Attorney General Bill Barr to deny immigrants the right to bail while awaiting asylum cases slowly churning through the legal system.
Everything is awful, so here's a sea lion pup!

Sea Lion Pup Born at Smithsonian's National Zoowww.youtube.com
Trump has scheduled a campaign rally on July 17, the same day as Robert Mueller's testimony before the House Judiciary and Intelligence committees. It's widely believed Trump will yell and scream about "witch hunts" and "do overs" in an attempt to change the subject (again).
Christopher Waller and Judy Shelton have been nominated to fill the two vacant seats on the Federal Reserve board. Not much is known about Waller, who currently serves as the research director at the Federal Reserve Board of St. Louis, but his boss recently was the only dumb bastard on the Fed's policy committee to vote for an interest rate cut. Shelton is a minion of Trump World who thinks interest rates are too damn high, and recently told the Washington Post the US dollar should be tied to the price of gold. If confirmed by the Senate, both are expected to drop interest rates to zero so Trump can keep frantically mashing the gas pedal of America's economic engine in order to keep up Trump's trade war.

The 2020 Census won't have any citizenship questions after the administration caved and decided to just send the thing off to the printer instead of attempting to defy more clear cut laws. Apparently the DOJ said fuck it and dropped its legal case in a single sentence email to plaintiffs suing about the inclusion of citizenship questions.
In a related story, the Census Bureau will use Amazon Web Services' cloud storage system to hold all the data for 2020, and that has tech and security geeks super worried. On top of that, a number of glitches have been reported that could potentially alter the outcome of the Census.
The New York Times reports David Dell'Aquila is leading a bunch of rich assholes to take over the NRA. The internal revolt stems from the high-priced soap opera in the upper echelons on the gun fetishist group, as donors hope to oust NRA chief executive Wayne La Pierre by simply starving the organization of donations. Politico reports that all the infighting has Republicans freaking out about upcoming elections as the NRA has consistently been one of the largest donors and influencers in conservative politics.
Pete Buttigieg will soon release a national service plan designed to fight climate change, looming health crises, crumbling infrastructure, and radical inequality. The idea is to increase national service gigs from 75,000 to 250,000 by offering incentives like student debt relief and vocational training. Of course, Republicans in MAGA hats will just call this socialism as if they have a better idea.
A new Washington Post-ABC News poll of 2020 Democratic candidates shows Biden maintains his lead among a majority of likely primary voters. The numbers more or less mirror previous polls showing Biden at the top of the field, followed by Sen. Bernie Sanders, and an essential tie between senators Kamala Harris and Elizabeth Warren. HOWEVER, a new Quinnipiac poll shows a dramatic shakeup with Harris surging in the polls.

#NEW 2020 Dem National Post-debate poll: Biden 22% (-8) Harris 20% (+13) Warren 14% (-1) Sanders 13% (-6) Buttigi… https://t.co/B7MFxiPPw4

— Political Polls (@Political Polls) 1562090671.0
Navy Special Warfare Operator Chief Eddie Gallagher was found not guilty of war crimes. In a brief and sobering Twitter thread, Task and Purpose Editor in Chief Paul Szoldra lays out where Navy prosecutors screwed up and made the case FUBAR. If you missed it, yesterday Dok broke down the meat and potatoes of the case.
In a less than shocking turn of events, people seem to be buying oil from Iran despite crippling US sanctions. The New York Times reports ships with reportedly empty hulls riding high on the water are disappearing from a maritime tracking system only to magically appear days later sitting pretty deep in the drink, a suggestion that their hulls are full of that sweet, sweet crude. There's even a nifty infographic to show how super bad this is, as if to suggest pulling out of the JCPOA to stroke a neo-con war boner were a more palatable alternative.

Amazon is not happy with John Oliver's 'splainer on its warehouses. Yesterday Dave Clark, Amazon's Senior Vice President of Worldwide Operations, began whining on Twitter that Oliver never went to Amazon's warehouses to talk to all the people running around in their own piss-filled pants to hug boxes for $15 an hour.
Organizers from for that "Straight Pride" parade say they received suspicious packages, so they called police. Hazmat teams shutdown area streets, then evacuated the neighborhood and...it turns out they were full of glitter.
And here's your morning Nice Time:MEERKAT SLUMBER PARTY!
Meerkats have an adorable Slumber Partywww.youtube.com
Follow Dominic on Twitter and Instagram!

We're 100% ad-free and reader-supported, so consider buying us coffee, or get a subscription!
Dominic Gwinn
Dominic is a broke journalist in Chicago. You can find him in a dirty bar talking to weirdos, or in a gutter taking photos.