NEWS INCOMING. Wonkagenda For Mon., July 9, 2018
Russia
July 09, 2018 09:05 AM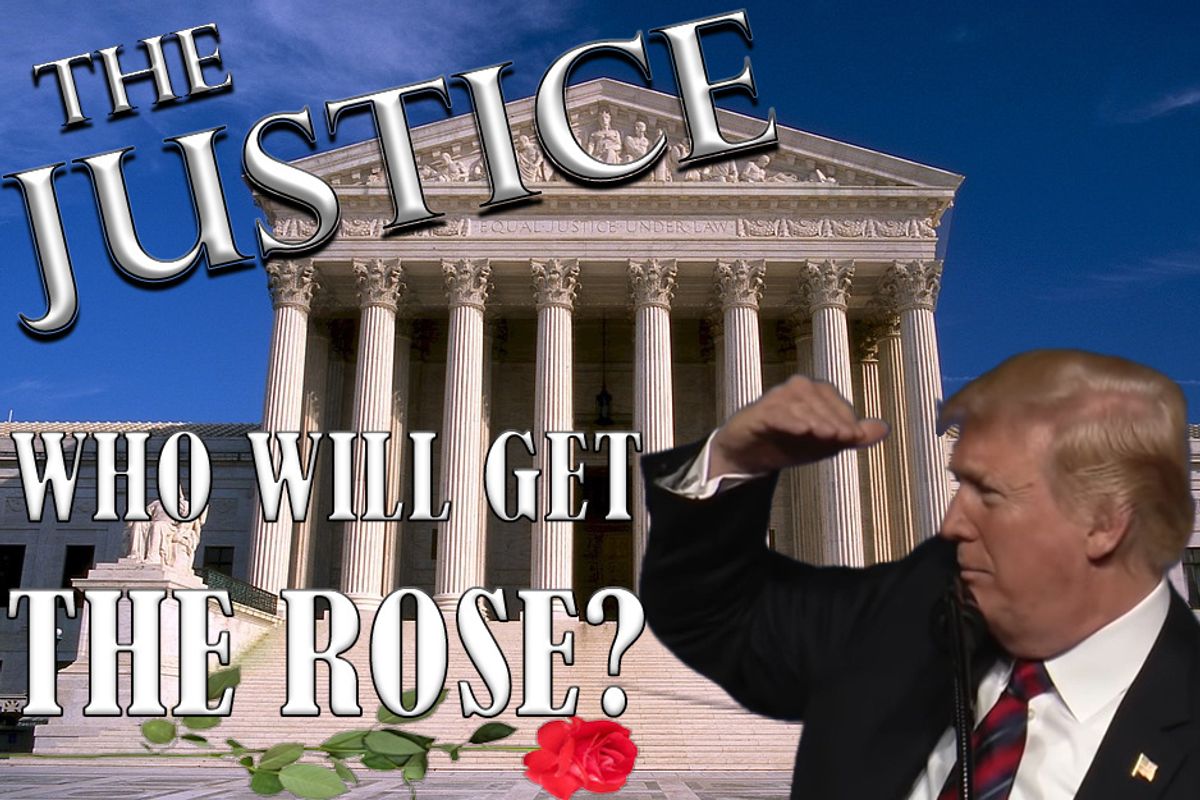 Morning Wonketariat! Here's some of the things we may be talking about today.
---
Children as young as 1 are being being forced to appear in immigration courts for deportation hearings. Fun Fact: Because it's civil, the children and infants do not have the right to a court-appointed attorney.

A legal Mexican couple from Brooklyn was visiting their son stationed at Fort Drum for a July 4th celebration when they were arrested by CBP agents and imprisoned in a detention facility. #MAGA
Shortly after Trump authorized the creation of baby jails, a US defense contractor discreetly held immigrant children in a vacant Phoenix office building not listed by the Office of Refugee Resettlement, or among state child care facilities ... and it gets worse from there.
HHS is sick of congress critters mucking about Trump's baby jails and states that their presence creates "a significant and unnecessary strain" on jailersstaffers.
Robert Mueller's team is expected to present evidence that Paul Manafort got $16 million in loans from a senior banking executive in exchange for an advisory role on the 2016 Trump campaign.
Paul Manafort's lawyers are bitching that reporters from AP accidentally tipped off Robert Mueller's team to Manafort's storage unit while asking questions about the infamous "black ledger" in the early days of the Trump-Russia investigation. In an effort to stymie his looming trial, Manafort's lawyers want to move the trial to Roanoke, Virginia. So much for the rocket docket.
Michael Cohen is reportedly still unsure if he'll pour his heart out to Robert Mueller or if he's still Trump's bitch, but he certainly loves being the belle of the ball.
Jonathan Chait has this ridiculously detailed theory about Trump potentially being a Russian asset since 1987, complete with infographics and a narrative timeline that presupposes things are much, much worse.
A rather sober looking Rudy Giuliani was back on TV, blithering on every Sunday show. NO COLLUSION! NO COLLUSION!
If you've been paying attention, Trump's trade war was inevitable. Here's a recap of how we got here, and why Trump gives zero fucks about tanking the global economy.
California dairy farmers are about to get slaughtered in Trump's trade war as the effects of tariffs on Canada, Mexico, and China begin to materialize. Poor Devin Nunes!
Later tonight Trump is expected to announce a SCOTUS pick pre-screened by ultra-conservative lobbying groups. The rose ceremony is set to air tonight at 9 p.m. EST.
A "war room" has been set up in the West Wing of Trump's White House to defend his SCOTUS pick, and they think this is like Glengarry Glen Ross.
Trumpcare is back from the grave (again) as the administration stops billions in payments to small health insurance companies in rural areas. The payments have lowered insurance premiums, and increased access. Thanks anyway, Obama.
Nobody expects Hope Hicks to return until at least Season 3 of the Washington Apprentice. The writers need time to write her back onto the show, find her a new love interest, yadda, yadda, yadda.
Scott Pruitt was quit-fired by John Kelly, but people in Oklahoma still think Pruitt is the bees knees, and that's spurring rumors that Pruitt is already plotting a political comeback.
The neo-conservative fever dream of gutting the federal workforce will be realized today when Trump's executive orders weakening federal employee unions begins. OPM has sent out guidelines that help managers avoid due process, and expedite the firing of federal workers. #DeepState or #UnionBusting?
There are now seven wrestlers accusing Republican Rep. Jim Jordan of ignoring sexual misconduct by a team physician while Jordan served as an assistant coach at Ohio State; now the Tea Party crazies are worried this could hurt Jordan's chances at becoming Speaker.
A bunch of protesters in Louisville ruined Mitch McConnell's lunch on Saturday after they started screaming about immigration.
The disconnect between Trump and women in the #MeToo era is exacerbating the political gender gap, and that could be disastrous for Republicans in 2018 and 2020.
A dwindling number of pro-Trump Republicans are mulling over a primary challenge to Never-Trump Nebraska Sen. Ben Sasse, yet there's even more speculation about Sasse launching a 2020 primary challenge against Trump himself. #HesRunning.
RollCall is shuffling some red state Senate predictions this morning: North Dakota is now tilting Republican, and West Virginia is now tilting Democrat.
Longshot Democratic Senate candidate for Texas Beto O'Rourke has been riding a wave of enthusiasm thanks to a relentless campaign schedule, and the sudden realization that Ted Cruz is obnoxious and shitty.
Representatives Tim Ryan and Bill Huizenga got into a spat in front of reporters after visiting a church housing undocumented children when Ryan called the Trump administration's baby jails "state-sanctioned abuse."
The fight for the leadership of House Democrats is starting to spill out into the open with California reps Linda Sanchez and Barbara Lee signaling their intention to run for caucus chair.
Texas Republican Rep. Kay Granger wants to to head up the all important Appropriations committee, but a fierce battle is being waged among conservative deficit and fiscal hawks who need to follow through on their constituent donations.
Michael Selyem, the Deputy District Attorney for San Bernardino County, California, has made disparaging and racially charged remarks about Rep. Maxine Waters on social media, calling her a "loud-mouthed cunt in the ghetto," noting that he's surprised she hadn't been "shot."
A local news station in Texas is reporting people are getting notices about land surveys for a possible border wall, and there isn't a goddamn thing they can do about it.
Two top pro-Brexit officials have been quite-fired from British Prime Minister's Theresa May's government over her desire for a "soft" exit from the EU. With Eurosceptics growing more impatient, there is now increased scrutiny about the viability of May's government, and the possibility of the UK's separation from the EU.
Russia was eliminated from the World Cup Saturday during a penalty kick-off, while England beat Sweden 2-0. In the ensuing chaos an Ikea was promptly sacked.
A woman in Wiltshire, England, has died after being exposed to the nerve agent Novichok. Russia denies involvement.
Reminder: The US is still engaged in a shadow war in Yemen.
Black Cube, the ultra shady Israeli intel firm that spies on journalists, was contracted to spy on Hungarian NGOs and discredit opposition to neo-nationalist Prime Minister Viktor Orbán.

Two US destroyers sailed through the Taiwan Strait, effectively telling China to "Suck It" over repeated claims of ownership to the South China Sea.
North Korea dissed Trump and Mike Pompeo over the weekend, referring to US denuclearization demands as "regrettable" and "gangster."
ICYMI: Neo-Nazi Richard Spencer was deported from Poland for being a neo-Nazi. Also, he's tried to grow a pedo-stache.
Michelle Wolf talked about how "pro-life" is a propaganda term created by hypocrites who are busier walking their dogs than "fighting hard for health care, child care, education, gun control and protecting the environment." [Video]
And here's your morning Nice Time! BABY GOATS!
Dominic Gwinn
Dominic is a broke journalist in Chicago. You can find him in a dirty bar talking to weirdos, or in a gutter taking photos.