Sorry, Not Sorry! Wonkagenda For Thurs., July 11, 2019
popular
July 11, 2019 09:06 AM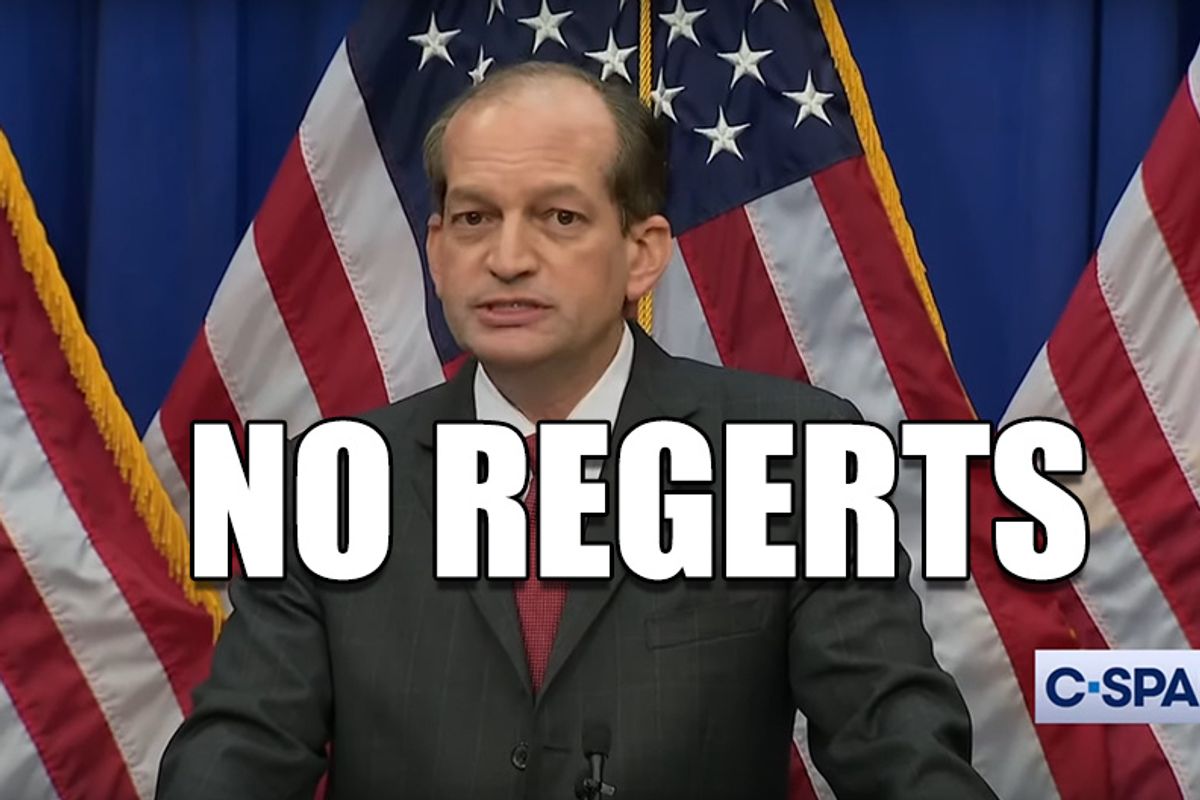 Morning Wonketariat! Here's some of the things we may be talking about today.
---
With calls growing to be "You're Fired"-ed, Labor Secretary Alex Acosta came to give an eight minute statement and 45 minutes of Q&A with reporters where Acosta said his office did nothing wrong. Instead of apologizing for his sweetheart deal with convicted sex offender Jeffrey Epstein, Acosta blamed Epstein's all-star cast of TV lawyers, the "scared and traumatized" underaged victims for not coming forward, and engaged in some whataboutism by throwing attorneys from Palm Beach County under the bus. Acosta did not offer any semblance of an apology, or imply he had regrets helping Epstein, an ALLEGED serial pedophile running a child prostitution ring, serve out his slap on the wrist sentence at home and Club Fed. [Fact Check]
A lot of people are livid with Acosta this morning, especially House Democrats. House Oversight Chair Elijah Cummings wants to drag Acosta's ass up to the Hill to testify about his role in Epstein's 2008 plea deal, and Nancy Pelosi says he should have been quit-fired days ago. Former Palm Beach County State Attorney Barry Kirscher, who was initially involved with the case, calls Acosta's recollection of events a load of MALARKEY, stating, "If Mr. Acosta was truly concerned with the State's case and felt he had to recuse the matter, he would have moved forward with the 53-page indictment that his own office drafted. Instead, Mr. Acosta's [sic] brokered a secret plea deal..." Kirscher, who at the time of the plea invited Acosta out for overpriced coffee, concludes Acosta "should not be allowed to rewrite history."

NEW - The Former State Attorney Barry Krischer responds to Acosta: "I can emphatically state that Mr. Acosta's reco… https://t.co/GZ8cWsi9qX

— Michael Del Moro (@Michael Del Moro) 1562796567.0
Of all the people pissed at Acosta, none of them are Trump and Senate Republicans. Yesterday, Trump defended Acosta and distanced himself from his past relationship with Epstein in saying, "I was not a fan of his, that I can tell you." Politico reports a number of White House scabs were applauding Acosta as "cool, calm and methodical despite fielding some obnoxious questions." For their part, Senate Republicans are dodging questions, with Texas Republican Sen. John Cornyn saying that all this was "in the public domain since before [Acosta's] confirmation." [EDITRIX: Maybe you shouldn't have confirmed him, then, DICK.]
Once again a federal judge has taken a dump all over the administration's attempt to shuffle DOJ lawyers in its 2020 Census case. In a six-page order, US District Judge George J. Hazel in Maryland said the DOJ "must realize that a change in counsel does not create a clean slate for a party to proceed as if prior representations made to the Court were not in fact made," effectively calling Bill Barr's DOJ a bunch of idiots. The judge did note he'd let the current lawyers piss off provided the DOJ could prove its new team wasn't completely stupid. In a related story, about a dozen members of the far-right wingnut caucus sent a letter to the White House begging for an executive order to force a citizenship question on the 2020 Census.

A State Department intel analyst quit yesterday after the White House censored his written testimony to a congressional panel that provided evidence of climate change. Rod Schoonover was all set to talk about all the horrible crises facing humanity, but the administration felt that might be bad for business. House Intel Chair Adam Schiff is saying his committee will just drag Schoonover's ass back up to the Hill now that he's not being silenced by some tiny hands at the other end of Pennsylvania Ave. In response to the story, an anonymous administration official tells the Wall Street Journal, "This appears to be a clear example of some within the behemoth of the U.S. bureaucracy running around thinking their way is the only way and desperately trying to undermine this president and the American democratic process."
The Senate Commerce Committee advanced the nomination of Delta Airlines exec Steve Dickson for the head of the FAA along a party line vote, 14-12, despite the objections of committee members. A number of Democrats are worried about Dickson's history of gagging whistleblowers. The primary complaint centers around a Delta pilot, Karlene Petitt, who was grounded, referred for a psych evaluation, and wrongly diagnosed with bi-polar disorder after raising safety concerns. What could go wrong?
Senate Republicans are in love with Trump's new Fed nominees because of their habit of toeing the conservative party line. This has a number of actual economists and Democrats nervous that Trump's nominees will do whatever they're told instead of trying to avoid an economic catastrophe.
Yesterday Fed Chair Jerome Powell hinted that the Fed would probably continue mashing on the economic gas pedal in order to avoid an almost inevitable recession during a hearing before the House Financial Services Committee. Throughout the hearing Chair Maxine Waters rode Powell's ass like a rodeo horse, pressuring him on what he would do if Trump tried to "You're Fired" him, and what his thoughts are about Facebook's shady-as-fuck cryptocurrency, Libra. In a related story, shortly after Powell trashed Libra and said the project should be halted until nerds can figure out how to keep it from becoming a massive money laundering operation, the price of Bitcoin tanked (again, as usual).

.@RepMaxineWaters: "If you got a call from the president, today or tomorrow, and he said, 'I am firing you, pack up… https://t.co/h4DLiLcNAU

— CSPAN (@CSPAN) 1562770325.0
The administration is leaning on members of Congress to cut a spending deal and increase the debt limit within the next two or three weeks following reports that the Treasury Department is about to go broke. The Washington Post reports Nancy Pelosi has refused to deal with people in Trump's White House, specifically noting that ACTING White House chief of staff Mick Mulvaney "has no credibility," snubbing ACTING budget director Russel Vought, and noting that the administration's continued insistence on spending increases is a non-starter. While the debt limit does need to be raised, the next government shutdown isn't likely to happen until September when the funding for a bunch of federal programs dries up.
The Senate Foreign Relations Committee chewed out a State Department goon over the Trump administration's arms deals with Saudi Arabia and the United Arab Emirates. Senators wanted to know why the hell the administration was ignoring the objections of Congress and selling new child-murdering toys to assholes on the other side of world, but the goon just muttered some bullshit about Iran when he wasn't dodging questions and twisting himself in knots. This prompted Texas Republican Sen. Ted Cruz (of all people) to demand the administration, "Follow the damn law, and respect it."
During gut-wrenching testimony before the House Oversight committee, a Guatemalan woman whose daughter died in one of Trump's baby jails told the committee how her "baby grew sicker every day" until "she was vomiting constantly" and suffering "in a way you can't imagine." Republicans at the hearing accused Democrats of attempting to "score political points" by saying kids held in the concentration camps baby jails are being held in "cages."

.@RepAOC @AOC: "What is being pointed to here is a culture of cruelty. To have a CBP officer tell a migrant woman..… https://t.co/4wAIK5MbRl

— CSPAN (@CSPAN) 1562791046.0
Multiple intelligence agencies warned members of Congress of "active threats" to US elections, but that message was completely lost on Senate Republicans. Members of the House (ON BOTH SIDES) praised the briefing as sobering and informative, with Michigan Rep. Debbie Dingell telling reporters, "Nobody can walk out of that and not be concerned." Senate Majority Leader Mitch McConnell again shot down attempts by congressional Democrats to shore up election security, accusing them of politicizing the issue. Following the rare all-Senate briefing with top intelligence and defense officials, Republican Sen. Roy Blunt stated, "New federal election laws would not be the right thing to do so I would assume we would have no legislation like that come through the Rules Committee."

Amy McGrath got a crash course in news cycles and politics yesterday. First, McGrath's campaign announced she'd raised an astonishing $2.5 million in the 24 hours since her announcement, but then McGrath was faced with the brutal reality of running as a Democrat in a red state after she was justifiably attacked on the left for saying she'd reluctantly have voted for Justice Rapey McPrivlege and would work with the administration if it has "good ideas." By the end of the night nobody was talking about her fundraising record, and McGrath was tweeting an apology, stating, "Based upon further reflection and further understanding of his record I would have voted no." McGrath added, "I know I disappointed many with my initial answer ... I will make mistakes and always own up to them. The priority is defeating Mitch McConnell."
Speaking of red state congressional Democrats, Nancy Pelosi is reminding progressives to stop cannibalizing the party. In a closed door meeting, Pelosi told party members to come talk to her instead of firing off bitchy shitposts at Democrats in red states. Politico reports Pelosi reminded the caucus that they're "a family, and every family has its moments," adding that Congress is about "making sausage most of the time," not a "beautiful pâté." Pelosi's comments were directed towards progressive freshman Democrats who were chastised by senior members for not "paying their dues." However, in an interview with the Washington Post, Rep. Alexandria Ocasio-Cortez called Pelosi's comments "outright disrespectful" and said Pelosi was constantly "singling out [the] newly elected women of color." The Washington Post notes that senior Democrats have repeatedly gone to bat for freshman Democrats, going so far as to change House rules and rigorously defend the budding whippersnappers caucus throughout their tumults in the spotlight.
California freshman Rep. Katie Porter has hauled in $1 million in the second quarter, more than any other vulnerable House Democrat so far. Porter's campaign reports an average donation of $100 with more than 17,000 individual donations. Last night Porter told MSNBC's Lawrence O'Donnell that she wasn't too interested in the "philanthropic work" of big banks and corporate greaseballs, noting that her constituents were more interested in makings ends meet.

Rep. Katie Porter Challenging Big Business On Fair Pay | The Last Word | MSNBC www.youtube.com
The British naval ship the HMS Montrose says it was forced to intervene after three Iranian vessels approached the British Heritage. The Iranian Revolutionary Guard Corps has denied involvement in the incident.
Saudi Arabia says it will let women leave the country without permission from a man.
Later today Trump will hold his alt-right social media summit where a bunch of conservative think tanks will mingle with trolls and shitposters to bitch and moan about being "censored" on the internet. Trump has spent the better part of this morning shitposting about the thing, whining about Fake News, and calling himself a "Stable Genius." CNN notes that the White House has refused to release the list of attendees, but The Daily Beast reports a bunch of rightwing trolls who've been banned on popular social media platforms, like Paul Joseph Watson, are whining that their invitations seem to have been lost in the mail.
The Trump Organization has canceled a charity golf tournament planned by a Miami-based titty bar set to be held at Trump's golf course in Doral, Florida, this weekend. The Washington Post's David Farenthold reported yesterday that the event had advertised the Trump name and family crest, and that golfers could pay for a stripper to serve as a "caddy girl." Organizers said there would be no nudity on the golf course, but did say it was possible at the after-party. Womp-Womp.
And here's your morning Nice Time: Almost five minutes of BABY GOATS!

Meet Strawberry Moon & Comet youtu.be
Follow Dominic on Twitter and Instagram!

We're 100% ad-free and reader-supported, so consider buying us coffee, or get a subscription!
Dominic Gwinn
Dominic is a broke journalist in Chicago. You can find him in a dirty bar talking to weirdos, or in a gutter taking photos.