Racist In Chief. Wonkagenda For Wed., July 17, 2019
popular
July 17, 2019 09:12 AM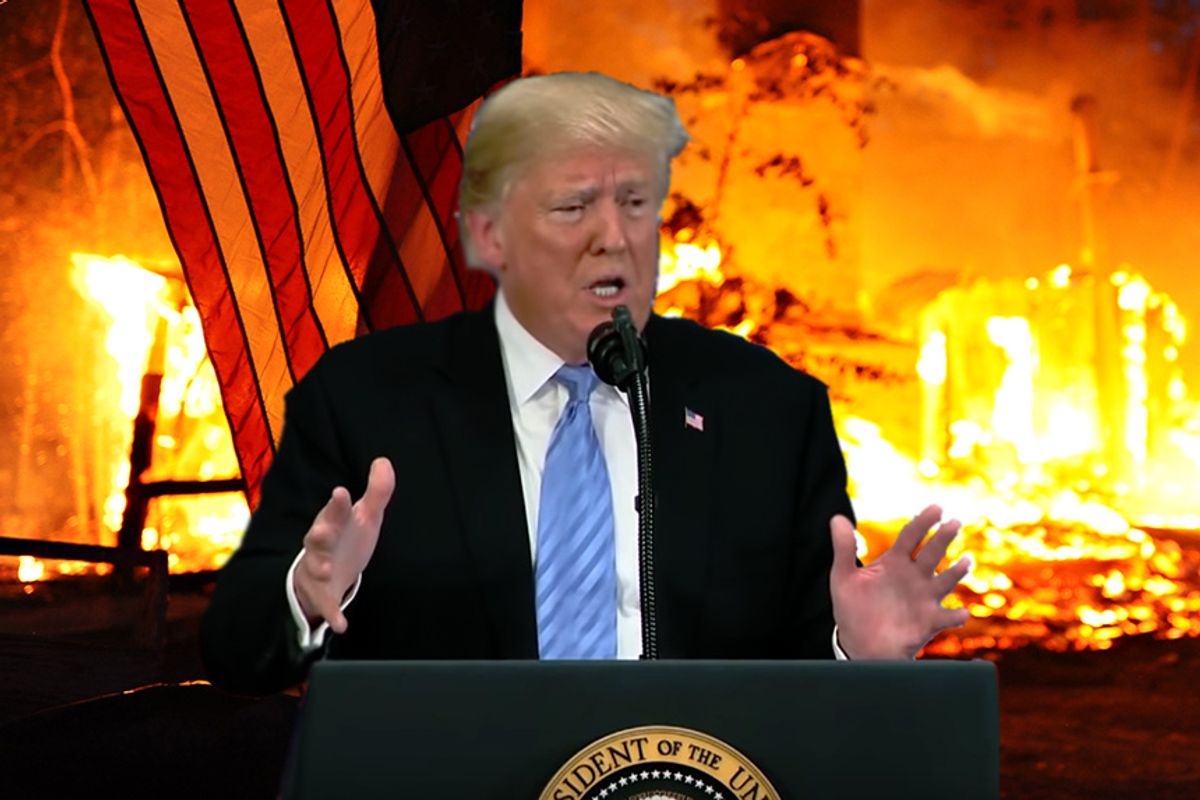 Morning Wonketariat! Here's some of the things we may be talking about today.
---
The House voted to condemn Trump's racist shitposting yesterday following a chaotic day on the Hill. Before the vote, Republicans tried to silence Nancy Pelosi for calling Trump "racist," but nevertheless, she persisted, and the vote passed by 240-187, rejecting Trump's "racist comments that have legitimized fear and hatred of new Americans and people of color." While Politico reports a number of Republicans are too chickenshit to do anything about Trump's hate speech ahead of their own elections, yesterday Senate Majority Leader Mitch McConnell came out to say that Trump isn't a racist because Elaine Chao, McConnell's wife, is Asian and serving as Transportation Secretary. The Washington Post has a brilliant infographic showing what all the Republicans have said (and haven't said) since Trump started telling progressive women of color in the House to "go back" to the "places from which they came." Meanwhile, the gang over at Fox & Friends decided to stick to their good ol' white boy and bitch about how being called a racist is "offensive."

Brian Kilmeade: "I believe calling the president a racist is personally offensive." https://t.co/BnhEn4NVbD

— Bobby Lewis (@Bobby Lewis) 1563359327.0
Backbench bomb-throwing Texas Democratic Rep. Al Green introduced his new and improved impeachment resolution in the House yesterday. While it's unlikely to go anywhere, the House will have to vote by the end of the week to table or kill the resolution, effectively putting members on the record. Of course, the House could also send the bill over to the Judiciary Committee, but that kicks an entirely different hornet's nest. [Impeachment Resolution Text]

The New York Times explains how Trump's racist shitposting isn't a bug, it's a feature of his 2020 campaign, and you should expect more of it.
A mobile version of Peter Thiel's evil spy machine is being used by ICE to make immigration raids easier, according to NPR affiliate WNYC. Civil rights and immigration advocates warn that the company's shady government contracts blur the line between acceptable methods of surveillance, but federal agents praise the software's ability to do all the hard work for them.
Jared Kushner is running around the Hill pitching his magical immigration fix at congressional Republicans, hoping they read his 600-page fantasy before they all fuck off for August recess.
A new Washington Post-Reforma poll has found that 6 in 10 Mexicans are pissed at all the Central American refugees invading their country with pupusa carts and empanada trucks. See, hating refugees is a universal value!
In their latest bid to destabilize the federal government, the Trump administration is trying to move the Bureau of Land Management west of the Rockies, far from the watchful eyes of nosy reporters, federal supervisors, and Congress. Go ahead and skip this story if you don't care about national parks, endangered species, water rights, cattle crazing, government transparency, conservative fuckery, and extreme corporate grifting.
Things could have gone worse for ACTING Secretary of Defense Mark Esper's nomination hearing before the Senate Armed Services Committee yesterday. The New York Times points out that Esper wasn't asked any questions about the almost 20-year wars in Iraq and Afghanistan. Esper instead focused on "the big picture" conflicts of Iran and China. Esper did say he was full of many sads Turkey, a NATO ally, was being led astray by Russia and would no longer be able to buy F-35. After 2020 Democratic presidential candidate Eilzabeth Warren criticized Esper's refusal to recuse himself from any matters involving his former employer, Raytheon, a major defense contractor, or from working with defense contractors after he's eventually quit-fired from the Trump administration. Florida Republican Sen. Rick Scott took it upon himself to give Esper a reacharound and "apologize" for his being "demonized."
Speaking of the F-35, Trump made it official that Turkey would not be allowed to buy F-35 fighter jets after it last week took possession of pieces of Russian S-400 anti-air missile defense system. Rather than call out Turkey's dictator for stabbing NATO allies in the back, Trump blamed Obama for putting Turkey in a "very tough situation."
Secretary of State Mike Pompeo has pulled a top arms control negotiator from a meeting with Russia's deputy foreign minister following the revelation of her work with Paul Erickson, the GOP operative and former boyfriend of CONVICTED Russian spy Maria Butina. The official, Andrea Thompson, was set to iron out details on a new nuclear proliferation agreement, so now we'll probably just send Dr. Strangelove.
Twitter CEO Jack Dorsey has maxed out donations to DINO Rep. Tulsi Gabbard's 2020 presidential campaign. FEC filings also show the starving tech crybaby donating $1,000 to 4Chan beloved Andrew Yang. A Twitter spox declined to say why @Jack is blowing his wad on two-bit charlatans.
The disgraced former Republican governor and congressman of South Carolina, Mark Sanford, is floating a potential primary challenge to Trump. Sanford whines to the Post and Courier that his heads isn't lost in the clouds (or the Appalachian Trail), but that his concern for the deficit has forced him to mull over a political comeback (again). Political wizards don't think Sanford will ever grab Republicans by the pussy like Donald Trump, but there's a chance he could throw Never Trumpers into a tizzy.

We look forward to seeing mark on the trail! Always nice to see a candidate with fewer extra marital affairs than… https://t.co/vczi7S3R70

— SC Democratic Party (@SC Democratic Party) 1563293528.0
Yesterday was the final day for 2020 Democrats to meet the DNC's requirements for the second debate in Detroit on July 30 and 31. The math nerds over at 538 point out that 21 of the 279 people running for Democratic nomination in 2020 have met the requirements, but the tiebreaker rules suggest Mike Gravel will once again be left throwing rocks in a pond. Among the likely new faces will be Montana Gov. Steve Bullock (who stupidly "ruled out" a Senate run this morning in an appearance on Morning Joe). Politico notes that lesser-known candidates like Bullock will only struggle as the DNC ratchets up requirements for future debates.

Another Bible-thumping redneck Republican gubernatorial candidate in Mississippi has announced he too can't be alone around a woman because he's afraid his dick might become possessed by the Devil (or something). The candidate, former state Supreme Court Justice Bill Waller Jr., says he's never sodomized the so-called "Billy Graham rule" in his 22 years on the bench because he always made sure there was always a staffer (with a penis) in the room with him.
Yes, Chicago had an alligator living in the lagoon of the Northwest side neighborhood, Humboldt Park. His name is "Chance the Snapper," and he's ADORABLE!

the first real photo of chance the snapper!!!!! our gator has been caught! https://t.co/OCFXrsQWu1 @BlockClubCHI https://t.co/lf8805Qtry

— Mina Bloom (@Mina Bloom) 1563283481.0
The administration seems to have fished Obama's nuclear deal with Iran out from the trash and is recycling it -- with Trump's name on top. "Shithole country" specialists say the administration is stuck picking up pieces of an agreement it blew up, enraging European allies and Iranians who are still pissed the US reneged on its own deal, but John Bolton keeps cockblocking any potential agreement with his little war boner.

More news is leaking out about indicted sex offender Jeffrey Epstein. On Monday, Epstein's lawyers told a judge the reason Epstein had a secret stash of cash, diamonds, and a passport with someone else's name on it was because he was afraid of "kidnapers, hijackers, and terrorists." Last night CNN reported that Epstein had "improper sexual contact" with a young woman while serving his 13-month jail sentence back in 2008 and 2009. Over at Bloomberg, there's a piece about how Epstein's lawyers dragged out lawsuits in order to kill any public criticism and damage his accusers' credibility.
Meanwhile, the New York Times has a long profile about Ghislaine Maxwell, AKA "the lady of the house," who served as Eptstein's financier and fixer (among other things). And because everything isn't bad enough, embattled Israeli Prime Minister Benjamin Netanyahu -- himself facing allegations of corruption -- is calling for an investigation into Epstein's ties to his own political rival, former prime minister and defense minister Ehud Barak.
A federal judge has banned Nixonian hatchet man Roger Stone from shitposting on popular social media sites until after his trial. A frustrated US District Judge Amy Berman Jackson chastised Stone yesterday, saying, "What am I supposed to do with you? ... Once again I am wrestling with behavior that has more to do with middle school than a court of law," adding, "You can't follow orders, or won't, I need to help you out." Shortly after the hearing, Stone's wife began shitposting for him.
CNN invited admitted white nationalist Richard Spencer on to talk about Trump's racist shitposting, and the neo-Nazi spent the segment casting Trump's bigoted hatespeech as diet racism, stating, "He gives us nothing outside of racist tweets, And by racist tweets, I mean tweets that are meaningless and cheap and express the kind of sentiments you might hear from your drunk uncle while he's watching Hannity." The entire thing seemed to break Jake Tapper's brain, but the Anti-Defamation League and journos who cover awful asswipes like Spencer say that was the point. [Video]
Stephen Colbert talked about how Trump's old school racism is hurtful A.F., and part of his M.O.

Racism Is Donald Trump's Brandwww.youtube.com
And here's your morning Nice Time:BEARS!

Bear Cubs Emerge From the Den | National Geographicwww.youtube.com
Follow Dominic on Twitter and Instagram!

We're 100% ad-free and reader-supported, so consider buying us coffee, or get a subscription!
Dominic Gwinn
Dominic is a broke journalist in Chicago. You can find him in a dirty bar talking to weirdos, or in a gutter taking photos.