Whose House? Wonkagenda For Tues., July 23, 2019
popular
July 23, 2019 07:53 AM
Giphy
Morning Wonketariat! Here's some of the things we may be talking about today.
---
The White House and House Speaker Nancy Pelosi have reached an agreement to raise the federal debt ceiling for two years. The deal is expected to pass even if it pisses off everyone from penny pinching conservatives to hippies who hate defense spending. Politico notes that the red ink is pouring out of the White House like it was the Overlook Hotel, and Bloomberg is reporting rabblerousing on the left about this potentially neutering a Democratic president in 2021. Of course. It's also possible Trump throws a tantrum and nukes the deal after reading this half-baked op-ed in the Wall Street Journal that calls him Nancy Pelosi's bitch.
The Justice Department has told Robert Mueller he can't talk about anything that's not in his Trump-Russia report. The DOJ says it was responding to a request from Mueller about answering certain questions "concerning privilege or other legal bars applicable to potential testimony in connection with" subpoenas. Politico reports the White House won't be sending any of Trump's TV lawyers to the hearing tomorrow to make grumpy faces and whisper sweet nothings, so it's possible Mueller answers three questions posed by Neal Katyal in the New York Times this morning.
The administration rolling out an expanded "fast-track" deportation program that will include removing undocumented immigrants who can't prove they've been living in the US continuously for at least two years. The administration's hope is that this will clear out the backlog of cases facing immigration courts by allowing DHS to simply kidnap and kick out people without having to muck about with due process and civil liberties. [DHS Notice]
NBC has an interview with a 17-year-old Guatemalan boy who details his 11 days held in baby jail in Yuma, Arizona. The boy describes being packed in a cell with young children, with the older children standing so the younger kids could lie down. The boy goes on to say how the older children would give the younger children their food so that their crying wouldn't anger guards.
The Dallas Morning News reports an 18-year-old Dallas-born US citizen has been held in an ICE concentration camp detention facility for three weeks, and his family is worried he may have been deported.
The fight over the 2020 Census isn't over. Republicans are hoping to use a citizenship question to redraw legislative maps, gerrymandering districts to exclude noncitizens, therby consolidating potential Republican voters into larger districts. Congressional Republicans are mulling over legislation that would divvy up House seats based upon the number of citizens (as opposed to the total population) in order to subtract seats from states like California or Texas, a tactic that mirrors ballot initiatives at the state level. Law nerds aren't sure if this is legal since legislators have never been willing to be such shitty people.
Nerdy Stuff: The Census doesn't just cover legislative districts, it also helps Uncle Sam decide how much federal aid is doled out to poor communities. Remote areas of Alaska with large Native populations need money for federal housing grants, and boomtowns like Bozeman, Montana, could get access to transportation funds. None of this happens without an accurate head count.
Later today the administration is expected to drop a new rule that will kick 3.1 million people off the food stamp program. The move is intended to save $2.5 billion a year, according to Acting Deputy Under Secretary Brandon Lipps. During a presser on Monday, USDA Secretary Sonny Perdue said welfare queens were "taking advantage of loopholes" in the SNAP program that they weren't "entitled" to. Reuters notes that in 2016 the non-partisan Congressional Budget Office argued against this change due to concerns it could make financial problems faced by the poor even worse.
Ryan Zinke is brushing off the 15 ethics probes that have been launched as a result of his time at the Interior Department. Zinke tells Bloomberg that the probes are "BS" and "DC is so angry and hateful." That's why he's now working for the very same oil and mining companies he used to oversee.
There's a rumor floating around about California Republican Rep. Devin Nunes replacing Dan Coats as the head of the Office of Director of National Intelligence. It's no secret Trump is not happy with Coats as he's repeatedly strayed from the administration's talking points and reported Russian cyber fuckery to Congress, but some people on the Hill think Nunes could be in line for another top intelligence post.
Democratic Sen. Joe Manchin beat his fellow Republican senator from West Virginia, Shelly Moore Capito, in a zipline race during the annual World Scout Jamboree. Following his victory, Manchin joked that he had an "an advantage in weight."

Here's my view racing down "The Big Zip" at @BechtelSummit. Better luck next time, @SenCapito! @2019_wsj https://t.co/Edqxanis9E

— Senator Joe Manchin (@Senator Joe Manchin) 1563815976.0
Sen. Kamala Harris and House Judiciary Chairman Jerry Nadler will introduce a bill to decriminalize marijuana and expunge old criminal convictions, according to CQ Roll Call. The bill contains provisions to help poor people expunge and seal weed-related convictions, and create a five percent federal sales tax on weed products. Money would be sent to the DOJ to create a new office to help people with past drug charges find jobs, get legal aid, and help youth mentoring programs. In a statement ahead of the bill's release, Harris says "We need to start regulating marijuana, and expunge marijuana convictions from the records of millions of Americans so they can get on with their lives." Of course, that's what a cop would say.
Old fashioned weed dealers are making a killing thanks to an inability/refusal to enforce legal pot laws. As the head of a law abiding legal pot shop watches his profits slump, he tells Politico Magazine, "I told the state, 'If I lose 20 percent, you just lost 20 percent in taxes.'"
Joe Biden dropped a criminal justice reform plan aimed at lowering mass incarceration by reducing "racial, gender and income-based disparities in the system." Biden's plan would also end the federal death penalty. Good for him!
Democratic Virginia Rep. Jennifer Wexton is being challenged by a second Republican in 2020. Marine veteran and double amputee Rob Jones announced his intention to run in the Virginia 10th; WaPo reports Jones has already made a significant stride over his primary opponent, Jeff Dove -- also a double amputee and a vet -- by securing support from the National Republican Congressional Committee. Jones says he wrote in the name of retired Marine Gen. Jim Mattis in 2016, but will vote for Trump in 2020 because Democrats hate the troops.
Jonathan Murray, the son of Murray Energy CEO Bob Murray, is accused of having had sexual contact with his adopted pre-teen daughter. According to a lawsuit from Murray's ex-wife, Murray ALLEGEDLY used his father's mega bucks and the girl's immigration status as a means of control, and that the ALLEGED sexual contact occurred while the girl was 11 or 12 years old.
Axios gossips the administration wants to use one of Trump's golf courses to host the upcoming G-7 meeting. The resort has been bleeding money since Trump took office, so of course taxpayers will bail him out (again).
It's not just Syria, and the South Pacific, and the Arctic, and Eastern Europe, and the internet where the US keeps running into Russian fuckery. Russia has been meddling in the Black Sea, recently ruining annual naval exercises between the US and 18 other countries by crashing the party. Russian officials say their diesel powered guided-missile destroyer was just keeping an eye on live fire exercises, but NATO members say Russia has built a new Iron Curtain and is impounding Ukrainian ships.
Child-punching jackass and Brexiter Boris Johnson was just elected by conservative MPs to serve as the next prime minister of the UK. This morning Johnson said his priorities were to unite the country, deliver Brexit, and defeat Labour Party leader Jeremy Corbyn. If you want to get a little nerdy, Bloomberg 'splains how Boris's promise to craft a new "do or die" Brexit deal by Oct. 31 is unlikely. If you're unfamiliar with Johnson, the New York Times' The Daily podcast has a good 'splainer on how Boris is a more calculated Trumpian politico. [The Daily transcript]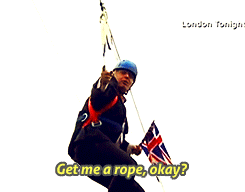 A British woman who identifies as an objectum sexual wants to marry a 91-year-old chandelier. Amanda Liberty, 35, says she's not hurting anyone, adding "People often can't understand that this is just a natural orientation for me, that I can find the beauty in objects and can sense their energy."
Randy Rainbow is (finally!) back with a new video about Trump's base being a bunch of suckers for Archie Bunker bullshit.

SUCKERS - Randy Rainbow Song Parody youtu.be
And here's your morning Nice Time: IT'S MAVERICK!

Oregon with Maverick;) www.youtube.com
Follow Dominic on Twitter and Instagram!

We're 100% ad-free and reader-supported, so consider buying us coffee, or get a subscription!
Dominic Gwinn
Dominic is a broke journalist in Chicago. You can find him in a dirty bar talking to weirdos, or in a gutter taking photos.