Yeah, We Know, It's Orwell. Wonkagenda For July 25, 2018
Russia
July 25, 2018 08:53 AM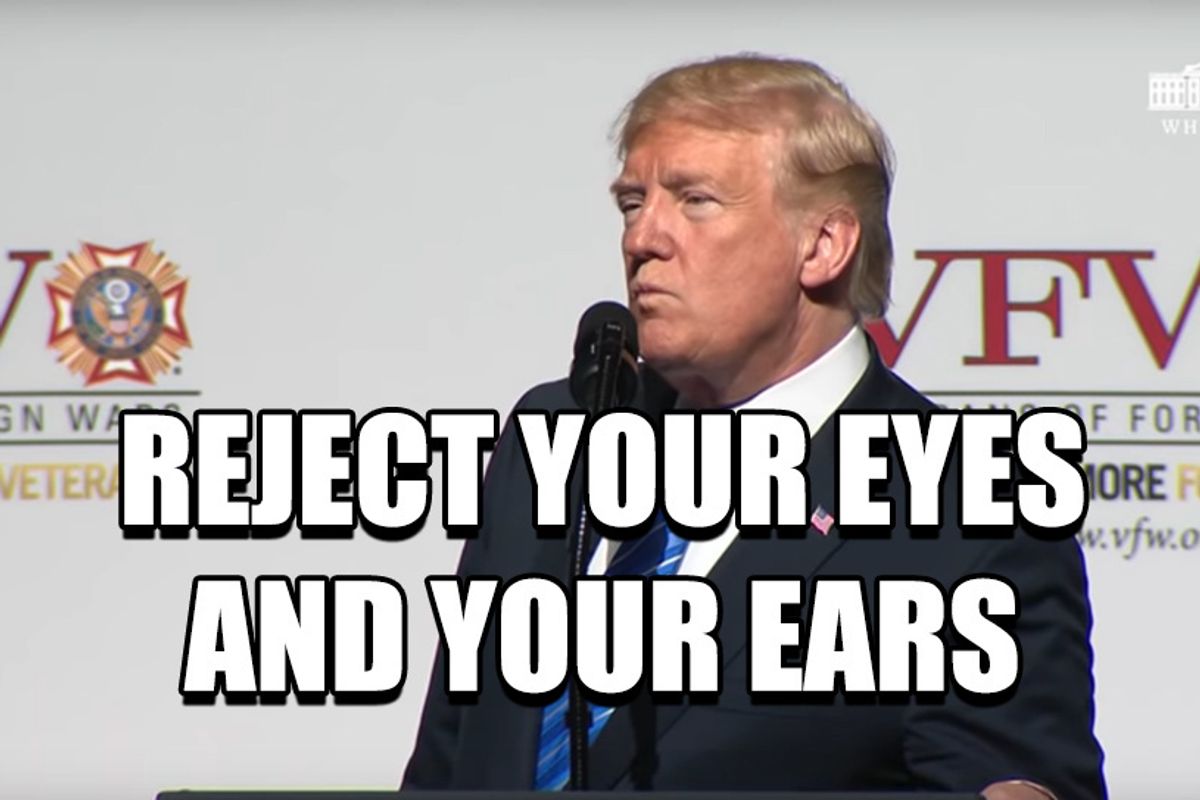 Morning Wonketariat! Here's some of the things we may be talking about today.
---
Michael Cohen sent CNN an audio tape of Trump trying to pay off former Playboy model Karen McDougal during the fall of 2016. Trump's TV lawyers argue that the tape isn't what you think it is, and Trump isn't saying what you can hear him saying. In an appearance on CNN, Cohen's lawyer, Lanny Davis, pleaded with Trump voters to listen to the tape and judge for themselves if Trump grabbed 'em by the pussy.

During an address to veterans in Kansas City, Missouri, Trump bitched that his sycophants shouldn't "believe the crap" they hear from reporters, adding "what you're seeing and what you're reading is not what's happening." This prompted the VFW to issue a statement saying they were "happy" to have the press at the event, and "disappointed" when VFW members began to heckle and boo journalists.

The Trump administration announced a $12 billion bailout for farmers caught in Trump's trade war via a Depression-era program. With Republicans begging Trump to back off, yesterday Trump tweeted "Tariffs are the greatest!"
Shortly after arriving in Washington, Steve Bannon and Wilbur Ross immediately began trying to add citizenship questions to the US census, according to recently released emails. This suggests the Commerce Department lied to Congress when Ross said said he wasn't trying to screw over immigrants.
New documents from the CIA's recently declassified Gitmo files show how it trained agents how to torture people using a prisoner from the USS Cole bombing, then tried to hide if from court proceedings. In defending the accused, Navy Cmdr. Brian Mizer told a judge the jury needed to "smell the urine, the feces, the blood and the sweat and see just how vile and disgusting this process was" before a secret jury could sentence him to death. The ghost of Dick Cheney strikes again!
Defense lawyers for alleged 9/11 mastermind Khalid Sheik Mohammed are arguing that Jeff Sessions and the Trump administration are fucking up pretrial negotiations by pissing all over a military custom that bars political influence from secret war tribunals, and pushing for executions.
The 9th Circuit Court of Appeals has ruled 2-1 that the state of Hawaii violated the Second Amendment when it denied an open carry permit to a gun fetishist. So that's terrific then.
After cratering sales, scandals, and boycotts, Ivanka Trump has decided to kill off her line of clothes. After all, it's "Made in America week," and all her clothes are made in China and Indonesia.
New gossip from Maggie Haberman reveals Trump went ballistic on Air Force One after seeing a TV playing CNN, and that Melania had to sleep in a separate hotel room while traveling through Europe.
The Office of Government Ethics is now investigating if there's any truth to the allegations that Virginia Rep. Tom Garrett used staffers to clean up his dog shit while he battled a problem with booze.
Republican Sen. Richard Burr says that the FISA warrant to monitor Russian asset Carter Page was reasonable, implying that Devin Nunes and the House Freedom crazies' crusade for Trump is a load of malarkey.
Devin Nunes now has his own fancy flight scandal after a watchdog group found his PAC has been using political donations to charter private jets and buy sportsball tickets, winery tours, limos, hotels, and luxurious trips to Las Vegas for dinner.
According to Axios, Trump is terrified Joe Biden will run in 2020 because he knows SCRANTON like the back of his hand.
Georgia's Secretary of State Brian Kemp has won the state's Republican gubernatorial nomination after a late endorsement by Trump. Georgia voters will now have a choice between a pro-Trump racist clinging to his guns and religion, and a nice progressive black lady, Democrat Stacey Abrams.
Gun control activist Lucy McBath will take on Republican Rep. Karen Handel in the wealthy suburban Georgia 6th after defeating local businessman Kevin Abel in a runoff. McBath's path to politics began when her son, Jordan Davis, was brutally murdered in 2012.
The "alt-right" white supremacist who started last year's "Unite the Right" "movement" has decided to pull his permit request for a sequel, but his lawyers say he may still appear on the anniversary with less than two dozen people just to be a dick.
Georgia Republican state lawmaker Jason Spencer has been quit-fired after he ran around with his bare ass out dropping N-bombs and screaming 'Murica on Sacha Baron Cohen's "Who is America?" [Video]
Paul Ryan says he won't roll out the red carpet for Vladimir Putin. Meanwhile, the Kremlin hasn't accepted Trump's invitation for a state visit to DC, and Putin may blow off Trump until the next G20 summit.
Tronc executives have told staffers at the New York Daily News that they don't have a fucking clue what they're doing, but they are going to save a lot of money now that half the staff has been laid off.
A new study shows that 5G wireless upgrades being pushed by big telecoms could actually make it harder for poor people in inner cities and flyover country to get internet access. FCC Chairman Ajit Pai says the problem will probably sort itself out.
And here's your morning Nice Time! Baby ducks!
We're 100% ad-free and reader-supported, so consider buying us coffee, or get a subscription!
Follow Dominic on Twitter and Instagram!
Dominic Gwinn
Dominic is a broke journalist in Chicago. You can find him in a dirty bar talking to weirdos, or in a gutter taking photos.