99 Red Balloons! Wonkagenda For Fri., Aug 2, 2019
popular
August 02, 2019 08:04 AM
Morning Wonketariat! Here's some of the things we may be talking about today.
---
Instead of leading his a crowd of crazy assholes in racist chants, Trump played his classic hits, like "Lock Her Up," during a rally in Cincinnati, Ohio. Rather than make more racist comments about sitting members of Congress, Trump railed against US cities for being full of Democrats. At one point Trump gloated that during Wednesday night's Democratic presidential debate candidates spent more time attacking former President Barack Obama than they did attacking him, and attacked member of "The Squad" as being "rage-filled ... left-wing extremists who reject everything that we believe in." Trump focused much of his ire on Sen. Elizabeth Warren by saying some more racist crap that I'm just not going to write. As usual, a handful of desperate Ohio Republicans eagerly kissed Trump's ass and were subsequently rewarded with public praise and the promise of more rallies.
After Trump led a throng of supporters in racist chants to "Send her back," House Speaker Nancy Pelosi led reps Ilhan Omar, John Lewis, and other members of the Congressional Black Caucus to Ghana to pay their respects at a memorial to slaves. In an address to the Ghanaian parliament, Pelosi called the trip a "transformative and humbling" experience. [Rep. Omar's Instagram]

They said "send her back" but Speaker @SpeakerPelosi didn't just make arrangements to send me back, she went back w… https://t.co/Vk3stholAh

— Ilhan Omar (@Ilhan Omar) 1564686620.0
In speaking with reporters yesterday, House Speaker Nancy Pelosi suggested that if Trump is so concerned about Baltimore, he "could ask his son-in-law, who is a slumlord there, if he wants to talk about rodent infestations."
An internal memo from the FBI's Phoenix field office is warning about a growing threat of "conspiracy-theory driven domestic extremists." The May 30 memo obtained by Yahoo News says, "conspiracy theories very likely will emerge, spread, and evolve ... occasionally driving both groups and individual extremists to carry out criminal or violent acts," and adds things will probably get worse in the leadup to 2020. The memo goes on to note that ACTUAL conspiracies involving "government officials or leading political figures" have been pushing the threat, though it declines to name anybody. TLDR: The FBI is watching those jackasses who believe Q-Anon crap.
The Senate passed that massive spending bill, 67-28. Politico reports that Senate Majority Leader "Moscow Mitch" McConnell leaned hard on his caucus by reminding Tea Party whack jobs (and Sen. Mitt Romney) that the bill was something "the administration has negotiated" and "President Trump is waiting and eager to sign into law." The deal will effectively end the 2011 "sequester" that mandated $125 billion in automatic spending cuts this year.
All 83 ethics complaints against Supreme Court Justice Brett Kavanaugh have been dismissed, and as such, it would be mean to continue calling him Justice Rapey McPrivilege (even it it's true). Buzzfeed adds that only Congress has the power to #IMPEACH and they're not exactly hot to trot that one out right now.
Rep. John Ratcliffe, Trump's pick to lead the nation's top intel agency, seems to have lied about large chunks of his resume. The Washington Post has found that Ratcliffe's claims of arresting hundreds of undocumented immigrants are largely bogus. Compounding matters of his viability are his poor attendance record on the House Intel Committee, and the fact that nobody in any of the intel agencies knows who the hell he is.
Things got heated in the Senate Judiciary Committee yesterday after Republican Sen. Lindsey Graham tried to steamroll an asylum bill. Politico reports Graham's bill "would increase the time children can be detained and would require individuals to apply for asylum from their home countries or Mexico." Pat Leahy was pissed that Graham was violating the committee's own rule book in order to get the bill out of committee before the Senate recess, and literally tore apart the committee's rule book to criticize Graham's leadership. Leningrad Lindsey then bitched out Leahy for holding up his latest racist scheme, causing Leahy to apologize for having to go home and bury a member of his family last week. As Graham attempted his own apology, Leahy said he hoped the committee's rules "weren't at the funeral too."

.@SenatorLeahy: "I wasn't here last week because a member of my family was being buried that day."… https://t.co/Yg9Gt6TUCF

— CSPAN (@CSPAN) 1564672132.0
During an interview with MSNBC's Yasmin Vossoughian, DINO Rep. Tulsi Gabbard accused the network of taking "talking points from Kamala Harris and her campaign" after the anchor asked Gabbard about her staunch support for Syria's brutal dictator Bashar al-Assad. Gabbard then dodged questions about Assad murdering children and civilians. Gabbard similarly took issue with CNN after Anderson Cooper asked her if Assad was a "murderer" after Wednesday night's debate in Detroit. In a related story, Rosie Gray writes for Buzzfeed that Gabbard is the Ron Paul of 2020: both have a hate-filled conservative past they'd like people to forget, both like to spew crazy bullshit about US foreign policy, both soak up the praise of crackpot conservatives, and both received endorsements from white supremacists and neo-Nazis. [Full MSNBC Interview]

Texas Rep. Will Hurd, the last black Republican in the House, says #HesNotRunning in 2020 so that he can "pursue opportunities outside the halls of Congress." Hurd has been a controversial figure in the Republican Party, criticizing the goddamn wall and even penning an op-ed in the New York Times saying Russian President Vladimir Putin had his hand up Trump's ass and was working his mouth like a puppet. Political fortune tellers have rated the sprawling Texas 23rd as a battleground ripe for the taking.
Punch-drunk former Trump campaign creep Corey Lewandoski is rumored to be plotting a run at Democratic Sen. Jeanne Shaheen in 2020. Political fortune tellers say this is the best chance for Republicans to pick up a Senate seat, but predict it leans in favor of Democrats. Politico notes that -- IF he runs -- Lewandowski would be running in a primary against a retired brigadier general, a former state House speaker, and a lawyer/veteran.

A new analysis by the nonpartisan law nerds at the Brennan Center For Justice has found at least 17 million voters have been purged nationwide between 2016 and 2018. According to the study, a majority of the voter purges have been in "counties with a history of voter discrimination," and they've gone slash happy in the wake of the 2013 SCOTUS ruling that castrated the 1965 Voting Rights Act.
The Daily Beast reports that Kansas Secretary of State Kris Kobach seems to be using an advocacy group created to grift money for Trump's wall to solicit donations for his Senate campaign, violating federal campaign laws. Since Kobach sits on the group's board it's hard to imagine this was an accident; Kobach's minions say there's NO COLLUSION between the group and his campaign (even though a fellow board member, Rep. Tom Tancredo, recently urged a crowd of the group's supporters to donate to Kobach's campaign).
The gulf between Chicagoans and the rest of Illinois is growing thanks to a movement of ungrateful yokels who want to break apart the state of Illinois. By using a combination of admitted Russian-style internet fuckery, and a refusal to admit that Chicago's taxes literally subsidize the rest of the state, this group of gun-humping Bible thumpers wants to start their own state, without abortions, or immigrants, or black people.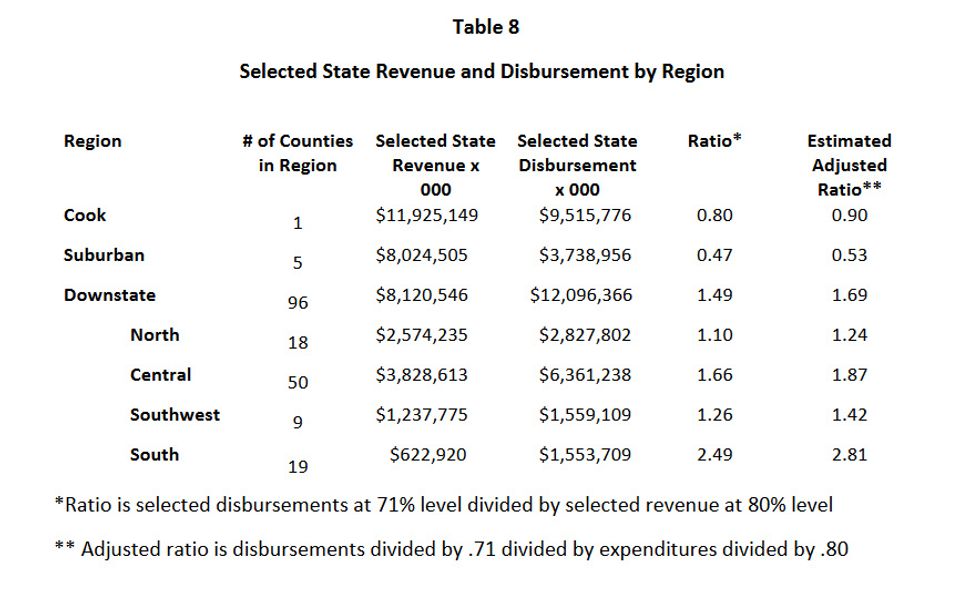 Table 8 of the SIUC study on the Politics of Public Budgeting in Illinois showing the disbursement of tax revenue throughout the state of Illinois.
The administration has officially pulled the US out of the 1987 Intermediate-Range Nuclear Forces Treaty (INF) that restricted the US and Russia's use of medium-ranged nuclear missiles. For the better part of a decade the US and NATO had accused Russia of violating the treaty, which the Russians flatly denied. With Russia declaring the landmark arms control agreement "officially dead," CNN is reporting the Pentagon is getting ready to begin testing on new medium-range ground-based missiles. Upon hearing about the treaty's demise, UN Secretary General Antonio Guterres said this means "the world will lose an invaluable brake on nuclear war. This will likely heighten, not reduce, the threat posed by ballistic missiles."
The administration is getting ready to pull thousands of troops out of Afghanistan. The move comes after negotiations between the administration and terrorist groups political extremists in Afghanistan. The Washington Post reports the concessions -- which some military commanders support -- include the reunification between the Taliban and al-Qaeda, a cease-fire, and the the total number of US forces falling from 14,000 to 8,000 or 9,000.
For the third time this week North Korea tested more missiles. When asked, Trump said this was "no problem" and the missiles were "very standard."
Manhattan state prosecutors have supponead the Trump Organization for documents related to hush-money payments to Stormy Daniels, as well as the parent company of the National Enquirer. Right on cue, one of Trump World's TV lawyers called it a "political hit job" and presidential harassment.
In one of his random shitposts yesterday, Trump tried to steal Hillary Clinton's 2016 campaign slogan (just like he tried to steal HER EMAILS).
Rep. Pramila Jayapal has an op-ed in the Washington Post busting some myths about her "Medicare For All" bill.
Trump threw a tantrum about Amazon securing the DOD's $10 billion JEDI contract, so now the DOD has to reexamine which super huge tech company will get it's cloud-computing contract.
For once the Federal Communications Commission has decided to do something in the interest of consumers! Yesterday the FCC voted to make internet service providers create geospatial maps of where they offer service instead of using census blocks. Ars Technica reports that ISPs (and piece of shit chairman Ajir Pai) have fought tooth and nail to avoid showing just how unconnected flyover country is to the rest of the country, and Democrats on the committee griped that Pai declined to require the ISPs reveal what they're actually charging for broadband service.
If you need to turn your brain off, there's a reddit community called /r/HaveWeMet where users have role-played an entire fake town called Lower Duck Pond. The Verge explains that whole thing is rather tounge in cheeck: users assume roles of community members, like bar tenders, librarians, a goat choir, ducks, and the town mayor, Bruce the Moose (who unseated former mayor Ulysses the alpaca).
After our collective hangovers subsided from two nights of debate drinking, Stephen Colbert had some afterthoughts.

Will Trump Stop His MAGA Rally Crowd From Chanting Racist Slogans? www.youtube.com
And here's your morning Nice Time: BABY POLAR BEARS!

The Life of a Baby Polar Bear - Ep. 4 | Wildlife: The Big Freeze www.youtube.com
Follow Dominic on Twitter and Instagram!

We're 100% ad-free and reader-supported, so consider buying us coffee, or get a subscription!
Dominic Gwinn
Dominic is a broke journalist in Chicago. You can find him in a dirty bar talking to weirdos, or in a gutter taking photos.