Guns! Guns! Guns! Wonkagenda For Tues., Aug. 6, 2019
popular
August 06, 2019 08:56 AM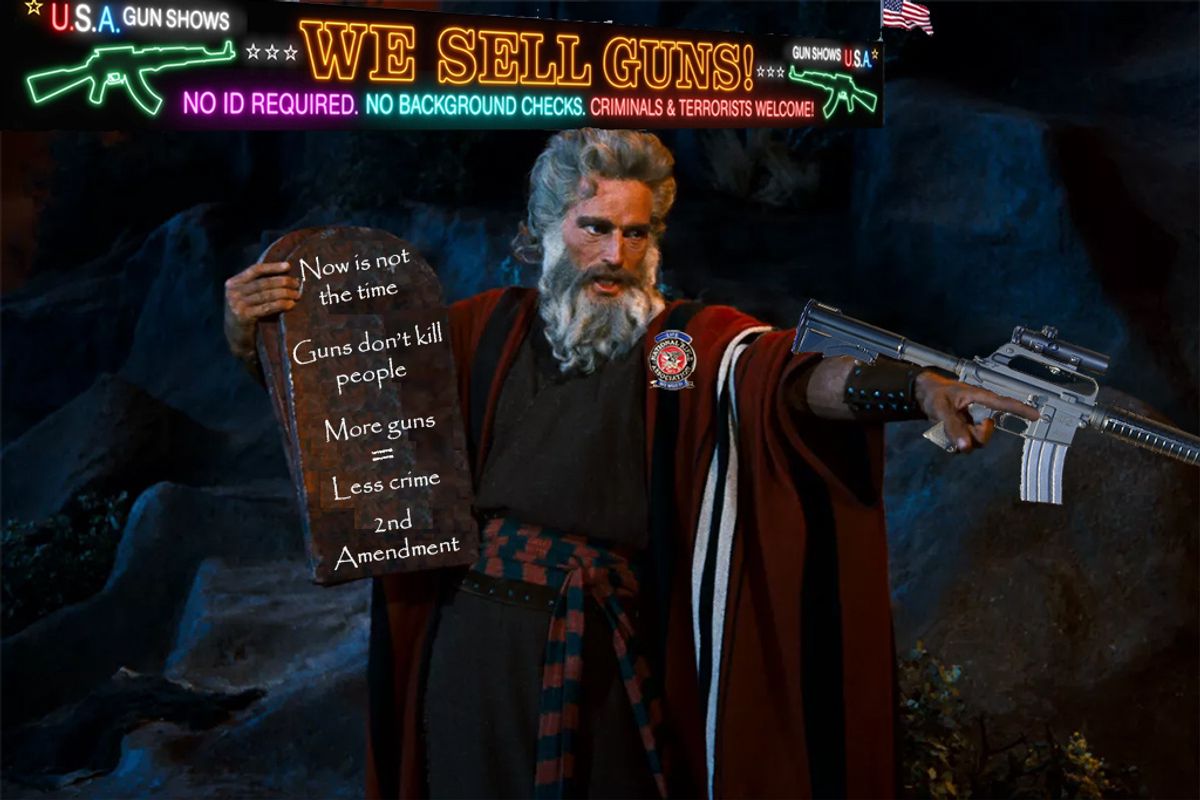 Morning Wonketariat! Here's some of the things we may be talking about today.
---
The Washington Posts writes that Trump's refusal to take action against the right-wing extremists who vote for him, coupled with his deregulatory approach to government, has enabled far-right hate groups to engage in deadly acts of domestic terrorism. The New York Times writes that national security officials have spent the last 20 years warning that the threat posed by right-wing terror groups is no different than Muslim extremists, only to be shot down by gun humpers and swamp monsters. The Daily Beast adds that national security officials think Trump is incapable of admitting fault, and is simply playing the blame game so he can pander to his white supremacist supporters later.
It's unlikely Congress takes up any gun control legislation. Trump hasn't actually called for any real legislation on gun control, and Senate Majority Leader Mitch McConnell is unlikely to take up any legislation passed by the House. Yesterday House Speaker Nancy Pelosi told Democrats to keep the pressure up on #MoscowMitch in order to force a vote on background check legislation -- but this hinges both congressional bodies cutting the recess short. Bloomberg reports a number of Republicans are worried they could lose the suburbs forever if they don't take up any kind of common sense reform, like banning assault weapons and increasing background checks. For his part, #MoscowMitch McConnell issued a tepid statement saying we need a "bipartisan, bicameral way" to stop assholes from gunning innocent people down -- except he never actually uses the word "gun."

My statement regarding President Trump's call for bipartisan, bicameral cooperation following the mass murders in E… https://t.co/59ncgzsD65

— Leader McConnell (@Leader McConnell) 1565043218.0
Here, have some EMERGENCY MEERKAT NICE TIMES!

Meerkats Celebrate Enrichment Day!www.youtube.com
Walmart has heard your complaints about how easy it is to buy a gun in its stores loud and clear and says, "There has been no change in company policy." A Walmart spox adds that stores follow all federal and local laws on firearms, and, "You're not going to see associates who are armed during their shifts."
If you can't #DeleteFacebook and don't know how to block ads on its platform you may have seen some of the anti-immigrant ads being peddled by the Trump campaign across the social network. The New York Times writes that the 2020 Trump campaign has since March spent an estimated $1.25 million to push digital ads warning about an "invasion" of immigrants with images of shadowy figures climbing walls and skulking in the darkness.
After the stock markets began to swan dive off the cliff, the Treasury Department officially labeled China a currency manipulator. The move comes as the value of Chinese currency fell in what most bean counters think was a deliberate attempt to really stick it to Trump for his trade war, and give them an edge in any upcoming negotiations. This morning the WSJ is reporting markets appear to be stabilizing after China's central bank seemed to suggest it wouldn't let its funny money become toilet paper.
The administration inserted Neil Chatterjee, an old aide to #MoscowMitch, in the Federal Energy Regulatory Commission and now the whole place has gone to Hell. Politico reports #MoscowMitch's pet swamp monster has politicized energy policy, carrying water for ailing coal and nuclear power plants, telling activists to "come at me, bro," and calling liquefied natural gas "freedom gas." Chatterjee disputes claims that rank-and-file FERC employees are bailing out of the agency as he rubber stamps anything benefitting the energy industry, saying, "I get a good feeling from the people I ride the elevators with and see in various meetings and to me what I've seen is positive morale here."
The #FloridaMan who mailed pipe bombs to Democratic lawmakers, judges, journalists, and media figures was sentenced to 20 years in a federal prison on Monday. The man's defense attorney's said the attempted bomber was triggered when someone defaced his van full of pro-Trump stickers, while the man himself blamed an addiction to steroids. Fun Fact: He didn't play video games.
The DNC has released the qualifications for the October 2020 debates. Politico reports the relaxed rules could mean MORE candidates take the debate stage since some candidates won't RUN FOR THE FUCKING SENATE.
Neo-Nazi website The Daily Stormer is taking credit for getting DINO Rep. Tulsi Gabbard into the 2020 Democratic debates. Ben Jacobs reports the neo-Nazis have been donating to Gabbard's campaign to "make the Jews go nuts" and "trigger the kikes" since Gabbard goes on Tucker Carlson's white power hour to spew bullshit that gives Nazis an opportunity to "talk about Jews starting all the wars." In a related story, last week Gabbard's campaign issued official statements propping up Syria's murderous dictator, Bashar al Assad (again). Elliot Higgins painstakingly details in Bellingcat how Gabbard pushes right-wing conspiracy theories and debunks her junk science arguments defending the Syrian regime from its chemical weapons attacks on civilians.
A grandmother in Lubbock, Texas, stopped her 19-year-old grandson from going on a killing spree. The teen had called his grandmother and told her he planned to "shoot up" a local hotel and "commit suicide by cop," according to the US Attorney for the Northern District of Texas, Erin Nealy Cox. The grandmother was able to convince the teen to let her pick him up, and drive him to a hospital for psychiatric care.
The Trump campaign still owes the city of El Paso, Texas, $569,204.63 for a February rally, according to the Texas Tribune. The bill was originally $470,000, but the city decided to tack on an extra hundred grand in late fees when they realized Donald Trump pulled a bitch 'n ditch. With Trump set to visit the city on Wednesday, some are wondering if he really meant it when he pledged "all the support of the federal government" in his boiler plate speech about gun violence
Citing a bunch of anonymous assholes in and out of Trump World, there's ALLEGEDLY an inkling of empathy whenever there's a mass shooting, which explains the semi-competent tweets as people mop up blood in the wake of a mass shooting. However, once Trump parks his ass in front of a TV he throws a tantrum and changes his mind on any kind of gun control.
The Daily Beast has a photo gallery from "The Gathering of the Juggalos" this past weekend. I personally don't know why anyone would eat a White Castle burger that's been tossed out into a sea of half-naked clowns, but it happened.
Seth Meyers took A Closer Look at the shootings in El Paso and Dayton, and begged politicians to get their shit together and fucking do something.

Politicians React to Shootings in El Paso and Dayton: A Closer Lookwww.youtube.com
And here's your morning Nice Time: A KOALA JOEY!

Tiny Koala joey savedwww.youtube.com
Follow Dominic on Twitter and Instagram!

We're 100% ad-free and reader-supported, so consider buying us coffee, or get a subscription!
Dominic Gwinn
Dominic is a broke journalist in Chicago. You can find him in a dirty bar talking to weirdos, or in a gutter taking photos.