We're Still Talking About Guns. Wonkagenda For Wed., Aug. 7, 2019
popular
August 07, 2019 09:00 AM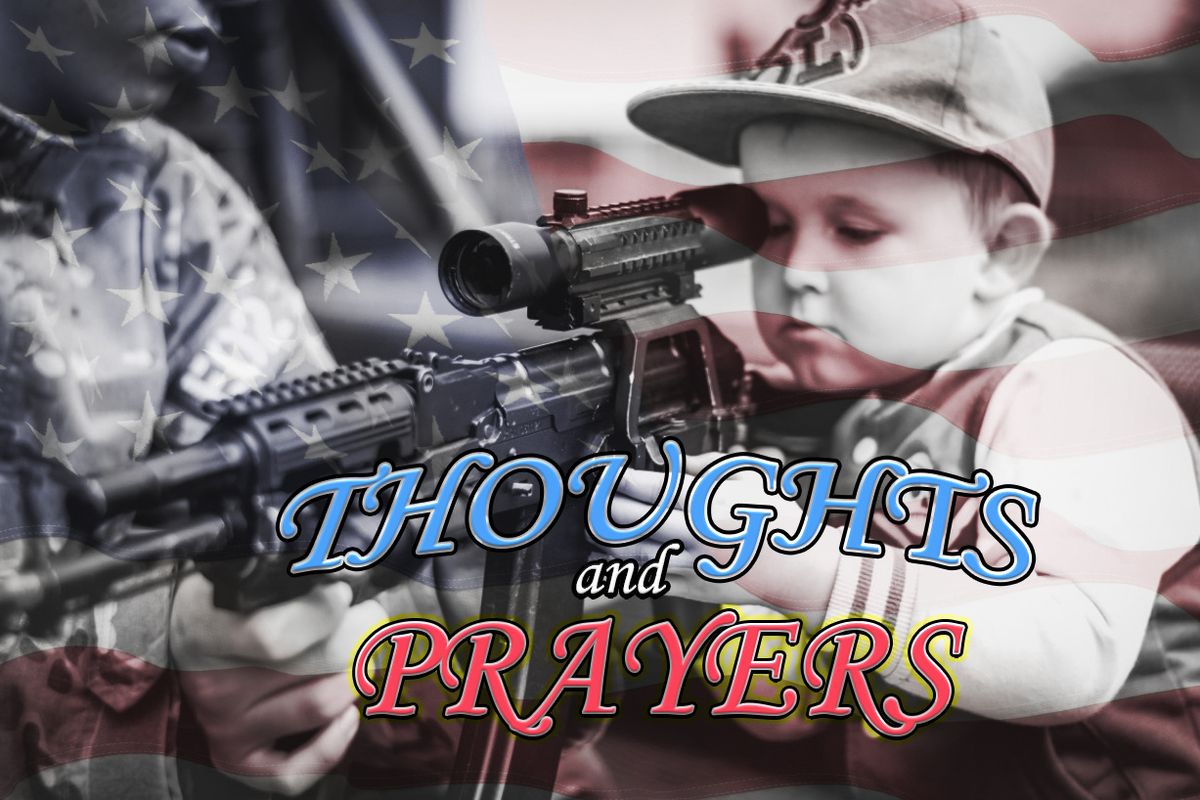 Morning Wonketariat! Here's some of the things we may be talking about today.
---
Later today Trump is expected to visit El Paso, Texas, and Dayton, Ohio, to act like he cares about the people who were murdered in mass shootings this weekend. White House spox Hogan Gidley says Trump and Melon will offer thoughts and prayers to first responders and "have a conversation" with people he's called "invaders." The Washington Post reports a number of politicos and activists are planning to protest Trump's proverbial paper towel toss after the White House declined advice to stay far the fuck away from the scene of the crimes. At around midnight Trump shitposted about Democratic presidential candidate Beto O'Rourke. Beto responded by wondering what the fuck is wrong with these racist assholes.

El Paso To Trump: You're Not Welcome Herewww.youtube.com
Republicans are begrudgingly dragging themselves towards supporting so-called "red-flag" laws that would restrict crazy SOBs from buying guns. Yesterday Ohio Republican Gov. Mike DeWine rolled out a 17-point plan to reduce gun violence, but only after a large crowd heckled him to get off his ass and "do something." Mental health experts are pointing out that much of the Republican-proposed "red flags" laws are futile gestures as people actually have to first raise the "red flag." On top of that, studies show people with mental illness are more likely to be victims of violent crime as opposed to perpetrators. In a related story, Axios gossips that swing voters are warming up to banning assault weapons (again).
With a wrinkled face somewhere between "constipated dog" and "stoned teenager," Tucker Carlson whined the threat of white supremacist violence "is a lie," and called it a "hoax." Tucker then used his white supremacist power hour to say white supremacy is "actually not a real problem in America. The combined membership of every white supremacist organization in this country would be able to fit inside a college football stadium." CNN's Brian Stelter notes that this is as insane as it is ignorant, and that Tucker is A Idiot.
Across the country Latinx people are scared following the recent violence and vitriol against brown people. A 64-year-old Mexican-American lawyer and Air Force vet tells the New York Times, "Many clients tell me, 'We're the new Jews, we're just like the Jews." In a related story, over 30 prominent members of the Latino community have published an op-ed simply titled, "Hispanics Are Under Attack."Fun Fact: CNN reports Trump's anti-immigrant Facebook ads warning about an "invasion" of taco trucks from the southern border have run 2,200 times, reaching as many as 2.2 million old people and Southern and Rust Belt voters.

Welcome to America - Alternatinoyoutu.be
Fact Check: Trump claimed his administration has been super tough on gun-related offenses, but nerds think the administration is just chasing numbers since it's slashed firearms regulations, and thrown out more than 500,000 names on the national law enforcement database that shows who can buy a gun.
The House Homeland Security Committee wants to drag the owner of 8Chan up to the Hill to testify about how and why the site allows a bunch of racist and white supremacists to shitpost with reckless abandon. In a bizarre video set to the sound of bugle Taps and full shot of a looming Ben Franklin, the owner of 8Chan -- a US military veteran living in the Philippines -- defended the site and yelled at all the businesses trying to deplatform him, aping the same rhetoric espoused by right-wingnut extremists. For more, Wired has a good dive into the history of 8Chan, and how the site became a vile hive of scum and villainy.
China gut-checked US farmers caught in the middle of Trump's trade war after it said it was suspending imports of all US agricultural products. The loss of a multi-billion-dollar importer for soy beans, pork products, and dairy means farmers -- already rocked from Mother Nature going all fire and fury -- has bean counters fearing the the worst is yet to come. Good thing Trump is surrounding himself with "the best people" and listening to their advice.
House Judiciary Chair Jerry Nadler wants records from Justice Rapey McPrivilege's time in the Bush 43 White House seeing as how the record keepers with the former administration took their sweet-ass time combing through HIS EMAILS during the confirmation process. In a letter to the National Archives co-signed by Rep. Hank Johnson, the chair of the Judiciary Subcommittee on Courts, Intellectual Property and the Internet, Nadler says they're looking into creating a "code of conduct for Supreme Court justices" that includes adequate financial disclosures among other things.
Trump's DOJ has wandered into the fight for Trump's financial documents by saying the House Democrats' attempt to wrench financial records from one of his old accounting firms were part of an effort to "interfere with or harass" him. Legal nerds say this is significant because the argument mirrors rhetoric from Trump's TV lawyers and follows rulings from federal judges who think the Democrats' subpoenas on Trump's shady business dealings are part of Congress's power to expose corruption within the Executive Branch.
Police were called to a protest outside the Kentucky home of Senate Majority Leader Mitch McConnell on Monday night. After protesters shouted mean and violent things about #MoscowMitch over his refusal to bring any gun control legislation to the Senate floor, Kentucky's Trump-loving Republican Gov. Matt Bevin threw a Twitter tantrum and tried to blame everything on the mayor of Louisville. In response to Bevin, Louisville Mayor Greg Fischer tweeted, " ... In America we allow for peaceful assembly and freedom of speech. Sorry if that embarrasses you. Let's get to work to stop the tragic loss of so many lives in our country due to gun violence." Following the hubbub on Twitter, a McConnell spox responded by calling everyone a bunch of murderous socialists, blamed everything on Rep. Alexandria Ocasio-Cortez, and accused "liberal Twitter personalities" of attempting to dox "underage kids" working for McConnell's reelection campaign for making sexually suggestive poses with a cutout of AOC.
Colorado Democratic Senator and 2020 presidential candidate Michael Bennet tweeted that he wants to make American politics boring again and the Twitterati weren't very enthused about Bennet dragging Washington back to the humdrum days of a bygone era. In a related story, the muckrakers over at Sludge found healthcare swamp monsters who don't want "Medicare For All" are showing Bennet all kinds of love with their wallets.

The NRA was SUPER broke last year, but it was still about to drop six million Ameros on a mansion for Wayne LaPierre.

Chicago Mayor Lori Lightfoot told Ivanka Trump to shut the fuck up after the First Princess shitposted some nonsense about another bloody weekend in Chicago. Lightfoot says she called the White House to try and discuss the violence plaguing the city but nobody picked up, and notes that Ivanka, "got the numbers wrong" and "the location wrong" when she tried playing politician (again). Lightfoot further criticized Ivanka saying, "That's the danger of somebody with a platform and audience [who] doesn't know what they're talking about and getting the fundamental facts wrong, that they could easily figure out if they had the decency to actually reach out to us if they wanted to be a constructive and engaged partner." In an email to the Chicago Sun-Times, the White House acknowledged Ivanka's tweets were "misleading," but grumps, "Her point remains the same."
Police in Galveston, Texas, are super sorry a photo is floating around the interweb showing horse-mounted police leading a black man in handcuffs around on a leash. Civil rights groups, activists, and 2020 presidential candidates are calling the apology a load of manure, and pointing out that the city's police chief even said it was a "trained technique and best practice in some scenarios."

We have verified with law enforcement officials in Galveston, that the photograph taken in Galveston is real. It is… https://t.co/tWuPy3o7kb

— Adrienne Bell (@Adrienne Bell) 1565042093.0
It's unlikely Wall Street traders will panic (again) today after China moved to stabilize its currency, but global stocks are still on a roller coaster ride from Hell as Trump's trade war rages on. Bean counters all over the world are gnawing their finger nails to the bone this morning as Asian markets slip. In another bad sign of things to come, India's central bank has followed the US Federal Reserve and cut its interest rates in light of waning consumer spending and corporate investments. Eggheads think things will only get worse as the Chinese dig in and Trump flails around in the economic quicksand he's driven us all into.
Hong Kong continues to see large protests against Chinese authority, and officials in Beijing are starting to get worried. Some people fear the Chinese may send in the military to quell the growing unrest (that makes President Xi look weak) as officials continue ignoring the demands of protesters.
A Florida boy called 911 to order a pizza, according to a social media post from the Sanford Police Department. Local police responded to the call and chastized the five-year-old, instructed him on the use of emergency service phone numbers, then brought him Pizza Hut (presumably as a punishment).
A Florida Woman tells local news outlets that her toilet exploded after lightning struck her septic tank. The woman says a plumber told her methane gas from poop had built up in the pipes of her septic system, adding, "I'm just glad none of us were on the toilet."
On the Daily Show, Trevor Noah took a look at Fox News's final solution (for gun violence).

Are Fox News's Gun Violence Solutions Better for Guns Than for People? | The Daily Showwww.youtube.com
And here's your morning Nice Time: A bobcat cub!

Bobcat Cubs Steal Mom's Food | National Geographicwww.youtube.com
Follow Dominic on Twitter and Instagram!

We're 100% ad-free and reader-supported, so consider buying us coffee, or get a subscription!
Dominic Gwinn
Dominic is a broke journalist in Chicago. You can find him in a dirty bar talking to weirdos, or in a gutter taking photos.