Charlie Don't Surf. Wonkagenda For Wed., Aug. 08, 2018
Post-Racial America
August 08, 2018 08:58 AM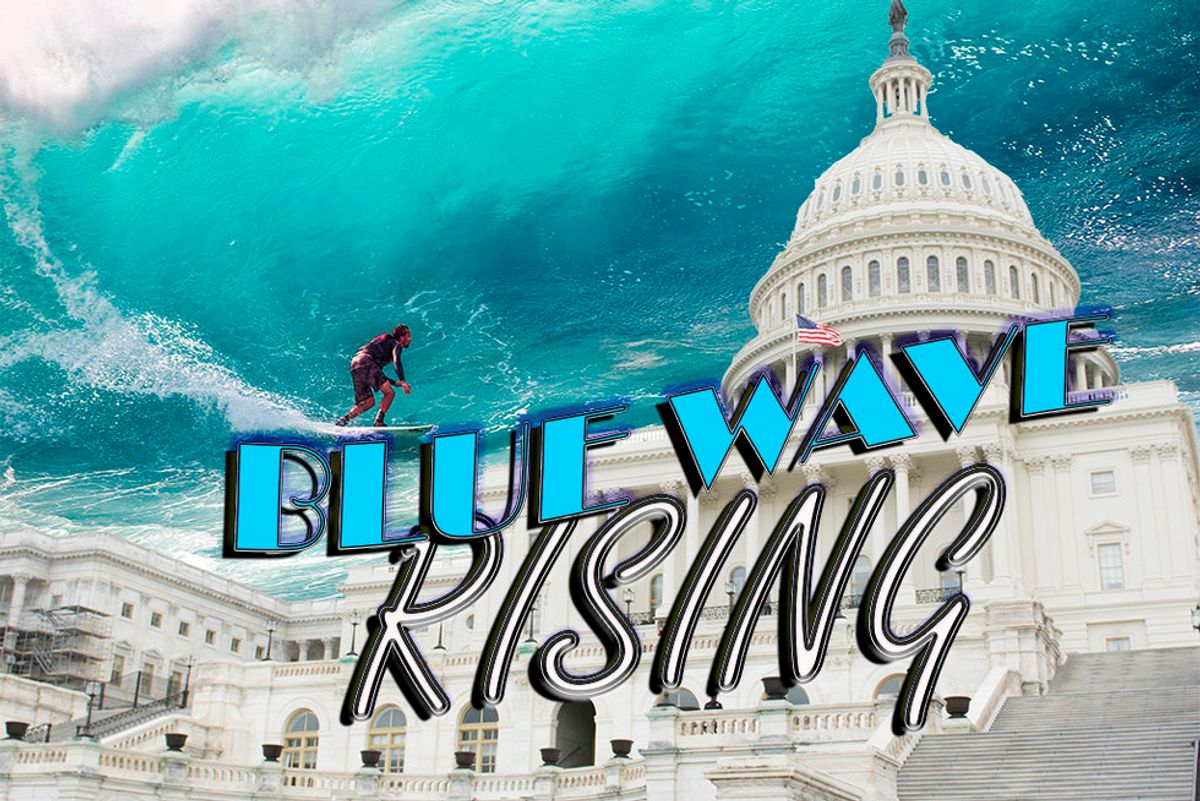 photo by Dominic Gwinn
Morning Wonketariat! Here's some of the things we may be talking about today!
---
Like sands through the hourglass, so are the days of our lives on day six of the Paul Manafort tax fraud trail! Yesterday Rick Gates testified that Manafort told him to hide money in Not American banks to dodge the taxman, and hoped to leverage his position within the Trump campaign as a way to pay off loans from Russian oligarchs who wanted to break his legs. Gates also revealed that he had a secret love shack in London that he paid for with Ukrainian blood money he stole from Manafort.

Trump thinks he can bullshit his way out trouble with Robert Mueller, just like he used to do in the 1980s whenever some nosy cop caught whiff of a scam.
The ACLU and the Center for Gender and Refugee Studies is suing the Trump administration on behalf of asylum seekers who alleged the administration didn't even bother to listen to their "horrific prosecution" claims (like threats of rape and murder) before denying them refugee status. #MAGA
ProPublica has more on the crazy bullshit surrounding the VA, detailing how three Mar-a-Lago members, a doctor, a lawyer, and the creepy head of Marvel Entertainment -- none of whom have any military experience -- have secretly been guiding Trump's baby hands over the VA, including "You're Fired"-ing career staffers, pushing policies, and enriching their own private businesses. They're really draining the swamp, aren't they?
Some economists are squirming and fidgeting at the Feds' intention to raise interest rates while the GDP continues to grow amid historically stagnant wages. The real fear is that businesses won't increase wages if interest rates go up, even with Trump's tax cuts (for the super rich). And these estimates don't even consider Trump's trade war ...
It sure as hell looks like Trump's White House stopped a plan to build the new FBI HQ in the Maryland, according to an upcoming inspector general report that suggests several GSA officials weren't entirely honest during congressional hearings earlier this year. That's a crime, isn't it?
Defense Secretary Jim Mattis is going all-in on Mike Pence's Space Rangers, telling reporters that the Pentagon wants to shoot shit in space, physics be damned. On Thursday Pence will unveil something about his "Space Force," and he's ordered the military to make sure that the hall is packed with soldiers.
Lindsey Graham had some alone time with Trump over the weekend to talk about how utterly fucked Republicans are this November. Yesterday he told a crowd that Trump only brought up Russia and Robert Mueller "about 20 times," so Graham told him to just STFU, and hope he becomes the chair of Judiciary committee so he can investigate HER EMAILS (again). Oh, Lindsey, you sassy bitch.
If you read nothing else about last night's primaries, read Dave Weigel's breakdown in WaPo. TLDR: big turnout for labor unions, abortion rights groups, and moderate suburbanites.
Republican Troy Balderson is barely edging out Democrat Danny O'Connor in the special election for Ohio's 12th, 50.1 percent to 49.3 percent, but the race is still way too close to call. This morning Trump and the GOP are claiming victory (because of course they are) even though the race could still go to a recount. With that being said, this race shows that suburban Democrats across the Midwest are kicking major ass as Republicans panic amid slumping voter turnout.
Rashida Tlaib won the Democratic primary for Michigan's 13th District, making it all but certain she will become the first Muslim woman elected to Congress.
Washington Republican Rep. Cathy McMorris Rodgers BARELY won her primary in the 5th district, and she'll face Democrat Lisa Brown in the general. This one is crazy because it's a top-two primary, McMorris Rodgers is the fourth ranking Republican in leadership, and nobody saw her coming this close to getting knocked out.

Incumbent Republican Rep. Ron M. Estes defeated Republican Ron G. Estes in the deep red Kansas 4th. According to Estes, "The 'M' is for 'Merica!"
Kansas's voter fucking Secretary of State Kris Kobach MIGHT HAVE primaried Republican Gov. Jeff Colyer, and now Republicans are losing their minds. Kobach is currently leading with 191 votes. Whoever wins will face state Sen. Laura Kelly in November. Hey, if anyone can lose Kansas, Kobach can!
Gretchen Whitmer beat out Abdul El-Sayed in the Democratic gubernatorial primary in Michigan. She'll face pro-Trump Republican attorney general Bill Schuette.
Politico reports that Republican incumbents are being outraised by challengers, and they're hemorrhaging gobs of cash just trying to hang on to a couple dozen House seats. So much for fiscal responsibility!
Missouri voters killed a "right to work" ballot measure by a staggering 67.3 percent, according to AP. Hot damn!
A special prosecutor will investigate whether aides for Virginia Rep. Scott Taylor illegally forged signatures to help an independent candidate get on the ballot, and siphon votes away from Democratic candidate Elaine Luria. Apparently people figured something was fucky when they found their names on petitions they never signed.
Even though he called him a liar, and accused his dad of murdering JFK, Ted Cruz is asking for Donald Trump's help campaigning in Texas. Damn, how low can you go?
GOOD NEWS, EVERYONE! St. Louis County lead prosecutor Robert McCulloch, who famously failed to get an indictment against Ofc. Darren Wilson and spurred civil unrest throughout St. Louis in 2014, was voted out of office in favor of Ferguson councilman Wesley Bell, 56 to 43. Speaking to reporters, Bell said, "Out of tragedy, comes opportunity."
NICE TIME: New York City is launching a GOTV effort at Rikers Island to make sure that detainees have voter registration forms as long as they're not convicted of a felony.
The former police chief of a Florida village ordered officers to pin unsolved crimes on black people to get an impossible 100% clearance rate, and ALLEGEDLY ran the department "like a dysfunctional frat house," including accusations of spousal abuse, racism, sexism, fraud, blackmail, drinking on the job, and financial crimes. Now, one teen is suing three of the cops for violating his civil rights after he was falsely accused of over a dozen of crimes.
Somebody in the Kremlin LEAKED documents to Politico about Trump's meeting with Putin last month, and it shows that Putin lobbied for arms control, and wanted an agreement not to militarize space, however nerds warn that Putin likes to shake hands with a prison shank up his sleeve.
Twitter CEO @Jack Dorsey says Alex Jones did nothing wrong, and that it's super important to see the crazy racist shit because reasons, truthiness, and just-us.
After being kicked out of ALMOST every other major social media platform on the internet, Alex Jones is now selling anti-gay frog truth juice on Google+.
And here's your morning Nice Time! Fuffy flamingo chicks!
We're 100% ad-free and reader-supported, so consider buying us coffee, or get a subscription!
Follow Dominic on Twitter and Instagram!
Dominic Gwinn
Dominic is a broke journalist in Chicago. You can find him in a dirty bar talking to weirdos, or in a gutter taking photos.