They're The Kids Of America. Wonkagenda For Thurs., Aug. 8, 2019
popular
August 08, 2019 09:06 AM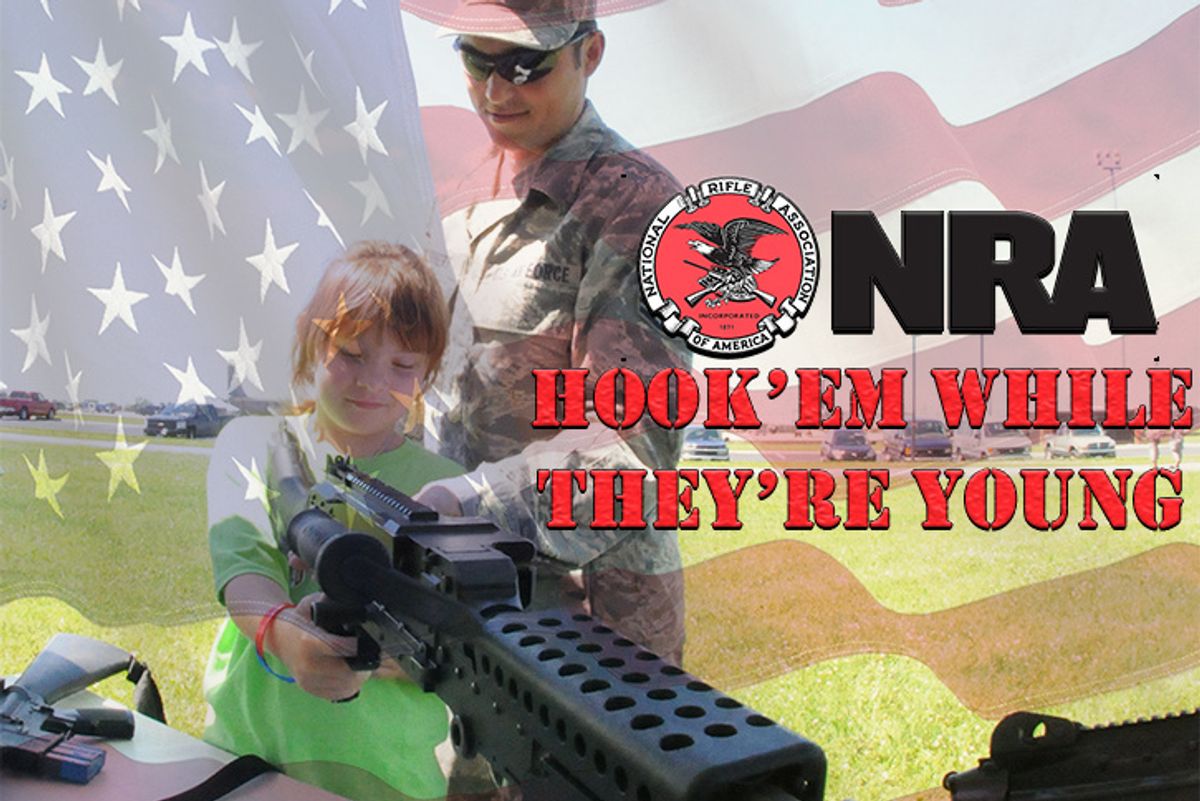 Morning Wonketariat! Here's some of the things we may be talking about today.
---
As part of the healing process following a weekend of mass shootings, Trump ignored victims, instead meeting with first responders behind closed doors and shitposting insults about local leaders and 2020 presidential candidates. Trump wasn't happy that politicos were calling him a "racist," and threw a tantrum on his flight from Dayton, Ohio. to El Paso, Texas, after hearing Ohio Democratic Sen. Sherrod Brown and Dayton Mayor Nan Whaley call for stricter gun laws. Trump would later tell reporters, "I turn on the television and there they are saying, 'I don't know if it was appropriate for the president to be here,' et cetera, et cetera, the same old line. They're very dishonest people." He also called Sherrod Brown a loser. His campaign team has since thrown their own tantrums on social media while everyone else buries their heads in their hands and waits for the next mass shooting.

When the Mayor of Dayton first saw @realDonaldTrump tweet about her https://t.co/Z8YdyeebXp

— Scott Wartman (@Scott Wartman) 1565209097.0
Even though Trump rambles and runs his mouth about endorsing gun control legislation, the NRA is still leading Trump around by the dick. Whenever Trump shitposts about gun control legislation, he quickly receives phone calls from conservative swamp monsters threatening to incite a revolt among his base.
In the wake of the Parkland shooting, NRA chief executive Wayne LaPierre was so scared about becoming a victim that he convinced the NRA to buy him a massive mansion just outside Dallas. Apparently, good guys with guns weren't enough to protect LaPierre; he needed a golf course, a lakefront vista, and the current owners' "golf cart, if possible." All for ONLY $6 million.
ICE agents raided agricultural sites in cities throughout Mississippi yesterday, arresting around 680 people that federal authorities claim are undocumented immigrants. ICE acting director Matthew Albence said some people will be prosecuted for crimes, others may be deported, and some may be released pending immigration court hearings. In a chest beating presser that can only be seen as a job interview for a better gig in the Trump administration, Mike Hurst, US Attorney for the Southern District of Mississippi, made a big stink about businesses who use "illegal aliens for a competitive advantage or to make a quick buck," but declined to say whether they'd actually bring charges against any of the businesses.
The Agriculture Department is getting ready to "You're Fired" hundreds of federal employees who refuse to pack up all their shit and move to Kansas City. The move is expected to save $300 million over 15 years, but employees still don't know if they're supposed to move to Kanasas City, Missouri, or if they're in a rented office complex. Acting chief of staff Mick Mulvaney recently praised this as part of the administration's "drain the swamp" bullshit. Talking Points Memo points out that Mulvaney recently bragged about skull fucking civil service workers, saying, "What a wonderful way to streamline government, and do what we haven't been able to do for a long time." Cue the laughter and applause.

Mulvaney on Firing Federal Employeeswww.youtube.com
Trump is expected to appear at some super expensive fundraisers in the Hamptons tomorrow. The Washington Post reports Trump's made begging for six-figure checks a cornerstone of his reelection strategy, and tickets for this weekend's fundraisers range from $5,600 to $250,000. After the story was initially reported, one of the hosts of the fundraisers, Stephen Ross, owner of the Miami Dolphins and luxury fitness gyms/brands like Equinox and SoulCycle, came under fire for supporting Trump. As people called for a boycott of SoulCycle, Ross defended his support for Trump by saying he's known him for 40 years.
The FCC forgot all about a 2016 net neutrality complaint against Verizon, even before it killed net neutrality. Unsurprisingly, the FCC found the case at the bottom of a rubbish bin and ruled in favor of Verizon (despite multiple alleged instances of Verizon blocking customers from using third-party devices and applications on its network).
The Twitter account for Senate Majority Leader Mitch McConnell's reelection campaign has been suspended for violating Twitter's terms of service for sharing a video of people making swears outside his house. In response, McConnell's campaign manager is now crying about the "speech police."
The rumor mill on the Hill is that DINO 2020 candidate Tulsi Gabbard was only being an asshole to Kamala Harris so that she could plot her next move as a TV talking head. For her part, Gabbard keeps trying to fend off the praises of neo-Nazis at the Daily Stormer and white nationalists like David Duke, and denying that her campaign is being propped up by Russian bots.
There are reports that 2020 Democratic Tim Ryan candidate Rep. Seth Moulton is laying off staffers at his campaign headquarters. Moulton tells CBS that his campaign has been "restructuring," and that he still believes he has a chance at the nomination. To be perfectly honest, I forgot #HesRunning.
Rahm Emanuel has written another op-ed bitching about Democrats and progressives cannibalizing one another in the run-up to 2020. If you decide to read Rahm's latest centrist plea, you'll probably start slamming your head into a wall when he starts glossing over his own failures. Rahm's not wrong to stress that "progress happens brick-by-brick," he's just a little asshole who doesn't think big.
ICYMI: People in New York City's Times Square mistook the sound of a vehicle backfiring for the sound of gunfire, sending hundreds running for their lives. The incident has renewed scrutiny over so-called "straight-pipe exhaust" systems designed to mimic the sound of gunfire on barely street-legal racing cars.
A CBS investigation has discovered cops aren't happy with implicit racial bias training. Police in Mesa, Arizona complain that they've no longer got money for firearms training because that money is going towards instructional videos that force them to think about potential unconscious prejudices towards people of color that could lead to murder. Bless their hearts.
A California man is suspected of killing four people and seriously injuring others in a series of stabbings and robberies throughout Garden Grove and Santa Ana. Police say it was "random acts of violence" and that the suspect "was not involved with any of the victims." The LA Times reports the knife wielding suspect stabbed two people at his apartment complex, robbed a check cashing business, tried to rob an insurance agency, stabbed a man at a gas station, killed a man in a sandwich shop, and killed a security guard at a convenience store before surrendering to police.
After Puerto Rico's Supreme Court invalidated the presidency of Pedro Pierluisi, Justice Secretary Wanda Vázquez was sworn in as the territory's third governor in less than a week.
It looks like 8Chan and The Daily Stormer are back online following attempts to deplatform them. Without getting into the geeky stuff, Ars Technica noticed 8Chan's deep-Web has links to non-deep-Web locations.

The super rich guy behind Victoria's Secret and Bath & Body Works says convicted sex offender and alleged child sex trafficker Jeffrey Epstein "misappropriated vast sums" of his money. Is anyone honestly shocked that Epstein is ALSO being accused of grifting? Anyone? Bueller?
US Soccer is "You're Hired"-ing lobbyists to defend them against claims that they don't pay Megan Rapinoe and the rest of the Women's Soccer team doodly squat. Politico reports the lobbyists throwing around a slide show that shows the women's team receives "a guaranteed salary, maternity leave, a nanny subsidy, health benefits, retirement perks, and injury protection." Nannies. I shit you not.
An Indiana man has pleaded guilty to a weapons charge after he shot himself in the dick with an unlicensed gun. A court sentenced him to 60 days in jail. The man is currently awaiting trial for a separate charge of dealing meth (natch).
Samantha Bee seems to have a good idea about what's causing all the gun violence in the country...

Just Another Terrible, Horrible, No Good, Very Bad Week of Gun Violence | Full Frontal on TBSwww.youtube.com
And here's your morning Nice Time: BABY GOATS!

Matilda had Four Does!www.youtube.com
Follow Dominic on Twitter and Instagram!

We're 100% ad-free and reader-supported, so consider buying us coffee, or get a subscription!
Dominic Gwinn
Dominic is a broke journalist in Chicago. You can find him in a dirty bar talking to weirdos, or in a gutter taking photos.