FINALLY! Wonkagenda For Fri., August 9, 2019
popular
August 09, 2019 09:04 AM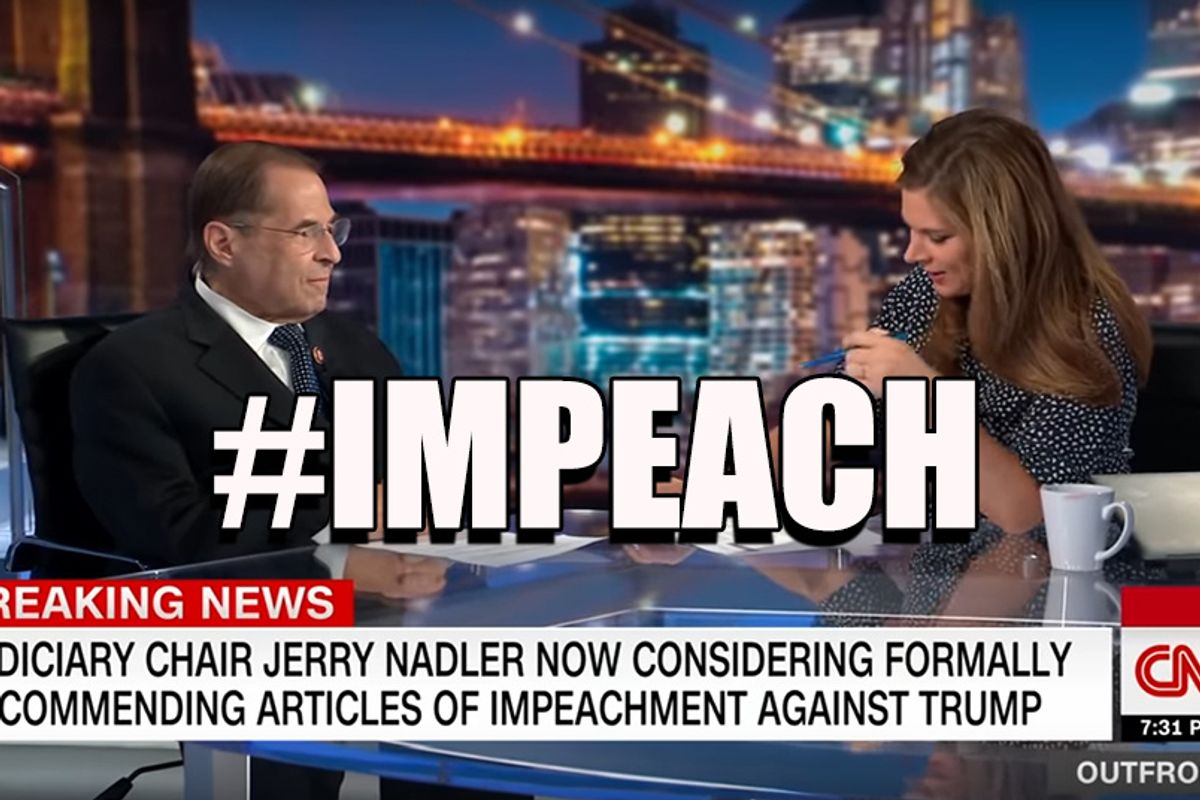 Morning Wonketariat! Here's some of the things we may be talking about today.
---
Last night House Judiciary Chair Jerry Nadler said that his committee had begun "formal impeachment proceedings" against Donald Trump. Nadler says his committee will decide by the end of the year whether or not to refer articles of impeachment to the House floor. In interviews with CNN's Erin Burnett and MSNBC's Rachel Maddow, Nadler said he was still in the process of "gathering the evidence," and that House Speaker Nancy Pelosi had been "very cooperative." He added that the committee had drafted articles of impeachment, but stressed they may be different from anything dropped on the floor, IF they drop anything at all. [Erin Burnett / Rachel Maddow]

Nadler: These are 'formal impeachment proceedings'www.youtube.com
Trump has quit-fired Sue Gordon, the Principal Deputy Director of National Intelligence. so he can install another "Yes" man as DNI.
Senate Majority Leader Mitch McConnell went on a local Kentucky radio station and implied the Senate would consider modest gun control legislation in September. McConnell says Trump is breathing down his neck and "anxious to get an outcome," adding "what we can't do is fail to pass something." McConnell said that background checks and red flags "for sure will be front and center," but whined people will only "score political points" if he cuts the August recess short so Congress could actually do something. Before he retreated into his shell, McConnell bitched about all the communists holding vigil outside his house, and joked, "I've said to my neighbors, 'It probably isn't good for property values living next to me.'"
Even though the NRA is imploding thanks to a cascade of financial scandals, mass shootings, and legal eagles in New York, the gun fetishists are standing their ground against people calling for gun control. Yesterday, NRA head Wayne LaPierre issued a statement saying guns weren't the problem, criminals were, and accused politicians of looking for a "soundbite solution." In a related nugget, this morning someone shitposted for Trump that there were "serious discussions" between the House and Senate on background checks, adding that he'd been speaking with the NRA so their "very strong views can be fully represented and respected."
There's a little more detail trickling out about Trump's disastrous field trip to El Paso, Texas. Eight of the El Paso mass shooting survivors refused to meet with Trump during his visit to the University Medical Center of El Paso on Wednesday. The El Paso Times notes that several victims were in too poor condition to receive the presidential shit show, and/or didn't speak #Merican, and two victims (who had already been discharged) were asked to come back to the hospital -- including the 2-month-old baby whose parents were slaughtered during the massacre) so that they could pose for what the White House declined to call "a photo op" (which was closed to the press).

Trump Attacks Biden; NRA Calls Trump: A Closer Lookwww.youtube
With America still mourning the latest terrorist shooting and demanding Congress come back from the August recess to pass basic gun control legislation, Trump has decided to fuck off to his New Jersey golf course and hobnob with his super rich friends (read: donors) in the Hamptons. Aides say Trump is taking a vacation because he believes everything is fine since the stock market isn't tanking, and they're worried he's ignoring all the other crises he's created or exacerbated, like the cluster fuck in the Middle East, North Korea's missile tests, sanctions on Venezuela, his multiple trade wars, the flood of migrants at the southern border, and the ramped up threat to #Impeach him.
USA Today locked some interns in a dark hole with nothing more than a bag of Funions and some Mountain Dew and made them watch 64 Trump rallies since 2017. They found Trump has said "predator," "invasion," "alien," "killer," "criminal" and "animal" at his rallies while yelling about the taco truck invasion of the southern border more than 500 times. The analysis also found more than half of those statements came just prior to the 2018 midterms.
As if we needed further evidence that Trump doesn't understand the basic principles of economics, he's now demanding the Fed cut interest rates even further. As usual, the dollar immediately fell, and Wall Street traders are waking up and chugging Pepto-Bismol in fear of another market slump.
Businesses are signing on to a toothless pledge being peddled by First Princess Ivanka Trump called the "Pledge To America." The basic gist is that signatories agree to help train millions of Americans for the "jobs of tomorrow" without facing any repercussions if they can't follow through. Since there's no federal funding, the only benefit is a tweet and a photo-op. Most businesses don't see a downside, but the AFL-CIO is warning the initiative, coupled with new rules proposed by the Labor Department that would allow employers to set their own apprenticeship standards, could "give employers license to implement whatever low-road standards they see fit."
The nation's top weather nerds are revising their forecasts about the 2019 hurricane season and warning there's a 45 percent chance of shitstorms.

.@NOAA Atlantic #HurricaneSeason 2019 *update*: The end of El Nino increases the potential for a more active season… https://t.co/h7hEgcvY0A

— NOAA Communications (@NOAA Communications) 1565276914.0
The WSJ reports the EPA wants to change the Clean Water Act so that it's easier for oil companies to lay pipelines across the purple mountains and fruited plains. The idea is to reduce a state's right to hide behind the Clean Water Act when blocking pipelines, and potentially allow corporations to submit more half-assed proposals that gloss over how much they'd screw up the environment. #MAGA
Trump and Republicans are continuing to throw a hissy fit after Twitter suspended the campaign account of #MoscowMitch; now the Trump campaign, the National Republican Senatorial Committee, and the National Republican Congressional Committee are all pulling their advertisements from the platform. The crybabies are saying they won't give Twitter any more money until it addresses "disgusting bias." McConnell himself is saying he is in a "major war" with Twitter, and crying about fairness because it's allowed #MassacreMitch to trend through its series of tubes. LOL, bye, Felicia!
The Campaign Legal Center has filed a formal complaint against New York Mayor Bill DeBlasio's 2020 presidential campaign for its attempt to hide wealthy donors fueling his campaign. According to the suit, DeBlasio's campaign is funneling money through PACs he created to help elect Democrats in New York and throughout the country. Last night DeBlasio went on Hannity to try and gin up support for his campaign by talking shit, but they're both loudmouth jackasses so whatever.
Joe Biden is charming the hell out of people at the Iowa State Fair. According to a new poll out of Monmouth University, Biden continues to hold his lead among likely voters. Biden's giving stump speeches all about Trump being a shitty person who lacks moral fiber, and calling out Breitbart's white supremacist hecklers in the middle of a press scrum. However, Biden stepped on his dick (again) and said "poor kids" were "just as bright, just as talented as white kids" in the context of providing more funding for advanced placement programs in public schools. Biden quickly added, "Wealthy kids, black kids, Asian kids, no I really mean it, but think how we think about it. We think how we're going to dumb it down. They can do anything anybody else can do given a shot."

#NEW Iowa Democratic @MonmouthPoll: Biden 28 (+1 Change since April) Warren 19 (+12) Harris 11 (+4) Sanders 9 (-7)… https://t.co/sQDX6QAEsZ

— Political Polls (@Political Polls) 1565277215.0
Politico has a longwinded piece about how Joe Biden's relatives have tried to ride his coat tails for personal gain. Unlike the goofy shenanigans of Roger Clinton and Billy Carter, Biden's brother, James Biden, is being sued for promising businesses that Uncle Sam would give them a leg up and protect them from the long, flabby arm of the law in the event of an emergency.
John Hickenlooper might have shit the bed waiting to run for the Senate in 2020. With a dozen Democrats running to unseat Colorado Republican Sen. Cory Gardner, insiders think Hickenlooper's window is closing fast. Politico says the signs Hickenlooper is gearing up are there, like the purchasing of web domains and a local radio interview where he says he'd "never ruled anything out," but insiders warn he'd face a grueling primary in the run up to the general election (IF HE RUNS).
HEY! You guys want to see Republican Sen. Susan Collins heading into the $4 million summer mansion of Leonard Leo, the conservative swamp monster who heads the anti-choice Federalist Society? Sure you do!
Over the past week, India has turned Kashmir into an island by cutting off all communication and travel into the disputed region. Multiple news outlets have reported increasingly violent demonstrations, and with a large Islamic festival approaching, there's real concern that bad blood between India and Pakistan could trigger a large conflict in Kashmir.
The Moscow Times reports an independent poll shows Russian people are yearning to make Russia Soviet again. The poll (which should be taken with heaps of salt) also shows a majority of people think Putin's regime is "criminal and corrupt," and that the late 1970s and early 1980s era of Soviet rule was "close to the people." The poll comes amid weeks of large protests in Moscow with people demanding opposition candidates be allowed to run for the city council in September, as well as decrying pension cuts, the destruction of public parks, and the dumping of garbage in the sub-Arctic Arkhangelsk region. Russian politicians are bracing for another weekend of massive protests by calling for restrictions on protest locations, and accusing other countries of election fuckery.
Russian troll farms are pushing those "Taco Truck Tammy" and "Cornerstore Caroline" videos according to a new study out of Clemson University. The study found that Russian trolls are, in some instances, the ones coining nicknames and doxxing people. Security nerds note the point of this is to trigger people into turning shitposts into street fights.
Dozens of ducklings created what the AP calls "the world's cutest traffic jam" in Biddeford, Maine, on Wednesday. Science bozos speculate that the mother duck leading the brood was merely one of several caretakers as it's not uncommon for ducks to act as babysitters for one another. Yes, there's video, and you're welcome.

Mom, 45 ducklings safely cross 5-lane road in Biddefordwww.youtube.com
Stephen Colbert sat down with Ron Burgundy to drink a nice scotch, take a trip down Memory Lane, and do some stand-up.

Ron Burgundy: The 'Bueller Report' Is The Story Of 2019www.youtube.com
And here's your morning Nice Time:IT'S SUPER TOPI!

SUPER DOG - Topi the Corgiwww.youtube.com
Follow Dominic on Twitter and Instagram!

We're 100% ad-free and reader-supported, so consider buying us coffee, or get a subscription!
Dominic Gwinn
Dominic is a broke journalist in Chicago. You can find him in a dirty bar talking to weirdos, or in a gutter taking photos.