Suck It, Baldy! Wonkagenda For Tues., Aug. 13, 2019
popular
August 13, 2019 09:06 AM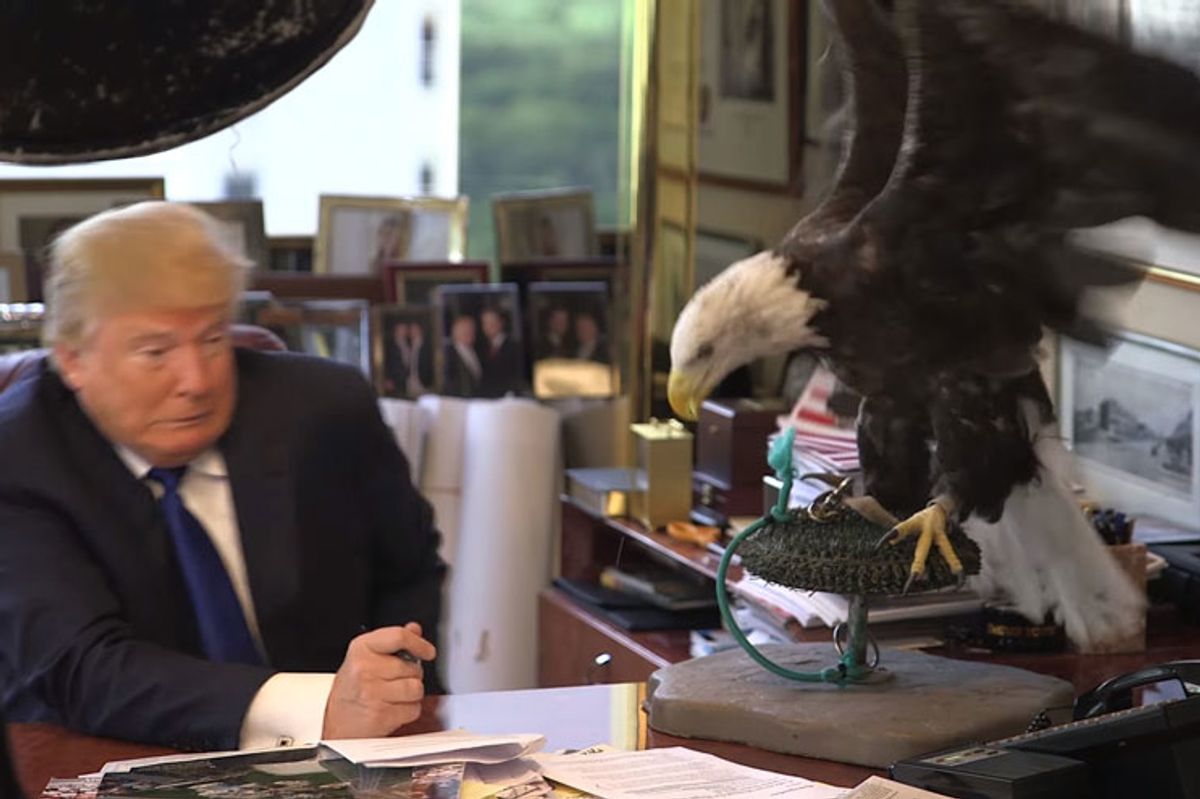 Morning Wonketariat! Here's some of the things we may be talking about today.
---
Republicans are overjoyed after the administration announced it would change how the Endangered Species Act is implemented. Under the new rules, the Department of the Interior will decide whether or not it's too expensive to protect some critters and roll back protections for animals merely "threatened" with extinction. Democratic state attorneys general in Massachusetts and California say they'll sue, and are pointing to a UN report released just last week that warned more than a million species are in danger of extinction.
The administration has lifted a spending freeze that was hastily slapped on the State Department and the US Agency for International Development (USAID) over the weekend. The Office of Management and Budget (OMB) had demanded both agencies stop spending Ameros on a number of programs (like peacekeeping and defense training) after someone at the White House noticed there was potentially billions in unobligated funds just sitting around for a really rainy day. A number of Republicans and Democrats in Congress are accusing the White House of attempting to illegally impound Ameros that had already been appropriated for use in Not America, and worry that the White House is trying to run around congressional spending priorities and foreign affairs.
A new report by the Department of Health and Human Services Office of Inspector General shows the cost of child care in most states is more than the federal subsidies. The report finds that most child care providers charge more for infant care than what the states get from federal subsidies, and that most states set their rates for families who qualify for subsidies too low so more low-income people can receive access to child care services. The report comes as the administration has worked overtime to restrict low-income families' access to federal funding for child care services, and whined about giving poor people money. [Full Report]
INDICTED California Republican Rep. Duncan Hunter wants to postpone his 60-count corruption trial. He would want that.
DINO Rep. Tulsi Gabbard will fuck off from the 2020 campaign trail for two-weeks after she was called up for active duty by the Hawaii National Guard. Gabbard's campaign tells CBS that she will participate in humanitarian and counterterrorism training exercises with the Indonesian military.
Trump world is hoping to cash in on all the snowflakes crying about straws by using "liberal paper straws" as a rallying cry for conservatives. Trump's campaign says that they're purposely forcing a culture war because they think it'll really gin up their base.
Democrats in Missouri are hoping to tip the state in 2020 after finding a gap of only 190,000 voters.

Some stupid asshole in Ohio who shitposted on social media that Rep. Alexandria Ocasio-Cortez "should be shot" has been arrested for felony possession of a firearm, for being a fugitiive in possesion of a firearm, and for making interstate threats. The stupid asshole bragged to Capitol Police that he was proud of his statement, and, according to Roll Call, "always carries concealed guns, has guns for hunting and everyone knows he has guns." In a less than shocking twist, the 41-year-old man had outstanding warrants in several states, and four felony convictions from 1996 for grifting stolen property.
San Jose Mayor Sam Liccardo is calling for gun owners to carry liability insurance or pay fees to cover the bill footed by tax payers every time someone goes and accidentally blows their dick off. Liccardo likens the scheme to car insurance or tobacco taxes, but gun fetishists are bitching about "yet another burden on gun owners." Good.
A California Highway Patrol officer was killed and two other officers wounded during a shootout on the busy Riverside Freeway. The LA Times reports the incident is believed to have started with a traffic stop, and that the suspect -- who died at the scene -- retrieved a long rifle from his truck as the officer filled out paperwork.
One person is in custody after firing shots at the Jesse Brown Veteran Affairs Medical Center in Chicago. Authorities report no one was injured, and the incident was resolved within 30 seconds. FBI officials note that the suspect was armed with an assault rifle. The incident marks the second recent shooting at a Chicago hospital.
GOOD NEWS: Illinois Gov. JB Pritzker signed new bills making it easier for medical marijuana patients to get access to their medication. The new bills let people suffering from numerous ailments qualify for medical marijuana, allow nurse practitioners and physician's assistants to greenlight prospective patients, and relaxes rules for students who are medical marijuana patients to be medicated before, during, and after school.
For the second day in a row protesters have shut down the Hong Kong airport. The Washington Post reports bands of protesters passing out snacks to stranded travelers and apologizing, saying "We have no choice." The New York Times notes medical professionals are holding rallies at local hospitals to protest widespread police brutality after a woman was shot in the eye with a beanbag on Sunday.
National security mustache John Bolton went to London and told a group of tea-sipping aristocrats that the US would "enthusiastically" support a no-deal Brexit because we could then create a "comprehensive trade agreement" with the UK. Bolton went on to tell the monocled blue bloods that the EU is trying to "make the peasants vote again and again until they get it right," adding, "It is hard to imagine that anyone in this country did not know what was at stake." Fun Fact: The US already has a "comprehensive trade agreement" with the UK, and a lot of UK voters didn't understand what "Brexit" meant.
Donald Trump Jr. says his family business in Indonesia isn't a grift and that there's "literally zero influence" in his dad's decision process over which South Pacific countries will be the next victims of his global war on trade.
Republicans get a huge hard-on whenever DJTJ tries to troll people on the internet with derogatory slurs because the reality show and TV news addicts think its "edgy."
Super buff CNN anchor Chris Cuomo got harassed by some scrawny incels who were trying to trigger him by using the term "Fredo" as an ethnic slur. Cuomo then threatened to throw one of the little shits down a flight of stairs after he kept cornering him. CNN is standing by Cuomo, and oddly enough, finding support from unlikely faces, like Sean Hannity and the Mooch. Of course, the Brothers Trump shitposted that "Fredo" isn't an ethnic slur, with DJTJ saying, "take it from me, 'Fredo' isn't the N word for Italians, it just means you're the dumb brother." Late this morning, Trump tweeted the ethnic slur about Cuomo.
The NRA has lost its fourth board member in two weeks after Julie Golob, a professional sport shooter, said she was resigning from the gun fetish group. Upon hearing about the departure of Golob, the president of the gun control advocacy group Every Town For Gun Safety said, "Now another board member is calling it quits. At this rate, they may be answering subpoenas rather than paying for political ads in 2020."
If you feel like futzing around, the Norwegian University of Science and Technology in Trondheim has published a hundred thousand photos dating back to 1899 in a searchable database; 4,000 of those photos show the life of immigrants and everyday folks in Chicago in the late 1920s. [NTNU Database]
That dingus who started the "Storm Area 51" thing wants to turn all the attention into a three-day festival called "Alien Stock" on Sept. 20. People in the town of Rachel, Nevada (pop. 54) are hoping all the nuts, yahoos, and cranks come with cash to their very remote town, and asking they don't turn their town into the scene of the next Fyre Festival.
And here's your morning Nice Time: IT'S PENELOPE THE PYGMY HIPPO!

One Year of Penelope the Pygmy Hippo- Toronto Zoowww.youtube.com
Follow Dominic on Twitter and Instagram!
We're 100% ad-free and reader-supported, so consider buying us coffee, or get a subscription!
Dominic Gwinn
Dominic is a broke journalist in Chicago. You can find him in a dirty bar talking to weirdos, or in a gutter taking photos.