Trump Prefers Defense Bills That Weren't Captured. Wonkagenda For Tuesday, August 14, 2018
Post-Racial America
August 14, 2018 09:17 AM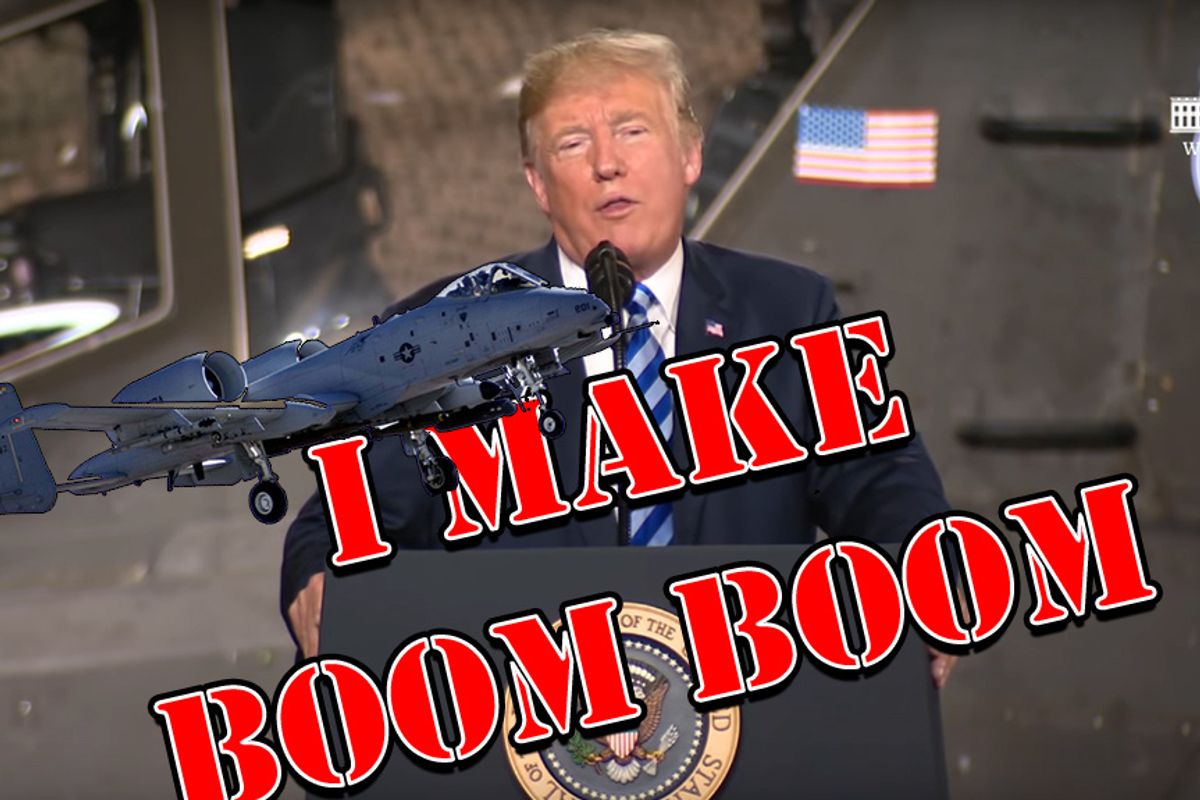 Morning Wonketariat! Here's some of the things we may be talking about today.
---
Depending on what happens this morning, Paul Manafort's trial could be over this evening after prosecutors rested their case yesterday. In laying out out a quid-pro-quo scandal, prosecutors showed EMAILS detailing how Manafort leveraged a cabinet position for millions of dollars in bank loans. Manafort's defense team seemed to shift gears and say, "Well, he's not THAT guilty, amirite?"

A Trump appointed judge ruled Robert Mueller's case against 13 Russian hackers accused of spying and fuckery during the 2016 election is totally legit, and then wrote 40-odd pages explaining WHY the case is valid.
Democrats in the House want to interview "alt-right" garbage man-child Chuck C. Johnson as part of their continued Trump-Russia probe after finding HIS EMAILS with Russian hackers.
Trump's White House will dole out $1.8 million to teach kids bleeding control techniques to prep for school shootings, "including how to use their hands, dressings and tourniquets." Just think of it as drivers ed, but with bullets and mass casualties.
Here's an emergency adorable otter.
Democratic Sen. Patty Murray is leading the charge against the administration's attempt to claw back federal student aid, which could COST $5.3 billion. The proposed rule changes would benefit grifty for-profit colleges that have high dropout rates, useless degrees, and saddle students with debt they can't repay.
Rather than a routine signing of the $716 billion 2019 military spending bill (named after ailing Republican Sen. John McCain), Trump held a political rally full of military members where he snubbed McCain (again), bragged about Mike Pence's "Space Force," (again), insulted the press (again), bragged about his trade war (again), and barely remembered to give a half-assed endorsement to some Republicans facing tough elections (again).
Trump's grasp of foreign policy is limited by his inability to grasp the concept of time zones, historical rivalries between Asian nations, and an inability to read and interpret maps. He calls Nepal "nipple," and Bhutan "button." Crom help us if he ever finds out about Niger...
White House white supremacist Stephen Miller has quietly snaked his way into Trump's inner circle like LOTR's Wormtongue, planting minions in the State Department where they can choke off refugee admissions and manipulate information to and from the White House, like reports on protecting Iraqi nationals who volunteered to help US soldiers. This is just all types of bad.
A new report in Politico has found new perks for "serving" the public: Trump administration officials auto-magically get discounts on Trump-branded swag at his New Jersey golf course, potentially violating ethics laws on gifts.

IT'S PRIMARY DAY(again)! Here's a quick rundown of some of the important races in Wisconsin, Connecticut, and Minnesota.
The son of incompetent Republican Rep. Bob Goodlatte has taken to Twitter to call out his ineffectual father, and announce his maxed out donation to Jennifer Lewis, the Democrat running to replace him. HAHAHAAAAAAAAA
Political fortune tellers are rethinking Texas Republican Rep. Pete Sessions's reelection race, throwing it into toss-up territory after Obama-backed sportsball player and civil rights lawyer Colin Allred had higher favorability ratings than Donald Trump and Pete Sessions. Thanks, Obama!
NICE TIME! Sharice Davids, the Democratic nominee for the Kansas 3rd, stands poised to not only upset Republican incumbent Kevin Yoder, but become the first LGBT Native American woman elected to Congress. Last week Davids was tapped for the DCCC Red to Blue Program. She's done amazing work for the poors throughout flyover country!
During a fundraiser in upstate New York for Republican Rep. Claudia Tenney, Trump spent more time touting Chele Chiavacci Farley's hopeless bid to unseat Democratic Sen. Kirsten Gillibrand. He didn't outright say the Gillibrand got on "her knees" this time, but he certainly implied it. Good thing the TV pool feed cut off before reporters started asking questions.
A Florida woman running for the state House has admitted she posed with a fake college diploma after a local news outlet called out her bogus college credentials. But she's decided to stay in the race, because Florida is a full of gullible people who will still vote for pathological liars.

A Florida Man with a history of violent confrontations has been charged with manslaughter after shooting a man in front of his family for parking in a handicap-reserved space. Authorities apparently spent the last few weeks mulling over whether or not Stand Your Ground laws qualified; they're still a little fuzzy.
After repeatedly failing to get money through bond elections, a Colorado school district will transition to four-day weeks in order to save money, and give teachers more time to prepare and organize for classes. And probably work a second job. And organize another statewide walkout, how about?
The West Virginia Republican controlled House voted to impeach the entire state Supreme Court over allegations of corruption and obstruction of justice. Democrats contend that this is an attempt to give the Republican governor unchecked power to hand-pick whoever the hell he wants before the November election. Nothing shady here at all!
The Pentagon has called in the 101st Army Airborne and the Air Force to reinforce Afghan special forces soldiers defending Ghazni City, a critical area of Afghanistan, after it came under heavy assault from Taliban forces. Yes, 17 years later, we're still in Afghanistan.
Trump spent last night screaming into the Twitterverse about new claims by former "Apprentice" contestant Omarosa, who says Trump dropped the N-bomb. Trump started name dropping, name calling, and then seemed to confirm his White House makes staffers sign unenforceable NDAs to prevent staffers from writing tell-all books without his express permission. Talk about a control freak!
President Baby Shits also trashed Ohio Republican Gov. John Kasich (on Twitter) after Kasich spent another Sunday making constipated criticisms of Trump. President Titty Baby then accused Kasich of hindering Republican candidate Troy Balderson in the Ohio 12th special election last week -- and no, there is no winner in that race (yet).
After seeing Trump cry about Kasich and Omarosa, George Conway posted a recent poll of Trump and Kasich's unfavorables, 58.6% to 34.6%, and began retweeting hypothetical questions about why Trump kept Omarosa around. HHHMMM
The Atlantic's Elaina Plott got an advance copy of Omarosa's gossipy bullshit. TLDR: It's a few hundred pages of vengeful garbage and dirty laundry (with pee hooker stains). Don't buy this book; give us money instead.
A US appeals court blocked an attempt by FCC Chairman and piece of shit Ajit Pai to stop a lawsuit by tribal peoples alleging the FCC is trying to kill subsidized internet and phone access for poor people. The court found that Pai is full of MALARKEY.
Joseph DeAngelo, a 72-year-old former cop, was formally charged with more murders associated with the Golden State Killer. DeAngelo has already been accused of 12 other murders throughout California. LOCK HIM UP!
And here's your morning Nice Time! BABY PANDAS!
We're 100% ad-free and reader supported, so consider buying us coffee, or get a subscription!
Follow Dominic on Twitter and Instagram!
Dominic Gwinn
Dominic is a broke journalist in Chicago. You can find him in a dirty bar talking to weirdos, or in a gutter taking photos.