Deport Melon. Wonkagenda For Thurs., Aug 15. 2019
popular
August 15, 2019 09:02 AM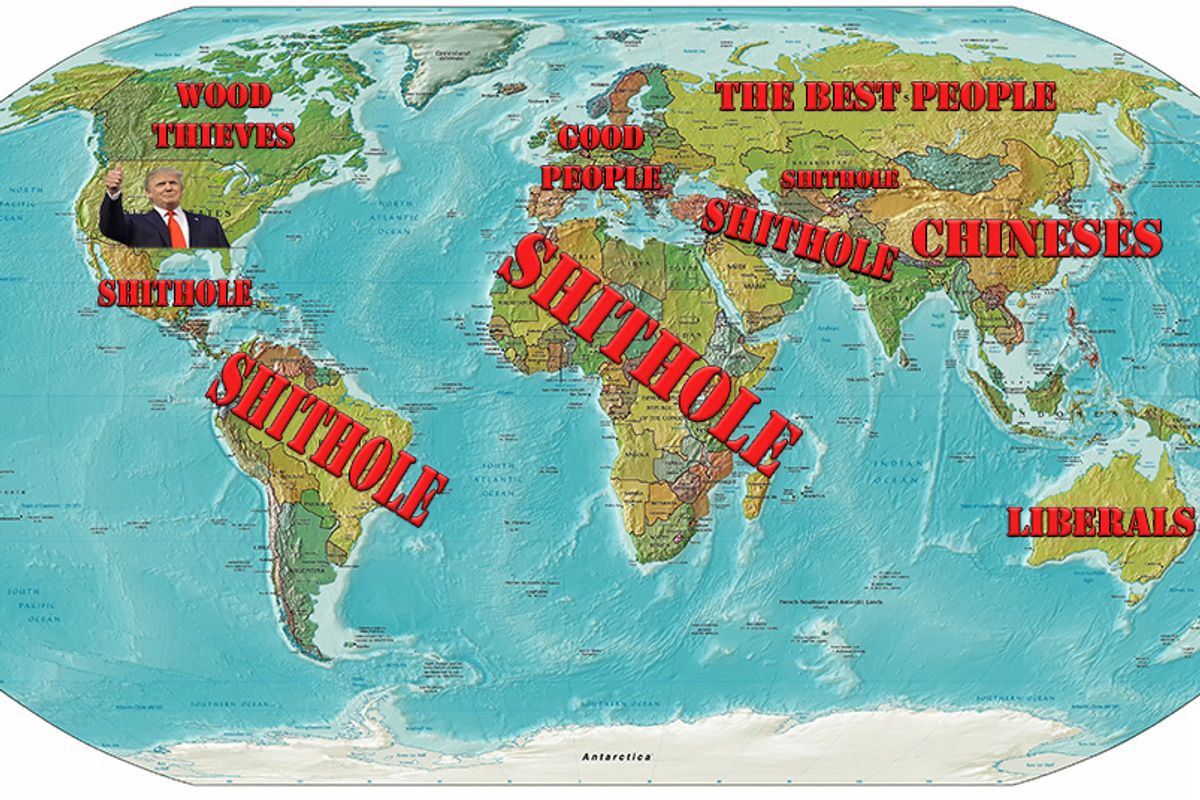 Morning Wonketariat! Here's some of the things we may be talking about today.
---
Stocks fell off the fiscal cliff yesterday after bean counters noticed some prediction thingy said we're about to fall into a global recession thanks to Trump's trade war. #MAGA

The US Ninth Circuit Court of Appeals seems likely to side with the administration in denying temporary protected status to immigrants from Haiti, Sudan, Nicaragua, and El Salvador. Two of the conservative judges said the administration was hard at work kicking immigrants out long before Trump said he didn't want people from "shithole countries" in the US, and took issue with whether or not the comment was a valid argument from ACLU lawyers.
Haitian families are protesting the administration's plan to end the Haitian Reunification Program, which was modeled after the Cuban refugee program. Immigration activists note that invitations to family members in "shithole countries" to join their relatives in the US haven't been extended since June of 2016.
Speaking of immigration and temporary protected status, the Daily Show's Trevor Noah is wondering if Trump's anti-immigrant screaming and shitposting is part of a super secret 3-D chess move to deport Melon Trump.

Is Donald Trump Trying to Deport Melania? | The Daily Showwww.youtube.com
Israeli Prime Minister Benjamin Netanyahu might block representatives Ilhan Omar and Rashida Tlaib from visiting the West Bank over their support of the BDS movement. Aides for senior Democratic leaders tell the Washington Post that blocking the visit would be bad for Netanyahu as he faces a repeat election on September 17, and the Israeli ambassador just said Israel wouldn't bar entry to any US lawmakers, "out of respect for the US Congress and the great alliance between Israel and America." Axios gossips the Trump administration is privately hoping the Israelis don't let them in.
Nancy Pelosi called out Senate Majority Leader Mitch McConnell for being the "grim reaper" of the Senate, urging him to pass gun control measures that have already sailed through the House. Pelosi listed a number of bills that have died on their way to the Senate, including raising the minimum wage, election reform, and health care expansion, adding, "Moscow Mitch says that he is the 'grim reaper.' Imagine describing yourself as the 'grim reaper,' that he's going to bury all this legislation."

Former Colorado Gov. John Hickenlooper is expected to drop out of the 2020 Democratic primary later today so he can RUN FOR THE FUCKING SENATE.
Slap happy Trump lackey Corey Lewandowski is mulling over a possible run for the Senate seat of Democratic Sen. Jeanne Shaheen in New Hampshire. Politico gossips that the effort is being led by his conspiracy peddling loon pal, David Bossie, who honestly thinks Lewandowski has a chance. Trump has spent this morning retweeting Breitbart bullshit praising his former campaign manager (who was "You're Fired" for grabbing a girl Breitbart reporter and throwing her to the ground). New Hampshire state Republicans are worried Trump will use a rally this evening to effectively endorse Lewandowski, whom they called "a thug" and "a political hack."
Six police officers were wounded during a seven hour gun battle in Philadelphia. All six officers have since been released, and there are no reports of injured civilians at this time. One local news station reports children texted their father from daycare, "Dad, you don't have to get us from the daycare, there's been a shooting. So we're going to be here for a while."
Just hours after protesters in Hong Kong apologized to travelers, police fired tear gas at protesters after some began shining laser pointers at police. Reuters reports that the Chinese People's Armed Police can be seen conducting "exercises" at a stadium in the neighboring city of Shenzen. Yesterday Trump finally weighed in on the protests by shitposting about his trade war and propping up Chinese President Xi Jinping after one of his dumbass kids took a bunch of flak for shitposting how Trump has been tough on the Chinese. Fun Fact: The Trump family has worked to secure dozens of exclusive patents in China since Trump became president, including getting Ivanka Trump 38 patents for voting machines, old folks homes, veterinary services, wedding gowns, and more.
The Wall Street Journal has a chilling story about Chinese telecom giant Huawei secretly meddling in African politics by offering African governments the ability to spy on political opponents, including cracking encrypted communiques, monitoring social media, and using cellular data to keep tabs on people. Huawei says they'd NEVER spy on people (like nerds and US intel agencies have alleged) because it's against their company policy.
Canadian Prime Minister Justin Trudeau has been found guilty of violating ethics rules in a corruption case. Canadian ethics officials found Trudeau "directly and through his senior officials" tried to lean on public officials who'd discovered a major Montreal-based construction company had been bribing officials in Libya during the reign of Muammar el-Qaddafi. With just weeks to go before launching his reelection bid for Prime Minister, Trudeau owned up to the scandal, saying, "The buck stops with the prime minister," though he refused to apologize by noting he was trying to protect thousands of Canadian jobs. [Report]
Russia's state-owned media is working overtime to discredit the massive protests that have gripped Moscow ahead of the September 8 municipal elections. Aside from blaming the western governments (as usual), party hacks are describing protesters as "gypsies, homosexuals, ecologists, communists, supporters of empire, and defrauded real-estate investors," and accusing them of jaywalking, rioting, and using children as human shields when police start beating the shit out of people.
A former Blackwater security contractor has been sentenced to life in prison by a US federal judge for his role in a 2007 mass shooting of unarmed Iraqi civilians. The contractor had been found guilty by a federal jury of triggering a massacre that killed 14 men, women, and children, and injured another 31 in Baghdad's Nisour Square.
New York Times staffers are butthurt that 538 founder Nate Silver keeps calling them out for their fuzzy math, shitty polls, and reacharounds in Trump World. Politico reports Silver's moldy beef with the Times, its management, and its data dingus, Nate Cohn, has spilled out onto the Twitterverse. Get some popcorn, this one's delicious!
Samantha Bee took a deep dive into the wet and wild unsolved mystery between Jerry Falwell Jr., his wife, a pool boy, comedian Tom Arnold, and Michael Cohen.

Full Frontal Investigates: The Case of Jerry Falwell, Jr., the Pool Boy, Michael Cohen, & Tom Arnoldwww.youtube.com
And here's your morning Nice Time: IT'S AARONS ANIMALS!

Pet Peeves Gymwww.youtube.com
Follow Dominic on Twitter and Instagram!

We're 100% ad-free and reader-supported, so consider buying us coffee, or get a subscription!
Dominic Gwinn
Dominic is a broke journalist in Chicago. You can find him in a dirty bar talking to weirdos, or in a gutter taking photos.