'King Of Israel.' Wonkagenda For Wed., August 21, 2019
popular
August 21, 2019 09:04 AM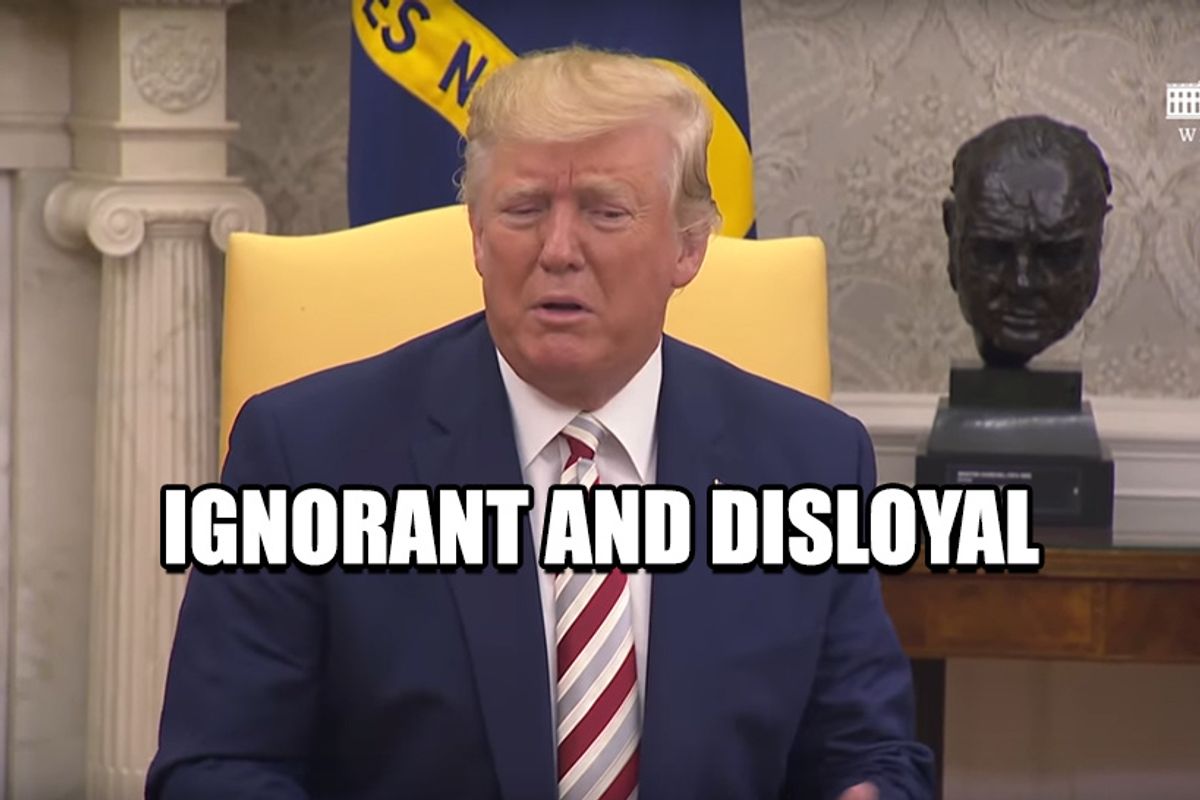 Morning Wonketariat! Here's some of the things we may be talking about today.
---
Once again Trump blithered another anti-Semitic trope by saying any Jewish person who votes for a LIBERAL is guilty of "great disloyalty" and being stupid. Rambling to reporters in the Oval Office, Trump bitched that the Democratic party clearly hates all the Jews because of all the support reps Rashida Tlaib and Ilhan Omar received after he strong armed the Israelis into barring them from visiting the country as members of Congress. After practically every Jewish group rushed to condemn Trump's latest dog whistle to white supremacists, the Republican Jewish Coalition tweeted "Trump is right." Phillip Bump points out a that a lot of Jewish voters lean left and voted for Democrats in 2016 and 2018, adding that in 2015 Trump told the RJC, "You're not going to support me because I don't want your money. You want to control your politicians, that's fine." This morning Trump shitposted some Fox and Friends talking head who said Jews love him bigly, like he was the the "second coming" and the "King of Israel."

The blue line here indicates people who the president says are either ignorant or "disloyal."… https://t.co/eHJiC4eBuH

— Philip Bump (@Philip Bump) 1566358693.0
Trump called NRA head Wayne LaPierre yesterday to get some talking points about walking away from gun control legislation. After about 45 minutes of Trump rambling, according to loose lips inside the West Wing, Trump was told that any gun control measure would damage his chances in 2020; and he should just blame all shootings on crazy people instead. Meanwhile, some Senate Republicans are already shrugging their shoulders at all the dead bodies piling up, and doubting any gun control bill will pass Congress this year. The New York Times gossips that the mass shootings in El Paso and Dayton, Ohio actually strengthened LaPierre's tenuous hold over the gun fetishists calling for his head.
Survivors of the Parkland massacre have unveiled a plan to not just get background checks and "red flag" laws passed, but to create comprehensive reforms of current gun laws. Among some of proposals are familiar items like establishing national licensing and a gun registry, a ban on assault weapons, a ban on high-capacity magazines, creating a mandatory gun buyback program, and creating a "national director of gun violence prevention." Their ideas go even further by proposing community based solutions like a "Safety Corps" for gun violence, and automatic voter registration when people turn 18. [March For Our Lives Peace Plan]
The administration seems ready to double-down on that "zero tolerance" immigration policy, according to a rightwing tabloid. Quoting senior administration officials bitching about taco trucks full of anchor babies, the administration is close to ending the 1997 Flores Settlement Agreement that bars the separation of families and the indefinite detention of children. Baby jails weren't a bug, they're a feature!
The DOD is going to give The Troops a medal for standing around the southern border with their thumbs up their asses. In addition, the Joint Chiefs of Staff have approved awarding the Humanitarian Service Medal for service members who cleaned up toxic pig shit in the Carolinas after Hurricane Florence.
Trump has called off his trip to Denmark after Denmark's Prime Minister called him A Idiot and refused to sell Danish territory Greenland to him. The Washington Post notes the administration had hoped to take over Denmark's $600 million annual subsidy for Greenland in an effort to counter Russian and Chinese expansion in the Arctic (thanks to the melting polar ice). Mieanwhile, Republican legislators in Alaska are already salivating at the thought of getting shitloads of cash from the DOD to expand military bases.
Speaking of Alaska, the New York Times reports the administration is poised to start short-selling oil reserves in Alaska. Apparently the administration pressed the Interior Department to issue amazing assessments about all the money to be made by letting oil companies rape our natural resources, but the White House is revising those estimates to "play down evidence that the refuge might not have much oil, deleting references to disappointing wells nearby."
Trump World is getting worried that the looming recession will kick its donors in the butt pocket, so it's mulling over MORE tax cuts (for the super rich) in order to appease the fabulously wealthy overlords, lest they sour on Trump and his merry band of gun humping racists. Yesterday, Trump admitted his minions have also been talking about a payroll tax cut to keep juicing up the economy he's running into the ground, and tried to brush off criticisms that his trade wars are breaking Uncle Sam's back.
A conservative group is hoping to slut-shame Mitch McConnell into passing election security measures by airing a bunch of 30-second ads on "Fox and Friends" and "Meet the Press" starting today. The ads target Republican members of Congress and urge support for a bill that would slap sanctions on Russia's banking, energy, and defense sectors if there's a whiff of election fuckery. The bill would also make the administration give Congress a report on preventing election fuckery from China, Iran, North Korea, and all the other assholes #MoscowMitch is ignoring. [All the Ads]

Senator Rubio: Protect America's Electionswww.youtube.com
A handful of Never Trump Republicans are considering primary challenges to Trump, but almost none of them think they stand a chance. Some have begun courting wealthy independent and liberal donors in the hopes that they can engage in daily "bar fights" that will leave Trump a bit roughed up as he waddles into 2020.
Elizabeth Warren met her doppelganger while campaigning in St. Paul, Minnesota. The lookalike, Stephanie Oyen, tells the Star Tribune she wore her Elizabeth Warren Halloween costume as a joke, but "It got weird very fast," as people began confusing her with the Senator and 2020 candidate. When Oyen stood in Warren's selfie line, Warren reportedly pointed to her and said, "We need to talk!"

Even a few staffers with Elizabeth Warren's campaign did a double take. https://t.co/RMU5ka2Wpu

— Star Tribune (@Star Tribune) 1566352800.0
Almost two-dozen tiny Texas towns have been have been crippled by a cyber attack, according to state officials. At least two towns are admitting their business and financial operations have been affected, including birth and death certificates not being available online, and the cities being unable to accept utilities payments. Nerds point out that this attack is interesting as it seems one single asshole is coordinating the whole thing.

Trump is waffling on pulling all US troops out of Afghanistan (again) now that ISIS/ISIL/whatever has resurfaced. As the administration's peace negotiations with the Taliban and the Afghan government continue, Trump said yesterday -- yet again -- that he'd thought about using nuclear weapons, but concluded, "I'm not looking to kill 10 million Afghans, because that's what would happen." Nobody in Afghanistan is thanking him for the favor.
Italy's government just collapsed after Prime Minister Giuseppe Conte resigned. Conte blamed his deputy prime minister, Matteo Salvini, for putting "his own interests and those of his party" ahead of the country. Vox explains Salvini has been trying to prop up his own racist and anti-immigrant Lega party and angling to oust Conte so he could rule like a modern day Mussolini.
It's only Wednesday and Facebook is already having a bad week (again)! Yesterday the head of the DOJ's antitrust division announced "a couple of dozen" state attorneys general were mulling over joining a probe of ALLEGED anti-competitive business practices by big tech companies. This is in addition to the FTC and House Judiciary committees' own anti-trust probes, which the Financial Times reports could be wrapped up before the 2020 elections. But things just get worse for the big "F," with Bloomberg reporting that Libra, Facebook's magical internet funny money, is being investigated by the European Commission for "potential anti-competitive behavior" amid concerns Mark Zuckerberg is trying to strong-arm e-payment competitors so he can set up his own global currency. And that investigation is separate to ANOTHER anti-trust probe in the EU. Maybe that's why the Facebook punished Yr Wonkette for "clickbait" and cusses? They fear us.
While Uncle Sam and Europa spent yesterday cracking their knuckles, Facebook announced several efforts to clean up its shit-stained image. First, Facebook says it will launch a "News Tab" in its shady mobile app that will exist separately from the ugly baby pictures and Chinese/Russian meme fuckery people share in their news feeds. Facebook says the News Tab will will be curated by an algorithim and a small team of "real" journalists (while it simultaneously pressures news publishers to cut million dollar distribution deals). Second, Facebook announced it would give users the ability to control their "Off-Facebook Activity" as part of a faux-privacy push. The feature will let users see some of the data apps and websites send to Facebook, but the Wall Street Journal notes Facebook won't let users see all of the data it collects, or let users delete their data.
BUT WAIT, THERE'S MORE! Politico reports liberal and conservative groups are pissed that Facebook's bias audit, led by former Republican Sen. Jon Kyl, couldn't find any of the ALLEGED bias rightwing shitlords keep wailing about. Kyl's team of evil corporate lawyers say Facebook's effort to counter fake news and fuckery did gag some conservatives (according to 133 GOP politicos). Kyl also announced a new Facebook policy to let ads with medical tubes appear on the platform (which is a boon for gross, fear-mongering anti-abortion ads). [Kyl's Report]
The Wall Street Journal reports that gun fetishists are still buying and selling their sundries on Facebook's Marketplace. Even though Facebook doesn't allow people to sell firearms on its platform, sellers simply offer a "gun case" for a price comparable to that of a firearm. Then it arrives with a gun inside! Surely they're just trying to make the world a better place.
The FBI has arrested a 35-year-old Trump supporting Nazi sympathizer for repeatedly threatening a Hispanic woman on social media. Authorities say the man spent the better part of the summer shitposting about a "racial war and crusade."
A Chicago-area man has been arrested for threatening to "slaughter and murder" doctors, patients, and visitors to an abortion clinic. Authorities say the incident is indirectly related to an Ohio man who was arrested on similar charges last week.
Playboy columnist and Brady Room badass Brian Karem is suing the White House after his press pass was suspended. Karem's "hard pass" was suspended for 30 days last week after he got into a Rose Garden spat with Trump World's neo-Nazi talking head Sebastian Gorka. Karem's suit says that his suspension is a violation of his constitutional right to due process, adding, "President Trump has a history of using the revocation or threatened revocation of a hard pass to try to stifle speech and reporting he does not like."
Harvey Weinstein wants to move his sex-crimes trial out of Manhattan because, according to his sleazy lawyers, New York City is "ground zero" for #MeToo activism and it would be impossible for Weinstein to get a fair trial. The Wall Street Journal notes New York state court officials are going out of their way to hold a fair trial, including super huge jury pool that could see as many as 600 extra jurors showing up to court.
Rich, overgrown manbabies are crying about an asteroid set to skim the Earth in April of 2019, but NASA is rolling their eyes and saying people shouldn't be crying about a "big rock" hitting the Earth anytime soon. For better or worse, we've got other problems to worry about right now.
Officials in Lincoln County, Nevada, have drafted an emergency declaration in preparation for all the people who are trying to storm the Area 51 military base in an attempt to "see them aliens" next month. Lincoln County Commission Chairman Varlin Higbee says the county is taking seriously reports that upwards of 40,000 people could show up. Additionally, the owner's of the alien themed diner, The Little A'Le'Inn, are planning a three-day music festival called Alienstock to coincide with the invasion.
A Florida man has been charged with practicing medicine without a license resulting in bodily injury after police, responding to a 911 hang-up call, found a man tied to a bed with his junk covered in blood. Apparently the two met on a site on the dark web for people with a castration fetish.
The Daily Show has a round up of all the ways women are kicking ass, fighting for equal pay, and ending vag taxes.

Leading Ladies | The Daily Showwww.youtube.com
And here's your morning Nice Time:IT'S TOPI THE CORGI!

MY DAY - Topi the Corgiwww.youtube.com
Follow Dominic on Twitter and Instagram!
We're 100% ad-free and reader supported, so consider buying us coffee, or get a subscription!
Dominic Gwinn
Dominic is a broke journalist in Chicago. You can find him in a dirty bar talking to weirdos, or in a gutter taking photos.