SEE YA! Wonkagenda For Wed., Aug. 22, 2018
Russia
August 22, 2018 08:52 AM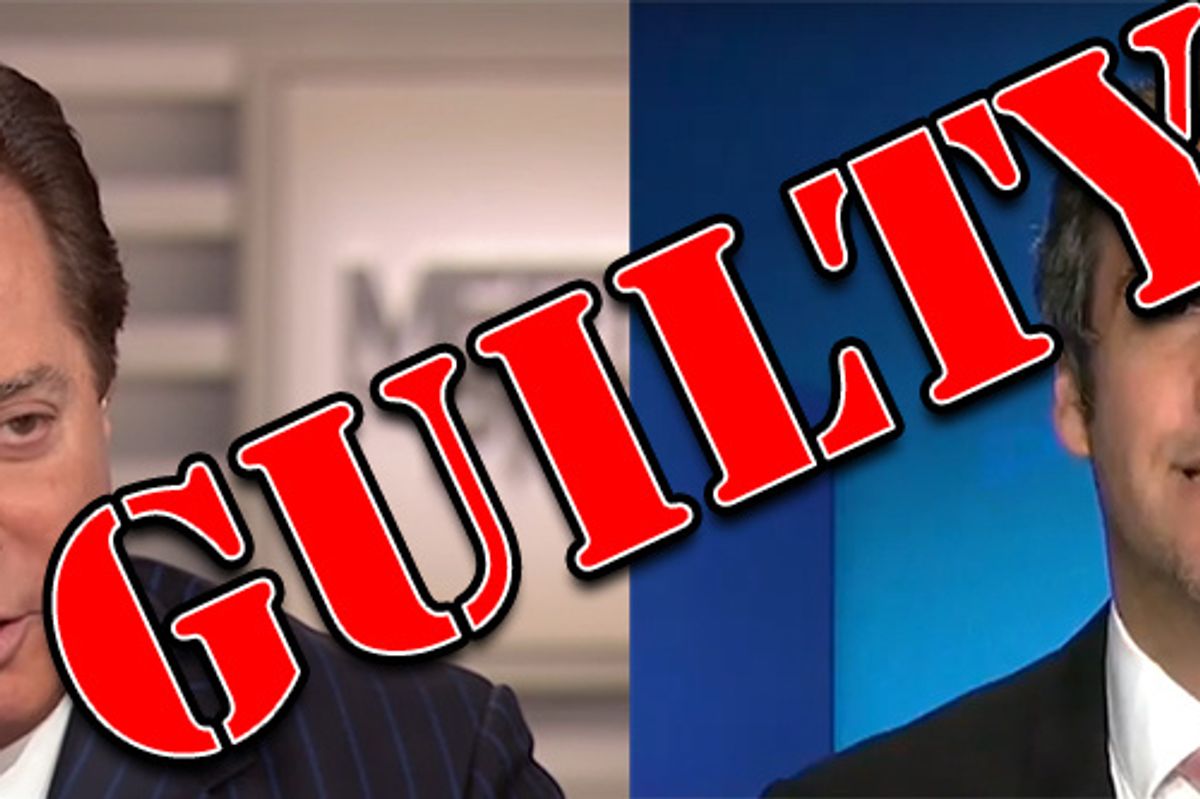 GOOD MORNING, Wonketariat! Here's some of the things we may be talking about today.
---
ICYMI: Michael Cohen PLEAD GUILTY to ALL THE THINGS (five counts of tax evasion, two campaign finance violations, and making a false statement to a bank) yesterday! Trump's personal fixer, who once bragged about taking a bullet for Trump, sobbed, "I participated in the conduct for the purposes of influencing the election," and told the court that he knew what he was doing was a crime. SHIT JUST GOT REAL!

BUT WAIT, THERE'S MORE! Paul Manafort was found GUILTY on 8 out of 18 counts of bank and tax fraud. Ever the showboat, Judge T.S. Ellis declared a mistrial on the remaining 10 charges. LOCK'EM UP!
Last night/this morning Trump's minions have been denying that Trump did anything wrong (NO COLLUSION) since Cohen's plea only indirectly references "the candidate" he helped during the 2016 election, and Manafort's guilty verdict is for Ukrainian blood money, not Russian fuckery. Trump's dumbfounded White House has remained silent, but it did spend hours on a two-sentence statement attributed to Giuliani that essentially called Cohen a liar. In West Virginia, Trump's only comment to reporters was, "the witch hunt continues." Cohen's lawyer, Lanny Davis, has spent the last 12 hours winking and nudging to Robert Mueller on TV, saying that Cohen might want to have a little chat. HHMMMMM

In a joint statement Senators Richard Burr and Mark Warner said that the Senate Intelligence Committee had "re-engaged" with Michael Cohen to find out what he knows about the June 2016 Trump Tower Meeting, noting that Cohen originally did his best Sgt. Schultz impression and said he knew nothing.
Meanwhile, over on Fox, Hannity is calling it all a nothing burger. RIGHT.
Compounding Trump's woes this morning, Robert Mueller's justice league filed court documents that say Mike Flynn (still) isn't ready to be sentenced (yet), which suggests Flynn is (still) snitching. Yesterday, Sean Hannity boosted Flynn's legal defense fund on his radio show, noting Flynn's only raised $3,948.

A DC Superior Court just bitch slapped shady Russian bank Alfa Bank, dismissing "with prejudice" a defamation suit against THE DOSSIER author, Christopher Steele, stating that it was constitutionally protected free speech. BOOM!
BUT WAIT, THAT'S NOT ALL!
Republican Rep. Duncan Hunter AND his wife were ALSO indicted last night for a re-goddamn-diculous number of campaign finance violations, including wire fraud, falsifying records, and conspiracy, according to a 47-page indictment that says both Hunter and his wife "knowingly conspired with each other" to have champagne kisses and caviar dreams at taxpayer expense.
Almost immediately after Rep. Hunter was indicted, Cook Political Report shifted Hunter's safely red CA 50th to Lean Republican, noting that Republicans are stuck with him this fall. (Your Editrix would like to know WHAT IT FUCKING TAKES to get a race shifted to "toss-up" in San Diego.)
BEFORE all the verdicts went down, Vanity Fair's Gabe Sherman wrote that Trump was in the middle of a "total meltdown," with Jared Kushner calling Trump's mood "rip-shit" as he lashed out at everyone around him upon the realization that Mueller might be wondering if DJTJ would look better in some bold prison stripes, or an orange onesie.
TODAY Politico writes that many around Trump fear that he's about to do something bat shit insane as the prospect of impeachment becomes very real, so they're trying to keep him busy and limit his Executive Time.
Trump's economic advisor Larry Kudlow is SUPER SORRY he invited a white supremacist to his birthday party. He tells WaPo that it was all a big misunderstanding, and that he's a "civil rights Republican." I don't know what that means, but according to Dok Zoom, it "could be a Republican who likes civil rights, could be a Republican who's a fucking liar and insists MLK was denouncing affirmative action."
Trump's White House is bragging that it deported a 95-year-old Nazi collaborator, hailing the ICE agents as "heroes," while the RNC grumps he lived in the backyard of Alexandria Ocasio-Cortez (wut?). The reality is that it took over a decade of backroom dealing by US State Department officials to find a country willing to accept a damn Nazi collaborator.
Sen. Elizabeth Warren just dropped a HUGE bill to ban members of Congress and White House staffers from owning individual stocks, and replace them with government-managed investment accounts in a move to kneecap corruption. It would also ban presidents and federal legislators from becoming lobbyists, bar lobbyists from using Not American money to influence US policy, create a massive new tax on "excessive lobbying," and create a code of conduct for SCOTUS judges. #ShesRunning2020
In a stunning rebuke to Trump and corporate-controlled conservatives, Republican voters in Wyoming nominated state treasurer Mark Gordon for governor over Trump-backed super rich guy Foster Friess. *Golf clap*
HEY EVERYONE! Kris Kobach's campaign website is promoting bullshit statistics from Peter Gemma, a known white nationalist and holocaust denier. SPREAD THE WORD!
Vic Berger went through a bunch of Twitter videos and tweets to show how Mike Cernovich and his wife, Shauna, admitted to doxxing CNN's Andrew Kaczynski, creating the false narrative that Kaczynski is a pedophile last year. [Video]

Take five minutes to read actress Kelly Marie Tran's op-ed in the NY Times about why she had to delete her social media profile after she was harassed by toxic MRAs and fanboys who hated the fact that an Asian woman had a leading role in a Star Wars movie.
Facebook says that it removed 652 fake pages, accounts, and groups belonging to Iran and Russia as part of a global influence and control campaign in the US, Latin America, Britain and the Middle East that dates back as early as 2012. Twitter also announced the suspension of 284 accounts for similar influence operations based out of Iran, while Youtube deleted one account. Baby steps, y'all.
Twenty-two state attorneys general (and DC) have asked a US appeals court to reinstate Obama's 2015 net neutrality rules after Trump's FCC chair/piece of shit, Ajit Pai, said states don't have a right to create their own net neutrality standards.
And here's your morning Nice Time! A Baby Colobus Monkey!!

We're 100% ad-free and reader-supported, so consider buying us coffee, or get a subscription!
Follow Dominic on Twitter and Instagram!
Dominic Gwinn
Dominic is a broke journalist in Chicago. You can find him in a dirty bar talking to weirdos, or in a gutter taking photos.