Other People's Money. Wonkagenda For Thurs., August 22, 2019
popular
August 22, 2019 09:10 AM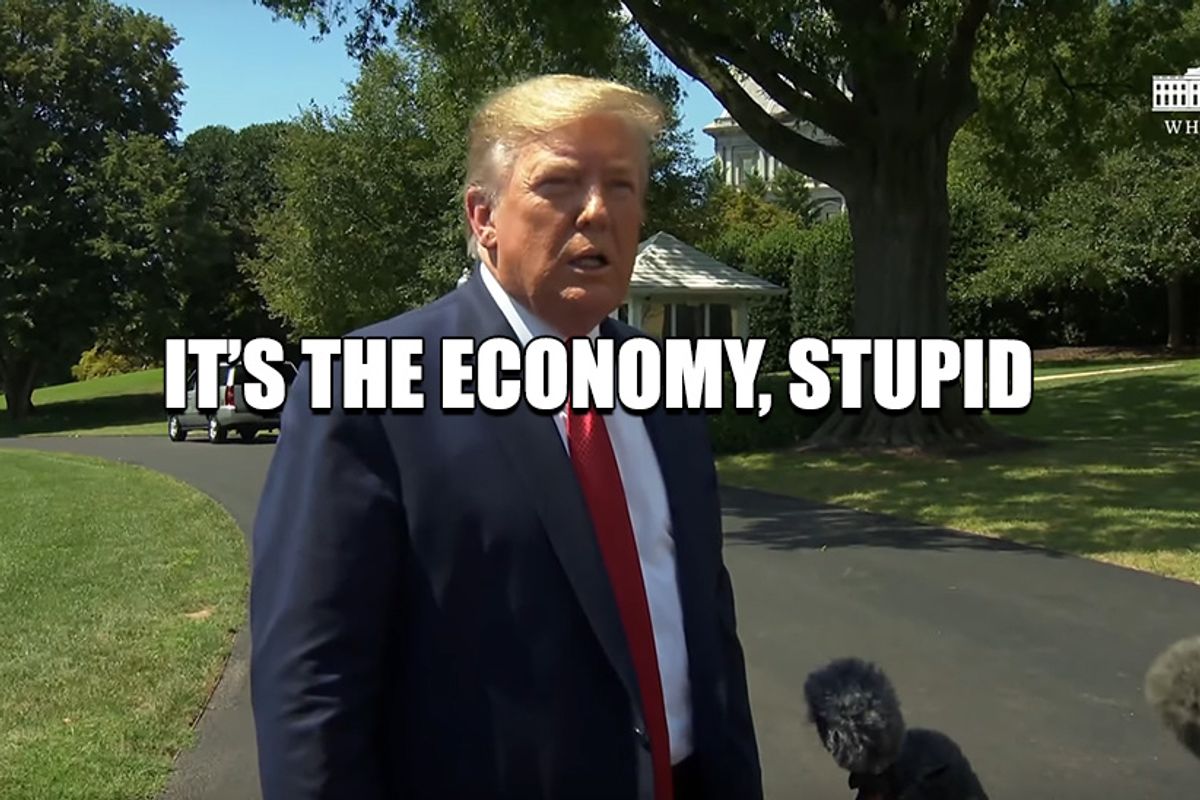 ---
Morning Wonketariat! I'm on the road again, and last night I met a big dog that didn't understand people don't shake hands with teeth, so things are a little shorter than usual. Like my fingers. (I KID! OR DO I?) Here's some of the things we may be talking about today.

---
The Wall Street Journal reports federal bean counters don't know what they're going to do if (and when) Trump tanks the economy. Yesterday Trump blithered that he WAS NOT going to cut payroll taxes (after he said he might), and that he wasn't considering additional tax cuts for the super rich (much to the dismay of Ted Cruz) because he was worried it might be seen as "somewhat elitist." Meanwhile, the Congressional Budget Office says Uncle Sam is way more broke than originally thought -- almost a trillion bucks by FY 2020 -- directly contradicting reports from the White House that Trump's tax cuts (for the super rich) and his trade war were doing bigly good things for America's piggy bank.
Instead of passing some commonsense gun laws, the administration wants to create a new federal agency inside the Health and Human Services administration to link violent crime with mental illness, not all the guns everyone has access to. The whole idea is being peddled by the Trump-loving former NBC chair Bob Wright, who knows science because Trump met him while making "The Apprentice." It honestly sounds like some Minority Report pre-crime nonsense that would violate basic tenets of the First, Fifth, and Fourteenth Amendments, so get ready for Trump to say it's the best thing ever.
After months of resistance from Trumpers, 51 state attorneys general succeeded in getting the administration to make it easier for permanently disabled veterans to qualify for student loan forgiveness. Education Secretary Betsy DeVos had tried ignoring all the warriors in wheelchairs fighting to pay off their student loans, but she was beaten into retreating a tactical advance to the rear.
After only two months on the job, Katharine Gorka has quit-fired herself as U.S. Customs and Border Protection's press secretary. Activist groups had sued DHS to find out just what the hell she was doing since she almost never held a single press availability. Gorka, the Eva Braun toi Trump World's Hungarian neo-Nazi Sebastian Gorka, tells the Washington Post, "I think they've appreciated my service, and I think people who serve in politically appointed positions understand the challenges. It's a very demanding job."
A former GSA associate administrator got a non-metaphorical drunken blowjob from a White House staffer on the roof of of the GSA building. BUT IT GETS BETTER! According to an IG report, former acting GSA administrator Timothy Horne admitted to investigators that he too got drunk "when no one else was around." The current director, Emily Murphy, admitted that she held happy hours in her office after work with immediate staffers, claiming to be unaware of the Uncle Sam's approval process for boozy parties.
The Guardian reports Interior Secretary David Bernhardt has been working on a fracking project being peddled by his former lobbying firm. A Bernhardt spox says he's definitely not violating any ethics rules, and that he's simply seeking "advice" from the people involved, like his former high school teacher. Also, any blowjobs in this case are strictly metaphorical.
Washington Gov. Jay Inslee dropped out of the 2020 Democratic presidential race last night during an appearance on Rachel Maddow. Inslee, who had centered his campaign around fighting climate change, told Maddow, "It's become clear that I'm not going to be carrying the ball." Inslee hinted that he's thinking about running for a third term as governor; while he dodged the question on live TV, others confirmed to the AP that He's Running. [Morning Maddow]

BREAKING: Washington Governor Jay Inslee tells Rachel #Maddow that he is exiting the 2020 Democratic presidential p… https://t.co/UV6gmEcF2w

— Maddow Blog (@Maddow Blog) 1566436414.0
Former Colorado governor and 2020 Democratic presidential candidate John Hickenlooper finally announced he's RUNNING FOR THE FUCKING SENATE. Hickenlooper is challenging Republican Sen. Cory Gardner, who has long been considered one of the most vulnerable Republicans after early polls showed Hickenlooper stomping his ass in a general election. Gardner's campaign tells the Denver Post that Hickenlooper is merely "another liberal in the clown car," which a little ironic considering how much Gardner sides with the circus we call the Trump administration. [Video]

John Hickenlooper running for US Senatewww.youtube.com
The Democratic Association of Secretaries of State is targeting five red states as part of a campaign to flip the office of secretary of state. In addition, the campaign hopes to recruit candidates and educate people about the importance of the office in stopping election fuckery. They've even got a nifty little video!

Turn the Tablesyoutu.be
A 37-year-old hotel cook in Long Beach, California has been arrested for threatening to shoot up his workplace following a dispute with coworkers. The LA Times reports police found tons of guns and ammo, including assault rifles and high-capacity magazines. Authorities say there didn't seem to be anything legally preventing him from owning any of the guns, but added he had "clear plans, intent and the means to carry out an act of violence that may have resulted in a mass casualty incident."
The Walmart in El Paso, Texas, that was the scene of a mass shooting is set to reopen, and it's asking employees and members of the community for help designing a memorial.
Brazil's wannabe Donald Trump, Jaiar Bolsonaro, is blaming wildfires in the Amazon on tree hugging NGOs who want to make him look bad. Bolsonaro has made deforestation a centerpiece of his short tenure in office, siding with logging companies over hippies who put the Earth's oxygen cycle and indigenous people first.
And here's your morning Nice Time:SOME FREAKIN' BEAUTIFUL PLANTS! Oh, and this guy here is Joey Santore, the cussing former Chicagoan you know and love from Dok's Nice Things feature. He's a 36-year-old freight train operator out of Oakland who taught himself botany.

Breaking One's Ass to See a Rock-Daisy, Starring Hantaviruswww.youtube.com
Follow Dominic on Twitter and Instagram!
We're 100% ad-free and reader supported, so consider buying us coffee, or get a subscription!
Dominic Gwinn
Dominic is a broke journalist in Chicago. You can find him in a dirty bar talking to weirdos, or in a gutter taking photos.