It Gets Worse. Wonkagenda For Thurs., August 29, 2019
popular
August 29, 2019 09:13 AM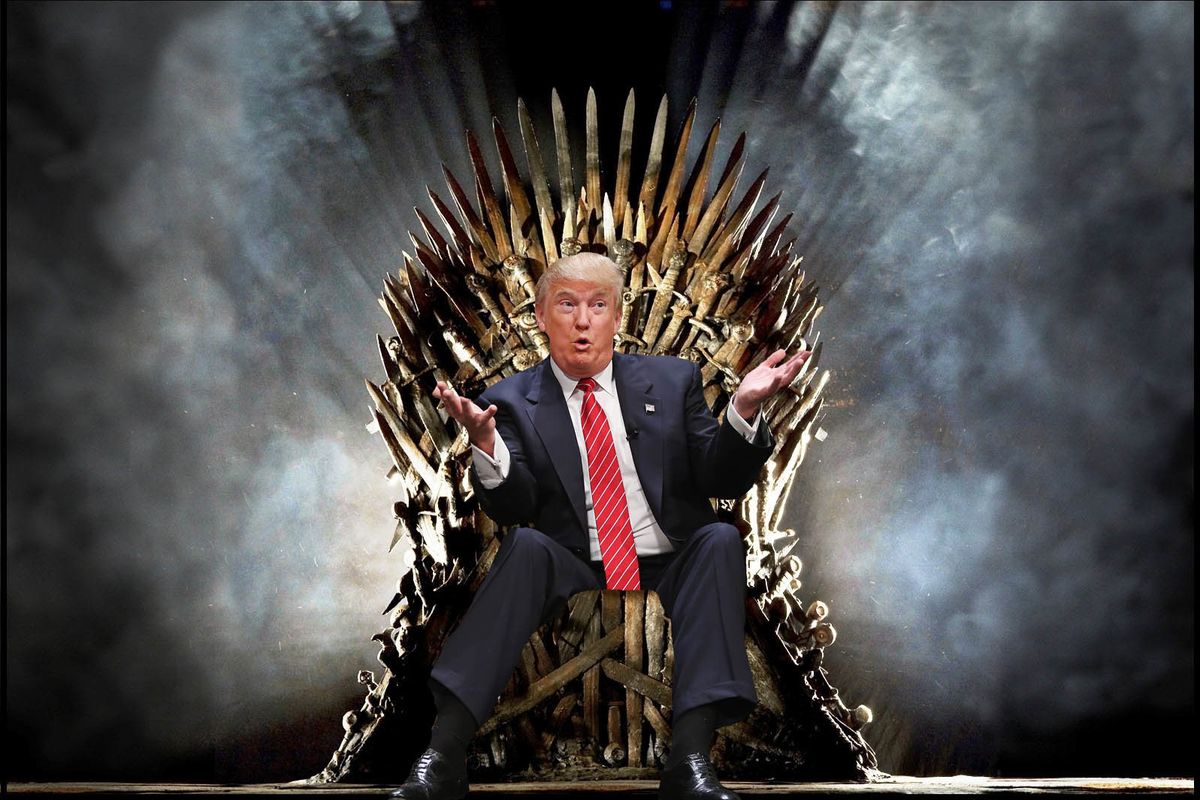 Morning Wonketariat! Here's some of the things we may be talking about today.
---
US Citizenship and Immigration Services has issued a wonky AF new policy revoking automatic citizenship for some children of US military members and government workers stationed overseas -- if their parents have lived in the US for less than five years, and are not currently US citizens themselves. Simply put: starting Oct. 29, some parents of children born outside the US will have to apply for citizenship on behalf of their kids. In a tweet, Acting USCIS Director Ken Cuccinelli says, "people are freaking out over nothing," and that this was simply bringing USCIS policy in-line with the State Department, but a number of foreign policy nerds, immigration attorneys, godless liberals, and knuckle draggers in the military worry that there's no guarantee Uncle Sam will rubber stamp new citizenship applications, and that all part of the administration efforts to make it harder for legal permanent residents serving in the military to become US citizens.

Ok, before I scream into the void and log off. There are two ways to aquire citizenship automatically. 1. At Birth… https://t.co/JNAA97F0iT

— David Kubat (@David Kubat) 1567027347.0
Conservative rags are screaming about the DHS barring Democratic staffers from the House Oversight Committee from visiting Trump's baby jails along the southern border for ALLEGEDLY being mavericks and causing "disruptive" behavior during their last trip. DHS officials tell Fox News the staffers "interfered" with authorities watching over the concentration camps detention facilities, and that they were "rude" to officers. The committee's ranking Republican, Republican Rep. Jim Jordan, says congressional staffers were mean to officials and likened them to Nazis, adding that staffers had been "secretive" about their itineraries, visits, and meeting locations, or were getting guidance from "LIBERAL SPECIAL INTERESTS" like the Southern Poverty Law Center. Fox News says the Capitol Hill rumor mill claims staffers found the baby jails worse than the administration had let on (natch), but DHS Assistant Secretary of Legislative Affairs Christine Ciccone told House Oversight chair Elijah Cummings that the staff had told DHS officials staffers weren't going to follow the rules, and intended to "conduct interviews and take photographs." The nerve of some people!
The EPA is expected to roll back rules controlling methane emissions, a major contributor to climate change, because they hurt the delicate feefees of the oil and gas industry.

The administration's gutting and scattering of Bureau of Land Management employees across the West has pissed off a number of Democrats in Congress, so the outgoing assistant secretary for land and minerals management at the BLM is threatening to withhold jobs in those Dems' states. Policy wonks argue that the administration needs congressional authority to decapitate the agency, but it's not like rules, regulations, or a lack of constitutional authority has stopped Trump World, has it?
Democrats are super pissed about Trump saying he would just pardon his minions if they commit crimes in order to expedite building his goddamn wall before the 2020 election. Several Democrats on the House Judiciary Committee are adding this incident to the ever growing list of impeachable offenses.
Sen. Johnny Isakson (R-Georgia) plans to resign at the end of the year due to "health challenges," including the progression of Parkinson's. Political wizards note Isakson's resignation opens another 2020 Senate seat that's just ripe for the Democrats' taking. Right out of the gate, Stacey Abrams said #ShesNotRunning so that she can focus on leading "voter protection efforts in key states across the country, and make sure Democrats are successful in Georgia in 2020." Isakson's term runs through 2022, so a special election will be held to fill the remaining two years of Isakson's term.

New York Democratic Sen. Kirsten Gillibrand has ended her 2020 campaign after failing to make the cut for the September debates. In a video, Gilliband says, "It's important to know when it's not your time," and that Democrats (and Never Trumpers, and everyone else) should focus on defeating Donald Trump in 2020. Politico recalls the Gillibrand campaign's more notable gimmicks, like the time the Senator bartended at Iowa's oldest gay bar, participated in a Des Moines drag show, and arm wrestled college students.

Today, I am ending my campaign for president. I am so proud of this team and all we've accomplished. But I think i… https://t.co/ng1hhWKuwU

— Kirsten Gillibrand (@Kirsten Gillibrand) 1567028133.0
DINO Rep. Tulsi Gabbard went on Tucker Carlson's white supremacist power hour (again) to cry about being left out of the September debates. Gabbard complained about a "lack of transparency" in easily obtainable rules for the September debates, whining (as usual) that the party was being controlled by elite super cops who sex their way to power in order to disenfranchise her. Bye, Felicia!
The UK has gone insane after Prime Minister Boris Johnson announced he was suspending Parliament just prior to Brexit. As massive protests broke out yesterday, a million people signed on to a petition opposing Johnson's move.
In an exceedingly rare press conference at the Pentagon, Joint Chiefs Chair Gen. Joseph Dunford said he didn't want to use the word "withdrawal" when talking about whether or not Trump was pulling US forces out of Afghanistan. The presser comes as the administration continues negotiations with terrorists in political representatives of the Afghan Taliban. In an op-ed in the Washington Post this morning, Republican Sen. Lindsey Graham and retired US Army Gen. Jack Keane criticize Trump's rumored pullout of all US forces in the country, and muddle some of the history in the region.
During that same presser, Trump's newly minted Defense Secretary Mark Esper gave a full throated endorsement of the US Space Command (formerly known as the SPACE FORCE!). Later today Trump will officially establish the US Space Command under the umbrella of the US Air Force.
Remember way back in June when Iran ALLEGEDLY attacked oil tankers, and then a US surveillance drone was shot down over the Strait of Hormuz? At the time Trump claimed he called off an airstrike that would have killed a bunch of people, but the New York Times reports that US Cyber Command launched a cyber attack against Iran's Revolutionary Guard Corps (IRGC), specifically targeting a database that helped the IRGC track oil tankers. The attacks were apparently so successful that Iran has yet to fully recover, but that has some cyber and defense nerds worried the US played a good hand too early in the game. [Dom, that is not how poker works. You can't save a good hand for later -- Dok]
Former Secretary of Defense and retired Marine Gen. Jim Mattis is sounding off about his time in Trump World. Yesterday Mattis penned an essay in the Wall Street Journal where he talks about being dragged back to DC. In addition, Jeffrey Goldberg also has a super long interview with Mattis in The Atlantic this morning where he gabs about walking away from the White House after all the lunatics began running the asylum.

Ring, one of those doorbell-camera companies, has been sharing video footage with over 400 local police forces across the country. According to the Washington Post, the company gives users the option to decline police requests to view footage, but privacy advocates argue the systems create paranoid assholes, and cause a host of problems in legal grey areas.
Some rich jackoff who claims to have invented Bitcoin has been ordered to pay the estate of his alleged late partner billions of the internet's magical funny money. The rich asshole says he can't pay anything to the estate until 2020 when (like the end of Back to the Future 2) a bonded courier delivers him keys to the encrypted fake money.
Buzzfeeds reports the owners of the conservative rags The Weekly Standard (RIP) and Washington Examiner wanted to consolidate their hold over the conservative brain space by buying The Federalist. The deal ultimately fell through, but added more fuel to the meme fire of #WhoFundsTheFederalist? The Federalist's publisher, Ben Domenech. has been particularly butthurt on Twitter, calling a black writer an "ignorant racist," and claiming the reporting of publicly available information was "doxxing."
ProPublica has a great story about how the NRA has been fighting sexual harassment allegations between one of its well-paid suits and an employee. The initial complaint was settled in 2017 using the NRA's donor cash, but then (of course) it happened again.
Beto O'Rourke's campaign kicked out a hack for Breitbart, Joel Pollak, from a campaign event in South Carolina. Beto's campaign has defended the move, telling Politico that Breitbart "walks the line between being news and a perpetrator of hate speech," and that Pollak has a history of "hateful reporting on the sensitivity of the topics being discussed with students at an HBCU." In a twist, several mainstream journalists have defended and shared Pollak's story, including the non-profit journalism institution Poynter, which called the move "flat-out wrong and a really bad look" for Beto's campaign. Vox explains that Pollak has defended white nationalists in Charlottesville and ALLEGED pedophile Roy Moore, and that even Steve Bannon has acknowledged Breitbart isn't a "legitimate" news outlet.
Kaitlin Bennet, the so-called "gun girl" of InfoWars, is crying about being attacked by Republican Rep. Dan Crenshaw, after he accused her of seeking "attention, not advocacy" for gun rights. Crenshaw cries that "gun girl" is only trying to build a political career out of fake outrage,which would be toally different from that time Crenshaw forced SNL's Pete Davidson to apologize on-air for saying Crenshaw looked like "a hitman from a porno." In a video reading a lengthy DM from Crenshaw, Bennet says she was tempted to call him a "soy boy" and a "child," but says she decided to to keep it cool instead.Good thing she didn't say any of that, then!
And here's your morning Nice Time:Otters!

Adorable Rescued Otters Get Summer Treatwww.youtube.com
Follow Dominic on Twitter and Instagram!
We're 100% ad-free and reader supported, so consider buying us coffee, or get a subscription!
Dominic Gwinn
Dominic is a broke journalist in Chicago. You can find him in a dirty bar talking to weirdos, or in a gutter taking photos.