How You Like Him Now? Wonkagenda For Fri., Aug. 31, 2018
SCOTUS
August 31, 2018 09:06 AM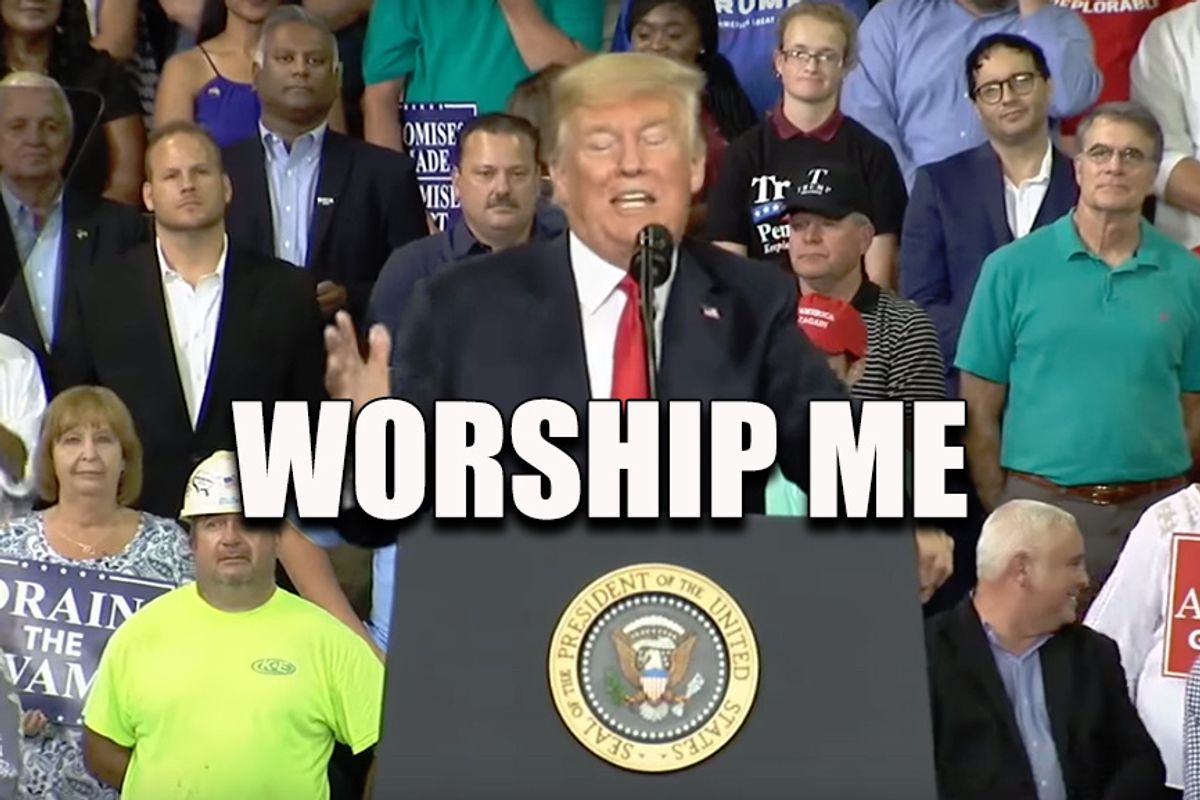 Morning Wonketariat! Here's some of the things we may be talking about today.
---
In a new interview with Bloomberg, Trump defended taking a giant dump on the corpse of Sen. John McCain, doubled down on anti-trust threats against Google, Facebook, and Amazon for banning conservative crackpots and conspiracy theorists, screamed that he'll keep Jeff Sessions and his mouth of marbles around until after the midterms, and refused to acknowledge Allen Weisselberg flipped on him.

Trump is getting ready to drop another $200 billion in taxestariffs as soon as next week, prompting economists to admit that Trump has dragged the US into a legitimate trade war as Trump threatens to pull the US out of the WTO, and doubles-down on trade threats against the EU.
WaPo's Ashley Parker breaks down how Trump's insane tweet storms and media attacks are an effort to keep his supporters hooked (like crack addicts) and embolden him to argue that he's the only one who can be trusted.

Trump held another MAGA rally in Indiana to distract his sycophants from the death of John McCain. Trump bitched about the DOJ and FBI, again threatening to "get involved" in the Trump-Russia investigation. At one point during the rally, one of Trump's henchmen was photographed blocking a photojournalist from photographing a protester. Railing against the press as "the enemy of the people," Trump threatened to "lock her up," and claimed that nobody has ever had better poll numbers in the history of poll taking. [Fact Check and History Lesson]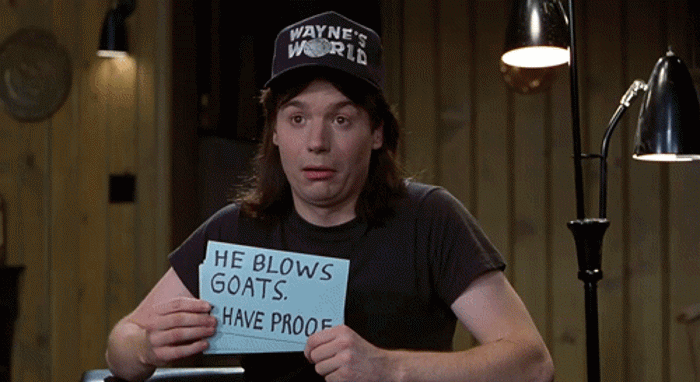 According to a new ABC News/WaPo poll, Trump's disapproval rating is now at 60 percent, 53 percent of people believe Trump interfered with the Trump-Russia investigation, and impeachment is at 49/46 percent for/against, respectively. #LOWRATINGS

Axios's Mike Allen was hanging out in another mens room and found what evidence Robert Mueller might have in the Trump-Russia investigation. With almost 60 days before the midterms, reporters are sitting on pins and needles today as they wait for another indictment. We got $5 on Roger Stone!

Mike Pence sat down with the Christian Broadcasting Network ('cause Jesus) to trash talk the press, bemoan impeachment of his God Emperor, and gaslight about the antifa super soldiers coming to burn down the government.
Trump's DOJ is backing a suit by Asian-American students accusing Harvard of racial bias. They say that they were rejected due to affirmative action policies that let in black and Latino students, and the white supremacists are lapping it up.
Bank of America denies it's been freezing the accounts of people it suspects aren't US citizens. In their defense, executives are saying that this is 'Merica, and if you don't like it you can geeeet out!
Democrats will call former Nixon White House counsel John Dean to testify against Brett Kavanaugh after discovering a piece Kavanaugh wrote that suggested Nixon was above the law and got a raw deal. Meanwhile, Sen. Chuck Grassley is mansplaining to Dianne Feinstein that Senate Democrats can't share what few documents they have about Kavanaugh in order to prepare for the hearing.
To prep for the hearing, Kavanaugh's creeps are running mock Senate hearings complete with fake protesters, fancy sets, Lindsey Graham, and master political thespians to mimic the style of those damn dirty liberals.
Utah Republican Sen. Orrin Hatch licked his quill and scrawled a letter signaling his intention to reopen an five-year-old investigation into Google for what he says are "disquieting" reports about manipulation of search results from idiots. He then hopped in his Model T and rode on down to the Water Buffalo Lodge.
A new report from the DOJ says that there's technically no law against hacking a voting machine. This is based on a very ignorant and narrow definition of computers and cyber crime, and has left good guy hackers frothing at the mouth.
It's still too early to be thinking about it, but Vanity Fair poses an interesting question: What about Beto for 2020?
A California man has been arrested for repeatedly sending anti-gay slurs and death threats to the Boston Globe following its op-ed campaign to defend journalists. Authorities found more than 20 guns in his home; his wife said the poor snowflake sometimes gets "triggered" and goes on rants.
A skeleton crew is holding down the Llano, Texas, police force after a string of resignations, suspensions and quit-firings stemming from crooked cops' unlawful arrests, including trying to pick a lock at a home to arrest a man.
In its latest bid to create a new world order, Russia is accusing the US of a false flag chemical attack in Syria that hasn't happened yet.
This video of British Prime Minister Theresa May dancing in Kenya is the saddest and whitest thing you'll see today, and it's even worse after reading how Kenyan President Uhuru Kenyatta called out decades of two-face British bullshit to May's face. [AMEH, DOM.]
Ronan Farrow's original Harvey Weinstein rape expose was killed by top douchenozzles at NBC, according to new reporting by the Daily Beast and New York Times. NBC says that's bullshit from a disgruntled former executive who quit in protest, and that Farrow didn't have any credible witnesses. Farrow went on to publish the story with seven witnesses two months later.
A group of over 1,000 rescue workers are urging Congress to bring back net neutrality after Verizon started throttling the data of firefighters battling California wildfires -- too bad the FCC also killed first responders' ability to complain to the FCC.

A federal appeals court has ruled the FCC has the power to decide if a broadband market is competitive even if there's only one ISP. The court ruled the FCC can "rationally choose which evidence to believe among conflicting evidence." Hope you like overpriced crappy internet, losers!
Trumpists and Tea Party crazies keep threatening to create their own Trump-approved social networks, but they're all too stupid to figure out that they already exist, and are trash.

Buzzfeed Editor Ben Smith has some regrets about helping to create the current state of political journalism. Thank Crom we've killed the stupid sports metaphors.

Colin Kaepernick's collusion case against the NFL will move forward after an arbitrator said there was more than enough evidence to suggest the NFL tried to keep him off the field for protesting against nonjudicial police killings of black people.
A judge has given the greenlight to a defamation suit against Alex Jones brought by the parents of Sandy Hook victims after Jones thought it would be cute to dox them and say their six-year-old's murder was a "false flag."
Strap on your thinking caps and read Nick Bilton's piece about the engineering exodus from Silicon Valley as aging millennials grow weary of accidentally adding to the surveillance state, creating a robot army, or building the cyberpunk dystopia ruled by ubercapitalists and Donald Trump that the 1980s warned about.
ReCode's Kara Swisher sat down with historian Louis Hyman and talked about how the "gig economy" is nothing more than unsustainable temp work, and how the idea of 21st century economic success was created by women (who are still treated like garbage).

And here's your morning Nice Time! Oh, lordy, it's a dog's life with Topi the Corgi!

We're 100% ad-free and reader-supported, so consider buying us coffee, or get a subscription!
Follow Dominic on Twitter and Instagram!
Dominic Gwinn
Dominic is a broke journalist in Chicago. You can find him in a dirty bar talking to weirdos, or in a gutter taking photos.