DON'T SHOOT THE HURRICANE! Wonkagenda For Tues., Sept. 3, 2019
popular
September 03, 2019 08:58 AM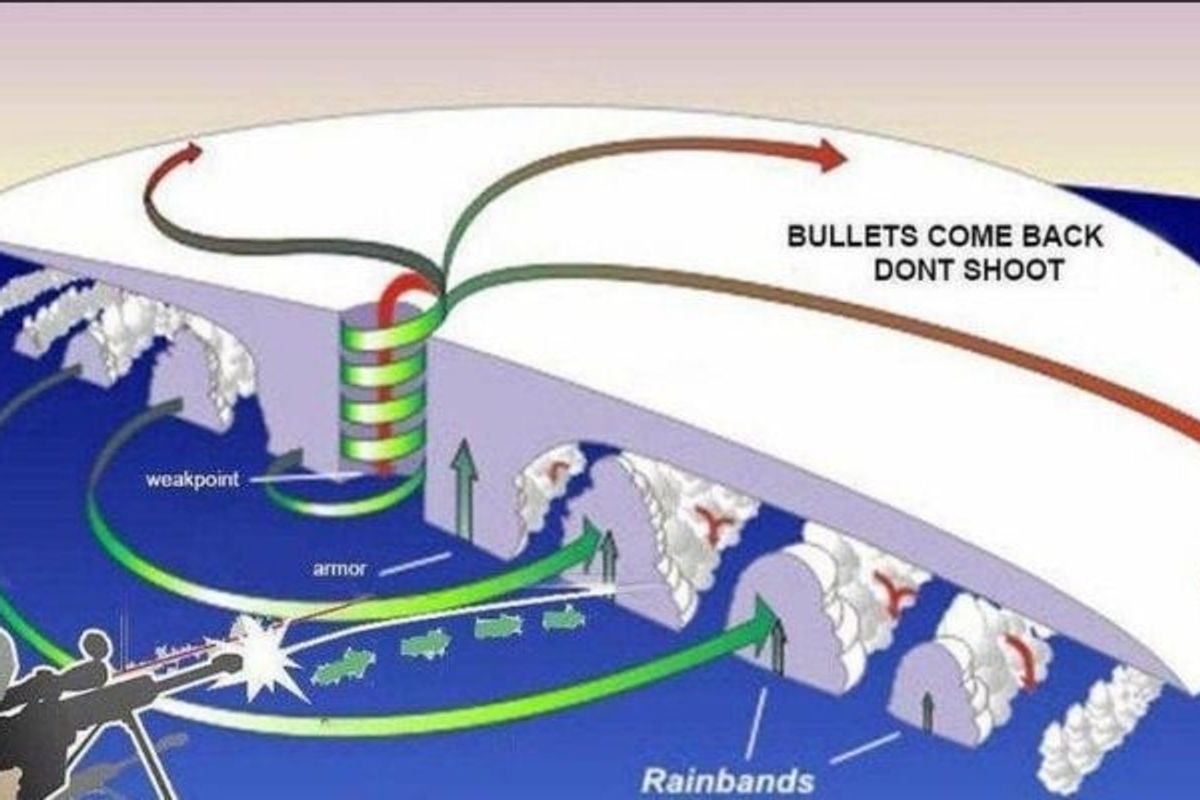 Morning Wonketariat! Here's some of the things we may be talking about today.
---
FIRST THINGS FIRST: Here's NOAA's live trackers for all major storms in the Atlantic region, including Hurricane Dorian. As of early o'clock this morning, Dorian had ravaged the Bahamas after stalling out over the islands, and is now believed to be on track to skirt the East Coast -- from Southern Florida to the Carolinas. The National Weather Service still hasn't ruled out a "direct landfall" in Florida, and is still urging caution and warning about the possibility of high winds, rain, and rising storm surge. [Forecasts]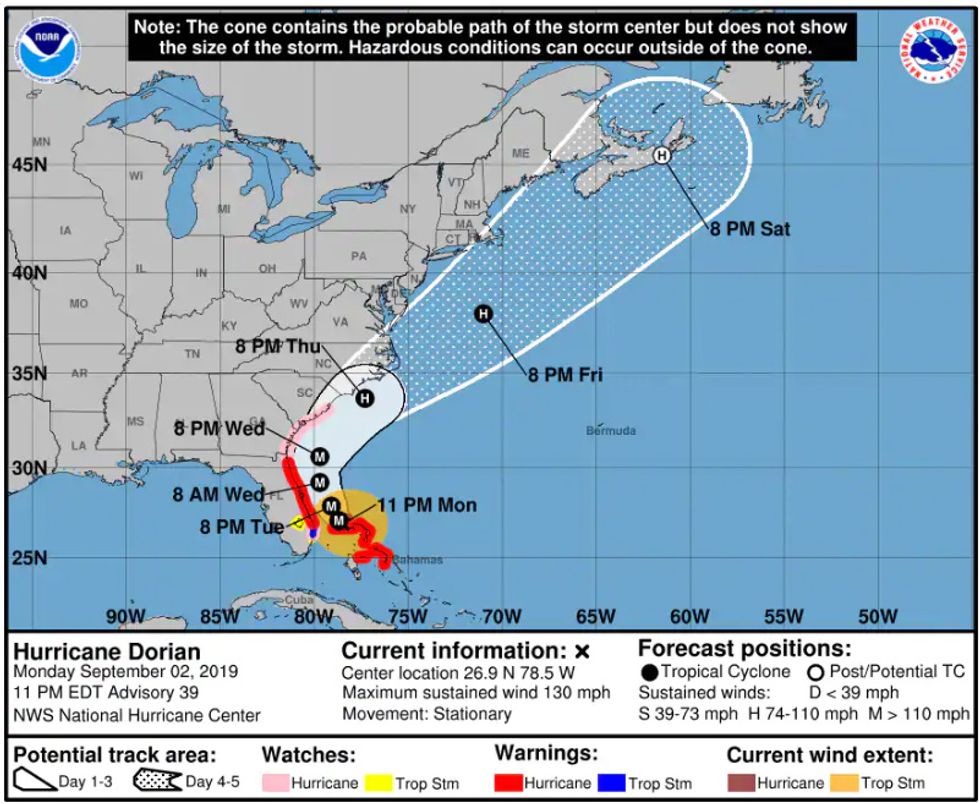 While the southern East Coast spent the weekend boarding itself up in preparation for Dorian, Trump was golfing and shitposting misinformation about the storm as it unfolded. The New York Times writes Trump was "assuming the role of meteorologist in chief, adding weatherman-style updates" to his usual shitposts about states that wouldn't even be affected by Dorian. Brian Stelter has the time stamps of Trump's shitposts and the local meteorologists calling him on his bullshit. If you feel the need to punish yourself further, the Washington Post's Capital Weather Gang write that Trump's astonishing ignorance "could slow the government's response to such disasters."

Alabama will not be impacted by Dorian in any way. https://t.co/QKq10l6SXA

— James Spann (@James Spann) 1567351882.0
A mass shooting in Odessa, Texas left seven people dead and 23 injured on Saturday. Federal and local law officials say the suspect called the FBI tip line and local police and made "rambling" statements without making a specific threat the morning before the shooting. About 15 minutes later, the suspect was pulled over by state troopers, and began shooting at officers with a military-style rifle. Texas Gov. Gregg Abbott says the suspect had failed a background check and it's unclear how he was able to obtain the assault weapon used in the tragedy.

Poway: AR-15 Aurora: AR-15 Dayton: AR-15 Odessa: AR-15 Orlando: AR-15 Parkland: AR-15 Las Vegas: AR-15 Tree of Life… https://t.co/kL3FZL23m9

— Michael Skolnik (@Michael Skolnik) 1567365107.0
The recent spate of shootings has sparked debates about gun control among 2020 Democratic candidates. While some candidates are calling for all out bans on assault weapons, moderate candidates suggest working with Republicans to pass background checks and "red flag" laws.
The Washington Post says 2019 was "Trump's Lost Summer" after the divider-in-chief spent the last few months pouring rocket fuel on his own dumpster fires. Exhausted aides gossip to WaPo, "wake us when it's over."
National Security mustache John Bolton seems to be on the outs of Trump World after constantly pressing Trump to go to war with everyone on his own personal shit list. Not only has the West Wing's war hawk been largely sidelined from the peace negotiations with the Afghan Taliban, but he's been picking fights with other loyalists, forcing him to beg Mick Mulvaney for a seat at the conference table whenever the Trump Show airs.
A company owned by Trump's 2020 campaign manager and pubic beard aficionado, Brad Parscale, has been paid almost a million dollars by Trump's primary PAC. The shady company was originally reported to be owned by Parscale's wife, but Parscale later told CNN he didn't want to come forward as the owner because there weren't any available records connecting him to the Delaware-based company because his wife incorrectly filed paperwork listing her as a "member" (which usually means owner). Parscale whines, "This is a disgusting trick to make a very simple thing look nefarious," adding, "This is a perfectly legal and appropriate arrangement, which is firewalled, with zero chance for coordination." Spoiler alert: AYFKM?
Axios gossips that Trump World is trying to raise $2 million to investigate reporters and editors at major media outlets "producing the news." The idea is to root around the bowels of reporters for a bunch of dirty shit, and then pass it on to "friendly media outlets" like Breitbart. This is all part of Trump's 2020 strategy which intends to double down on social media ads in order to distract from headlines that make him look like A Idiot who can't stop lying.
Politico says it's looking more and more like the
2020 Democratic primary has narrowed to
Joe Biden, Bernie Sanders, and Elizabeth Warren. While much of the press focus on Biden and Warren, over the weekend Sanders previewed a
plan to cancel medical debt,
Sen. Amy Klobuchar outlined a plan to
combat climate change,
and former Rep. Beto O'Rourke said,
"This is fucked up" live on CNN
when asked about the mass shooting in Odessa, Texas. Meanwhile, a number of other low-polling candidates are releasing statements that yes, #TheyAreStillRunning after failing to meet the requirements for this month's debate. BONUS: Beto's camp is also selling
"This is fucked up" t-shirts
with 100 percent of the proceeds benefiting March For Our Lives and Moms Demand Action.
Pete Buttigieg's 2020 campaign has started to rapidly expand its ground game in early primary states. Political wizards note that Butters has schmoozed a bunch of deep pocketed donors, but has so far failed to do the same with voters throughout fly-over country.
Later today West Virginia Democratic Sen. Joe Manchin is expected to announce one of two things: He'll either run for governor (again), or stay in the Senate. Political wizards note Manchin remains popular throughout the state, and could give the state's rich turncoat Republican Gov. Jim Justice a run for his money if he announces #HesRunning. The rumor mill on the Hill is that Manchin is bitching about a lack of executive authority, and the impotence gripping the Senate under #MoscowMitch.
The race to replace Kansas Republican Sen. Pat Roberts in the Senate got more interesting after Usha Reddi announced #ShesRunning for the Democratic Senate nomination. The Mayor Pro Tem of Manhattan, Kansas, Reddi joins former US attorney Barry Grissom and former Rep. Nancy Boyda in trying to become the first Democratic Senator elected to the state since 1932. Reddi hopes to become the first Hindu elected to the Senate, and tells McClatchy that Laura Kelly winning the governorship and Sharice Davids winning her district suggest "a strong momentum for something different."
Vice President Mike Pence went to Poland and said mean things about Russia just days after Trump suggested inviting Putin to the 2020 G7 summit. During a presser, Polish President Andrzej Duda pushed back on Trump's cozying up to Russia, stating, "This is my position, and I don't hesitate to express it." Pence's minions insist he and Trump are on the same page, but he and Pence "may have different ways of expressing Russian concerns." On Sunday, the 80th anniversary of the Nazi invasion of Poland -- the start of World War II -- Trump congratulated Poland for some fucking reason. BONUS: Russia's Foreign Minister glossed over the decades of Soviet occupation of Poland in a tweet by saying, "it was the Soviet Union that routed Nazism, liberated Europe and save European democracy." Pence is now in Ireland for meetings with Irish officials, and it was "suggested" that Pence stay at Trump's Doonberg golf course. Multiple reporters have pointed out that Trump's trash palace is several hours away, forcing Pence to fly (at the taxpayers expense) to the meetings. Pence's minions defended his stay by saying the stay won't be free, and that the State Department signed off.

Both Trump and Pence are at Trump properties at this moment on Labor Day. Trump is at his golf course in VA while P… https://t.co/KyMJVakk0T

— Jim Acosta (@Jim Acosta) 1567443809.0
Former White House aide Madeleine Westerhout wasn't just quit-fired for calling Tiffany Trump fat. Maggie Haberman gossips that Westerhout had been chapping the asses of Trump World loyalists who let Trump do whatever he wants. Unfortunately for them, it doesn't seem like Westerhout ever signed a non-disclosure agreement, which would also have been illegal on its face anyway.
Playboy White House correspondent Brian Karem went on CNN and told Brian Stelter that he's not going to apologize for being "provocative" and a "smart-aleck" because "That's OK, under the First Amendment." Karem is suing Trump's White House for suspending his hard pass for 30 days for joking that Trump World's resident Nazi sympathizer Sebastian Gorka was part of a group "eager for demonic possession" during a Rose Garden press gaggle. The joke prompted Gorka to goose-step towards Karem and throw a tantrum. [Reliable Sources]
A Virginia judge in Devin Nunes's cow lawsuit has asked Twitter to reveal the names and addresses of the people behind the account making fun of California's fake farmer. In addition, the judge wants to know how much money Twitter made in 2018, and the first half of 2019, as well as how many residents in Virginia have Twitter accounts. Privacy geeks point out that Twitter has a habit of giving the single-finger salute to Uncle Sam whenever he demands personal information about Twitter users.
A posh neighborhood in San Jose, California, has a mysterious problem with FREEDOM COWS! Residents have complained that a herd of cows has been appearing at night to graze upon lawns and flower beds for the last two months. One local resident told the San Jose Mercury News, "We turned on the sprinklers, but they just stood there and took a shower."
And here's your morning Nice Time: BABY RUTH, THE SLOTH!

Sloth Loves Her New Habitat | Dallas Zoowww.youtube.com
Follow Dominic on Twitter and Instagram!
We're 100% ad-free and reader-supported, so consider buying us coffee, or get a subscription!
Dominic Gwinn
Dominic is a broke journalist in Chicago. You can find him in a dirty bar talking to weirdos, or in a gutter taking photos.