'Unsung Success.' Wonkagenda For Wed., Sept. 12, 2018
popular
September 12, 2018 08:00 AM
Morning Wonketariat! Here's some of the things we may be talking about today.

---

With less than 48 hours before Hurricane Florence makes landfall, officials are warning people from Virginia, the Carolinas, and Georgia to head for the hills as the storm threatens to increase to a Category 5, and cause massive damage if/when it stalls just off the coast. Luckily, Trump says we're about as prepared as we were for Hurricane Maria ...

Rachel Maddow reports that the Trump administration moved almost $10 million from FEMA's emergency response budget to ICE so that Trump could beef up his baby jails weeks away from hurricane season. Trump's DHS denies the transfer and called it fake news, but Democratic Sen. Jeff Merkley has the actual documents and says that's bullshit. [Morning Maddow]

Hurricane Florence threatens to cover the Carolinas in toxic waste, raw sewage and pig shit as many farm and industrial waste repositories litter the area smack in the middle of storms path. #MAGA

The governor of Puerto Rico Ricardo Rosselló rejected Trump's brag that the rebuilding of Puerto Rico following Hurricane Maria was "one of the best jobs that's ever been done." San Juan Mayor Carmen Yulín Cruz echoed the sentiment in more pointed comments to MSNBC's Chris Matthews when she said, "It just goes to the lack of understanding of reality that he has."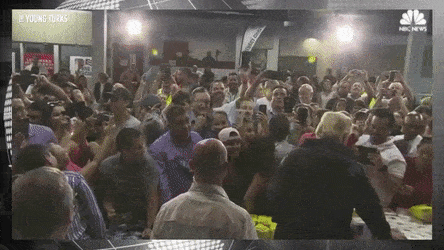 Chris Christie is denying an account from Bob Woodward that Trump bitched him out and accused him of stealing from his campaign coffers. Even after Oreo-Gate Christie is still defending him. SAD.

According to Woodward, Lindsey Graham has become Grima Wormtongue; manipulating Trump for his own personal gain, being rewarded with Oval Office visits and free golf trips, and was even offered an ambassadorship to a "shithole country."
Rob Porter and Gary Cohn are claiming Woodward is a lying liar who paints a "selective and often misleading portrait" of their time in Trump's White House in three remarkably similar statements that echo talking points pushed by Sarah Huckabee Sanders.
George Papadopoulos and his wife found a blurry picture of two people they claim are part of a #DeepState conspiracy to frame Papadopoulos for lying to the FBI about his Trump-Russia fuckery. I've seen more convincing photos of Big Foot's dick.
The Koch brothers have lost a court fight to hide their largest donors from law enforcement in California. According to the ruling, "The mere possibility that some contributors may choose to withhold their support does not establish a substantial burden on First Amendment rights."
Officials in Trump's White House are trying to trick him into signing an executive order that would sanction Not Americans suspected of screwing with US elections, and give the director of national intelligence the ability to work with other agencies to identify and implement the sanctions.
BREAKING NEWS: The Senate is now in play as new polling shows Democrats in battleground AND traditionally red states polling ahead of Republicans! HOT DAMN!
Mitch McConnell wants to keep the Senate in session throughout October so he can screw Democrats out of time on the campaign trail, and stack lower courts with more super conservative judges. Yesterday, McConnell compared Republicans' fight to retake the Senate to a "knife fight in an alley."
Allison Jones Rushing is the 36-year-old judicial nominee for the US 4th Circuit Court of Appeals. She has no rating from the American Bar Association due to her lack of judicial experience. A former clerk for Neil Gorsuch, she's an example of who Trump and McConnell are attempting to place in permanent positions on lower courts. YOU'VE BEEN WARNED!
The House Freedom crazies are revolting against each other in a cloak and dagger bid to make Rep. Jim Jordan the House Speaker/minority leader, but musty old swamp creatures are warning against elevating a backbench bomb thrower with a dog whistle (again).
Later today the DC liquor control board will question whether or not to pull the liquor license from Trump's DC hotel after local businesses and advocacy groups petitioned the city and said the hotel fails the "good character" test required by city law, and cited guilty pleas from the Stormy Daniels affair, Trump's ALLEGED abuse of the emoluments clause, and the hotel's literal "spoonfuls of wine."
Trump calling African and Caribbean countries a "shithole" is a feature, not bug, according to Woodward's new book.
US allies and adversaries are joining together in a stunning rebuke of John Bolton's rejection of the International Criminal Court. Because irony is dead, Russia and Iran -- who, like the US, refuse to be members of the ICC -- used Bolton's bluster to make hypocritical statements in support of the ICC.
The EU is poised to vote on a copyright bill that nerds fear could break the internet by forcing tech companies to create content filters that block any material with a copyright.
Police in Ontario are looking for help identifying three people who tried to rob a weed store with bear spray. The would-be robbers were thwarted after a worker fought them off with a bong.
The US Air Force is mulling over an investigation into Space X CEO Elon Musk smoking weed on some douchebag's podcast last week. Meanwhile, the Canadian soldiers are giggling after being given the green light to fire it up.
Trump's NASA administrator Jim Bridenstine wants to sell ads on rockets and spaceships, and allow astronauts to appear in commercials. Watchdogs are warning that letting astronauts appear on boxes of Wheaties blurs ethics laws that bar government employees from profiting off public office, like Trump does with his gaudy trash palaces.
Y'ALL! Laura Ingraham apparently has a brother and he seems to be channeling his inner George Conway by trashing his sister on Twitter for her "lack of integrity," "racist comments," adding she "needs to search her own moral closet."
And here's your morning Nice Time! Hungry rescue kittens!
Follow Dominic on Twitter and Instagram!

Dominic Gwinn
Dominic is a broke journalist in Chicago. You can find him in a dirty bar talking to weirdos, or in a gutter taking photos.