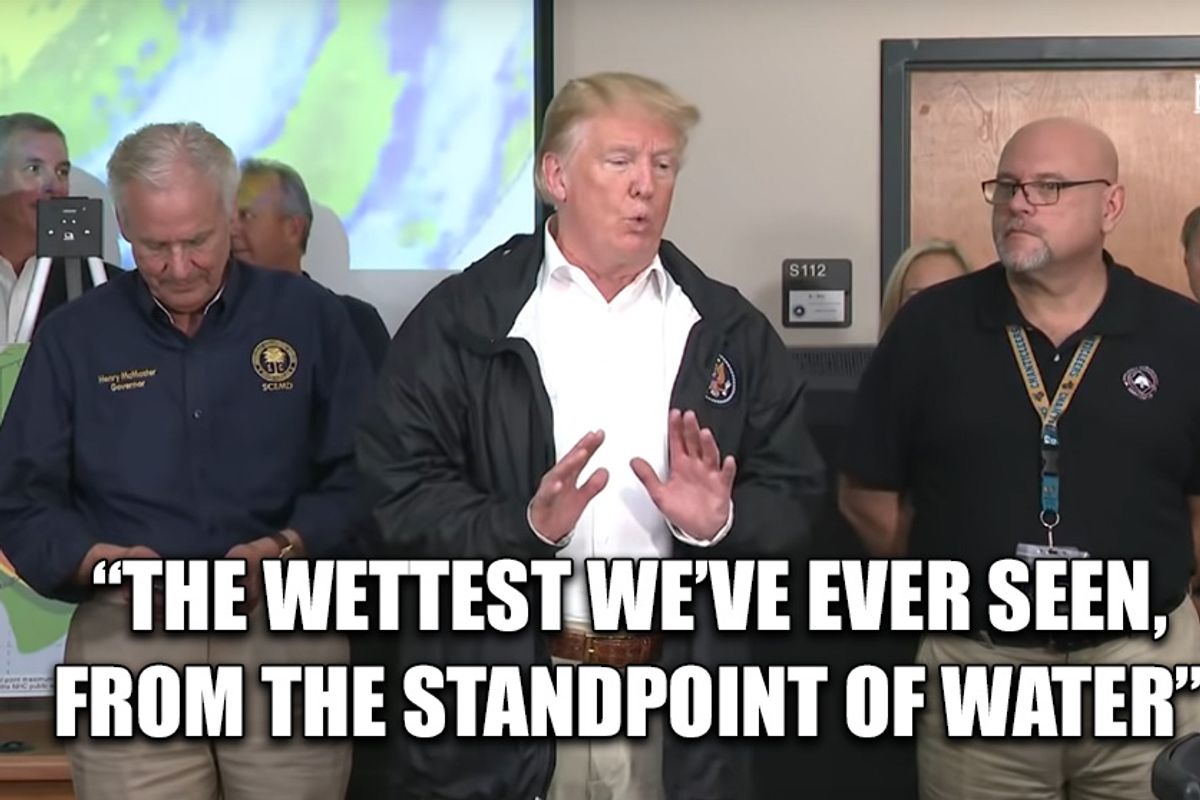 Morning Wonketariat! Here's some of the things we may be talking about today.
---
Republican Senate Judiciary Chairman Chuck Grassley wants his people to investigate claims of sexual assault against Brett Kavanaugh instead of the FBI, that way Grassley's staffers -- some of whom are coincidentallyshady old friends with Kavanaugh -- can see what he actually remembers. [Morning Maddow]

Republicans are worried that the Brett Kavanaugh hearings are making them look like a bunch of grumpy, old white men who grab'em by the pussy instead of what they really are: a bunch of poor-fucking liars.

Embattled Missouri Democratic Sen. Claire McCaskill says she'll vote "no" on Brett Kavanaugh, citing his gleeful opinion on dark money in politics. McCaskill called Kavanaugh's ALLEGED attempted rape of Dr. Christine Blasey Ford "troubling," but not a factor in her decision. UH-HUH.
In a "VIP" conference call arranged by state Republicans ahead of Trump's upcoming visit, Nevada Republican Sen. Dean Heller stated, "We got a little hiccup here with the Kavanaugh nomination, we'll get through this and we'll get off to the races." Heller, embracing a portrait of Trump, reminded his "VIP" supporters to give him money as he's currently running dead even against Democratic Rep. Jacky Rosen.
If Kavanaugh's nomination somehow slides down the political toilet, Democrats plan to run a national campaign on women's rights and abortion in order to galvanize women and progressives to fight the Bible thumpers who will come pouring out of the woods.
ICYMI: Here's the transcript of Brett Kavanaugh saying, "What happens in Georgetown Prep stays Georgetown Prep," back in 2015, and a longer video of the same speech, including additional context, and examples of his "moral code." Hilariously, that line is missing from the Judiciary Committee transcript!
The New York Times just published this deep dive into Russia's 2016 attack on the US election and says there's a good case to be made that Putin handed the win to Trump.
Democratic Sen. Ron Wyden is urging immediate passage of legislation to allow the Sergeant at Arms to ramp up cyber security for members of Congress and their staff after finding Russian hackers targeting his personal email account. Wyden added that there's evidence a number of other senators and their staffers have had their personal email accounts targeted too.
Disgraced former Trump administration NSC advisor Ret. Gen. Michael Flynn will be sentenced Dec. 18 after pleading guilty to lying to the FBI about his involvement in Russian fuckery. LOCK HIM UP!
Trump and the House Freedom crazies intend to die on a Russian hill with Carter Page, the former Trump campaign staffer who is alleged to have helped orchestrate Russian fuckery with the promise of oodles of rubles. In response, the Senate Intel Committee has literally told them, "Be careful what you wish for!"
Some Democrats fear a faux-October surprise as Trump uses Carter Page's FISA warrant and other documents being dug up by Devin Nunes to motivate their base of angry white people.
It's not just Maria Butina with whom Russian officials keep having jailhouse chats. Yevgeniy Nikulin, a Russian hacker extradited to the US earlier this year, seems to have really caught the attention of the Kremlin. Nikulin is under a psych evaluation after repeatedly assaulting guards, trashing his cell, and setting off fire alarms. HHMMMMM
HHS Secretary Alex Azar diverted hundreds of millions of dollars to pay for Trump's baby jails. A lot of the money comes from refugee support programs, with the rest being pilfered from early childhood education, HIV/AIDS programs, women's shelters, programs for mental and maternal health, and the National Cancer Institute. Fun Fact: There's kids are now spending so much time in Trump's baby jails that they're graduating to regular detention facilities (AKA: Trumpville) on their 18th birthday. #MAGA
In a new interview with Hill.TV, Trump said batshit things about #TheDeepState, Trump-Russia, James Comey, Carter Page, George Papadopoulos, Jeff Sessions and HER EMAILS. Full Disclosure: we didn't bother reading or watching this series of incoherent sentence fragments because we don't believe in torture.
With toxic pig shit threatening to cause an environmental disaster, Trump went to North Carolina and managed to act like he wasn't a greedy and narcissistic sociopath for a few hours. He only insulted one hurricane victim! Progress!
FEMA head Brock Long was almost quit-fired for grifting, but he struck a deal with Kirstjen Nielsen not to leave until after Hurricane Florence, that way Trump wouldn't look like A Idiot (again).
GOOD NEWS, EVERYONE! On Tuesday SCOTUS ruled that many political dark money groups have to disclose their donors. The ruling only affects political ads by nonprofit groups through the remaining election cycle. The Koch Brothers are PISSED.
Facing the prospect of unemployment after spending years leading the Benghazi murder-mystery theater, Republican Rep. Darrell Issa has been tapped to head the US Trade and Development Agency. Heaven forbid the wealthiest member of Congress should find himself unemployed ...
Don't bother reading this reality check about election night until Happy Hour. The gist is that there's so many close races it could take days before we actually know the final results in the House, and things are even more nerve wracking for the Senate.
Louisiana Republican Rep. Mike Johnson is accusing California's godless tree hugging atheists of trying to murder Jesus (again) on public school property after the parents of several students snitched on Bossier Parish schools repeated blending of church and state.
Former Chicago Police Cmdr. Jon Burge, convicted of lying under oath about torture perpetrated by CPD during his tenure in order to secure unlawful convictions from the 1970s to 1991, is dead at 70.
There's a strange new trend of disgraced men trying to claw their way back into the good graces of the public spotlight with half-assed apology essays. Now the backlash is spreading to the people who publish these "Sorry, not sorry" sob stories of men who have been exposed in the #MeToo era.
Here's another piece you shouldn't read until Happy Hour: Slate interviewed Dr. Bandy Lee, the shrink who helped author a book that says Trump is worse than crazy. Lee tells Slate a number of psychiatrists have come to the same conclusions as she and her colleagues, but they're hesitant to come forward because they might lose government funding.
The conservative dicknoses who brought you "Clinton Cash" have a new movie, "The Creepy Line," where they try to convince you that Google is the liberal Devil brainwashing you into supporting women's rights and hating Donald Trump through magic ALGORITHMS.
The Senate passed The Music Modernization Act, an update to music copyright rules that pertain to songs released prior to 1972, effectively streamlining the process of putting music in the public domain. The bill also creates a national database for songwriters to license their music, and makes it easier for musicians and publishers to get paid (if all goes according to plan)! WOOOO!
And here's your morning Nice Time! DOGTOR TOPI!
Follow Dominic on Twitter and Instagram!
We're 100% ad-free and reader-supported, so consider buying us coffee, or get a subscription!
Dominic Gwinn
Dominic is a broke journalist in Chicago. You can find him in a dirty bar talking to weirdos, or in a gutter taking photos.