Teenage Sex Terrorist. Wonkagenda For Tues., Sept. 25, 2018
Elections
September 25, 2018 08:09 AM
Morning Wonketariat! Here's some of the things we may be talking about today.
---
Judge Brett Kavanaugh died on a cross while denying allegations that he was a teenage sex terrorist during an interview with a Fox News talking head who defended Roger Ailes. After swearing that he was a virgin who only ever supped the blood of Christ, Kavanaugh denied trying to drunkenly rape women, shoving his cock in their faces, or his participation in gang rapes, and echoed conservative talking points by calling the accusations "smears" against his holier-than-thou character. With his wife Ashley Estes Kavanaugh standing by her man like Tammy Wynette, Kavanaugh repeatedly stated he never "sexually assaulted anyone." [Transcript]

Peppered throughout Kavanaugh's high school yearbook is the phrase, "Renate Alumnius," which is apparently in reference to Renate Schroeder Dolphin, then a student at a nearby Catholic girls' school. A signatory of Chuck Grassley's magic letter defending Kavanaugh, Dolphin now rejects the letter after seeing yearbook entries where Kavanaugh and his friends seemingly bragged about repeated sexual encounters with Dolphin. The accusations go so far as to poems like, "You need a date / and it's getting late / so don't hesitate / to call Renate."
In an appearance on Good Morning America, Sarah Huckabee Sanders said Trump's White House is open to Deborah Ramirez appearing before the Senate Judiciary Committee to testify about allegations against Brett Kavanaugh.
Michael Avenatti appeared simultaneously on CNN and Maddow last night and promised to release the name at least one more woman accusing Kavanaugh within 48 hours. He's really got this superstar lawyer schtick down to a science, but not everyone is buying his act.
Over 120 people were arrested on Capitol Hill for protesting against Brett Kavanaugh's confirmation. #BelieveSurvivors
Ted Cruz was slut-shamed out of a DC restaurant by protesters chanting, "We believe survivors." [Video]
WaPo found Kavanaugh's friend, Mark Judge, hiding out in Bethany Beach, Delaware, with car full of clothes and a box full of Superman comics. When Judge asked reporters how they found him, they pointed at his car. He may or may not have called the car a "lying traitorous bitch" (He did not.)

History tells us that screwing with SCOTUS nominations is nothing new. If Democrats shoot the moon by knocking down Kavanaugh and retaking the Senate they stand a chance at getting revenge for Merrick Garland.
Here's the timeline of the gigantic cluster-fuck Axios started when Jonathan Swan overheard someone talking about Rod Rosenstein while making coffee: Trump spent the weekend bitching about women ruining the careers of powerful men with their silly sexual assault allegations, and was still pissed off on Monday. Trump then dropped a "smoke bomb" from his tower of doom to send the Washington press corps scattering. This gave Mitch McConnell time to defend Kavanaugh on the Senate floor against MORE sexual assault allegations, Kellyanne Conway the opportunity to shit the bed by drawing parallels between Kavanaugh and Harvey Weinstein, and the rest of the rank-and-file time to draft talking points for Kavanaugh's puff piece on Fox News.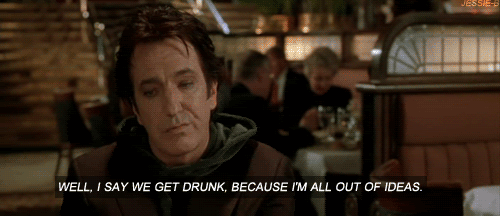 Trump will address the world at the UN General Assembly later today where he'll talk about the sovereignty of nations, and scare the piss out of foreign policy nerds who think that playing nicely with other children isn't a bad idea. Right now Trump doesn't have many friends on the world stage thanks to his trashing of "shithole countries," attempt at a coup in South America, his trade war, and his blind support for Russian militarism. Besides, nobody likes being in the same room as a man with meat sweats.

Geraldo discovered that Trump is an "absolute no" on Puerto Rican statehood during an AM radio interview. Trump is apparently butthurt over repeated articulate criticism from San Juan Mayor Carmen Yulín Cruz. In response, Puerto Rican Gov. Ricardo Rossello called Trump a hypocrite for promoting democracy at the UN while "in his own home there is the oldest and most populated colonial system in the world."
Bill Cosby could spend the next decade behind bars after prosecutors urged the court to throw all the books at him for drugging and sexually assaulting a woman in 2004. LOCK HIM UP.
Michael Bloomberg's Everytown for Gun Safety is dumping $5 million into digital ad campaigns to flip 15 GOP-held House seats in suburbia being targeted by the DNC's "Red to Blue" program. #HesRunning
A Pennsylvania state rep wants to ban teachers from talking about modern politics in classrooms. This way teachers don't have to explain to children why "gang rape" and SCOTUS can be used in the same sentence as "pee tape," "blackmail," and "grab 'em by the pussy."
NASA can see all the toxic pig shit, coal ash, and dead plants from North Carolina's flooded rivers spilling into the Atlantic Ocean from space. Scientists are worried that, as the polluted estuaries recede, they'll create uninhabitable "dead zones" in the ocean.
A US judge has ruled that grizzly bears in and around Yellowstone National Park should be placed back on the endangered species list. Hide your picnic baskets!
A Florida man is accused of running around a Chick-fil-A parking lot naked while screaming at people to look at his junk and attempting to fight people. No, it was not Brett Kavanaugh!
Iranian President Hassan Rouhani says he's open to the US coming around to the JCPOA, but he's not exactly holding his breath. This morning Trump tweeted that Rouhani was a "lovely man," and told him to fuck off.
Trump signed a new trade agreement with South Korea that's a lot like our old trade agreement with South Korea, except now South Korea has to import more gas guzzling monster trucks from America that can't fit on their cramped little streets.
Get ready for North Korea 2: Nuclear Boogaloo after Trump touted his relationship with North Korean dictator Kim Jong Un and said another bilateral meeting would happen "quite soon." Of course, Secretary of State Mike Pompeo walked back Trump's boast shortly thereafter and called it "foolish" to set an exact date.
In order to avoid getting the US involved in some "shithole country" full of poors and Muslims, Trump's State Department has opted not to use "genocide" or "crimes against humanity" to describe the genocide perpetrated against the Rohingya Muslims by the government of Myanmar.
Europe has been playing whack-a-mole with Russian spies who keep getting caught, kicked out, and subsequently humiliated on international TV. The former Soviet states keep telling Vladimir Putin to make his own damn pee tapes, but he won't listen.
Watching 7-year-old girl Malea Emma Tjandrawidjaja belt out the national anthem at this Los Angeles futball game will make you think twice before setting your American flag underpants on fire at the next anti-Trump protest. [Video]
And here's your morning Nice Time! LYNX KITTENS!
Follow Dominic on Twitter and Instagram!
We're 100% ad-free and reader-supported, so consider buying us coffee, or get a subscription!
Dominic Gwinn
Dominic is a broke journalist in Chicago. You can find him in a dirty bar talking to weirdos, or in a gutter taking photos.