We're 'Scum.' Wonkagenda For Friday, Sept. 27, 2019
popular
September 27, 2019 09:10 AM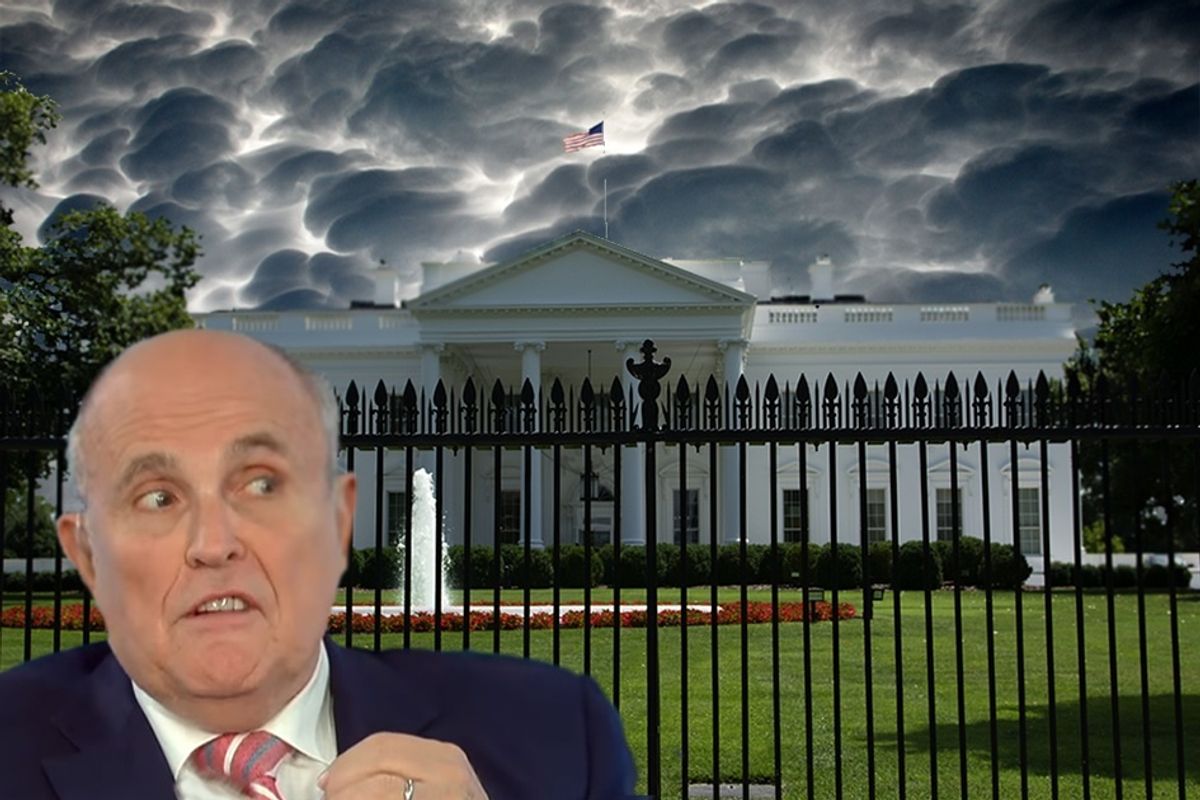 Photoshoop by Wonkette
Morning Wonketariat! It's been 200 days since Trump's White House has held a real press briefing. Anyway, here's some of the things we may be talking about today.
---
The New York Times and the Wall Street Journal are reporting it was a CIA official who snitched on Trump. The New York Times reports that the official first followed the rules and complained anonymously to the CIA's top lawyer before filing the whistle-blower report, and that the lawyer immediately ran to the White House and DOJ. It wasn't until the lawyer found out there was a whistle-blower complaint that Trump World shat itself. While a number of journalism purists are throwing heaping gobs of shit on the Times and WSJ for exposing potentially identifiable info about the whistle-blower, the Times editor, Dean Baquet, argues Trump has attacked the credibility of the whistle-blower, and probably already knows who in the CIA is the DEEP STATE LEAKER.

The LA Times was the first to report Trump telling a gaggle of US diplomatic officials in New York that the whistle-blower was "almost a spy," and suggested that s/he had committed treason, adding "We're at war." Bloomberg later confirmed the story when it published video of Trump calling reporters "scum" and throwing a tantrum over impeachment proceedings. [Audio / Video]

EXCLUSIVE: Trump's Attack on Whistle-Blower in Private Meeting Was Caught on Videoyoutu.be
NBC is reporting that Trump was caught with his pants down, and the White House is "shell-shocked." Minions are in a "total panic" that The Boss may lash out without his Roy Cohn, and fear he may become "unmanageable," particularly because they don't seem to have a war room set up to concoct a half-assed defense.
For the second time this week a very sober Rudy Giuliani appeared on Laura Ingraham's white power hour to lie about his debunked about Ukrainium One conspiracy. Rudy mansplained that he was "a legitimate whistle-blower," and that we should all thank him with ticker tape parades. Rudy adds that he didn't do anything illegal because it was actually the State Department's fault that he went to Ukraine and did illegal things. Rudy then tried to dismiss a report from Maggie Haberman claiming Mike Pompeo was "unhappy" with him. And in a failed attempt at prop comedy, Rudy called Kamala Harris a liar for saying he should be disbarred. As proof that he's super ethical, he help up an iPad and claimed it showed text messages proving he was conducting legitimate shadow foreign policy.
Meanwhile, congressional Republicans are flailing over what to do now that Ukrainium One has blown up in Trump's face. As the only people in Washington who haven't actually read the whistle-blower complaint, a few did lean on their retractable spines to cautiously mutter Trump's phone call was "inappropriate," "not okay," or "wrong," but they stopped far short of actually throwing the overgrown manbaby out with the bathwater lest they become the subject of a mean tweet. Former Republican Sen. Jeff Flake decided to fan the flames of the Ukrainium One explosion, telling a podcast that comments made by a GOP talking head were incorrect -- it wasn't 30 Republicans who secretly wanted to #IMPEACH the mother fucker, it was more like 35.

Trump's Political Allies Shamble To His Defense After Whistleblower Reportwww.youtube.com
Gabe Sherman gossips that Trump World is freaking out, and that things are especially bad at Fox News. Sean Hannity is reported to be crying himself to sleep as the network begins planning for a post-Trump future amid boiling tensions between the network's news division and its lair of liars. In a twist, Paul Ryan has emerged as a voice of reason, telling Fox Corp CEO Lachlan Murdoch that they should cancel the embarrassing Trump show.
Trump's rambling defense of his attempt to blackmail the president of Ukraine to investigate a "missing" DNC server is based on a witch's brew of conspiracy theories that began on 4Chan before getting picked up by pro-Russian state media, then acolytes of Lyndon LaRouche and Nixonian rat fucker Roger Stone, until finally it appeared on Breitbart, the Daily Caller, and Fox News. It all goes back to the 2016 election, HER EMAILS, and the murder of Seth Rich. Phillip Bump writes that the main reason Trump keeps blithering this crap boils down to a White House policy to let Trump be Trump.
Polls are already starting to show a dramatic shift in support for impeachment. A new NPR/PBS/Marist poll shows Americans divided 49-46 on whether to #Impeach the mother fucker. The poll adds that 7 in 10 people are paying attention to the unfolding shitshow, and that Trump continues to hold Republicans in the palm of his tiny hand. Similarly, a new Politico/Morning Consult poll shows a significant uptick in the number of voters who support impeachment. Echoing that is a HuffPo/YouGov poll showing support for impeachment up by two points from earlier this month. [NPR / Morning Consult / HuffPo/YouGov]

🚨 NEW IMPEACHMENT POLLING 🚨 Net support for impeachment rose 13 points since the weekend, with voters now divided… https://t.co/q0FCmCn157

— Eli Yokley (@Eli Yokley) 1569528056.0
Eugene Scalia is your new Labor Secretary following a party-line vote in the Senate, 53-44. Democrats objected to Scalia's appointment, citing his past work for a corporate law firm where he argued against a range of workers' rights, like liability for injured workers and for sexual harassment, as well as the Obama-era "fiduciary rule."
Now that we're smack in the middle of hurricane season, Trump has tapped acting FEMA Administrator Pete Gaynor to serve in a permanent capacity. Surprise!
The Senate passed a stop-gap spending measure to avert a(nother) government shutdown, 82-15, but Trump still has to sign the damn bill. The bill would keep the government open through Nov. 21, and there's a hell of a lot of uncertainty about what's going to happen now that Democrats have launched impeachment proceedings.
People around Joe Biden are considering new taxes on the super rich after seeing how much people like the wealth tax proposals being pushed by senators Elizabeth Warren and Bernie Sanders. The Washington Post reports Biden's camp is mum on whether or not they'll slap a tax on all the poor, defenseless billionares, but Biden himself has shown interest in taxing Wall Street transactions after hearing about how much money could be raised, and has already called on repealing the Trump tax cuts (for the super rich), raising capital gains taxes and ending its assorted loopholes, and reigning in incentives for corporations hide their cash overseas.
A new UC Berkley poll has found that Trump could face just 29 percent support in California, a record low for Republicans not seen since the Civil War.
Last night Chicago teachers voted 94 percent in favor of a strike, joining the 7,000 members of SEIU Local 73, and charter school teachers who've already voice support for a strike. Chicago Mayor Lori Lightfoot and Chicago Public Schools CEO Janice Jackson say they're "committed to doing everything we can to finalize a deal." Teachers are righteously pissed about continued cuts to the schools, and among other things, are fighting for smaller class sizes and for more nurses, librarians and social workers in all schools throughout Chicago.
One of the parents in the cash for college admissions scheme pleaded guilty and got four months in prison. The rich guy who thought he could buy his brat into Georgetown had hoped the judge would show leniency if he played the victim card, but the judge clearly didn't buy it, and also ordered him to pay a $100,000 fine, restitution to Georgetown, and serve 500 hours of community service.
A Delaware high school is apologizing for playing Rosanne Barr's godawful 1990 rendition of the National Anthem before a local sportsball game. The school says they play the anthem to "honor our country" and support the troops. Whomever was responsible was probably just on a lot of Ambien when they made people relive that national tragedy.
The makers of Barbie dolls have introduced a gender neutral doll in multiple different skin tones so your little rugrat's imagination can just run wild. Expect wingnuts to be horrified.
Stephen Colbert sat down with Sen. Bernie Sanders to talk about #Impeachment.

Sen. Bernie Sanders: The Impeachment Inquiry Needs To Move Quicklywww.youtube.com
And here's your morning Nice Time:SEA OTTERS!

The Splendor of Sea Otterswww.youtube.com
Follow Dominic on Twitter and Instagram!
We're 100% ad-free and reader supported, so consider buying us coffee, or get a subscription!
Dominic Gwinn
Dominic is a broke journalist in Chicago. You can find him in a dirty bar talking to weirdos, or in a gutter taking photos.