Shoot Them In The Leg. Wonkagenda For Wed., Oct. 2, 2019
popular
October 02, 2019 08:53 AM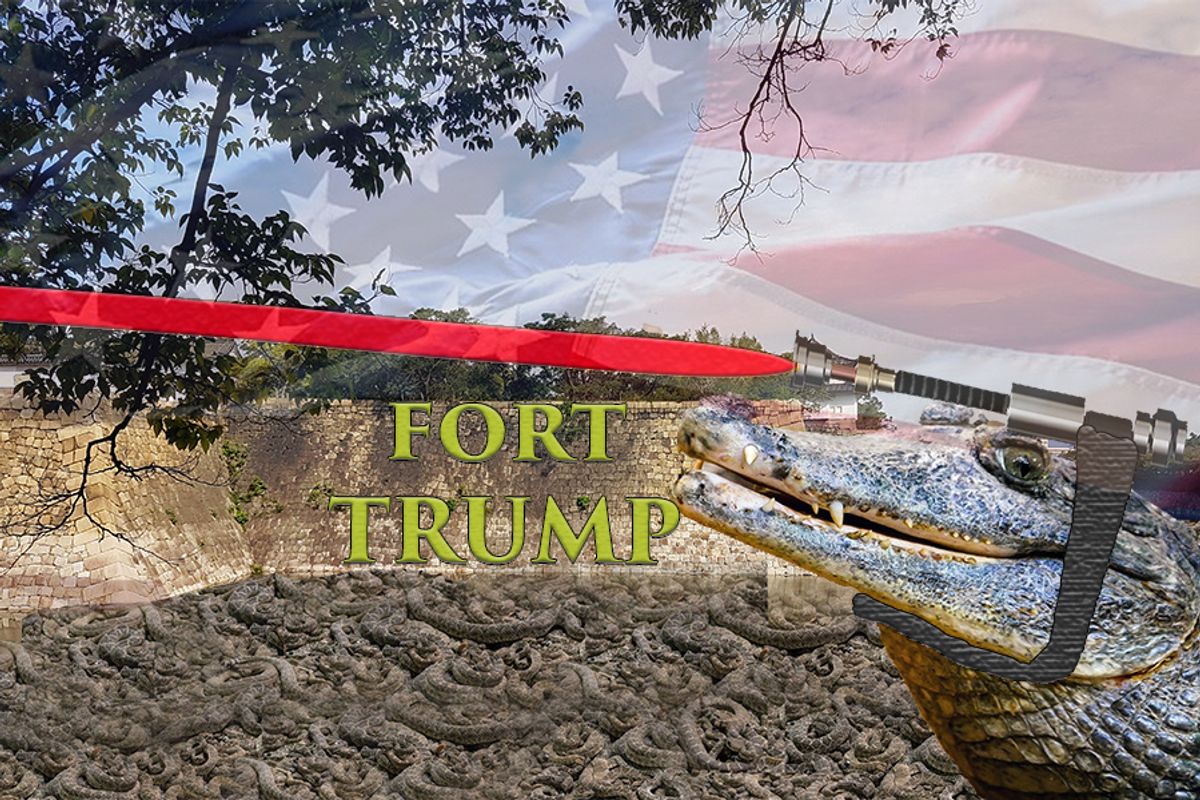 Morning Wonketariat! Here's some of the things we may be talking about today.
---
Out of nowhere yesterday the State Department's inspector general called up House and Senate committees and said senior staffers need to sit down for an "urgent" briefing today. Nobody knows what caused the State Department's internal cop to suddenly freak out, but conventional press wisdom suggests it might have something to do with Ukrainium One and the impeachment inquiry.
Later today former Ukrainian envoy Kurt Volker will tell the House Intel, Foreign Affairs, and Oversight committees about what the hell he was doing in Ukraine after Trump tried to blackmail the Ukrainian president. Since he no longer works for Uncle Sam, Trumplandia can't erect all its usual stonewalls.
Early this morning Secretary of State Mike Pompeo admitted that he had been listening when Trump tried to blackmail the president of Ukraine (as if he could hide it). The Daily Beast reports Pompeo freaked out when Rudy Giuliani went on TV and lumped him into his Ukrainium One scheme, and tried to pin everything on Volker. Anonymous sources say that instead of Volker, Congress should be looking at Ambassador to the European Union Gordon Sondland, a major Trump inaugural donor who's been scheming with Rudy about Ukrainium One for some time.
Rudy Giuliani went back on Laura Ingraham's white power hour to push back on a detailed WSJ report that confirmed Attorney General Bill Barr was "surprised and angry" to learn Trump thinks Giuliani and Barr do the same job.. A very sane and sober Rudy spat that he might sue congressional Democrats and whistle-blowers for being mean to him, but even Ingraham called Rudy a senile idiot. Rudy then stopped short of incriminating himself (again), telling Ingraham the LEAKERS are just White House staffers who want to talk to reporters, adding, "I say to them is 'will you just calm down, take a little valium, calm down, little babies, calm down.'"

Rudy Giuliani says he is looking to sue The Swamp. https://t.co/3D65Mg6VaO

— Elaina Plott (@Elaina Plott) 1569986504.0
The Daily Show breaks down the some of the crazy bullshit Rudy Giuliani has been saying lately to help Trump cheat in the 2020 election.

The Impeachment Trial of Rudy Giuliani | The Daily Showwww.youtube.com
The new White House policy to "let Trump be Trump" resulted in staffers investigating the cost of a black, electrified border wall made of concrete topped with large, flesh-piercing spikes, and/or a moat filled with snakes or alligators. Trump also suggested US soldiers shoot migrants in the leg to slow them down. When Trump was told he couldn't have any of those things, he threw a tantrum and threatened to close the entire border, potentially stranding legal US residents in Mexico. Jared Kushner and former Homeland Security Kirstjen Nielsen tried to walk Trump back, leading Trump to tell Nielsen, "Lou Dobbs hates you, Ann Coulter hates you, you're making me look bad." The resulting clusterfuck led to Stephen Miller purging what the New York Times calls "bleeding hearts" who were not loyal to Trump World.
House investigators are looking into new allegations that political groups and/or foreign governments were trying to kiss the pinky ring of our new God-Emperor by booking rooms at his hotels and never staying there.
A new Quinnipiac poll shows Sen. Elizabeth Warren gaining crucial ground among black voters, suggesting that Warren's surge may be far more substantial than previously thought. [Poll]
UK Prime Minister Boris Johnson has submitted his final offer to the EU for Brexit. BoJo says the only other alternative is a hard-Brexit, even if Parliament has said that ain't gonna happen.
Over in Ukraine, nobody is paying too much attention to Trump's attempt to blackmail them for weapons because they're (still) in the middle of a shooting war with Russia's little green men. Now that they don't have to defend themselves with rocks and harsh language, and the State Department signed off on another congressionally approved $39 million in anti-tank weapon sales, yesterday the Ukrainian president announced a summit to negotiate elections in Russian-backed separatist regions.
North Korea sent a carrier pigeon to let the world know they would resume talks with the US to "denuke." The State Department says that the stalled talks will start again later this week. However, North Korea must've been upset that it wasn't getting enough attention for coming back to the negotiating table because it also just launched a ballistic missile from an underwater platform into the Japanese waters.
Casey Newton got his hands on some audio of Mark Zuckerberg bitching about Elizabeth Warren coming for his piggy bank. Zuckerberg griped about a potential Warren presidency breaking up big tech, saying, "If she gets elected president, then I would bet that we will have a legal challenge, and I would bet that we will win the legal challenge. And does that still suck for us? Yeah. I mean, I don't want to have a major lawsuit against our own government." Warren responded on Twitter by calling out Facebook's "anticompetitive practices," and Zuckerberg's tendency to gleefully wipe his ass with the tear-soaked tissues of privacy advocates. In a social media post, Zuck confirmed the authenticity of the audio, calling it "an unfiltered version of what I'm thinking."

Facebook's magical internet funny money, Libra, is losing support amid a backlash from regulators in the US and EU. The Wall Street Journal is reporting that Visa and Mastercard are getting cold feet and there's talk of them bailing out. Shame.
Former White House liar Sean Spicer continued to embarrass himself on one of those shows for D-List celebrities desperately clinging to their last few seconds of fame. Spicey's homage to the rotting corpse of disco was a bad dance fusion of "Saturday Night Fever" and the cha-cha, proving again that everything is terrible. [Video]
Rachel Maddow sat down with Stephen Colbert to talk about her new book, Blowout, how Russia uses oil and gas as an economic weapon, that second DEEP STATE whistle-blower, and how it's anyone's guess how the impeachment process will play out.

Rachel Maddow: Russia Uses Oil And Gas As A Weaponwww.youtube.com
And here's your morning Nice Time:ARAMADILLOS!

Armadillos Frolic Among Decorative Gourdswww.youtube.com
Follow Dominic on Twitter and Instagram!
We're 100% ad-free and reader-supported, so consider buying us coffee, or get a subscription!
Dominic Gwinn
Dominic is a broke journalist in Chicago. You can find him in a dirty bar talking to weirdos, or in a gutter taking photos.