Trump Admits High Crimes (Again). Wonkagenda For Fri., Oct. 4, 2019
popular
October 04, 2019 08:55 AM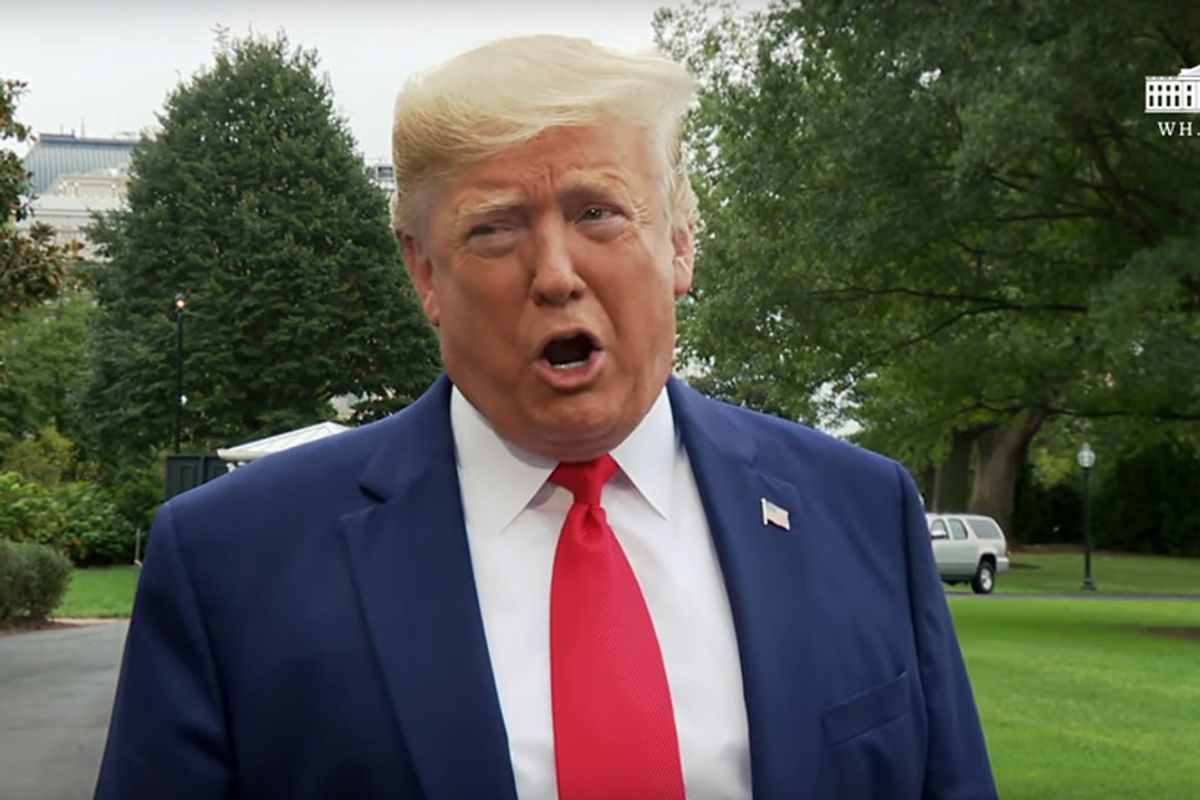 Morning Wonketariat! Here's some of the things we may be talking about today.
---
One of the things House Democrats are interested in is why Trump "You're Fired" the US ambassador to Ukraine. The Wall Street Journal reports the ambassador, Marie Yovanovitch, was pissing all over the rug hiding Rudy Giuliani's conspiracies. In an interview with the Wall Street Journal, Rudy brags that he tried to have Yovanovitch forced out for making it harder for him shill bullshit, and whines that she wasn't a loyalist.
Two of Trump's top envoys to Ukraine were ordered to draft documents committing Ukraine to dig up dirt on Joe and Hunter Biden. Text messages between US Envoy to Ukraine Kurt Volker, US Ambassador to the EU Gordon Sondland, and a top aide to Ukrainian President Volodymyr Zelensky show the three had an understanding that there would be no dough unless they helped the Ukrainium show. The texts also show the envoys were concerned about the Trump administration's attempt to blackmail the Ukrainians into investigating debunked right-wing conspiracy theories. The Ukrainians ultimately felt Rudy Giuliani was crazy, and told the US delegation they wouldn't play along. [Texts]
For his part, Sondland says he'll mosey on up to the Hill next week for a congressional grilling. Sondland hasn't been subpoenaed (yet) and would technically be the first federal employee to testify as part of the impeachment inquiry into Trump's orchestral cacophony of fuckery. For more, WaPo has a quick backgrounder on Sondland. TLDR: He's a super rich Trump donor and hotelier.
BUT WAIT, THERE'S MORE! CNN is reporting that back in June Trump tried to blackmail the Chinese for dirt on Joe Biden AND Sen. Elizabeth Warren after seeing he had LOW RATINGS. In exchange for digging up/fabricating bullshit on his potential 2020 rivals, Trump promised not to say anything about all the protests in Hong Kong. The White House isn't denying any of this, though White House Muppet Stephanie Grisham did say that this why, "such conversations are kept confidential." Mind you, this comes after Trump crimed (again), on the South Lawn of the White House during another round of CHOPPER TALK, in full view of Crom and a gaggle of reporters. In response to Trump committing a felony on national TV, FEC head Ellen Weintraub re-upped her tweet from June that contained a memo laying out how it's illegal to beg a foreign government to help in a US election.

Is this thing on? 🎙 https://t.co/K6phZRex8k

— Ellen L Weintraub (@Ellen L Weintraub) 1570117259.0
The White House is dropping a memo saying it will object to the House impeachment inquiry, and refuse to cooperate unless there's a full floor vote to start an impeachment inquiry. In response, House Speaker Nancy Pelosi dunked on House Minority Leader Kevin McCarthy in a letter saying, "There is no requirement under the Constitution, under House Rules, or House precedent that the whole House vote before proceeding with an impeachment inquiry."
Nancy Pelosi says that House Democrats don't need to invest too much time in an impeachment inquiry since Trump is running around committing crimes in front of cameras. Meanwhile, since the White House doesn't have a clue about how to defend Trump (and his minions), House Republicans think they can curb Pelosi's move to #IMPEACH the motherfucker by forcing a doomed vote to condemn House Intel Chair Adam Schiff. In response, the DCCC fired off a letter essentially laughing in their faces, noting that House Minority Leader Kevin McCarthy got caught tripping all over his dick when he lied on 60 Minutes this past Sunday. In a related story, the optimists over at Axios gossip that Trump's red stone wall is holding thanks to a bunch of Republicans who are too chickenshit to criticize Trump.

Cookie Monster Spells S-U-B-P-O-E-N-Awww.youtube.com
The Manhattan district attorney's office says their investigation into hush-money payments that Trump gave porn stars who touched his toad penis is in jeopardy hitting a statute of limitations. The DA, Cyrus Vance, says Trump's "only goal in this litigation, now supported by the Justice Department itself, is to obtain as much delay as possible."
An IRS whistle-blower complaint alleges a political appointee at the Treasury Department is trying to block an audit of Trump or Mike Pence's tax returns. Obviously it's not Trump's tax returns, they're still in the middle of a four-year-long audit.
The Daily Beast has a story about a cache of documents detailing a coordinated campaign to protect the Trump Tower lawyer lady, Natalia Veselnitskaya. There's all the usual staples of Trump-Russia fuckery, including witnesses being thrown down stairs, EMAILS, and Jeff Sessions perjuring himself.
Politico reports that pretty soon you won't have Rick Perry to kick around anymore as Perry is expected to be quit-fired over his possible role in the Ukrainium One scandal. People close to Perry say he's been planning on leaving the Trump Show for months, and this has nothing to do with all his trips to former Soviet states hustling US-made liquefied natural gas exports.
Bloomberg is reporting the new Space Development Agency is expected to ask for $11 billion over five years to quickly churn out as many as 1,200 satellites. According to Bloomberg, the satellites would hang around close to Earth and "monitor and pass along data for targeting new hypersonic weapons if China or Russia launched an attack." Earlier this year the House Armed Services committee shot down a Pentagon estimate to militarize the final frontier (a thing that's bound happen sooner or later).
Louisiana Republicans plan to drop a new ad to smear Democratic Gov. Jon Bel Edwards ahead of the state's gubernatorial elections on Oct. 12. Politico reports the GOP candidates have been taking pot shots at one another, and are gambling that they can abuse the state's open primary to force a run-off election. Political science nerds note Edwards can win outright if he nets more than 50 percent of the vote in next Saturday's election.
People in early votings states like Iowa, New Hampshire, South Carolina, and Nevada are going to get bombarded by anti-Biden ads peddling Ukrainium One bullshit.
News that the Mexican drug lord known as "El Chapo" had delivered $1 million to the Honduran president's brother -- a bribe meant for the president -- hit the country with a thud, confirming the suspicions of many that the government was in bed with drug cartels.
Attorney General Bill Barr has published an open letter to Facebook, co-signed by UK and Austrlian officials, demanding that Mark Zuckerberg stop his move to encrypt Facebook, WhatsApp, and Instagram. Barr wants tech companies to include security loopholes so cops can poke around your data instead of shoe leather detective work. Barr is expected to push against what he calls "warrant-proof encryption" at the DOJ's Lawful Access Summit, and reveal an agreement with British law enforcement to force US tech companies to turn over data on Americans accused of serious criminal offenses to British authorities.
FACT CHECK: No, Rep. Ilhan Omar did not propose a "nationwide ban" on bacon. The myth comes from a bad satire website that is butthurt its conservative readers are too stupid to understand bad satire.
When they weren't bemoaning the plight of the conservative aristocracy, Abby Huntsman and Meghan McCain tried to gang up on Rachel Maddow and #IMPEACH her for consistently hammering Trump's unending fuckery during an appearance on The View. It didn't really work out the way they hoped. [Video]
Dame Peggington took a hearty belt from the handle of gin clutched in her right hand and stood teetering in the old museum's cavernous halls. She thought of all the people who traipsed through before her, and the disinterested children screwing with cell phones who would wander about after her. She grunted at the portrait of Richard Nixon -- a president and a profligate -- and tilted over to the family next to her and mumbled, "He ain't got nothin' on my Ronnie." Dame Peggington swung on her heel and plodded down the line of paintings, swearing and spilling her gin as she commented on the ex-presidents. "Mr. Peanut! Sax in the campaign room! Fuggin' junior! The black!" When a security guard placed a hand on her shoulder Dame Peggington began to howl -- not at the faceless drone ushering her towards the door, but at the gold framed portrait of the skulking orange man. "You killed it," she wept as the guard shoved her towards the exit, "He burned Ronnie's city on the hill!" Outside, Dame Peggington spat at the guard and bit down on a rumpled cigarette. "Once upon a time," she huffed, "presidents had dignity and respected the law, like Ronnie and the Contras!"
And here's your morning Nice Time: SPICY PUMPKIN ANIMALS!

Animals Get Pumpkins to Kickoff HallZooween - Cincinnati Zoowww.youtube.com
Follow Dominic on Twitter and Instagram!
We're 100% ad-free and reader-supported, so consider buying us coffee, or get a subscription!
Dominic Gwinn
Dominic is a broke journalist in Chicago. You can find him in a dirty bar talking to weirdos, or in a gutter taking photos.