Kaving. Wonkagenda For Fri., Oct. 5, 2018
popular
October 05, 2018 09:07 AM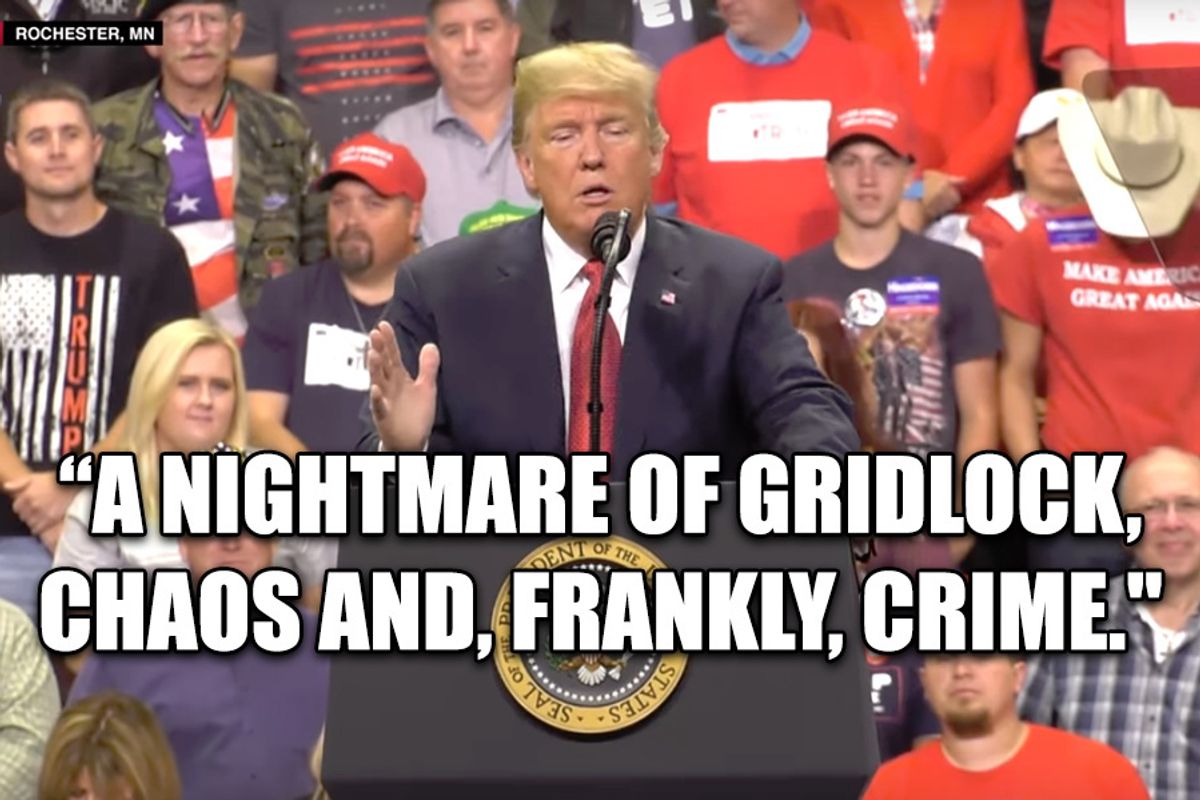 Morning Wonketariat! Here's some of the things we may be talking about today.
---
The grumpy old white guys we call Senate Republicans are confident that Judge Brett Kavanaugh will skate through his nomination (just like everything else in his life), which is scheduled to begin later this morning. Senators Joe Manchin and Lisa Murkowski continue to remain pivotal swing votes after Sen. Susan Collins and Jeff Flake used the FBI report to cover their asses. As the GOP literally shoos away women and tells them to "grow up," they're hypocritically crying about fairness and process.

A large rally in front of the Supreme Court spilled into the Hart Senate Office Building where hundreds were arrested as they chanted, "November is coming" and "survivors will remember."
Meanwhile, six people showed up to a pro-Kavanaugh rally in DC. Maybe the rest were at a bar?
This morning Axios reports that Mitch McConnell may not have the 50 votes to confirm Kavanaugh (yet). NOTE: This is Jonathan Swan's reporting, so take it with a grain of salt, some tequila, and a lime.
Sensing blood in the water, Kavanaugh has an op-ed in the WSJ this morning where he admits he might have been a little emotional last week, but that was only because people were calling him a reckless drunk with a closet full of violated skeletons. Kavanaugh says he (probably) won't start drunkenly waving his cock around like a helicopter in the SCOTUS chambers if he's confirmed.
Retired Supreme Court Justice John Paul Stevens was talking to a bunch of other elderly folks in Boca Raton when he revealed that he'd changed his mind on Kavanaugh following last week's hearings, noting, "I've changed my views for reasons that have no relationship to his intellectual ability." SICK BURN, OLD MAN!
More than 2,400 law professors have signed on to a letter recently published in the NYTimes that opposes Kavanaugh's appointment to the Supreme Court for "telling obvious lies about his background, yelling at senators, refusing to answer questions, and blaming his troubles on others," during last week's farce.
Three of Brett Kavanaugh's former classmates and self-described drinking buddies have penned an op-ed in WaPo calling Kavanaugh a damn liar, and concluding, "No one should be able to lie their way onto the Supreme Court."
Montana Republican Sen. Steve Daines will likely be the final "yes" vote on Sunday as he has to fly home for his daughter's wedding. Mitch McConnell is expected to hold the vote open for Daines, who told the AP he didn't care about the Senate schedule. Remember, it's all about fairness and process.
We're going to give a tepid golf clap to New Jersey dickhole Sen. Bob Menendez for calling the FBI report "a bullshit investigation."

At a rally in Minnesota, Trump railed against former Sen. Al Franken for folding "like a wet rag" after reports surfaced that he sexual harassed people. Trump also railed against Franken's replacement, Sen. Tina Smith and the state's Democratic Gov. Mark Dayton, and projected by calling Democrats "the party of crime." Trump then rambled about the big win he got with sportsball by getting Canada to air Stupid Bowl ads (yes, that was actually part of NAFTA 2).
Mike Pence accused China of "predatory" economic and military maneuvers in response to Trump's trade war. "To put it bluntly, Pence said, "China wants a different American President." (Can't imagine why.) Pence went on to accuse China of "wholesale theft of American technology," attacked Google, and accused China (not Russia) of attempting to hack the 2018 and 2020 elections. Chinese officials are quietly talking about a new Cold War, and publicly calling Pence's comments "very ridiculous." Remember to "duck and cover," folks.
Bloomberg reports that 30 US companies, including Apple and Amazon, fell victim to an insanely sophisticated Chinese hardware hack that saw teeny-tiny microprocessors installed on motherboards at the manufacturing level. Apple, Amazon, and the Chinese have steadfastly denied the story, the US is staying mum (per usual), and the highly detailed report is being given intense scrutiny by national security and tech nerds who want more information before they believe the Chinese just pulled off the mythical "God-Level" hack. VERY WHOA, if true!
Russian Deputy Attorney General Saak Albertovich Karapetyan has been killed in a strange helicopter crash. The alleged boss of Natalia Vishnevskaya (the Russian lawyer lady who helped set up the Trump Tower meeting), Karapetyan was fingered by a Swiss court as a Putin spy earlier this year.
Yesterday the DOJ indicted seven Russian intelligence officers as part of espionage operations in The Hague, a chemical lab investigating Syrian chemical weapons use, the attempted assassination of Sergei Skripal, and anti-doping agencies. According to Western authorities that include the Dutch and British, the hacks were retaliation for Russian athletes getting busted for performance enhancing drugs in the last two Olympics, and an attempt to cover Putin's tracks in other international criminal operations, as well as potential war crimes. Several of the intel officers were coincidentally involved in the Trump-Russia affair.
A new report by RAND has found almost 66 percent of US service members are too fat to fight, and that correlates with the obesity epidemic raging throughout the country. #MAGA
With Trump's Space Force failing to launch, Trump is considering "You're Fired"-ing Air Force Secretary Heather Wilson, according to a report in Foreign Policy that says the God Emperor is pissed the military is slow-rolling his decrees.
A new nerd report is accusing the DOD of trying to create illegal bioweapons. The report cites research by DARPA to create super insects resistant to climate change that will help farmers, but the nerds say the DOD is really making crop-killing bugs. DARPA denied the allegations, called the report "misleading," and said these nerds must be crazy to think the government would ever use a peaceful technology for war.
Democrats and human rights groups think it would be just swell if the State Department brought back reports on reproductive rights in its annual human rights report. They note that the exclusion of reproductive rights from the report tells oppressive regimes around the world that it's totally fine to "grab 'em by the pussy."
The New York AG is pressing a state court not to dismiss a suit against the Donald Trump Foundation, calling it a "shell corporation that functioned as a checkbook from which the business entity known as the Trump Organization made payments."
A former Democratic congressional staffer charged with doxing Republican senators plans to contest charges that he broke into Sen. Maggie Hassan's office, stole sensitive and personal information, and threatened to dump it all over the web like he was Julian Assange. A nine-page Capitol Police report includes texts from the staffer threatening Hassan's staffers, as well as a slew of digital fingerprints; so this dumb bastard better have a good lawyer!
The New York Times has a nice story about elderly women in Pennsylvania dusting off long neglected local government posts and canvassing the streets with young people in an effort to wrest control from the conservatives gerrymandering themselves into power. SCRANTON!
Jury deliberations are underway in the murder trial of Jason Van Dyke, a Chicago police officer charged with the killing of 17-year-old Laquan McDonald in 2014. In closing arguments, defense attorneys attempted to paint McDonald as a "monster," arguing, "When a monster turns and looks at the victim, that's when the music starts to play." Yesterday two alternate jurors were dismissed and told reporters that they felt Van Dyke was guilty. This morning Chicago is bracing for potentially large and violent protests in the wake of the verdict.
Erik Prince is running around Kabul, Afghanistan, pushing his plan to create a 21st century East India Trading Company by lying to the Afghan government about his political proximity to, and backing by, Donald Trump. As the Pentagon continues to denounce Prince's plan and Trump's White House presses for negotiations with Taliban forces, a spokesman for Afghan President Ashraf Ghani's National Security Council told reporters that Prince was "a war profiteer who stands to make $10 billion a year," and added that Prince has a "colonialist type of arrogance."
SAD TIME: Rescuers in Indonesia are giving up hope of finding survivors following the massive earthquake and tsunami that flattened and washed away an incalculable number of buildings leaving thousands dead, and survivors stranded.
The Nobel Peace Prize has been awarded to Denis Mukwege, a Congolese gynecologist treating gang rape victims, and Nadia Murad, an Iraqi Yazidi who has boldly spoken about the horrors she and other women have suffered at the hands of ISIS/ISIL/whatever. In announcing the the Peace Prize, Chair of the Norwegian Nobel Committee Berit Reiss-Andersen stated, "We want to send out a message of awareness that women, who constitute half of the population in most communities, actually are used as a weapon of war — and that they need protection."
The AP is reporting Meng Hongwei, the president of Interpol, has been reported missing in China where he also serves as the Vice Minister of Public Security. Weird!
WaPo is running a blank space on its front page today to draw attention to the sudden disappearance of Jamal Khashoggi, a Saudi Journalist who hasn't been heard from since "he entered a Saudi consulate in Istanbul for a routine consular matter on Tuesday afternoon."
FUCK YEAH: While he was being arrested in Chicago for protesting for a higher minimum wage, the Rev. William Barber was simultaneously awarded a $625,000 "genius grant" from the MacArthur Foundation for working to "expand voting rights, health care, living wages, immigrant rights, public education and LGBTQ rights." Other nice people were too!
After paying a $20 million fine to federal regulators suing him for securities fraud, Tesla CEO and edgy douchebag Elon Musk took to Twitter last night to taunt the SEC and talk shit about the skittish investors jumping off Tesla's roller coaster stock price.
The only reporter worth a damn in Silicon Valley is Kara Swisher, and she has just published a potential Internet Bill of Rights. that was started by House Minority Leader Nancy Pelosi and crafted by California Democratic Rep. Ro Khanna following months of investigations and interviews. If you value your data, you will make time to read this.
And here's your morning Nice Time! Baby Baboons!!!

Follow Dominic on Twitter and Instagram!
We're 100% ad-free and reader-supported, so consider buying us coffee, or get a subscription!
Dominic Gwinn
Dominic is a broke journalist in Chicago. You can find him in a dirty bar talking to weirdos, or in a gutter taking photos.