Rogues And Villains. Wonkagenda For Tues., Oct. 16, 2018
Military
October 16, 2018 09:01 AM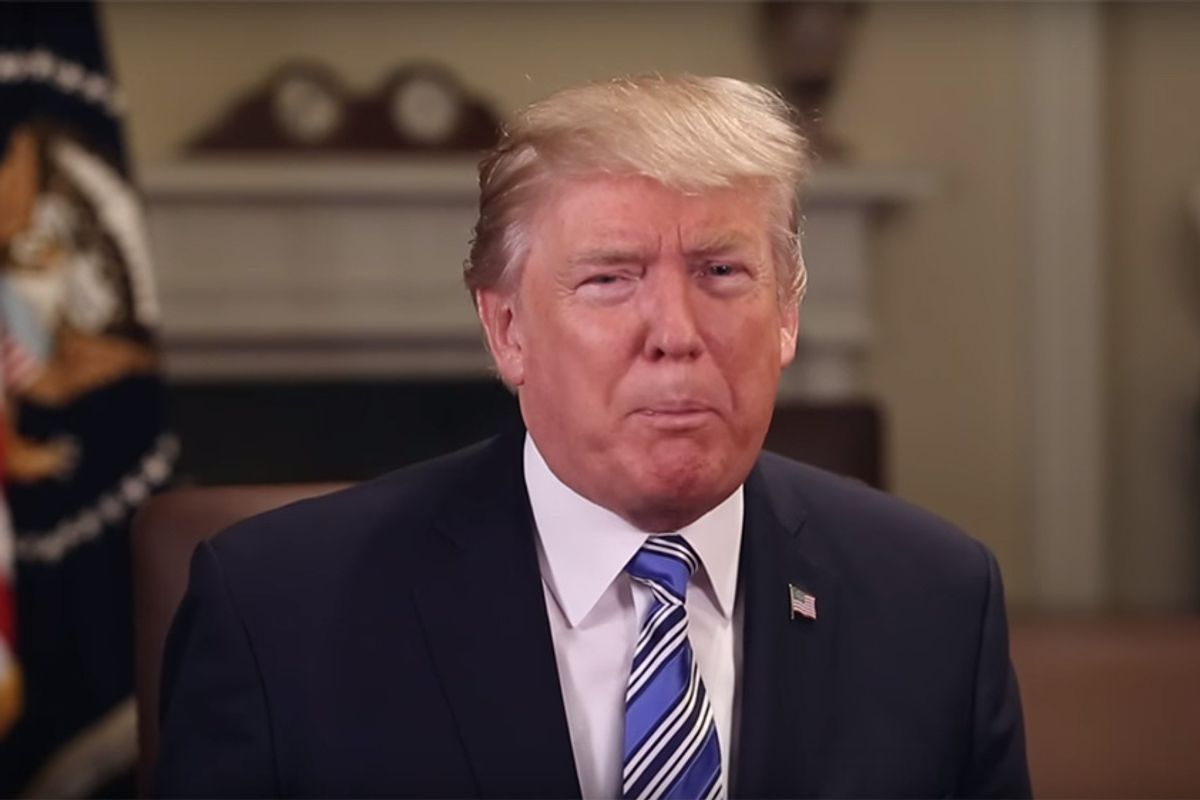 Morning Wonketariat! Here's some of the things we may be talking about today.
---
HEY, YOU! Today there a voter registration deadlines for eight states, and DC! Now would be a good time to double-check your voter registration status if you live in DC, Kansas, Louisiana, Maine, Maryland, Minnesota, Nevada, New Jersey, or Oregon!

WaPo reports that the Trump administration (Jared) has been talking with Saudi officials (probably MBS) about how to spin the death of journalist Jamal Khashoggi. With major businesses running for their financial lives from the Saudis, CNN is reporting that the Saudis will admit Khashoggi died in a botched interrogation after several outlets confirmed reports of a clean-up crew leaving the Saudi Embassy in Istanbul where Khashoggi was last seen.
After Trump said that it was possible "rogue killers" were responsible for the death of Khashoggi, USA Today's Editorial Board penned a brutal op-ed ticking off dictators (/customers) whom Trump has excused for political assassinations.
Jonathan Swan's latest back alley blowjob revealed Donald Trump is happy Elizabeth Warren got a DNA test because he loves giving people nicknames that get under their skin. Trump has since spent the morning making racist shitposts on Twitter.
In a shady and last minute maneuver to pack the courts with conservative judges, Iowa Republican Sen. Chuck Grassley is ignoring the protests of Democratic Sen. Dianne Feinstein to postpone judicial nominations now that the Senate is in recess. Both Republican Senate Majority Leader Mitch McConnell and Sen. Grassley say that they intend to continue packing the lower courts well into the lame-duck session because Chuck Schumer is a gullible idiot.
The Trump administration signed rules to make drug companies put prices in pharmaceutical ads. Now you'll get to see shady pricing on drugs you can't afford! Yayyy...
Federal agencies continue to ignore basic cyber security mandates from DHS that are intended keep hackers from snooping around ".gov" email addresses.
The Pentagon is reporting as many as 30,000 travel records have been breached after a contractor exposed the personal info and credit cards of military and civilian staffers.
Reporters at the Pentagon have been complaining that the DOD no longer gives press briefings, making it a bit frustrating for reporters to know whether or not we're on the verge of war with China. So, the Pentagon brought Gerard Butler in to promote his new movie instead. It's about a bunch of Navy SEALs saving the life of a kidnapped Russian president in an attempt to prevent World War III. Butler said a few scenes were cut from the movie following the ALLEGED murder of Jamal Khashoggi, and that he WAS going to meet Saudi Crown Prince Mohammed bin Salman, but "It just didn't seem like a situation that we would want to get into." #Merica
Rick Perry's big, beautiful bailout of coal and nuclear power has been shelved following an amalgam of competing interests, primarily upon the realization that they're direct competitors and would actually increase prices. Stupid energy markets!
Grifty bastard and Interior Secretary Ryan Zinke's proposal to use military bases to export coal and natural gas is being laughed at by state governments, energy advocates, and tree huggers as "half-cocked" and stupid. Aside from being a logistical and ecological disaster waiting to happen, former military officials doubt Zinke's plan is even legal as the Interior Department may not even have the authority to carry out his plan.
A new report posits that climate change will affect the production of barley and push up the prices on beer. Thanks, Trump...
The federal deficit has grown to $779 billion in Trump's second year which economic experts note is very unusual considering the rate of economic growth. Of course, we wouldn't be here were it not for Trump's tax cuts (for the super rich), or the stagnant wage growth for the lower and middle-class. #MAGA
The Trump campaign spent a record $1.6 million on legal fees between July and September, mostly to Jones Day. And that's not even counting the Trump-Russia stuff! Yesterday Politico reported a Mar-a-Lago member donated $150,000 to the legal defense fund for Trump minions caught up in Trump-Russia.
Casino magnate and conservative mega-donor Adelson is single-handedly keeping the GOP alive this cycle with $88 million in donations to conservative groups, and $32 million in September alone.
Republican Rep. Steve Scalise wants to remind everyone that he was shot during congressional baseball practice. You want to see his scar? He almost died for his unwavering support for the same military-style assault weapons that almost killed him. You might say he really took one for the team. Good thing he had health insurance!
Wisconsin Republican Gov. Scott Walker is slow-walking his Medicaid work requirements in fear of political backlash from all the sick, disgusting poors he wasn't able to purge from the voter rolls.
Republican Rep. Dave Brat and Abigail Spanberger faced off in a debate for the Virginia 7th last night. When Brat wasn't just flat-out lying (as usual), he kept screaming Nancy Pelosi, and other conservative buzzwords.
Republican Rep. Martha McSally was flailing last night in a debate with Democratic Rep. Kyrsten Sinema for the Senate seat being vacated by Jeff Flake. McSally was desperate to dodge questions about repealing pre-existing conditions as Sinema defended herself for protesting the Iraq war.
A new Monmouth poll shows Republican Carol Miller overtaking Democratic state Rep. Richard Ojeda, 48 to 45 in the West Virginia 3rd. Ojeda previously led the West Virginia teachers strike, and the state fight for medical marijuana.
There's a debate between Rep. Beto O'Rourke and Sen. Ted Cruz in San Antonio tonight! This will be the second of three debates, and it comes as Beto has fallen behind in the polls while still hauling in a staggering amount of cash. Meanwhile, Ted Cruz has to airdrop Donald Trump to save his ass at a pathetic little rally next month.
Richard Linklater has a new anti-Ted Cruz ad that takes aim at Cruz for shitting on Beto for taking his kids to WhataBurger.
DC's non-voting congressional delegate and resident badass Eleanor Holmes Norton is warning the National Park Service not to start fucking with how and where protesters can march in DC, or to start charging protesters for security.
People in Chicago began breathing heavily after Chance the Rapper suggested he'd run for mayor yesterday. Last night the Sun-Times' Fran Spielman wrote that Chance will probably just endorse someone later this morning.
Remember James Wolfe, that former Senate Intel staffer who was ALLEGEDLY sexing NY Times reporter Ali Watkins, and feeding her juicy tidbits about the Trump-Russia investigation? Well, he just pleaded guilty for lying to the FBI about leaking "unclassified, but not otherwise publicly available, information."
Emily Jane Fox gossips that Michael Cohen wants to be your new #Resistance bae, so he registered as a Democrat now spilled his guts to Robert Mueller and SDNY for at least 50 hours already. Can he get pink pussy hat now?
A federal judge threw out Stormy Daniels's defamation suit. Meh.
Apparently Roseanne-sans-Roseanne is less shitty. Whatever, we're too busy for this crap.
Tucker Carlson tells the National Review he can't wait for "this revolution to end" so he can go out and eat a burnt ketchup steak at The Palm without some goddamn millennials screaming "Fuck You." Poor snowflake.
Laura Ingraham is still having a hell of a time securing advertisers for her teevee show following a boycott led by victims of the Parkland school massacre. Fox execs say that Ingraham's extra talk time is actually an attempt to boost ratings.
The Proud Boys marched around alt-media safe spaces to brag about support from the NYPD after their "Western chauvinist" leader Gavin McInnes claimed victory for leading his mob of Limp Bizkit fans into beating up several anti-fascist protesters without being arrested.
On his radio show, Hannity claimed he was deaf, dumb, blind to the Proud Boys, but Media Matters notes McInnes had appeared on Hannity's show 24 times before deciding Fox was too liberal in 2017.
Right Wing Watch's Jared Holt went to the Diamond and Silk movie and reports that it's just a bunch of Youtube clips of people bitching about plastic straws and poop on sidewalks with Rep. Steve King.
A dating app for Trump supporters was breached by a French security researcher who shared the entire app's entire user database with TechCrunch. The app's founder and former staffer Sen. Marco Rubio declined to comment.
Paul Allen, the co-founder of Microsoft, passed away. He was 65.
Despite charges of censorship, Facebook will begin policing voter misinformation campaigns. Reuters reports that they're still only making a half-assed attempt to cover themselves from (more) allegations of voter fuckery as they consider whether or not to follow Twitter in banning hacked material.
And here's your morning Nice Time! BABIES, KITTIES AND BABY GOATS!

Baby Max Shares with the goats!www.youtube.com
Follow Dominic on Twitter and Instagram!

We're 100% ad-free and reader-supported, so consider buying us coffee, or get a subscription!
Dominic Gwinn
Dominic is a broke journalist in Chicago. You can find him in a dirty bar talking to weirdos, or in a gutter taking photos.