Hot For Third Grade Teacher. Wonkagenda For Thurs., Oct. 17, 2019
popular
October 17, 2019 09:01 AM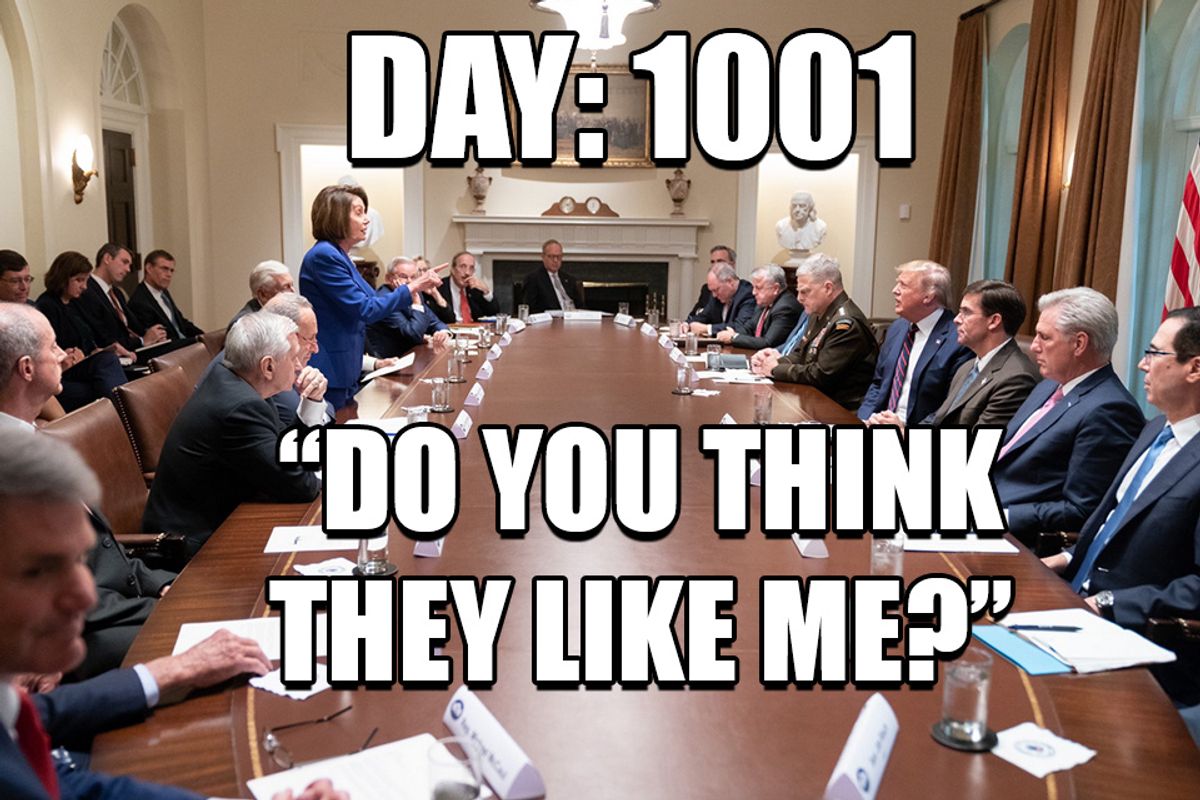 Photo via White House
Morning Wonketariat! Here's some of the things we may be talking about today.
---
Maryland Democratic Congressman Elijah Cummings has passed away at 68. As chairman of the House Oversight and Reform Committee, Cummings has played a pivotal role in the ongoing impeachment inquiry of Donald Trump. The son of sharecroppers, Cummings was born and raised in Baltimore and spent his life defending and championing the city. He is survived by his wife, Maya Rockymoore Cummings, chair of the Maryland Democratic Party, and a nation of Wonkette readers who adore him.
Nancy Pelosi said that Trump had a "meltdown" yesterday during a White House meeting about his disastrous decision to pull support for Kurdish fighters in Syria. Trump called Pelosi a "third-grade" politician at least three times, and claimed the Kurds were "communists" and that Democrats were sympathizers, leading Pelosi and Democrats to walk out of the meeting. Trump tried to troll people by shitposting photos of the meeting and asking if Democrats "like" him. Naturally, the gang at Fox and Friends wonder why Democrats won't "sit down and talk."
Trump's latest temper tantrum follows a House vote to condemn his moves in Syria, 354 to 60, with 129 Republicans crossing the aisle. BONUS: Lou Dobbs ripped Republican Rep. Steve Scalise a new asshole for voting with Democrats to condemn Trump.
Ahead of Mike Pence and Mike Pompeo's visit to Turkey, Trump sent Turkish President Recep Tayyip Erdogan a letter begging for a deal to stop the slaughter of Syrian Kurds. In the letter, Trump Trump's called Erdogan "a fool." In response, Erdogan reportedly threw the letter in the trash.

WH confirms that this letter is accurate. The letter is super Trumpy. https://t.co/vUHANPrhpX

— Yamiche Alcindor (@Yamiche Alcindor) 1571259212.0
The US has bombed one of its own bases in Syria in order to prevent various weaponry and equipment from falling into the hands of random assholes.

During a hearing before the Senate Foreign Relations Committee, the administration's special envoy for Iran policy Brian Hook claimed Iran was doling out ballistic missile tech to local extremist groups, and that this justified nuking the JCPOA. Hook declined to name any of the of groups. At one point during the hearing Republican Sen. Lindsey Graham criticized the administration's moves in Syria, and after not getting answers to several yes or no questions from Hook about the withdrawal -- which Graham called the "most screwed up decision" he'd seen since being elected in 1995 -- Graham threw a tantrum and walked out. Why won't he sit down and talk?

Later today US Ambassador to the EU Gordon Sondland is expected to get grilled on the Hill about his knowledge of Trump's quid pro quo agreement with the Ukrainian president to manufacture dirt on Joe Biden. NBC is reporting that Sondland even brought up the blackmail quid pro quo agreement IN THE WHITE HOUSE, royally pissing off former national security mustache John Bolton. Sondland has already claimed he's A Idiot and was only following orders. People familiar with Sondland's testimony say he's is expected to say he was "frustrated" the State Department isn't coughing up paperwork that match his version of events.
Yesterday the Washington Post reported Sondland secured a cool $1 million in taxpayer dollars to renovate his government-owned residence in Brussels which includes a $400,000 kitchen, $95,000 for an outdoor "living pod" (whatever that is), and $33,000 in handmade Italian furniture. Sondland contends that the ambassador's residence was "deteriorated and nearly unusable," however others tell WaPo that's "bullshit" and that the house was "in excellent condition."
Michael McKinley, former senior advisor to Secretary of State Mike Pompeo, plans to say that he quit last week over concerns about political fuckery the administration has been trying to get foreign governments to carry out on its behalf. McKinley is expected on the Hill Tuesday.
Outgoing Energy Secretary Rick Perry tells the Wall Street Journal that Trump told him to talk to Rudy Giuliani about Ukrainium One. Perry seems to be playing the role of Useful Idiot (an Oscar-worthy accomplishment), and blaming everything on Giuliani and Trump's continued fever dreams about HER EMAILS.
Last night Rachel Maddow did her long 'splainery thing on how Attorney General Bill Barr has been ignoring multiple criminal complaints against Trump. [Morning Maddow]

Onus Of Investigations On Congress, SDNY As Barr Defers To Trump | Rachel Maddow | MSNBCwww.youtube.com
ProPublica got its hands on some Trump Org financial documents that show the business declared different things to lenders and New York tax authorities about two of Trump's trash palaces. The records show Trump inflated occupancy numbers to lenders while simultaneously decreasing occupancy to tax officials. Bean counters think this years-long grift would help Trump secure bigger loans and pay lower taxes, and legal nerds think that's kind of illegal. Hey, remember that time in the 2016 debates where Trump bragged about not paying taxes?
Yesterday the Supreme Court heard arguments in Mathena v. Malvo. Vox 'splains the case, which involves one of two DC snipers from 2002, has the potential to change our understanding of the Eighth Amendment, which bans cruel and unusual punishment.
Megan Berman, the US Postmaster General, is expected to retire in January. Berman's retirement follows months of repeated criticisms from Trump, and calls for her ouster. The first woman to head the US Postal Service, Berman started as a letter carrier and rose through the ranks of the USPS. Trump's obsession with the bulging pockets of Amazon founder Jeff Bezos was a constant source of annoyance for Berman, who kept having to tell Trump he can't just screw Amazon out of a government contract. The Washington Post notes Trump has appointed a majority of the Postal Service's Board of Governors, and the White House is denying Berman is being quit-fired.
Marianne Williamson has an op-ed declaring she has no intention of dropping out like all the other Tim Ryans, and claims the election is rigged against wealthy snake-oil salesmen trying to con their way onto the debate stage.
Chicago teachers are on strike this morning after the city failed to negotiate a deal with the 32,500 teachers and support staff. In an attempt to out-progressive local unions, Mayor Lori Lightfoot says the city "tried to provide the best deal that is fiscally responsible," but complained the Chicago Teachers Union "continued to bring up additional bargaining issues." The CTU and SEIU are demanding more pay, smaller class sizes and fully staffed schools throughout the city, noting that unlike schools in the wealthier North side, many schools in the South and West sides do not have full-time support staff, like nurses, social workers, janitors or librarians, if they have them at all. Dian Palmer, president of the SEIU Local 73, said, "There is no reason why in Chicago, a city of such wealth and resources can't properly invest in good jobs for school staff." Classes and transportation services have been canceled throughout the city, but schools will remain open for students who require breakfast, lunch, and dinner, and the Chicago Transit Authority is offering free "L" and bus rides.
A tentative deal has been struck between the striking United Auto Workers and General Motors. Not much is known about the agreement, but later today around 175 leaders at GM facilities throughout the country are expected to meet in Detroit to vote on the deal.
Early this morning British and European negotiators announced another Brexit deal. The agreement still needs to pass the British and European parliaments. British Prime Minister Boris Johnson is reportedly claiming he can ram through the deal within the next week, but a number of political factions on the left and right are already scoffing. BoJo appears to have caved to several European proposals on a so-called "Irish back-stop" in order to preserve the Good Friday Agreement. Earlier this week Queen Elizabeth II formally opened the British Parliament and said Johnson's government "intends to work toward a new partnership with the European Union, based on free trade and friendly cooperation."
T-Mobile and Sprint got a green light to merge from the FCC following a 3-2 party-line vote. In a twist, the FCC did acknowledge that Sprint was under investigation for pocketing government cash to serve almost a million low-income Americans it never provided service to. In an op-ed and a tweet, Democratic commissioner Jessica Rosenworcel said, "less competition is not good for consumers. With airlines, we got higher fees and less leg room. With drug companies, we've seen prices soar. Why will our phones be any different?"
A Florida cop has lost a vacation day for shoving a teenager off a roof after a supervisor ordered him to "just push him off." Body camera footage shows the officer encouraging the teen to jump and threatening that he would be "tased" if he did not jump. After falling nine feet, the teen was shot with a taser by police anyway.
A Baltimore cop has been sentenced to five years in prison for pulling his gun and assaulting a man who spilled tea on his new civilian car after the officer failed to yield to the man as he was crossing the street.
A Florida man has been charged with burglary, resisting arrest, larceny, and criminal mischief after reportedly breaking into several businesses and destroying things. The man was caught after he broke into a plumbing business and used a hammer and forklift to destroy various items, then took a shower. Yes, there's video.
The Daily Show called out the hypocrisy of Trump's spawn whining about nepotism.

Nepotism In & Around The White House | The Daily Showwww.youtube.com
And here's your morning Nice Time: OTTERS!

Rescued Sea Otter Lincoln Turns 2!youtu.be
Follow Dominic on Twitter and Instagram!
We're 100% ad-free and reader-supported, so consider buying us coffee, or get a subscription!
Dominic Gwinn
Dominic is a broke journalist in Chicago. You can find him in a dirty bar talking to weirdos, or in a gutter taking photos.