Stupid Is As Stupid Does. Wonkagenda For Thurs., Nov. 7, 2019
popular
November 07, 2019 08:58 AM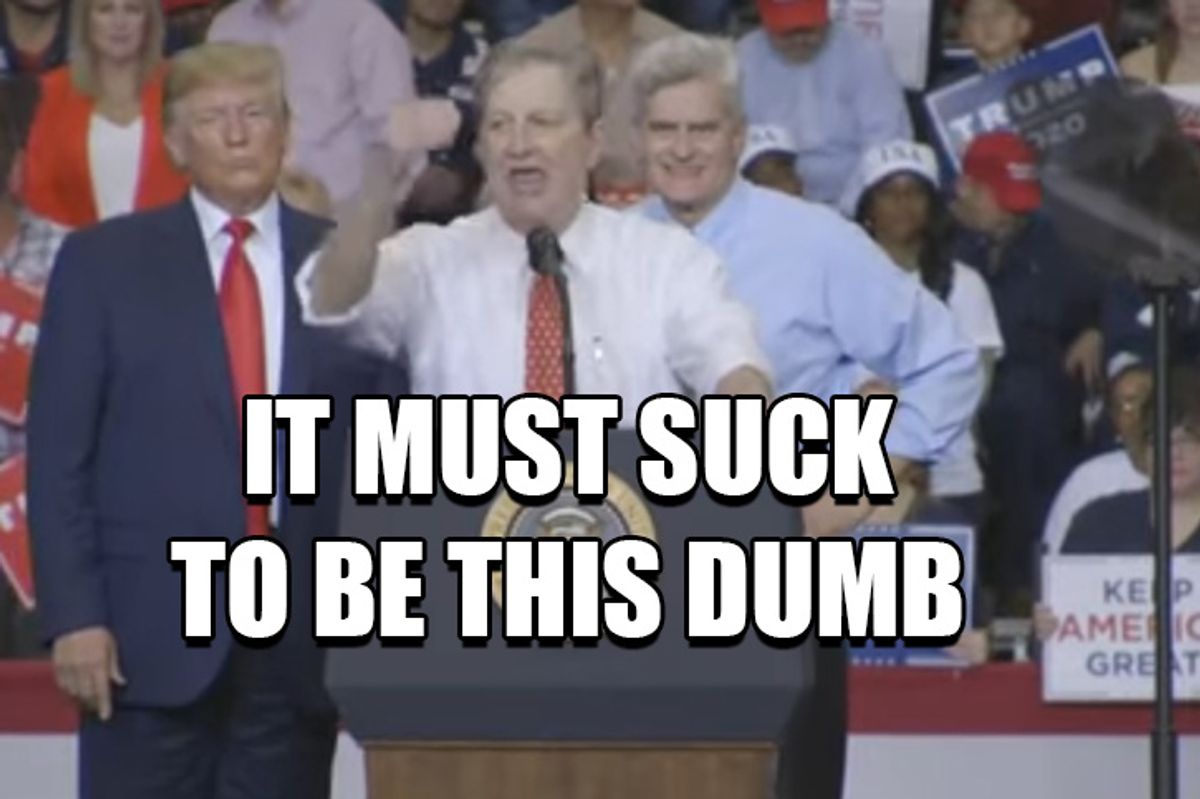 Morning Wonketariat! Here's some of the things we may be talking about today.
---
Trump asked Attorney General Bill Barr to go on TV and say Trump was TOTALLY EXONERATED from his imploding Ukrainium One scandal, but Barr said, "Fuck that noise, bro" the Washington Post reports. The White House says there's no problems between Trump and his public defender, but loose lips whisper Trump has groused about Barr putting on his life preserver instead of going down with the ship.
Politico has a wonky thing about how the Senate's impeachment trial comes down to a gentlemen's agreement between Senate Majority Leader Mitch McConnell and Senate Minority Leader Chuck Schumer. Both have to agree to general rules before anything can happen in the Senate -- which hasn't happened since Sen. Ted Kennedy was alive and drinking.
The TRANSCRIPTS show the Fox News caucus of loud, wingnut Republicans haven't been showing up to the impeachment inquiry even though a bunch them sit on on the three committees interviewing witnesses. Roll Call thinks this might be a taste of things to come when impeachment hearings go public next week.
In order to fight a constant deluge of bad headlines showing Trump World is beyond fucked, the White House is bringing in conservative lobbyist and gay-hatin' former Florida attorney general Pam Bondi into the impeachment fight. Joining Bondi in the damage control room will be former Treasury official Tony Sayegh. Bondi has been gunning for a White House gig for some time, but all the best jobs (for girls) have been filled so she became a DC swamp monster and lobbied for sportsball, a car company, a cruise line, and the Qatari government, to name a few.
The New York Times has a windy tale about why Rudy Giuliani and his chucklefucks at Fraud Guarantee got paid $500,000 for some vaporware. In a related story, a very nervous Rudy has "You're Fired" his old lawyers and brought on a new lawyer who worked at the big-dick-toilet company (for real) with Trump's former (acting) AG, MEATBALL.
Intel officials are begging CIA Director Gina Haspel to stand up for truth, justice, and American cheese, but we're not holding our breath.
Trump seems to have agreed to a partial withdrawal from his trade war with China. The tariff man has reportedly agreed to roll back some of his taxes tariffs in phases, but a final agreement is far from certain.
ProPublica has a great piece on how Mike Pence has been diverting USAID cash to Bible thumpers who want Uncle Sam to waste money teaching godless savages in "shithole countries" about Jesus instead of building schools, wells, and toilets.
Indiana Democratic Rep. Peter Visclosky is joining the ranks of of 2018 Congress members calling it quits. The district is solidly blue so there's nothing to worry about. Visclosky may not be a household name, but he does chair the powerful House Defense Appropriations subcommittee, which boasts some heavy hitters and rising stars in the Democratic party, like Illinois Rep. Cheri Bustos, and one of the failed 2020 Tim Ryans, Ohio Rep. Tim Ryan.
The Washington Post writes that Tuesday's Democratic Blue Wave is a validation of the 2018 elections, and a sign the impeachment inquiry is working. An incensed Laura Ingraham disagrees, and last night she used her white power hour to blame Republican election losses in Kentucky and Virginia on immigrants, George Soros, and the DEEP STATE.
Last night Trump went to Louisiana to yell and scream that his Front Row Joes need to unseat Democratic Gov. John Bel Edwards in a special election on Nov. 16. Trump bitched about a "depression" if people didn't do as he demanded, and flung around his usual insults. At one point, Republican Sen. John Kennedy decided to bemoan Nancy Pelosi and the House impeachment inquiry, railing, "It must suck to be that dumb."
Joe Biden has stepped up his attacks against Elizabeth Warren. Biden argues that he's the great, white hope flyover country needs, waving around quasi-conservative op-eds and hatchet jobs that call Warren a phony and "elitist," and her plans "unrealistic." In one of the worst infographics I've seen since my college statistics class, Axios says Elizabeth Warren has gone all-in on M4A, and the general reception among the Beltway press wizards on the op-ed pages has been negative. I'm shocked to see Wall Street whining about money to the cocktail sipping "smart brevity" crowd, so here's a fat cat complaining.
Cinderblock | UPDATE; Water Level Has Been Raised!!!www.youtube.com
If you're up to it, the New York Times has a somewhat better infographic on Warren's M4A plan, but it might break your computer.
The Trump campaign plans to schlep Mike Pence around the country to make inroads with the people Trump keeps pissing off, like religious nuts and farmers. The campaign will similarly use Mother to reach out to all the other angry Karens in suburbia.
Now that Texans don't have Beto O'Rourke to kick around anymore, Democrats are scrambling in the Lone Star State to snatch the seat of Republican Sen. John Cornyn. Air Force vet MJ Hegar leads the pack, but there's also half a dozen other candidates, and even some Republicans, vying to take on down Conryn as well.
Current FEC reports show top tier presidential campaigns may easily spend more than $100 million before the year is out. Last night Samantha Bee 'splained how Trump and the RNC are raking in oodles of Ameros by selling crapware, which allows them to suck up data, which allows them to microtarget grifts and sell more crapware, and so on.

He's Loaded: How the Trump Re-election Campaign Raised So Much Money | Full Frontal on TBSwww.youtube.com
And here's your morning Nice Time:KITTIES AND BRUSHIES!

Cats vs Brushwww.youtube.com
Follow Dominic on Twitter and Instagram!
We're 100% ad-free and reader-supported, so consider buying us coffee, or get a subscription!
Dominic Gwinn
Dominic is a broke journalist in Chicago. You can find him in a dirty bar talking to weirdos, or in a gutter taking photos.