Trump's 'Deep Throat.' Wonkagenda For Fri., Nov. 8, 2019
popular
November 08, 2019 09:06 AM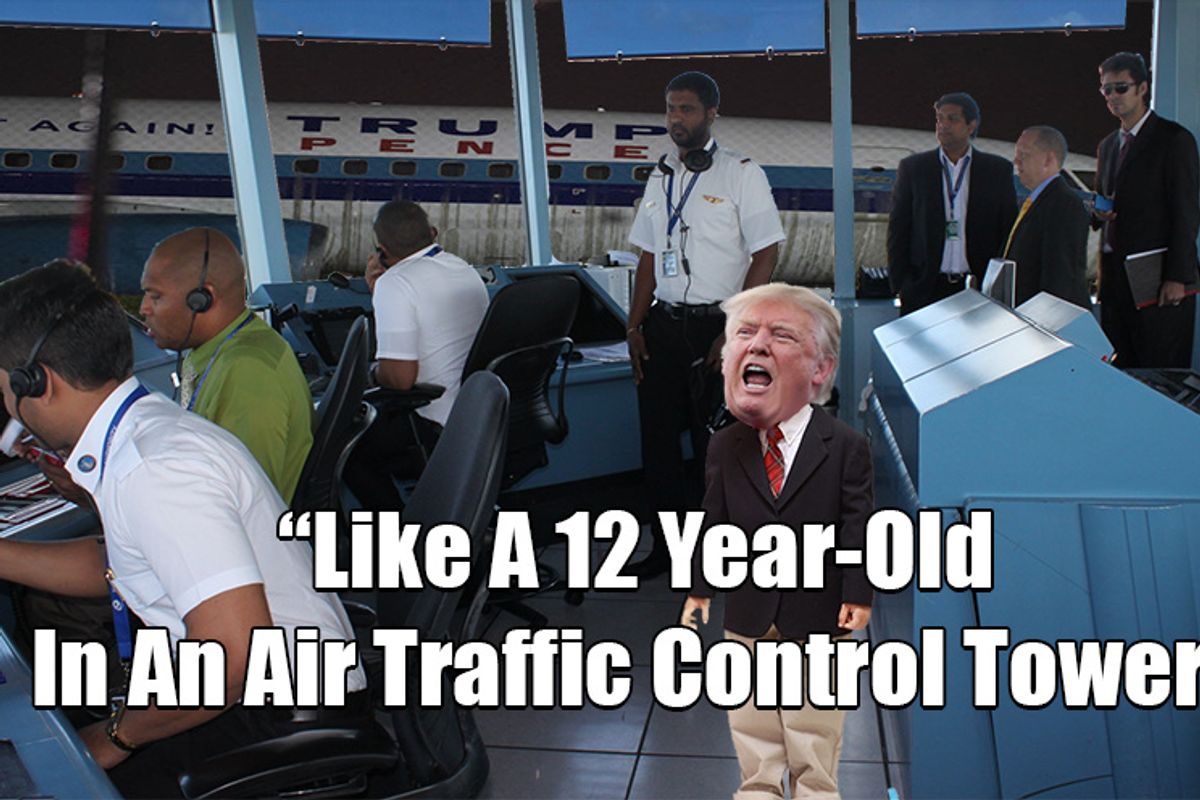 Morning Wonketariat! Here's some of the things we may be talking about today.
---
Excerpts from the book by DEEP STATE author "Anonymous," have leaked out and it's about what you'd expect: Trump is a horribly racist paranoid bastard who is obsessed with money and says misogynist stuff to career officials indiscriminately. The book talks about how Trump is incapable of behaving like a rational person, and officials are forced to constantly throw up a "Bat-signal" to keep Trump saying and doing crazy things. A New York Times Book Review describes the author as a person with a guilty conscience who refers to themselves as a member of the "steady state" (as opposed to the DEEP STATE) who is trying to keep Trump from "pushing the buttons of government indiscriminately." There's some choice analogies, like Trump being a 12-year-old in an air traffic control tower who doesn't care about planes skidding off a runway, and a senile old man at a nursing home,"running pantsless across the courtyard and cursing loudly about the cafeteria food, as worried attendants tried to catch him." [Morning Maddow: One, Two, Three]
Exclusive: Anonymous Author Depicts Deep Trump Admin Dysfunction | Rachel Maddow | MSNBCwww.youtube.com

Some of the most messed up stuff that's leaked from the book are about Trump trying to "You're Fired" all the judges in an effort to stop a perceived coup, and Mike Pence supporting a National Security Council move to "You're Fired" Trump under the 25th Amendment. Pence has since denied the claim. CNN confirms that officials thought Pence would back a 25A, but not whether he actually did.
House Republicans are expected to try a new tactic to defend/embussen Rudy Giuliani, Gordon Sondland, and Mick Mulvaney. The Washington Post reports their new strategy hinges on saying all three were all doing their own thing on Ukrainium One, thus insulating Trump. However, Rudy's constant barrage of shitposting and very sober media appearance saying he was acting as Trump's lawyer might make that a problem.
Mick Mulvaney has been subpoenaed by the House Intel Committee to testify before the impeachment inquiry, but nobody expects him to show up.
ANOTHER NSC official who was in some of those Ukrainium One meetings is getting quit-fired himself today. Earl Matthews worked closely with John Bolton and even went with Mike Pence to Poland in September, sitting in on meetings with Ukrainian President Volodymr Zelenskiy. I wonder if he has something to say to the impeachment inquiry?
The Senate Judiciary Committee advanced the nomination of Steven Menashi. Menashi is that white power apologist Trump tapped to sit on the Second US Circuit Court of Appeals. Fun fact: Menashi was the general counsel to Education Secretary Betsy DeVos who outlined a plan to help out for-profit colleges that ripped off students. Menashi's plan was ruled illegal by a federal judge last year.
Congress wants to investigate the "opportunity zone" provision that was hidden inside the Trump tax cuts (for the super rich). The congressional investigation comes after multiple news outlets in cities across the country, like Detroit and Baltimore, began reporting the program was being abused by billionaire real estate grifters who happen to be friends with Donald Trump.
Well whaddyaknow! There's ANOTHER person accusing Rep. Jim Jordan of shrugging off complaints about sexual abuse during his time at Ohio State University. A former referee says back in 1994 he came to Jordan to report disgraced doctor Richard Strauss rubbing one out in the shower in front of him after a wrestling match and, according to court documents, Jordan's response was, "Yeah, yeah, we know."
Former New York Mayor Mike Bloomberg MIGHT be running as a Democrat in 2020. He just filed paperwork to appear on the ballot in Alabama before today's filing deadline. Bloomberg says he's still weighing his options, but Axios gossips a source close to Bloomberg says he'll "spend whatever it takes to defeat Donald Trump." People close to the 53-billionare say the former Democrat-turned-Republican-turned-Democrat has become nervous about Joe Biden's chances. Bloomberg has been openly critical about wealth tax proposals from his potential 2020 rivals senators Elizabeth Warren and Bernie Sanders. #HesRunning.
After taking a ton of criticism from super rich guys, Elizabeth Warren launched a tax calculator for billionaires. There's even special selection for Mike Bloomberg and Bill Gates.
A top aide for Tom Steyer in Iowa was quietly running around and trying to buy support from local politicians. The scheme isn't TECHNICALLY illegal: The aide was offering campaign contributions for endorsements -- a QUID-PRO-QUO -- that doesn't help accusations Steyer is trying to buy his way into the election. The Steyer campaign denies the scheme and says any endorsements were "earned because of Tom's campaign message."
Pete Buttigieg's big gay problem among older black voters in the South got worse yesterday after an influential pastor tweeted this was "not the time 4 POTUS 2b a man with his husband up there by his side," because it might make Jesus cry. The pastor tells the Atlanta Journal Constitution that he's not homophobic, adding that "people have to be careful that they choose the right person" to defeat Trump in 2020 as there are some more conservative voters "who will make their decision on who to vote for based on a candidate's color, a candidate's religion or a candidate's sexual orientation."

Dems I pray U will use wisdom in voting. Being too liberal will not win. I am not Homophobic. But it is definitely… https://t.co/FT5RZxAWkl

— Bishop Paul S Morton (@Bishop Paul S Morton) 1572696064.0
With what may be the defining characteristic of a fool's errand, Trump is headed to Atlanta later today to launch his Black Voices for Trump Coalition before holding a ritzy fundraiser for Republican Sen. David Perdue. The Atlanta Journal Constitution reports the fundraiser will include a $100,000 round table and a $2,800 lunch, with a $35,000 "donation" for photos with Trump (all prices per person). Political wizards note that Stacey Abrams and other Democrats won black voters by 94 percent in the state's most recent elections, and have been working overtime to fight voter suppression efforts.
Jeff Sessions slithered out from his bog, slipped into a suit, and announced #HesRunning for his old Alabama Senate seat on Tucker Carlson's show last night. Sessions noted that he never became a talking head, wrote a book, or tried to embussen Trump World because "that would be dishonorable." A groveling Sessions said he hoped Trump World had forgiven him for recusing himself from the investigation into Russian fuckery, per DOJ rules. Sessions has released his first campaign ad where he reiterates how he was a loyal minion while serving Trump World. The ad comes as one of Sessions's biggest Republican rivals in the Senate primary, former college sportsballer Tommy Tuberville, calls Sessions a "Washington insider" who hates MAGA country. [Sessions ad / Tuberville Ad]
In a rather strange turn of events, Politico reports Senate Republicans facing reelection next year are seeing a sudden surge of dark money attacks from Democratic-aligned groups. What goes around comes around, I suppose.
Kentuckians are fuming at Senate Majority Leader "Moscow" Mitch McConnell, accusing him of having a hand in kicking his biggest 2020 challenger off the air. Kentucky Sports Radio founder and host Matt Jones was temporarily booted off the air when the state's Republican Party chair filed an FEC complaint saying Jones was using his show to rant and rave about his candidacy.
While Trump was yelling about depressing voters in Louisiana the other day, Gov. John Bel Edwards was holding a competing rally where he touted a $500 million budget surplus, teacher pay increases, and his record of reaching across the aisle. Edwards criticized his Republican opponent, Eddie Rispone, for needing Trump to parachute in and create a distraction. A runoff election between Edwards and Rispone will be held on Nov. 16; early voting is already underway and ends tomorrow.
ICYMI: ProPublica has a great investigation into how ES&S, the voting machine giant, has been leaning on elected officials and suing cities and towns whenever anyone tries to get rid of their shady voting systems or enact transparency laws.
In a less than shocking turn of events, British Prime Minister Boris Johnson is being accused of not understanding his own Brexit deal after video surfaced of Johnson bumbling around Northern Ireland and rambling like a drunk uncle about taxes on chips, and how nobody understands his Brexit deal.

July 2019: "Boris Johnson is a proven winner. An inspired speaker who will electrify any campaign" Nov 2019: *Bori… https://t.co/4eAPGI3uHy

— David Schneider (@David Schneider) 1573170318.0
Leaked court documents show how Facebook is deeply paranoid that a rival could easily overtake it, so it's been quietly using its vast amount of user data to shut down anyone who jeopardizes its dominance.
Google has been awfully quiet about its own political ad practices. As social media companies take heat on whether or not to allow politicians to lie, Youtube has let the Trump campaign spend as much as $200,000 on bogus political ads that accuse Joe Biden of corruption as part of the rightwing Ukrainium One fantasy that's spawned the House impeachment investigation. Youtube still won't say how the ad doesn't violate its own rules.

Sean Hannity fell into hysterics during his nightly tantrum, screaming there was NO COLLUSION between himself, Trump World and the imploding Ukrainium One scandal.

Here's Hillary Clinton mocking Rudy Giuliani and Trump, suggesting Rudy needs an exorcism to purge himself of the Ukrainium demons.
The Daily Show's Trevor Noah broke down how e-cigarette companies are tricking kids into sucking on their robot dicks with the exact same rhetoric used by big tobacco just a few decades ago.

If You Don't Know, Now You Know: Vaping | The Daily Showwww.youtube.com
And here's your morning Nice Time: IT'S LIL BUB!

Lil BUB's Ultimate Purring Compilationwww.youtube.com
Follow Dominic on Twitter and Instagram!
We're 100% ad-free and reader-supported, so consider buying us coffee, or get a subscription!
Dominic Gwinn
Dominic is a broke journalist in Chicago. You can find him in a dirty bar talking to weirdos, or in a gutter taking photos.