BLUE WAVE, Y'ALL! Wonkagenda For Fri., Nov. 09, 2018
Elections
November 09, 2018 09:00 AM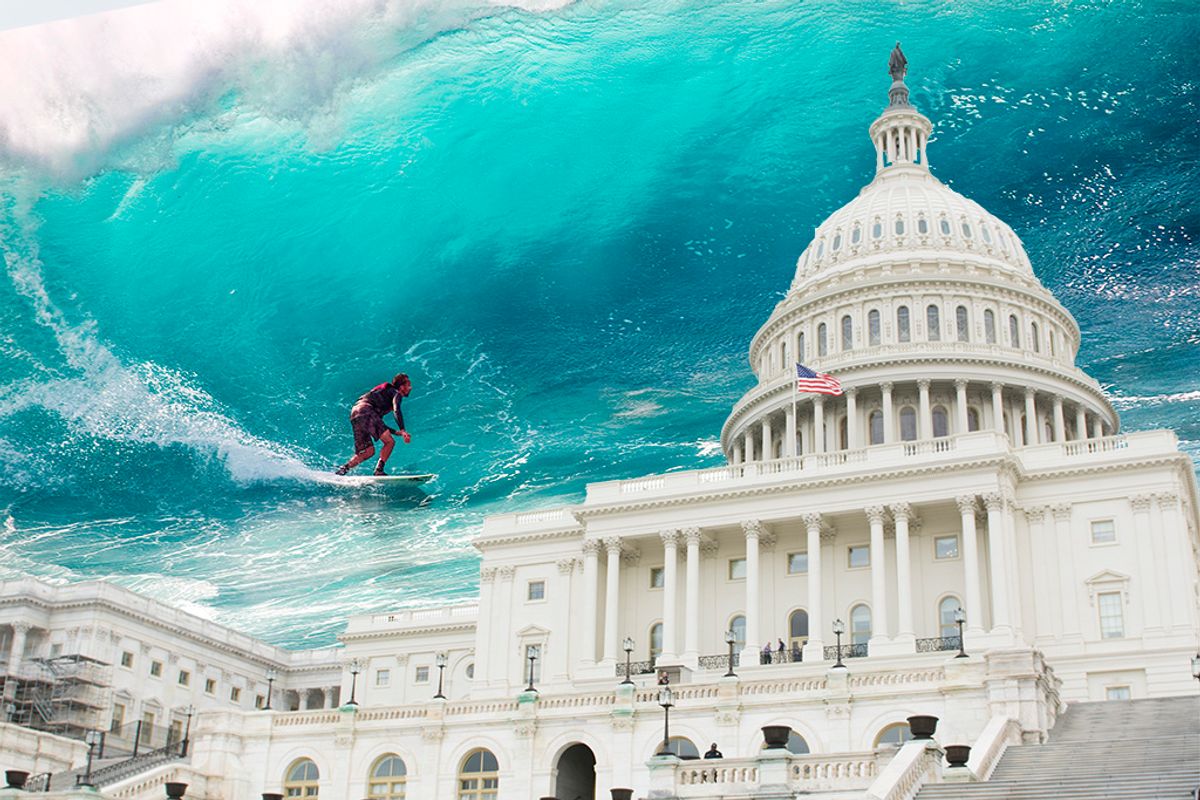 Morning Wonketariat! Here's some of the things we may be talking about today.
---
Trump's White House is surprised nobody likes Matthew Whittaker. With thousands of activists marching in the street against Whittaker's appointment as acting AG, reporters began to uncover Whittaker's not-so-secret view that SCOTUS is weak and sad poop, his belief that the Trump-Russia investigation is a hoax, and his old job threatening people who were, according to the FTC, "bilked...out of millions of dollars." [Morning Maddow]

Over at the Old Grey Lady, George Conway and Neal Katyal opine that Whittaker's appointment is unconstitutional since he wasn't approved by the Senate. They even cite the opinion of Trump's favorite SCOTUS Justice, Clarence Thomas, who recently stated that the framers of the Constitution "recognized the serious risk for abuse and corruption posed by permitting one person to fill every office in the government."
The bipartisan bromance between Senators Jeff Flake and Chris Coons is spilling into the public again as the two try to push a bill protecting Robert Mueller. It's unlikely to go anywhere, but it's nice to see love isn't dead.
The rumors coming out of Trump's White House are all over the place this morning. Some say Solicitor General Noel Francisco or Labor Secretary Alex Acosta may get offered the job as AG, but Politico reports Acosta will decline, if only because Trump keeps confusing him with the CNN guy. Right now Chris Christie is still kissing everyones ass, including Jared Kushner, because he thinks Trump and Kushner won't humiliate him for the 1,248,099th time.
Jeff Sessions threw crooked cops a bone just before he was "You're Fired," in a memo that kneecaps consent decrees put in place under the Obama DOJ and earlier. According to Sessions, the consent decrees violate the sovereignty of local governments by making it harder for racist cops in Chicago, Baltimore, and Ferguson, Missouri to murder people.
Grifty bastard and Interior Secretary Ryan Zinke may be on the verge of being "You're Fired" before he's indicted, but that hasn't stopped him from looking for a new job. Zinke has ALLEGEDLY been looking for gigs at energy companies, private equity firms, and even possibly joining other rejected Trump cabinet officials at Fox News, but a Fox spox tells Mediaite that's a lie.
A federal judge in Montana has ordered a work stoppage on the Keystone XL pipeline over violations of environmental and administrative laws regarding climate change, and is ordering the Trump administration to go do their homework on climate change before they start building again.
The Senate and gubernatorial races in Florida are still in play after a number of uncounted ballots in Broward and Palm Beach counties were found. Because this is Florida, the super villain and very rich Republican Gov. Rick Scott has filed a lawsuit and opened an investigation into why the state is counting votes, stating, "No ragtag group of liberal activists or lawyers from D.C. will be allowed to steal this election from the voters of this great state." Trump and conservatives are now having a meltdown and trying to stop an inevitable recount by promoting a conspiracy theory that votes are being stolen. Last night Scott went on Hannity to have a pity party.
Democratic Rep. Kyrsten Sinema now holds a narrow 9,000+ vote lead over Republican Rep. Martha McSally in the Arizona Senate race. Sinema is now 2.5 points ahead of McSally with another half-million mail-in votes to count, largely from the Phoenix area that Sinema represents. Yesterday the Yuma, Navajo, Apache and Maricopa County Republican parties filed lawsuits to challenge the the way mail-in ballots are verified because they're desperate to throw out voters, and that's really chapped the ass of Cindy McCain, who tweeted she's one of those mail-in ballots.
NOTE: If you live in Yuma, Navajo, Apache and Maricopa County, and you voted by mail, you should probably check to see the status of your mail-in ballot right now.
California Democratic Rep. Linda Sanchez has dropped her bid to lead the House Democratic caucus following the indictment of her husband on fraud charges. It's a familiar story -- her husband is accused of using federal money to take personal trips with Sanchez, and it might be a serious scandal if Trump's lackeys weren't rewriting the book on ethical lapses and corruption.
On Tuesday Floridians voted to give felons who've served their time the right to vote, potentially adding 1.5 million people to Florida's voter roles, but now comes the hard part of getting all them registered and to the polling booth.
Rumor has it that California Democratic Rep. Eric Swalwell is planning to run for president in 2020 after Swalwell began planning trips to Iowa and hunting for staffers in New Hampshire. #HesRunning.
A bunch of British lawmakers are asking Secretary of State Mike Pompeo to bar Islamophobic hate machine and ex-con Tommy Robinson from entering the US, noting that his history of stealing passports and fleeing immigration authorities make him a security risk according to Trump's Muslim bantravel restrictions on ethnic minorities from "shithole countries"
After years of encouraging white supremacy and division in the right-wing-nut o'sphere, Tucker Carlson is cowering in fear from about two dozen anti-fascist protesters whom he says threatened him for a few minutes the other night. Tuck-tuck called into his own show last night to tell WaPo he's afraid to go out for a fancy dinner because someone might say mean things.

Lawyers for Dr. Christine Blasey Ford say she's still receiving death threats, has had to move four times, needs private security, and can no longer work as a professor at Palo Alto University. But let's all shed tears for Tucker's steak dinner.
A 39-year-old Arkansas man has been arrested for making over 40 threatening phone calls to CNN between Oct. 31 and Nov. 2, as well as threats to MSNBC, Sen. Chuck Schumer, Rep. Maxine Waters, and Planned Parenthood. He's being charged on multiple counts including terrorism and threatening bodily harm. Examples of calls have the suspect appearing to ask for "bloody pictures of [Don Lemon] cut up in small pieces, like the movie Saw."
An extensive investigation into the Houston Chronicle Austin bureau chief Mike Ward has revealed this mother fucker was making up stories, and calling it journalism. The Chronicle has since retracted eight stories, and and Ward has resigned. BOO THIS MAN! BOOOOOO!
David Brooks is surprised at the uneducated masses who turned out to vote for Republicans. He'd probably buy them all a fucking panini if it wasn't considered a handout.
And here's your morning Nice Time! CHIPMUNKS!

Chipmunk Showdownwww.youtube.com
Follow Dominic on Twitter and Instagram!

We're 100% ad-free and reader supported, so consider buying us coffee, or get a subscription!
Dominic Gwinn
Dominic is a broke journalist in Chicago. You can find him in a dirty bar talking to weirdos, or in a gutter taking photos.