Bless Her Heart. Wonkagenda For Mon., Nov. 11, 2019
popular
November 11, 2019 08:59 AM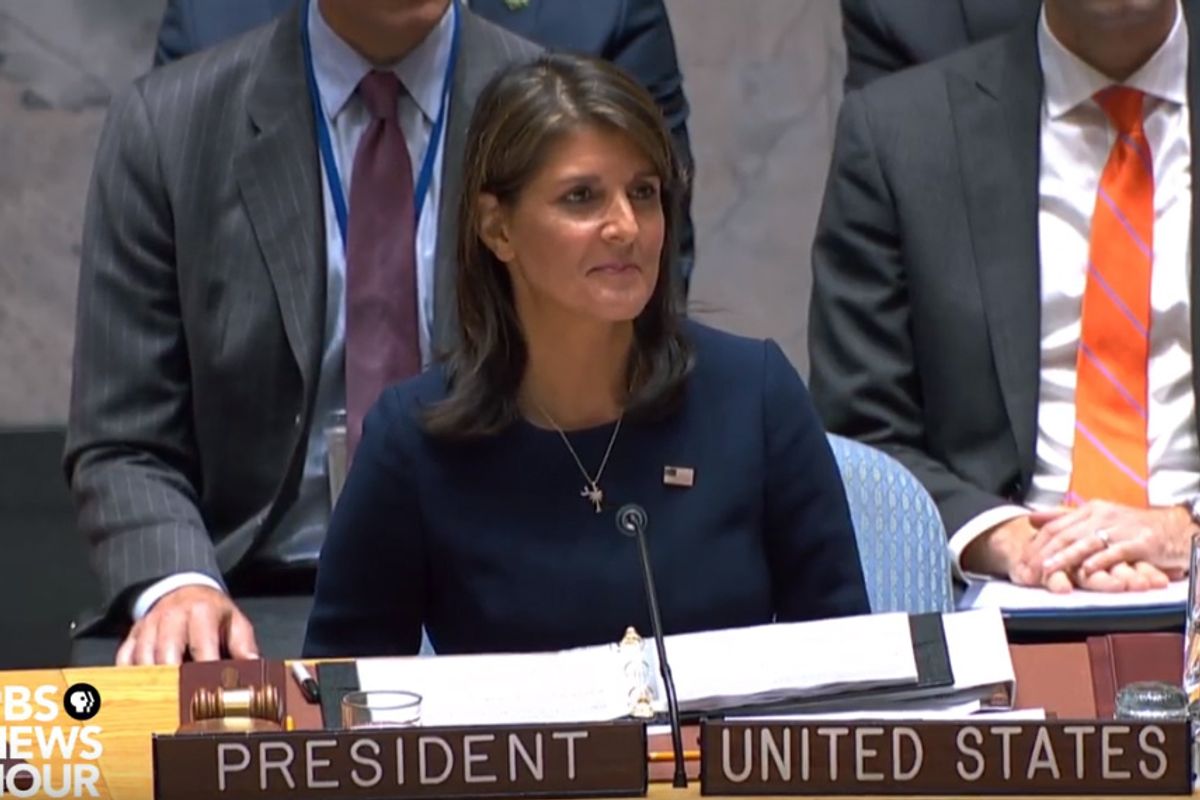 Morning Wonketariat, and happy Veterans Day (or Armistice Day)! Here's some of the things we may be talking about today.
---
Ahead of this week's televised impeachment inquiry hearings, Republicans have shifted their attacks to say Trump was too stupid to crime (again), and even if he did it wasn't really a crime. Republicans want to drag Joe and Hunter Biden into their pity party, but nobody expects that to happen. Politico reports Trump intends to keep spearheading his own defense with rambling chopper talk and caps-locked shitposting on social media, but experts on Trump World think he's screwed.
John Bolton is not happy Mick Mulvaney is trying to jump into a lawsuit on whether or not Trump officials actually have to obey subpoena requests by House impeachment investigators. Bolton's people think Mulvaney is trying to weasel his way out of being dragged before impeachment investigators, while Mulvaney's lawyer says he's just trying to obey the law.
Despite gossip to the contrary, the White House's Ukraine expert on the National Security Council, Lieutenant Colonel Alexander Vindman, is still on the NSC even after testifying that Trump was dicking around with Ukraine.
Nikki Haley has crawled out of the shadows to gossip that she doesn't want to #IMPEACH. In her new book, Haley complains that REXXON and John Kelly tried to "recruit" her for A COUP to "save the country" from Trump's crazy bullshit. Haley writes that John Kelly was kind of mean to her, and gushes that Trump never tried to grab her by the pussy. She further gossips that Trump's attempt to bribe/extort/blackmail Ukrainian President Volodomyr Zeleinsky isn't impeachable because "the Ukrainians didn't follow up with the investigation." In a gabfest with NPR this morning, Haley adds that there's no "smoking gun" for Trump's admitted extortion, calls Congress "arrogant" for trying to #IMPEACH the motherfucker, and says she'll campaign for Trump in 2020. Bless her heart, #ShesRunning.

Lev Parnas says he went to Kiev, Ukraine, to tell the government it had to feed the Ukrainium One fever dream if it wanted Mike Pence to show up to Volodomyr Zelenskiy's inauguration, as well as help fighting off Russia's encroachment. The other chucklefuck, Igor Fruman, denies this, and so does Giuliani.
The New York Times has a good piece about how Trump's decision to kill DACA hinged on assertions by Jeff Sessions that he could do it. Obviously, the lower courts disagreed.
Early this morning Republican Rep. Peter King announced he's resigning. In a rather poorly written social media post, King bitches that he hates commuting back and forth through the Acela corridor, and wants to stay home with his family now. Geeks have the district as R+3, so it's a potential pick-up opportunity for Democrats in 2020.
The new Politico/Morning Consult poll includes a potential candidacy of Michael Bloomberg, but the thing will just make your brain bleed if you start applying it to the 2020 horse race. A more reliable (and readable) poll from the New York Times and Siena College does a better job of breaking down the Democratic primary in six swing states. And if you're feeling extra nerdy and masochistic, the Kaiser Family Foundation and Cook Political Report have their own poll on the primaries, downballot races, and policy priorities in four swing states. In a nutshell, Five Thirty Eight breaks all this down by saying Biden continues to lead nationally while Sen. Elizabeth Warren inches to the top in Iowa and Sen. Bernie Sanders clings to a small lead in New Hampshire. [Politico/Morning Consult / NYTimes Siena Poll / KFF/Cook]

Sen. Amy Klobuchar is throwing salad combs at her 2020 rivals. Yesterday she went on CNN to brush off the potential candidacy of Michael Bloomberg and claim nobody would give a damn about Mayor Pete running in 2020 if he were a woman (but I'm calling bullshit on that, nobody pays attention to Wayne Messam, the mayor of Miramar, Florida, who reported only $5 in donations in Q3). Klobuchar's attack follows a New York Times story this weekend where a number of his 2020 rivals bitch about Buttigieg's inexperience in the face of his rising poll numbers and stupidly large war chest.
This morning Pete Buttigieg released a plan to support veterans that focuses on increasing mental health care, suicide prevention, and expanding overall healthcare access for veterans and their families. The plan also calls for an end to Trump's trans troop ban, the honoring LGBTQ+ troops and veterans, and creating racial and gender equality throughout the military.
Sen. Bernie Sanders and Rep. Alexandria Ocasio-Cortez drew large crowds in Iowa this weekend. As Sanders battles a rising Elizabeth Warren, the New York Times rather painfully writes Sanders -- in the midst of a campaign reboot -- is betting that the duo will inspire a buddy-comedy vibe in an effort to woo potential voters. In an interview with the Des Moines Register, Sanders ripped super rich guys desperately clinging to large bundles of cash as they watch the 2020 race unfold.
Kamala Harris's campaign dropped a video of Harris on election night in 2016 trying to rally her supporters by saying people need to fight back like super heroes, saying, "everything that we have been talking about from criminal justice reform, to climate change, to immigration, this shit is now really on the line. There is no guarantee that we are any closer than ever before, and we may actually be even further behind." This weekend Harris tried to downplay her sagging poll numbers by arguing many voters remain undecided, and that top tier candidates have been standing on their soapboxes for decades.

Never-before-released footage from the night of November 8, 2016. https://t.co/9aTHC7FQga

— Team #JusticeIsOnTheBallot Kamala (@Team #JusticeIsOnTheBallot Kamala) 1573264925.0
Axios gossips that former New York Mayor Michael Bloomberg might not run if Joe Biden stays in the race. The data obsessed Democrat-turned-Republican-turned Democrat is worried about an internal poll that shows 25 percent of primary voters think he sucks more than any other candidate. Math nerds guesstimate Bloomberg could still get in the race, but Biden's numbers suggest it's unlikely #HesRunning.
The New York Times has a piece on how Andrew Yang's campaign is spending tons of new money to attract eyeballs and ear holes. The Yang gang doesn't want anyone to say he's the Ron Paul of 2020.
The Alabama Daily News got its hands on some polling from rightwing groups that shows Jeff Sessions with a huge lead in the Alabama Republican Senate primary; ALLEGED pedophile Roy Moore is tied for third place at 11 percent.
In an interview with ABC's Martha Raddatz, Joint Chiefs Chairman Gen. Mark Milley says more than a couple hundred US forces will be hanging around Syria for a while. In a related story, National Security Adviser Robert O'Brien went on "Face the Nation" and said that he was "very concerned" Turkey had committed war crimes in Syria, adding, "There is no place for genocide, for ethnic cleansing, for war crimes in the 21st century." Politico reports that Trump is likely to say the US won't give Turkey F-35s unless it gets rid of the Russian missiles it bought in protest. In a normal administration this would be a big deal. [Video / Photo Essay from Syria]
There are reports of a pro-democracy protester being shot by police in Hong Kong this morning. CNN is also reporting a man was set on fire after yelling that pro-democracy protesters were not Chinese.
Spain's far-right Vox party has made significant gains in its fourth election in as many years, but ruling socialists continue to hold a majority.
John Oliver 'splained SLAPP suits, and showed (in spectacular fashion) why scumbags who file frivolous lawsuits against news outlets reporting on their shenanigans can eat shit.

SLAPP Suits: Last Week Tonight with John Oliver (HBO)www.youtube.com
And here's your morning Nice Time:Baby goats!

Cute goats frolicking and having funwww.youtube.com
Follow Dominic on Twitter and Instagram!
We're 100% ad-free and reader-supported, so consider buying us coffee, or get a subscription!
Dominic Gwinn
Dominic is a broke journalist in Chicago. You can find him in a dirty bar talking to weirdos, or in a gutter taking photos.